89 S. 10th Street, Minneapolis, MN | 612.332.4700 | website
Open M-F 6:30am to 2pm, and weekends 8am to 2pm for breakfast, lunch, and weekend brunch.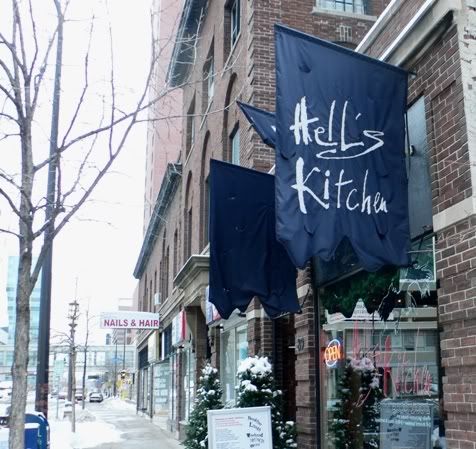 This chef owned restaurant has a reputation for serving the best damned breakfast and lunch in town, so of course we had to eat here. It was the one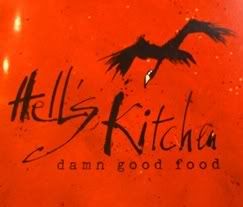 restaurant that kept coming up when I was researching where to eat in Minneapolis. I was especially taken in when I heard that they serve house-made peanut butter, marmalade and jams. Holy cow, that single fact was enough to convince me. We were in town for the holidays and met up with Mank, CDR and Rich for very delicious breakfast.
While we looked over the menu (it has a bit of of a devil motif) I was tormented by indecision especially because they included numerous accolades regarding their house specialties by Jane and Michael Stern of Gourmet magazine and Roadfood fame, who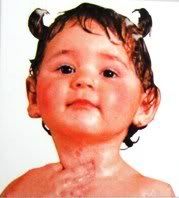 are also weekly guests on The Splendid Table, one of my favorite food podcasts. The menu is flexible and you can order ala carte to customize your breakfast. The portions are not huge (other than the Huevos Rancheros), the benedicts come with one egg and the breakfast plates come with only one piece of toast, but you can order additional items for a reasonable fee.
I had the Huevos Rancheros, which one of the Sterns had deemed Food of the Gods, but then who am I but a mere mortal… It was a heavy handed construction and overwhelmed by too much stuff. It had layers of hash brown potatoes, scrambled eggs, cheese, beans and a thick pasty salsa all piled on a dry overcooked flour tortilla, which left me with no bread to spread the peanut butter on and no chips and salsa?!!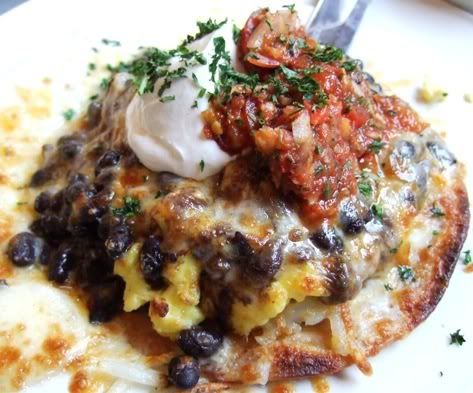 I had a single Bison Sausage patty that was savory with a sticky sweet coating and had bits of caramelized onions and dried chili peppers mixed in. I ate the whole thing smacking my lips enthusiastically.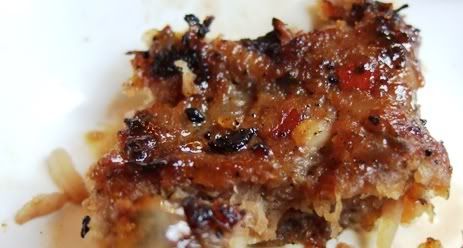 I also had a cup of their Mahnomihn Porridge, which is made with wild rice, roasted hazelnuts, dried berries, cream and maple syrup. If you are a hot cereal person, this stuff is fantastic!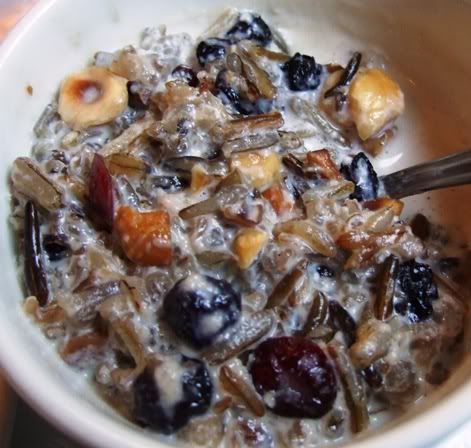 The peanut butter is chunky and has a rich full flavor as if the peanuts have been roasted. They add honey or something which just makes it very addictive. They also serve a house-made orange marmalade and blackberry jam.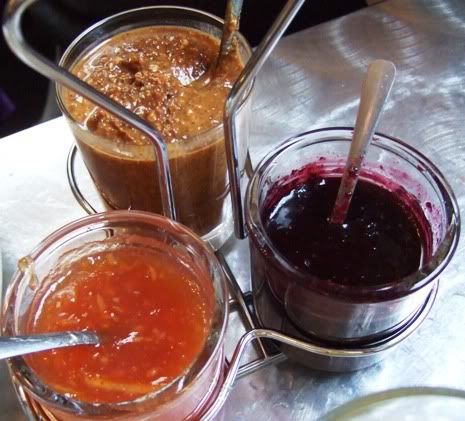 Mank had Rosti Potatoes, are grated and mixed with bits of bacon and onions then sizzled in butter, along with two poached eggs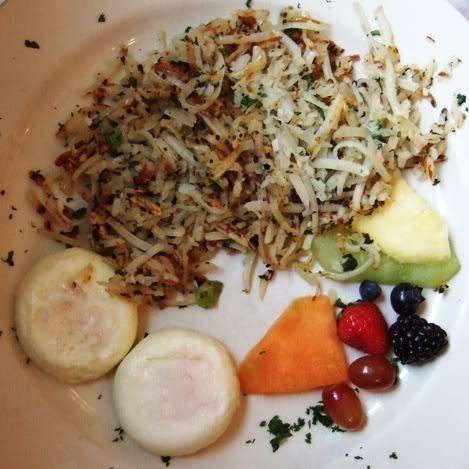 CDR had a single poached egg and hash browned potatoes. Notice the gorgeous fresh fruit garnish, much nicer than the usual dry orange slice!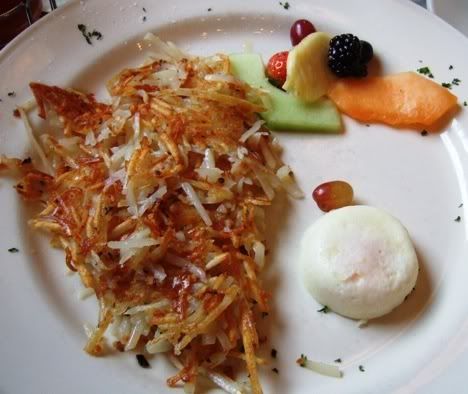 And they serve house-made ketchup that is deliciously perky with the potatoes.
Mr. K ordered from the choose your own damn items so you can get exactly what you want and quit whining section. Two fried eggs, hash browns, sourdough toast (notice there are two slices)
He also got an order of Nuesk Bacon that was served slightly less crisp than I like.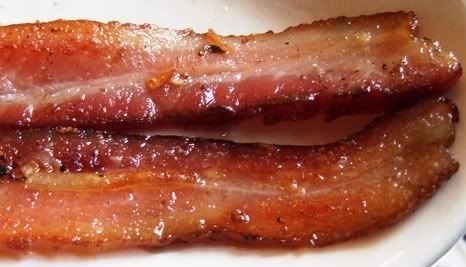 On our second visit with M, Al and Luke, I ordered the Sausage Bread, which was dense and chewy with nuts and dried berries although I didn't taste any sausage bits. It was already buttered, but since it was served with a tub of whipped butter, I slathered it on along with any other delicious condiment within hands reach…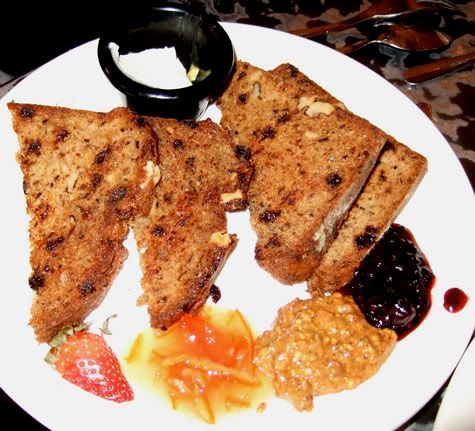 Both M and Luke had the Corn Beef Hash, which is made from house cured and hand pulled corned beef brisket and served with roasted fingerling potatoes, onions and celery.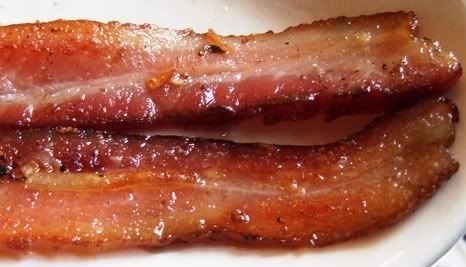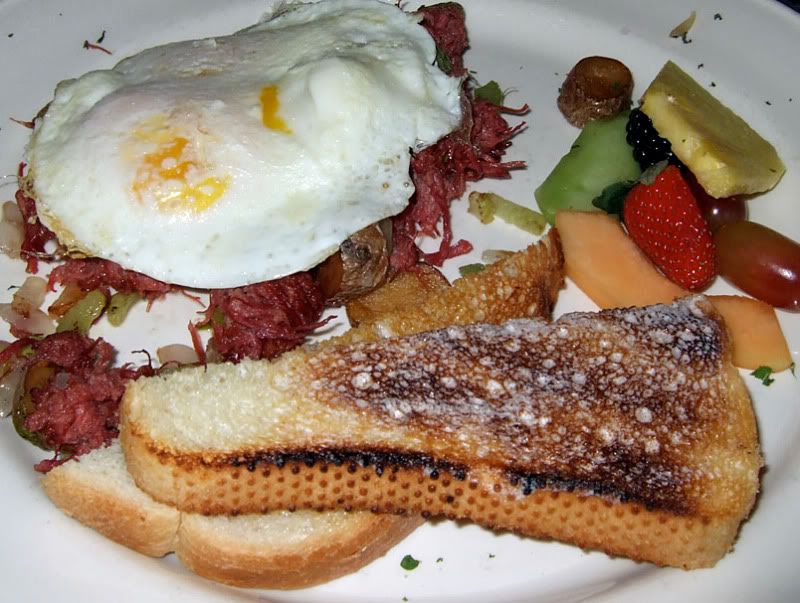 Al, the hockey player, had the Classic Benedict, which is an english muffin layered with grilled slow roasted pit ham, one poached egg and topped with hollandaise sauce and snipped chives. It was served with toast and hash brown potatoes.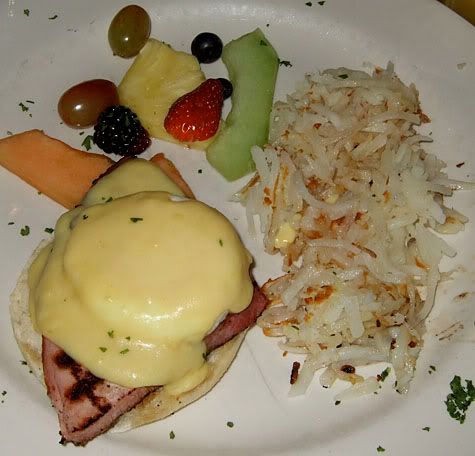 Mr. K had Fried Eggs, Bacon and Rosti Potatoes. He proclaimed it the best breakfast ever.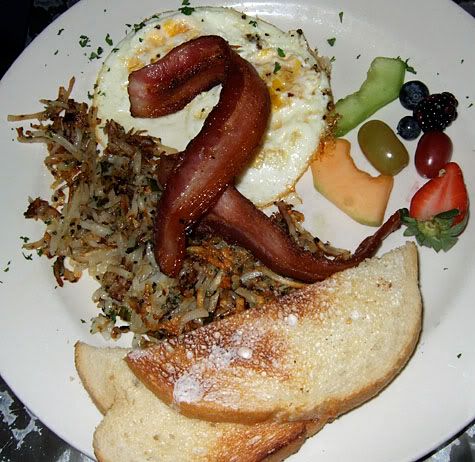 At one point, the waiter accidently dropped off a Pecan Caramel roll and then quickly snatched it back up before I could lay my greedy hands on it… next time I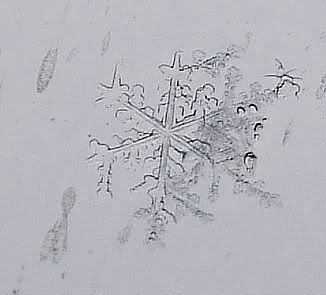 must order that, it looked really good and gooey. I've got to come back to try the Walleye BLT sandwich on another visit too.
We braved walking several blocks through the wind and snow from our hotel before we found out that we could have walked over via the Skyways. But I have to admit the whole snow falling on my face experience is so exciting for a native Californian… In fact, I took a picture of a snowflake on the windshield because I couldn't believe that each of the tiny little blobs of white falling from the sky really has the beautiful snowflake pattern.
Minneapolis is lucky to have such a great spot for breakfast! Here's a picture of a snowy lake we drove by (I took it from the car while Mr. K was driving). Everywhere looks like a Christmas card that day.