4101 El Camino Way, Palo Alto, CA 94306 650-493-3836 | website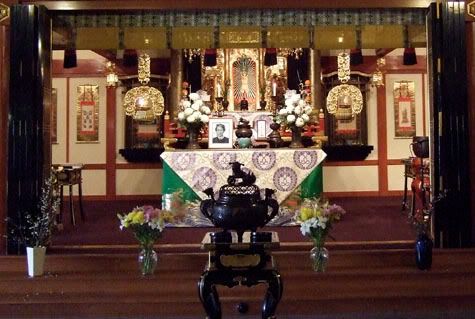 This has been a busy week with flying down to LAX on Tuesday for a funeral and driving down to the Palo Alto Buddhist Temple for the memorial service honoring my grandmother on Thursday. To the Buddhist mind, she has been reborn and so it was a celebration of her very long life (she was one month short of 102 when she died last year). After the 11:00 service, we enjoyed a small feast at a local Chinese restaurant, Su Hong Eatery.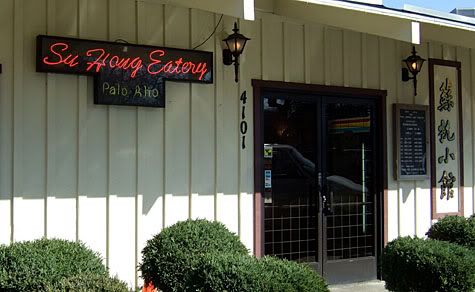 It was interesting eating with my family as they are very conservative eaters and grew up in the Bay Area with Americanized Cantonese food like Pressed Duck, Egg Foo Young, Shrimp with Lobster Sauce and a fatty pork dish called Hom Yu. We tend to stick to the old school favorites, and so began with Chinese Chicken Salad, which was exactly how I remembered it from my childhood. Shreds of iceberg lettuce mixed with green onion and cilantro, fried rice sticks and fried chicken bits, tossed with sesame oil.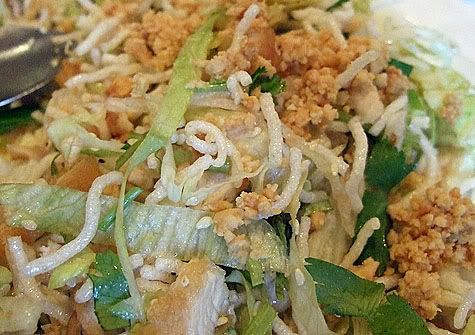 We had an extravagant platter of Peking Duck that my aunt pre-ordered as it requires advance preparation. It was an entire duck surrounded by soft steamed buns which can easily be split open to wrap around meat, skin and some of the accompanying slices of green onion and hoisin sauce.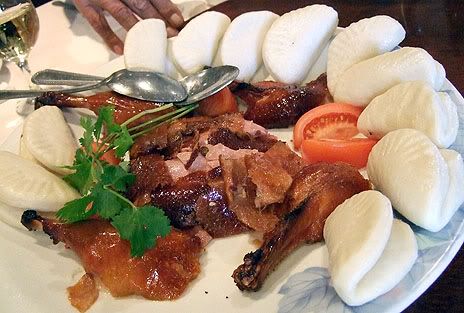 My aunt May kept saying that the skin is the best part, and I tend to agree with her, it was thick and so crispy that it just about shattered when we tried to split the gorgeously translucent pieces like burnished golden toffee.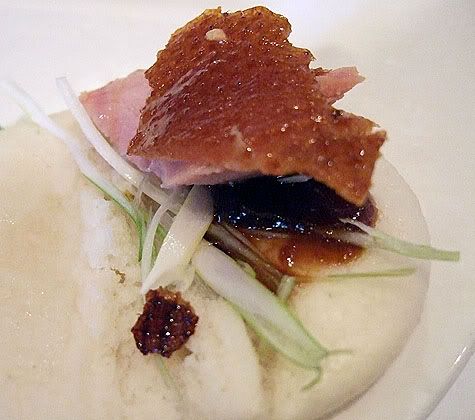 We had Wonton Soup, which was a clean tasting broth full of fresh spinach, slices of char siu (barbecued pork) and the plump handmade wontons were stuffed with a garlicy mushroom and pork filling.
Chicken with Snow Peas, was tossed in a light velvety sauce that tasted slightly of ginger and sesame oil.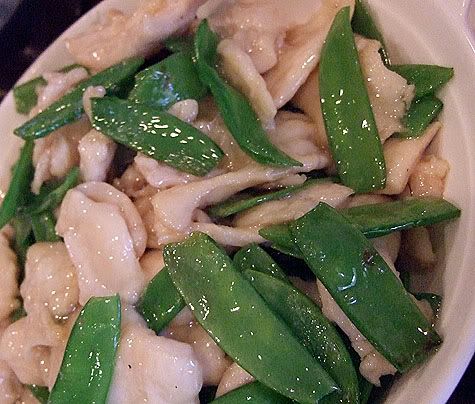 I ordered Snow Pea Shoots with Garlic, but it looks like we got Snow Pea Leaf. They were dense and crunchy similar in texture to mustard greens that were sauteed with smashed cloves of garlic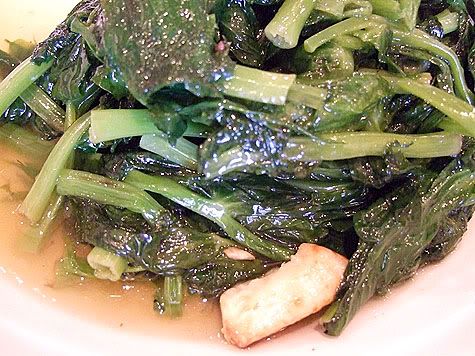 The Sweet and Sour Pork was coated in a thick brilliant ruby red gloopy sauce that hit just the right balance and had the requisite pieces of crunchy green bell pepper, white onion and chunks of canned pineapple. Each piece was encased in a thin coat of batter and was fried until it was crispy on the outside and the meat was chewy on the inside. Here's a guilty secret… I like to drizzle some of the hot chinese mustard and soy sauce to cut the some of the sweetness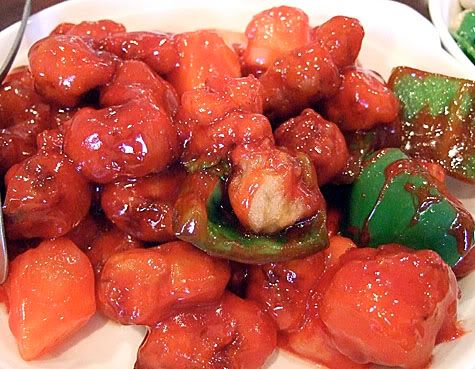 Sauteed Bok Choy with Black Mushrooms was sadly bland and tasteless, the mushrooms had a soft velvety texture but had very little flavor.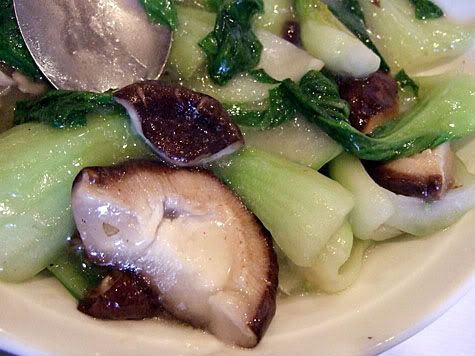 We thought we ordered Shrimp with Black Bean Sauce, but somehow ended up with Honey Walnut Prawns. As I've said before, I just don't get the mayonnaise in the dish, and why is it so popular? The best thing about the dish are the sticky sweet candied walnuts sprinkled with sesame seeds.
We were positively avant gard when we broke with tradition by ordering the Hong Kong Style Crispy Noodles instead of chow mein. The only difference really are the noodles, which are long and thin and fried into a crisp that resembles a birds nest which is then covered with everything, beef, chicken, shrimp, pork, and vegetables in a savory sauce that eventually is absorbed into the noodles causing them to soften and becomes deliciously chewy.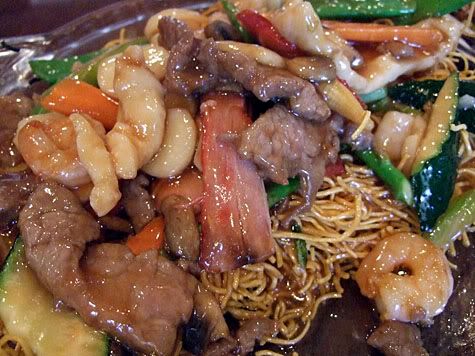 My fortune cookie had a bizarre quote from Goethe, the german philosopher but I enjoyed the retro-Chinese meal and I hear that they continue to serve Hom Yu. The experience brought me back down memory lane to my old hometown, driving by schools I had attended, parks I had played in and especially the memorial service, even the cracked plastic sign up in the parking lot looked as if it has survived from the 70s…