1017 Howard Street, Omaha, NE | website
We drove from Fairmont, MN to Omaha, NE to watch Mr. K's nephew Al's college hockey game at the Qwest Center. It was a few hours drive and we went through long miles of snow covered fields and were really happy that it was bright and sunny when we arrived. We settled into our hotel and went foraging in the Old Market section of town which sprawls out over several blocks offering an eclectic collection of cafes, restaurants, bookstores and galleries. The road is old cobblestone and the sidewalks are very wide and appear to have once been loading docks for the many old brick warehouses lining the streets.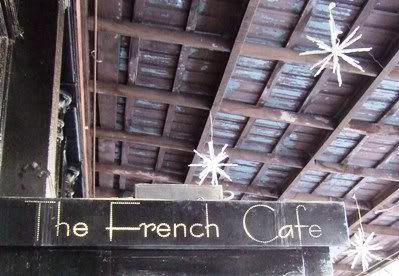 Someone recommended the French Cafe, which is a stylish and elegant restaurant with a bit of old world charm that has been there for over thirty years.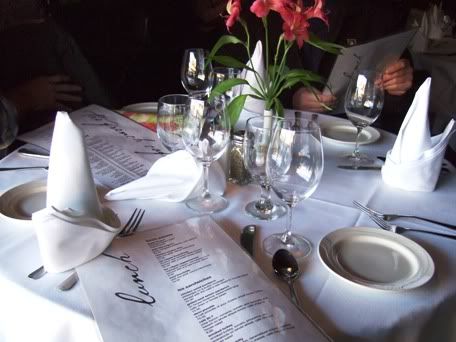 We were quickly seated by the window which was warmed by a cozy space heater and given a basket filled with mini baguettes and a plate with beautiful pressed stars of whipped butter.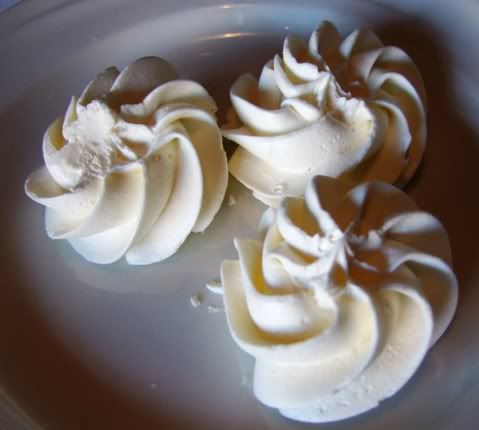 It was about this time that our waiter arrived, and he was an oddly grim young man who avoided eye contact and addressed his conversation to a point above our heads, perhaps he was watching his reflection in the mirrors on the walls… He was the rudest waiter I have had to interact with in a long time. There was a dreary resignation about him and his comments were punctuated with heavy sighs and he tended to shrug his shoulders rather than taking the effort to speak. It was clear that he was deeply offended to have to serve the likes of us and would retreat behind the curtain several feet away and stand there with his head in his hands staring at the monitor, apparently deep in thought.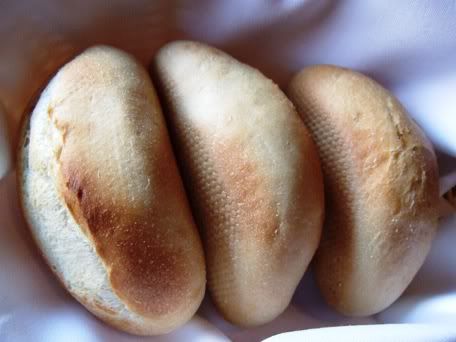 Mr. K had a House Salad that was described as having mixed spring greens with a light house vinaigrette. The greens were fresh and delicate but were covered with a thick mass of gluey looking creamy italian dressing that looked unfortunate. I could see that Mr. K regretted not asking for it on the side. We waited uneasily for the rest of our order…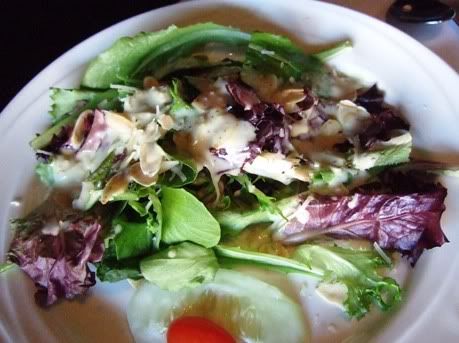 He was gratified when the French Onion Soup arrived, it looked and smelled amazing.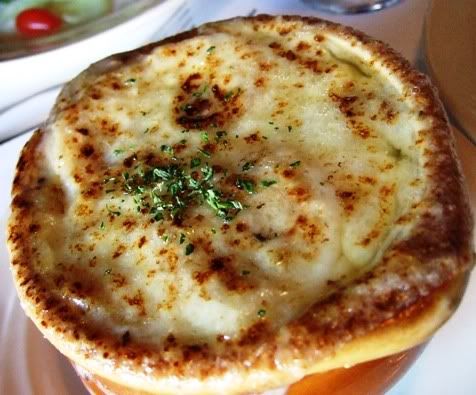 He poked his spoon through the toasty cheese topping releasing flumes of the most intoxicating aroma of rich beef stock, onions and fresh herbs. There were squares of thick toasted croutons floating in the soup and I think this may have been the best onion soup I have ever had!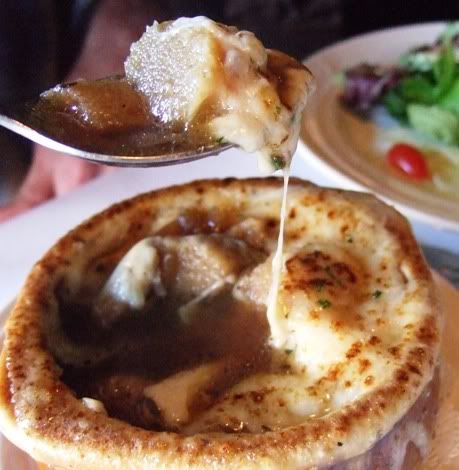 Mr. K's brother M had the salad and a bowl of the Beef and Vegetable Soup, which he said tasted pretty good but noted that he ran out of stuff pretty quickly.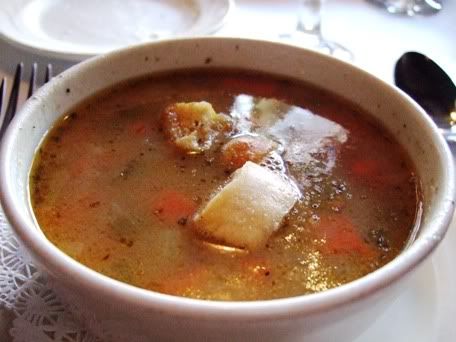 Since we were planning on meeting Al after the game for a late steak dinner (when in Omaha, what else do you want to eat), everyone thought we should have a light lunch, but I on the other hand, knew that nine hours is a long time between meals, so I had the Sirloin Steak Sandwich with home made chips.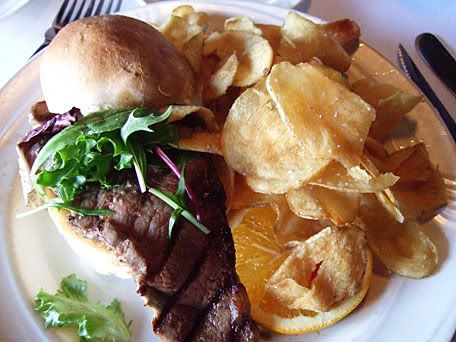 The steak was delicious and cooked perfectly with beautiful char markings, but it was served in a manner that looked good and was difficult to eat. I persevered with the knife and fork and found it to be one of the best steak sandwiches ever, although it had no condiments and I had to ask twice for some dijon mustard.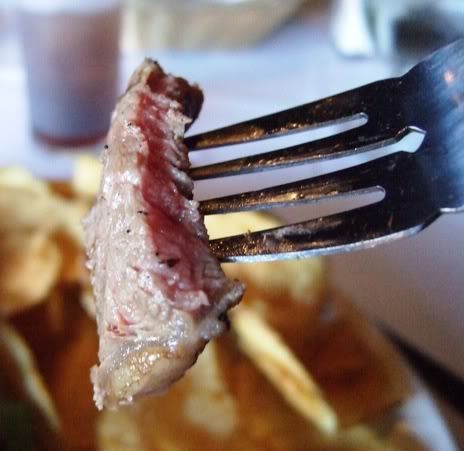 We asked for separate checks at the beginning and our waiter came back with the two respective checks and looked down his nose at us and asked if we would mind sharing the pen. What cheek! Anyways, the food was very good (except for the salad dressing) and the ambience was cozy and charming and we would have had such a fabulous lunch if not for the unfortunate waiter.