previous visit: 8.12.07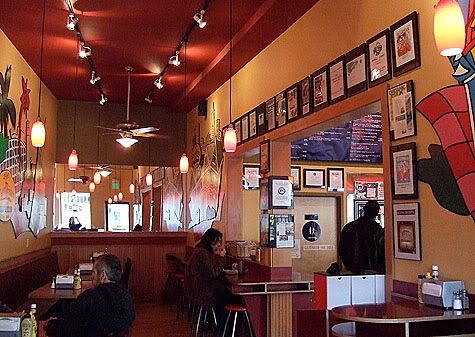 Burgermeister was rated best burger by the SF Weekly for 2000 (notice all of the framed accolades circling the entry)! I think that they are the perfect burger joint because they really focus on serving you the burger you want. They cook everything to order and have every possible condiment at the ready so that your burger experience is exactly the way you like it. Not only that, they serve burgers made from Niman Ranch beef, the greens are from local growers, and even the ice cream they use in their shakes is from the beloved San Francisco Mitchell's Ice Cream. While they cater to the burger crowd, their menu includes grilled chicken, pastrami, philly cheesesteaks, fish and chips, hot dogs, a few vegetarian options, and even a vegan Boca Burger.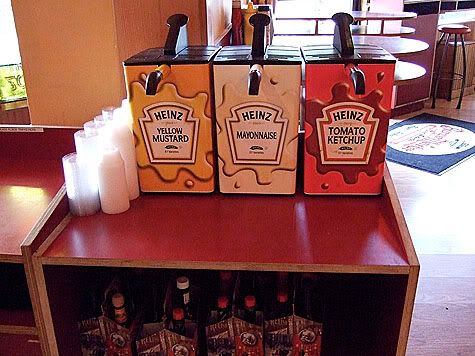 As you can see, the self-service drink area is rather extensive, there are even little containers of pickled jalapenos for those who want an extra kick. Can you think of anything else? It's all there, hot sauce, steak sauce, all types of mustard and Tabasco. Not only that, but it's one of the few places that still offer all you can drink sodas.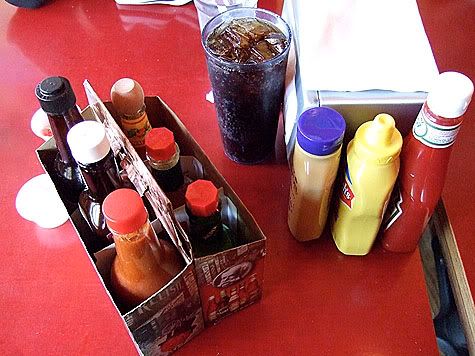 You can even fabricate your own custom mixtures if you are so inclined, notice how my friend Erwin concocts a special sauce to dip the fries in.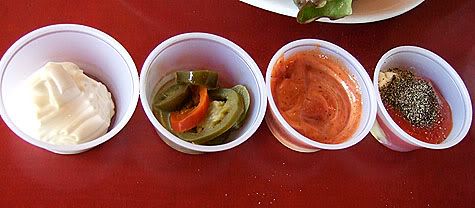 I must remember to sit by him as he doesn't hold back and orders big. I greatly admired his Chili Burger, which was a truly magnificent spectacle and you can see how the meaty chili is topped with chopped purple onion and chunks of cheddar cheese.
I was able to enjoy some samples of the chili from his plate and wondered if they serve it by the cup, if not, they should.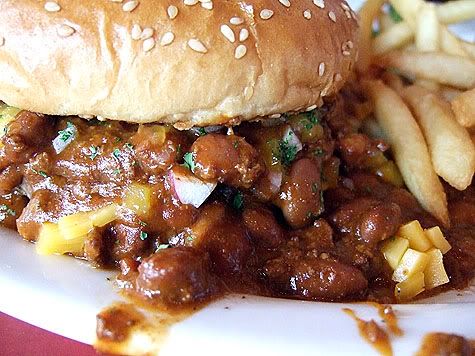 I am not sure what I was thinking, but rashly deciding to be frugal both monetarily and calorie-wise, I split a burger with StevieB. The stupid thing is that they offer a lunch special of a quarter pound burger with fries and a soda for about $8, and we thought that sounded a little skimpy, so we ordered off the regular menu and got the half-pound cheeseburger, upgraded to onion rings, and two sodas, which came out to $17, which was $1 more than if we both got the lunch special… The only savings was in the calories then. So, here is my delicious Half a Cheeseburger and Half an order of Onion Rings, cooked medium. It was really the perfect amount, but the half order of rings was a little skimpy for my appetite. Next time, I'll stick with getting my own lunch special…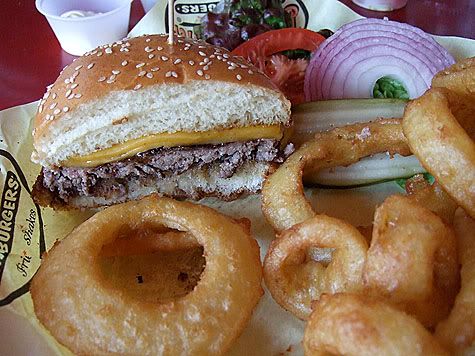 Splitting the burger made us feel very virtuous and so we ran across the street to XOX Truffles for guilt-free chocolates afterwards.