1268 Grant Ave, San Francisco, CA 94133 (415) 391-8215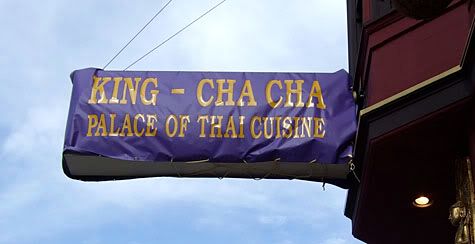 I heard that the owners of the King of Thai Noodles chain had taken over the recently closed Citizen Thai and the Monkey Bar in North Beach, so I decided to go check it out for lunch. I was greeted warmly as I entered through the bar, which now has a different name (Manchester Pub or something). I chose a nice bright spot next to the window where I could enjoy the the musical entertainment, a mature woman with a tangle of teased blond hair held in a leopard spotted headband, playing classical music on a casio keyboard, although she left after going through just a few songs and doing a sound check with a technician.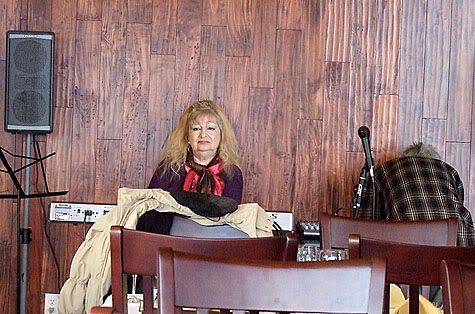 The new owners have left some of the beautiful sculptural pieces from the previous occupant but now the walls alternate with being covered with sleek bamboo paneling or are painted a vivid, bright purple, in keeping with the rest of the chain which is legendary for its enthusiastically lavendar walls in all of their locations. The staff encouraged me to walk upstairs to see the beautiful 2nd floor dining area which they said was open only for dinner. This is clearly an upscale establishment and the menu prices bear little resemblance to those charged at the Clement Street location…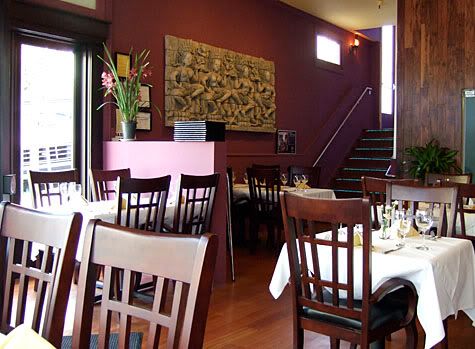 The secondary servers (they dropped off food, kept the water filled, and also cleared the table) had on formal white admiral jackets and wore white gloves. A steaming fragrant towel was served via tongs from a covered silver platter after I handled the menu and before the food arrived. A very nice touch. The crisp linens on the table looked very elegant and tidy and they served me a refreshing cup of hot Thai tea that tasted of roasted barley, vanilla and had a deep clear amber color.
The server walked up with a silver tray bearing a fairly large covered vessel and announced they were serving me a cup of soup on the house. I uncovered it and breathed in the delicious fragrance of Tom Kha Gai, or Chicken and Coconut Soup with mushrooms, which was infused with aromatic lemongrass, galangal and lime, then topped with chopped fresh mint. There were tiny flecks of red chilis floating in the rich broth that made my lips tingle from the heat. This was fanatastic – slightly sweet from the coconut, savory, sour, spicy and rich… I couldn't stop eating it!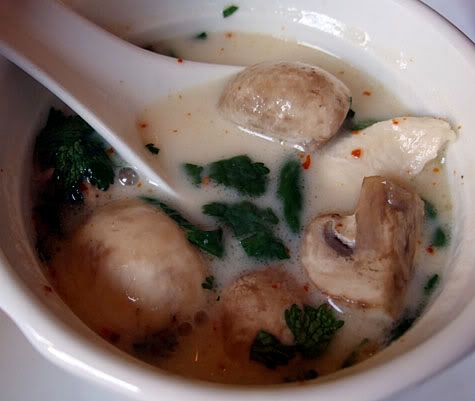 I met the King of Thai Noodles himself, a robust looking fellow who introduced himself as the owner of the chain. He was wandering around the restaurant with an eye on every detail and would occasionally stop by and chat. He said that he has been running the business end for many years and that now he is back in the kitchen doing what he loves – cooking. I neglected to get his name and want to call him King Cha Cha, but probably should just call him The Owner…. Anyways, the Owner said that he hired a lot of the staff from Citizen Thai including the chef who he had to re-train as she had developed a cooking style that was too Americanized and sweet. I liked hearing that as I agree that I often find the Thai food in America to be overly sweet.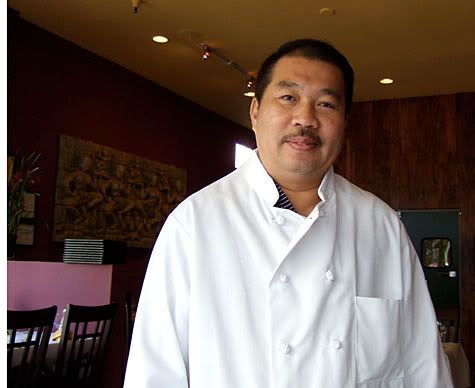 I gaped when my Pork Noodle Soup arrived as it was a huge tureen filled with a variety of fish balls, fish cake, ground chicken and slices of barbecued pork from which rose a wondrous fragrance. I swear that bowl was a foot in diameter!
I dug into the bowl with my chopsticks to break up the rice noodles and that was when I found the pile of fried shallots mixed in with chopped fresh cilantro and green onion and enjoyed the gorgeous smells rising up to infuse my world…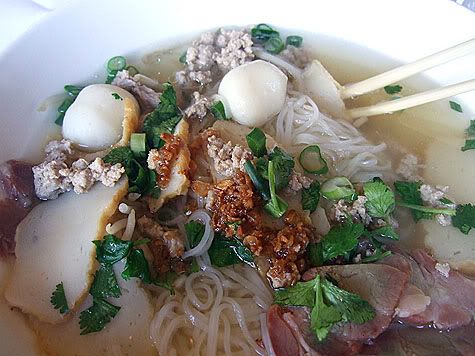 Ahhh, the Owner scurried over and said that I must add some flavor to my soup and scooped in some dried red peppers and then a couple of spoonfuls of sliced pickled peppers in vinegar and advised me to mix it very well in and to avoid eating the pickled peppers, they mostly just add flavor and smell and were very hot. And it changed the landscape by forcing a conflagration of incendiary flames up through my tastebuds and nostrils and practically caused me to weep… but not in a bad way – it was good, very, very good. Even that small amount of chili is a bit much for me… Thank god they had large absorbent napkins to wipe my eyes and brow with!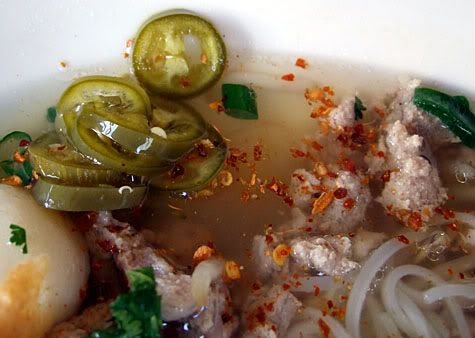 Afterwards, they brought me an entire pot of the tea which I greatly enjoyed.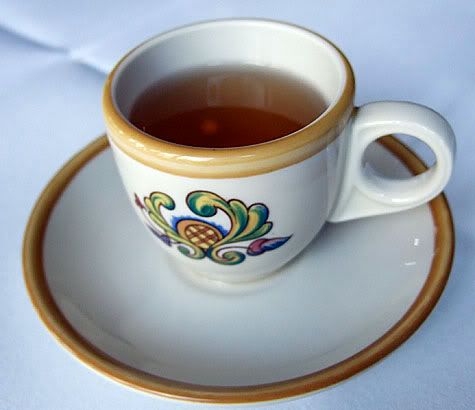 While I sipped the tea, attempting to feel whether any of my tastebuds had survived the nuclear meltdown the Owner came by and announced that they were preparing yet another complimentary treat, Fried Banana. I could only protest feebly that I was stuffed beyond belief and that I hoped it would be something small…. and I'm sure my eyes shone greedily when the huge platter arrived.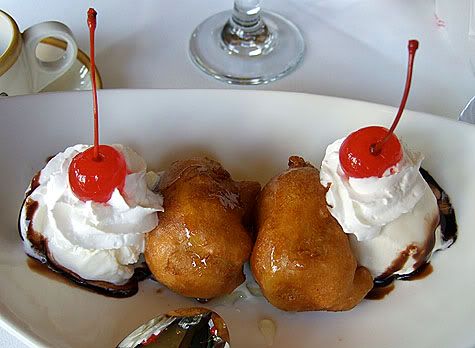 The batter was fried crispy and even seemed to have some sort of crystallized sheen that shattered in a way similar to how the crust cracks on a good creme brulee. I mindlessly dug into the heavenly pile of fluffy, creamy and sweet banana with the delectably fried crispy coating, the luscious coconut ice cream with tender sweet coconut and all topped with whipped cream and chocolate syrup. In the frenzy, I even ate a maraschino cherry.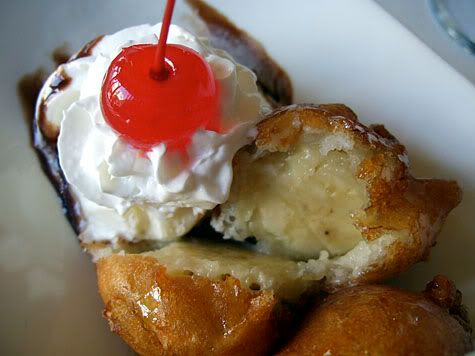 I really waddled out of there – woof! …and I had gone in thinking I'd get a cheap bowl of Fishball Noodle Soup… This is definitely not a place to get a super cheap lunch as most of the noodle dishes were around $10.95 and the regular plates were $13-14. But this is worth coming back to try other dishes, especially more of that delicious soup!
click here to read about my next visit when I sampled some rice plates.