previous visit: 2/7/08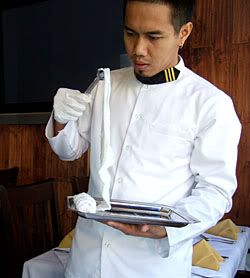 Yes I know, it's been barely a week since I ate here, but my friends DDR and P had just returned from a whirlwind tour of Brazil and had a mad craving for Asian food… so I opportunistically suggested King – Cha Cha. P laughed at the name of the place, saying it is a funny choice as it translates to the Slow King, King of Slowness or something like that. Well I do agree that if you are looking for a fast, quick lunch, this is not the place for you. The emphasis here is on the total experience, which includes elegant surroundings and a certain amount of formal ceremony. Here is the be-gloved server handing out the first round of steaming hot towels that were passed around before we ate.
We had two waitresses who were clad in beautiful and shiny flowing gowns, who hovered in the corner together and only appeared as a pair. At one point during lunch, DDR squirmed and said, I can feel them hovering, are they going to just stand there watching us eat? JT said we must make merry and show our enthusiasm for the food. We were the only table in the restaurant after all, so it's no wonder the attention was focused on us… we were pampered and very well tended.
We were served bowls of the delicious Chicken with Coconut Milk and Lemongrass Soup Tom Ka Gai. It is served with big pieces of fresh mushroom that are tender and lighten up the richness of the broth, which is full-flavored and delicious but is served in a large bowl and can be very filling. But I was hungry and it tasted sooo good that I couldn't stop myself…
The lunch menu is one page and offers a few appetizers, some noodles, and rice plates, priced between $10-16. The dishes are huge and resemble ala carte size servings, and so far have included both the coconut chicken soup and fried bananas for dessert. I ordered the Spicy Eggplant with Chicken and Basil. It was perfectly cooked, the eggplant were slightly firm to the bite, but creamy and fluffy on the inside and a beautiful rich purple color on the outside.
JT ordered her usual Pad See Ew, which is her gauge of whether a Thai restaurant is worthy. They were sadly out of the normal thick rice noodles, and offered her a few choices and she went with egg noodles, which have a thicker chewier texture. It was full of Chinese broccoli, egg and chicken and smelled of the fragrant aromas of garlic, vinegar and soy sauce, and that prized breath of the wok smell that I love. Everything glistened from its recent crisping in hot oil.
DDR had Green Curry with Pork, which was topped with sliced bamboo shoots and mixed with of slices of red and green bell pepper and served in a spicy coconut milk based curry.
P ordered the Fried Chicken over Fried Rice dish. Mmmm, fried stuff over fried stuff, can't beat that combination.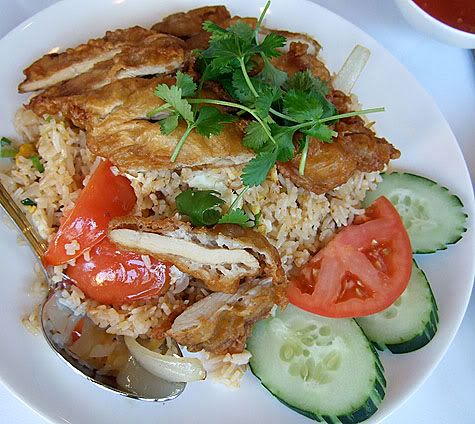 It was served with a sweet spicy sauce that was a beautiful bright vermillion color to dip the chicken pieces in.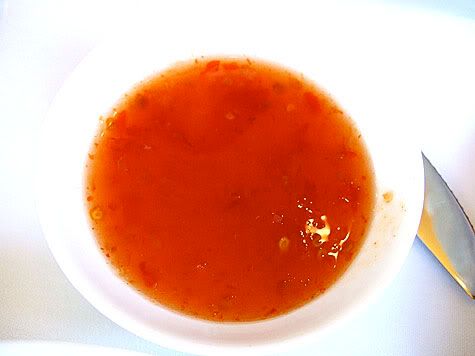 And then came the delicious Fried Banana with Coconut Ice Cream dessert, along with a pot of delicious hot tea. The last time I was here, the Owner mentioned that the tea is blended with a special mixture of Thai herbs which give it a compelling fragrance and complex flavor. After the meal, we were again served the steaming hot fragrant towels to wipe our hands with.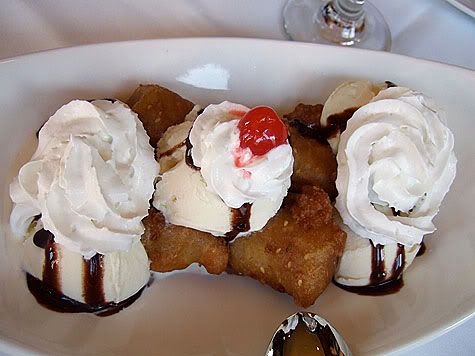 If you consider the extra courses of Tom Kha Gai soup and the Fried Banana dessert, $17 a person doesn't seem so expensive, but for a regular workday lunchspot the prices are pretty steep and with three courses, lunch can't help but stretch out to an hour and a half, indeed, Kin- Cha Cha does live up to its name.