515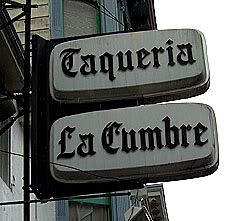 Valencia Street, SF, CA 94110, 415- 863-8205; fax 415-863-2322
I have walked by many times over the years and I'm glad that I tagged along when BC had a craving for a burrito from La Cumbre. Things have a way of working out, as AL was willing to drive over to Valencia and 16th which is normally way too far for lunch on a workday. BC told us that at his previous place of employment, they would take folks here for their last meal (so to speak), and that it didn't seem right that he would so look forward to saying farewell. It had been many years since he'd been there and a visit was long overdue.
We got there early and had the place to ourselves, which was good as most of us needed time to ponder their extensive menu. For me it was easy, my eyes fastened on the sign that I last saw at Chik-Fil-A and I was set on ordering the best grilled chicken this side of the Rio Grande.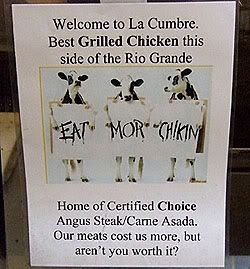 The interior has high ceilings and is bright and cheery with festive decorations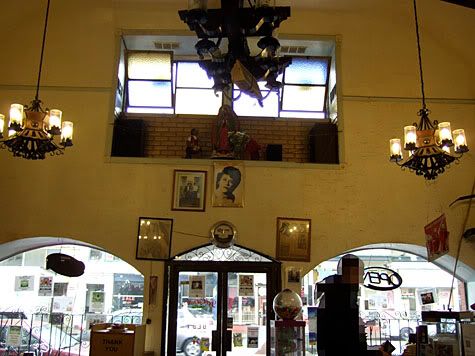 CS who is very tall, somehow noticed that the table legs were rustically carved into the shapes of people holding out offerings. I find it to be interesting that he would see this and not me, as I am a foot nearer to the ground….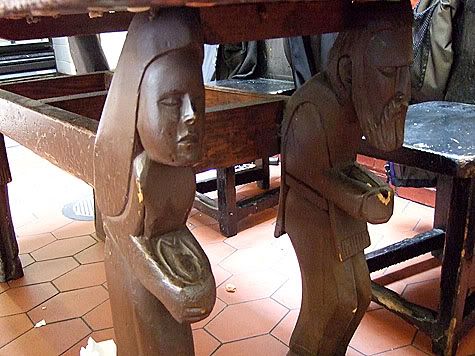 They claim to serve only choice meats, cook with olive oil and the freshest organic ingredients, which I like as you may have noticed that I appreciate food with integrity. Very few taquerias make this claim, and the ones that do are expensively posh and swanky and located either in the Ferry Building or 4th Street in Berkeley.
There's the very well outfitted salsa bar offering at least six different salsas (I think that the 2nd one is an avocado salsa and not guacamole) and a number of fresh vegetables, including corn, radish, cilantro, onion and pickled peppers and juicy lime wedges. They thoughtfully provide paper trays, extra sheets of aluminum foil, and paper bags for to-go customers.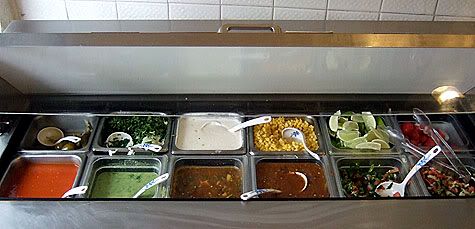 Here is CS's gigantic burrito, which comes on a brightly festive red plastic chili pepper shaped platter. There's a lot of attention to the details.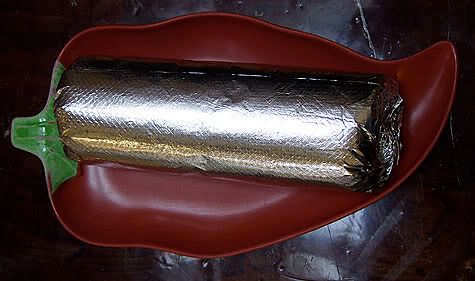 I had the Combination Grill Plate of chicken and steak, which included choice of beans, rice, salad, sourcream and guacamole, along with spicy salsa that was full of kick-ass jalapenos. Is it the best grilled chicken this side of the Rio Grande? I have had better, but this was pretty good…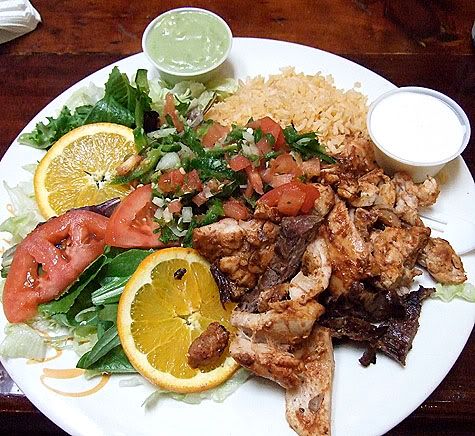 It was quite a pile of meat! It looked to me as if they cook the meat pretty much to order, rather than pulling it up from a vat of unknown vintage. The chicken was tender and juicy, but the beef was dry and tough, a real workout for my jaws. I would definitely not recommend the carne asada.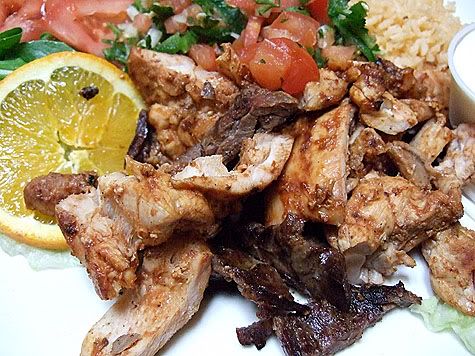 A delicious bite of chicken with a dab of the green avocado salsa and a squirt from their squeeze bottle of hot sauce.
I was lucky and sat next to AL who ordered a Carnitas burrito and a lengua soft taco, which I had briefly considered as well… I ended up helping him eat the lengua because his burrito was so good he had to finish that first before he got to the taco. It was the best I've ever had, the meat was incredibly tender and moist and was topped with a snappy zesty sauce that made it even better. I am always glad to help out whenever I can.
mmm, delicious!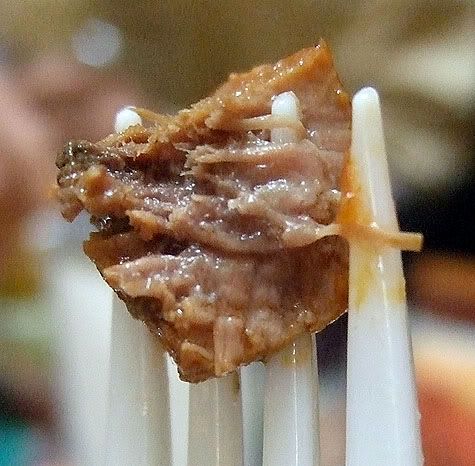 Here is a closeup of CS's Chicken Burrito with black beans. He struggled to finish the entire thing, which says a lot, as I have seen him consume two breakfast burritos from Tlaloc in the morning!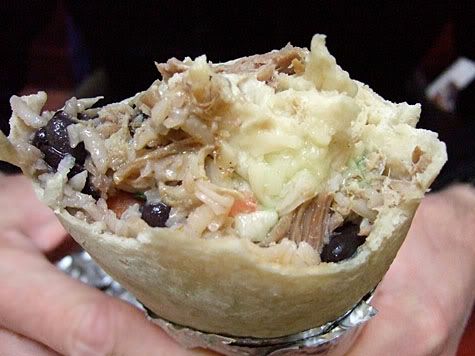 According to their menu, La Cumbre was the first taqueria in San Francisco, and it is the birthplace of the now famous Mission Style burrito. How exciting to be eating at such a historically important culinary shrine? This painting of a scantily clad and voluptuous revolutionary trumpet player greets you when you enter the door – it is on their menu and I believe was also printed on all of the staff's shirts.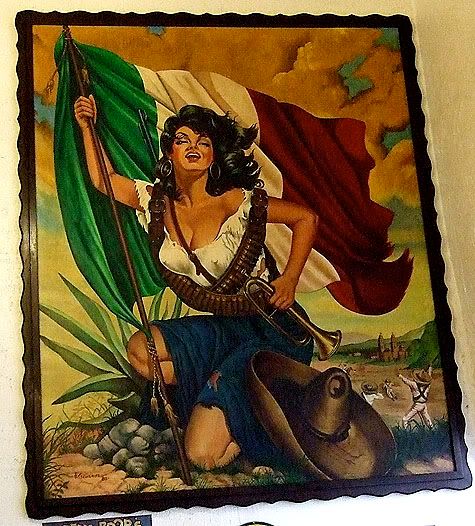 I think that getting to a restaurant when they open is a good thing because everything seemed to be fresh, the tables, the counters, even the salsa bar. The place felt clean and well cared for. I looked them up on CleanScores.com and they rated a squeaky clean 94. I'll detour over to this place the next time I'm in the Mission looking for a lengua taco.