We were invited over to a relative's house for new year's dinner last weekend. A distant relative in all senses of the word – an uncle's brother-in-law who lives in Morgan Hill which is an hourlong drive south. We had talked about this at our christmas dinner last year after listening to MarthaF (who is an accomplished cook and from Vietnam) describe her preferred methods for preparing home-made pho which left us drooling over our plates. She said It's easy, I can show you and we were so very excited when she called to confirm dinner on the 2nd Saturday in February. Pho, the elixir of mortals… ahhh to taste homemade pho made by a native of Vietnam…. Let me just stop torturing you now, because as it turns out, we were served a tasteful and elegant european style buffet instead. I'll admit that we were were surprised and dismayed how the menu had changed, but we were fed very well that night and I'm really not complaining!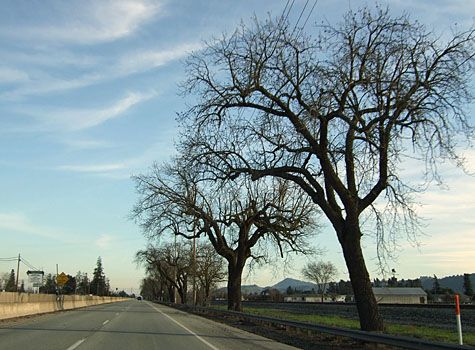 Mr. K and I drove beyond the town of Gilroy, home of the beloved garlic festival, past miles and miles of sprawling tract homes that eventually dwindled off leaving the hilltops green and bare. We veered off the highway and down a country road past lots of agricultural splendor and eventually entered a secluded and very posh few blocks of country manor tract homes.
Their house faced a well manicured long park where children quietly played and people walked their dogs.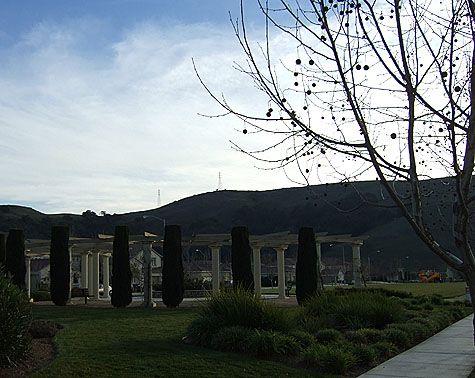 The backyard was an extravagantly laid out Japanese garden that presented a meandering path that circled around appealingly gnarled and stunted bonsai trees and miniature stone lanterns. We walked around the garden and admired the many soothing and organic aspects which were a pleasure to behold.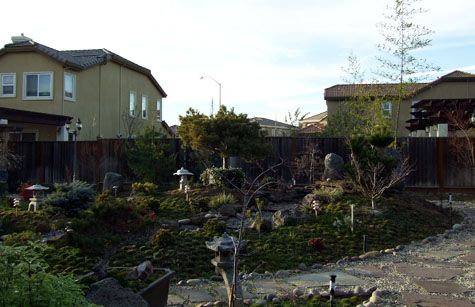 Eventually we all gathered in the kitchen where MarthaF was puttering around taking the last trays of hors d'oeuvre out of the oven, encouraging us to eat them while they are still hot.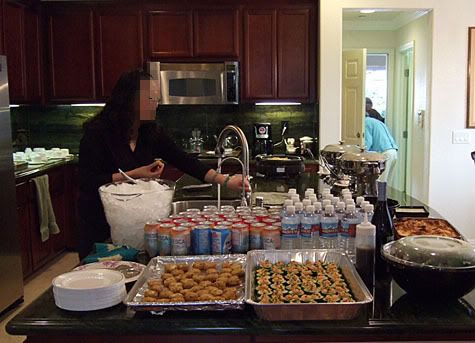 On the left were scrumptious meaty little Crab Cakes and on the right were thick crisp Cucumber Slices topped with a Smoked Salmon Cream Cheese mixture, sprinkled with chives.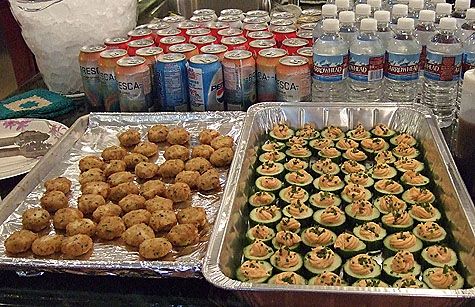 She obviously was expecting a crowd and had invited people to come in at various times to eat during the course of the evening. We were the first group, one of the benefits of pulling rank as family.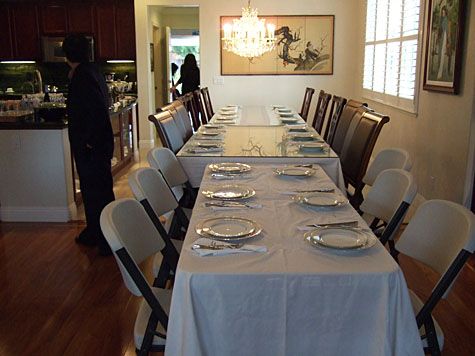 The entrees were gently warming in shiny covered chafing dishes, each clearly labeled with a tempting description of the contents.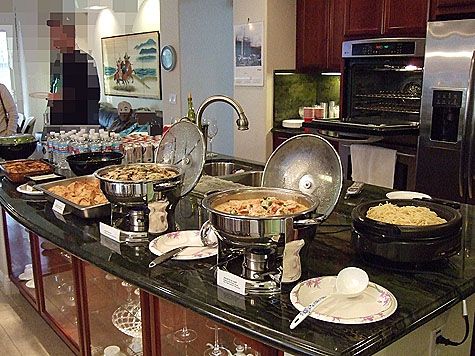 We started off with a nice Salad of Mixed Spring Greens that she served with a dressing in a squeeze bottle that she laughingly said contained a mystery ingredient that was never divulged. Whatever it was seemed to clog up the squeeze bottle that it was served in, causing moments of hilarity when the over-enthusiastic squeezer would be rewarded with an alarming amount of dressing spouting out, generously splattering the salad and anything nearby.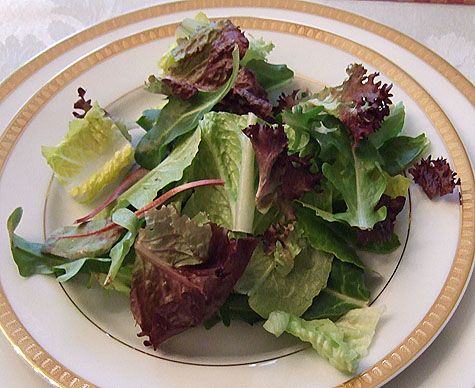 The Scampi was full of huge prawns swimming in a rich garlicky cream sauce that was delicious poured over the noodles in the background.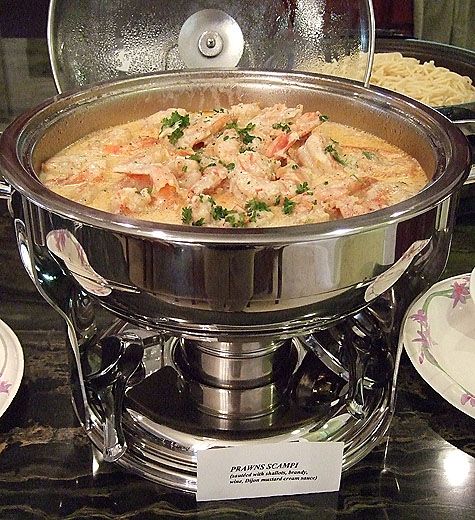 The tails were still attached and I wonder why people do that as it obliges you to either use your fingers to grasp the little flippers at the end while you attempt to pull the remaining meat out of the shell, or is it because the succulent and tender shrimp look better against the dramatic red color that the tail gets after being cooked?
There was also a chafing dish with Chicken Picata, lovely chicken breasts that had been pounded thin and served with capers, lemons and and parsley in a rich mushroom gravy.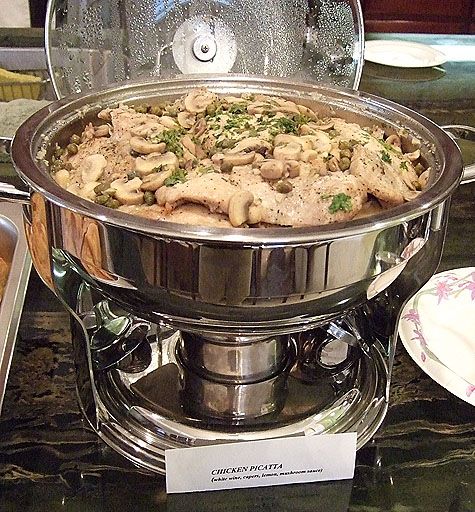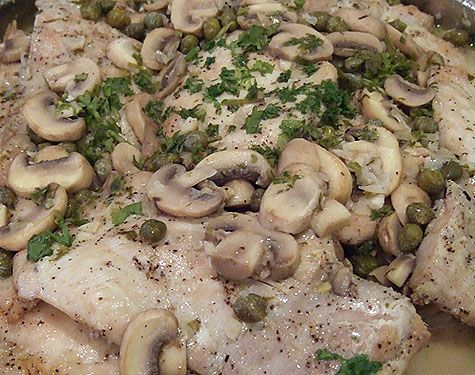 And the last entree was Salmon in Puff Pastry, filled with Shiitake mushrooms and leeks.
This was served with a creamy, tangy Yogurt Dill Sauce that really pulled the dish together especially since the puff pastry seemed to suck some of the moisture out of the filling.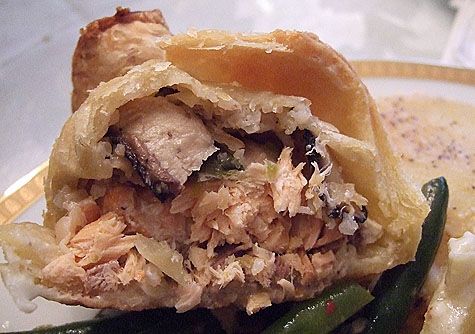 MarthaF made her famous Scalloped Potato dish, nevermind that it looks rather charred here, underneath it is rich and creamy and packs a wallop with a nice amount of chili heat.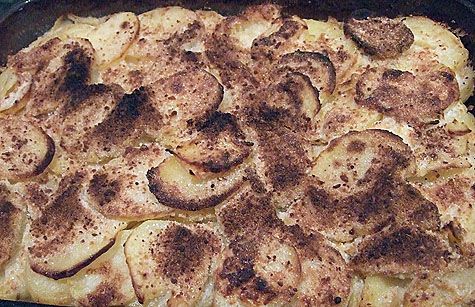 Green Beans with slices of onion, sundried tomato and black olives, served in a zesty garlicky dressing.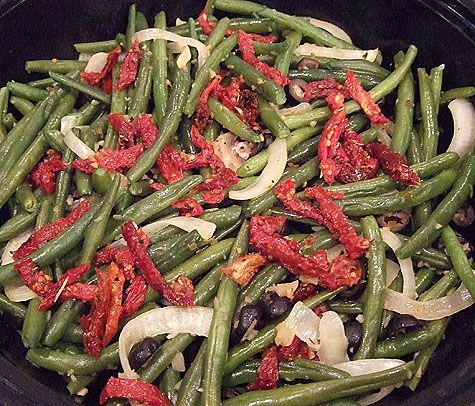 Yum, this is my plate packed with a little bit of everything, and I admit that I only had the one plate as everything was very rich and satisfying. I also had indulged in quite a few appetizers and still needed to leave room for dessert…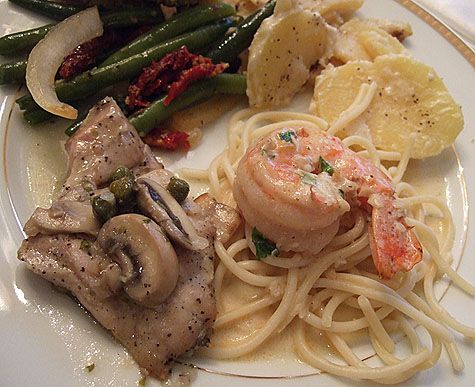 The first dessert that was served was Aunt May's Confetti Jello that really is one of the great marvels of finger jello in the world, if you are partial to jello that is… Imagine tiny little squares of orange, lime, lemon, and cherry flavored jello suspended in a sheer white creamy layer and cut into triangles that you can eat in one piece. It is bright and refreshing and bursting with a rainbow of fruity flavors, in fact it reminds me of the old zebra fruit stripe gum of my youth.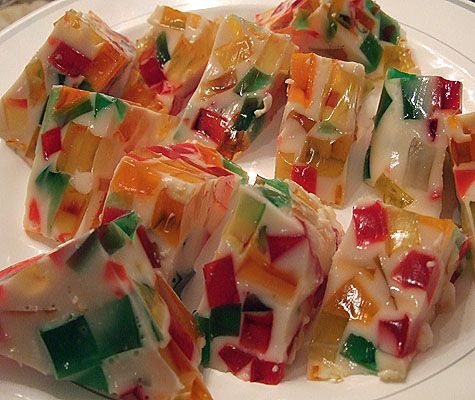 I was served a generous slice of homemade Rum Raisin Cake that had a wonderfully light and ethereal texture and filled my nostrils with tendrils of boozy fumes that I think were infused in the raisins. It was delicious but I wished for a nice scoop of ice cream or something rich and creamy to go along with it.
Ah, ask and you shall receive, and the next thing I had was a slice of gooey rich fruit tart! You can see the rich flakey layers of the pastry dough and the dense, creamy rich filling was delightfully sweet and topped with a thin layer of clear sweet gelatin that adhered the fresh fruit to the top.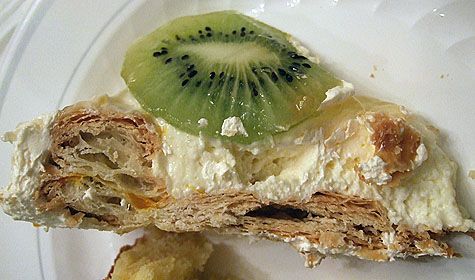 It was an exuberantly festive and colorful tart cheerfully proclaiming Happy New Year! in Vietnamese.
All the while during dinner I cast nervous glances at the shimmering spectacle overhead of the heavy baroque chandelier that I understand was near 200 pounds in weight! I am sure that thought must have crossed everyone's mind seated in the general vicinity as we are in earthquake country, even as far as Morgan Hill! Gazing up, the colossal cluster of glittering, sparkling crystals seemed to characterize the extravagantly lavish and shiny world that we occupied at the moment.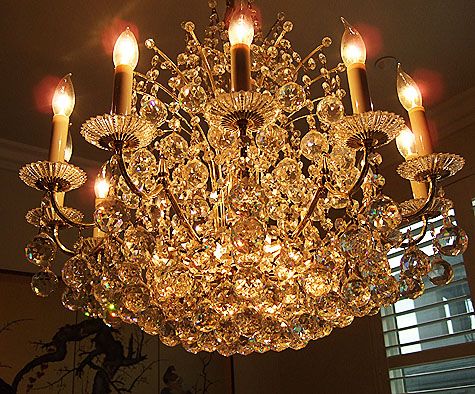 We sat for a long while after such a meal, catching up after long absences with distant family members and being introduced to whole new ranks of unknown and even more distant and completely unrelated families. Eventually we had to rise and be on our way before I started up on round three. I am still hoping that we can revive our tutorial on the art of making pho with MarthaF another day…