Mr. K and I are devoted fans of the delicious breakfast that is served by the Hayes Street Grill booth at the Ferry Building Farmer's Market on Saturday. The booth is open (8-1:30ish) and is located on the south end of the area behind Sur La Table, tucked in the row of food booths (Vicolo Pizza, Hog Island Oysters, Aidell's Sausage and a Mexican Spot). The kitchen in the back of the booth looks pretty basic, but the food is always perfectly cooked and there is almost always a line of hungry shoppers patiently waiting for their bacon.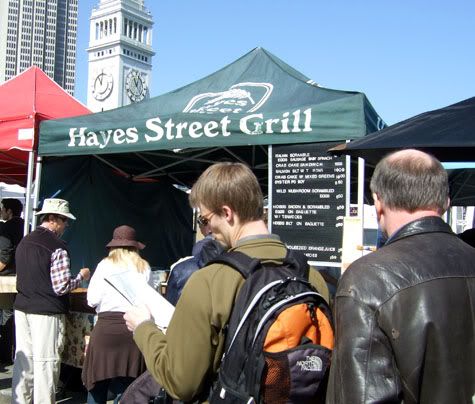 The kitchen cranks out plate after plate of delicious food.  I love to watch the chefs cook, they are very methodical and nonchalant about the never-ending line.  This is scrambled eggs with sliced tomato topped with crispy cooked bacon served on a baguette.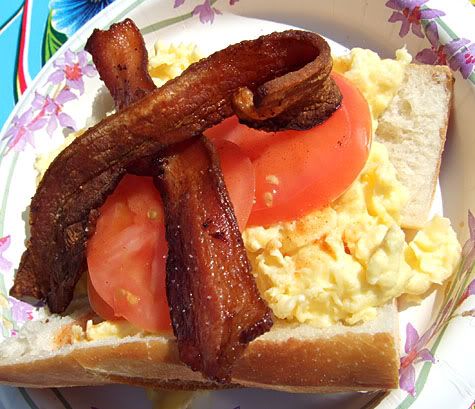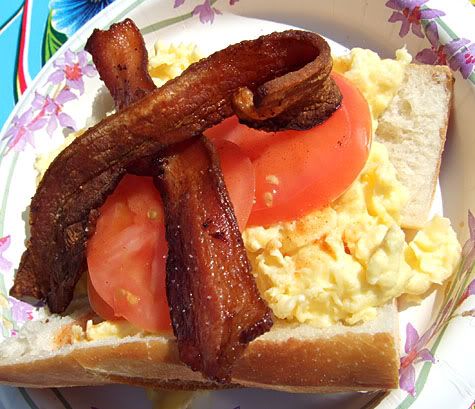 Mr. K's favorite, the wild mushrooms with scrambled eggs, also served with slices of tomato and bacon on toast.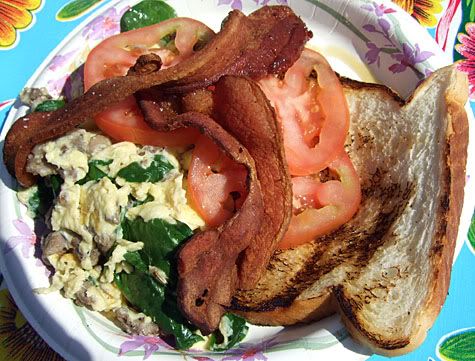 I had a good recommendation to try the Panfried Hama Hama Oyster Po'boy, which was incredible. If you follow my foraging, you know that I am a big fan of oysters on the half shell, but there is something compelling about them fried… the texture of the oysters becomes fluffy, like a seafood souffle that has been breaded with cornmeal and fried crisp.
Mmmm, the oysters were slathered with mayonnaise and and layered with slices of tomato and lettuce, the holy trinity of sandwich making that is especially good when paired with fried foods.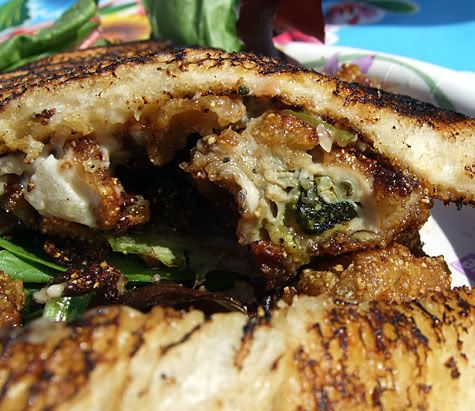 I snapped a picture of somebody's Salmon BLT which looked so good. If I can get over that amazing po-boy, I will have to try that next time… Somehow I know it's going to be a few visits down the line before that po-boy itch has been scratched satisfactorily…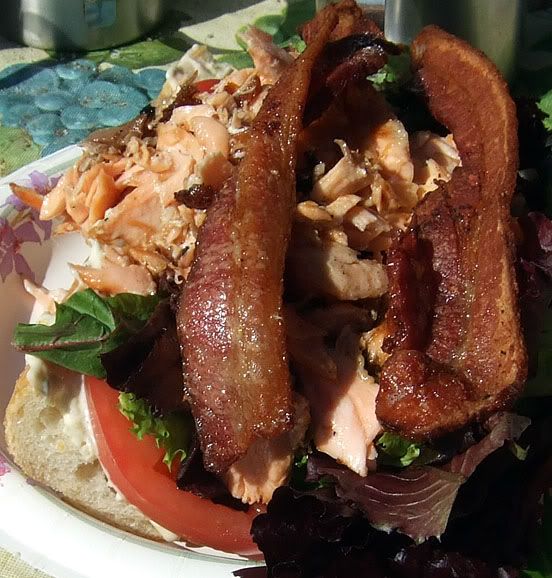 Here is a rogue item that MIL picked up, Asparagus Tempura. That was something that was best left unknown because now I'm going to be looking for that next time we're here.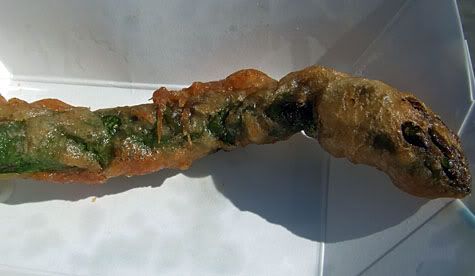 So, there I was at the fabulous Saturday Farmer's Market where all the serious cookers come to forage for the freshest produce, and I just ate my way through it. I did buy a couple of herb plants for my herb garden, and Mr. K picked up oranges for his newly acquired fresh squeezed orange juice habit…