Cochinita Pibil is a traditional Mayan dish that is supposed to be cooked wrapped in banana leaves and in a covered pit. I enjoyed this delicious dish at both Los Sombreros Cafe and the Barrio Cafe when I was in Arizona last summer, but don't see it on the menu very often in the Bay Area (but then again, maybe I haven't been looking very hard). Since I got the cast iron dutch oven, I have been on the prowl for slow roast recipes and found one for Cochinita Pibil in Rick Bayless' Mexican Everyday. It's simple enough for me and resulted in what Mr. K said was one of the best meals I've ever cooked!
I started cooking this Yucatan style slow braised pork dish on Saturday, then let it sit overnight in the fridge, skimmed off the fat and then cooked for another hour or so on Sunday. It was amazingly simple to put together, it just took a long time to cook, 4 hours the first round, then an hour or so the next day… Slow cooking at lower temperature yields the best results. After some trials and errors, I have learned that it's best not to trim the fat off of the pork shoulder before cooking because the meat stays juicy and succulent. I have to say it was way better than either version I had in the restaurant. The recipe includes pickled red onions as a garnish that really perk the dish up.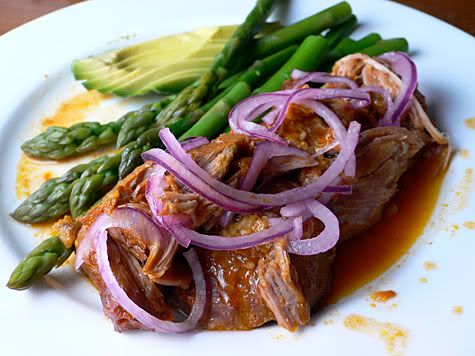 Here's Mr. K's dish with the Fried Black Beans and Gulf Rice Pilaf from the same cookbook.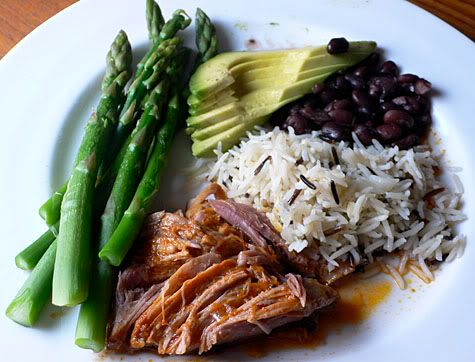 Get the recipe for the Cochinita Pibil here. The recipe yielded quite a pile of tender succulent meat that can be used in a variety of ways for leftovers.