Some of my earliest memories are of visiting my grandfather's urn to bring fresh flowers every week with my Grandma and Mom. I still remember the smell of putrid water and rotting flowers in the nearby vases and the chilly marble floors of the Columbarium. My sister and I would peer into the nearby wall crypts reading the inscriptions and I remember my mother telling us the story of a distant relative who now resided in one of the neighboring niches. He was out hunting for abalone and was swept out to sea… it was a tragic end in the noble pursuit of the good food. I don't recall the exact details but from early on I understood that there were great risks involved with diving for abalone.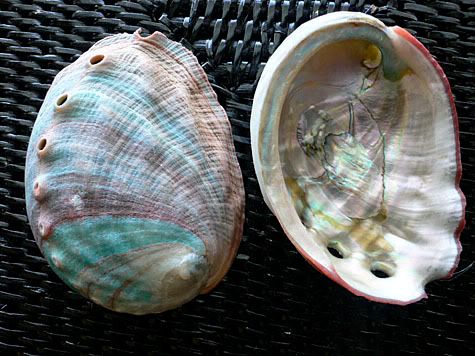 Growing up we enjoyed thick, luscious abalone steaks that an intrepid relative or family friend had plucked off a rock and we gorged on them raw with lemon. My grandmother's backyard was accented with the shimmering iridescence of discarded abalone shells. At some point because of pollution, over-fishing and hungry sea otters, commercial harvesting of the delectable and endangered mollusk was banned in California and we would have to resort to canned abalone for special occasions. It was never the same.
This is a tank full of abalone that you can buy at Koi Restaurant. Clearly these are large sea snails, roughly two to three inches in diameter, who spend their life clinging with their muscular foot to rocky surfaces.
Nowadays you see abalone on menus again, although it is very expensive and is generally farmed. The live abalone sold at Koi Palace are from around the world and look more complicated to shuck than an oyster, besides the water looked a little murky… I ordered a pound of Ocean Rose abalone from The Abalone Farm, which arrived in sealed vacuum packs, removed from the shell, cleaned and tenderized. I see a clear resemblance to the snails sucking along the glass aquarium wall above, just cleaned and pounded out to a neat, flat filet.
For my first abalone adventure, I took out half of the packages from the freezer. They defrosted in about a half an hour and smelled clean straight out of the packaging. They were tiny, about 1/4 inch thick and generally three inches across.
I decided to try two variations. The first was to quickly saute them in browned butter, cooking them 45 seconds on each side. Add the juice of a freshly squeezed lemon, sprinkle with parsley and black pepper – and this was amazingly good (click here for the recipe) . Simple cooking let the delicate sweet flavor of the abalone shine and the brown butter accented the velvety texture of the very tender and delicate meat.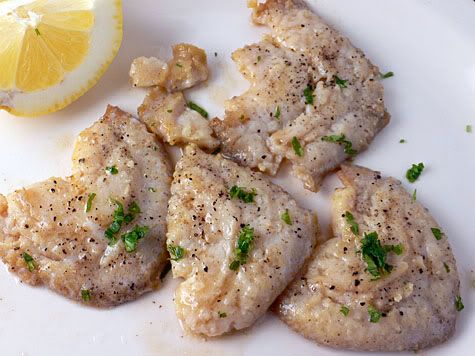 I breaded the other filets with parmesan cheese, chopped macadamia nuts and parsley and ended up frying these a little longer since the filets were first coated in egg whites and then the breading. It took a minute on each side in order for them to brown. These were delicious, but I think that the coating was so excellent that it distracted my attention from the delicate abalone… I posted the recipe for that dish here.
The remaining pieces will be cooked in just the brown butter and for less time, maybe warmed just enough until the meat becomes opaque.
This whole experience has me wondering about snails, as in escargot, which I have never had. Are they something like abalone? They sure look alike in the tank. I'm an unabashed fan of abalone and I just hope that the price will go down soon so that they let them grow a little bigger… The shells are so lovely too.