I got a missed delivery notice for a package sent by registered mail last week.  After a bit of drama at the post office, I felt very triumphant to walk out clutching the box. It was a festive box covered with images of red roses, marked from Estonia! I looked on the customs statement and excitedly noted that it contained chocolate! Cool, Estonian Chocolate – yipeeee!!! Since I don't know anyone from Estonia, I knew it had to be my eagerly awaited Blogging by Mail giftbox.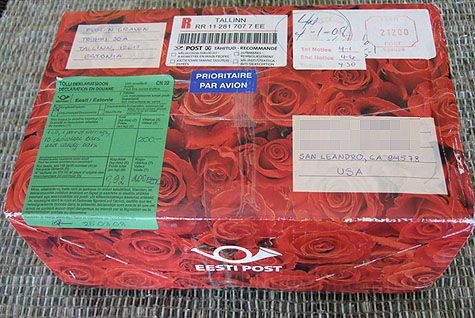 This is my first Blogging by Mail, a delightful tradition where foodbloggers from around the world exchange a box of local goodies with an unknown partner. The current round was coordinated by Stephanie at Dispensing Happiness, who matched up 82 food-obsessed personalities to swap care-packages. The theme is little things count, and I had so much fun foraging, for as you know I am a procurer and not so much a cooker…  My assigned blogger is a young baker in Switzerland, so I got carried away and sent a little bit of this and that and was appalled to find the shipping cost twice as much as the goods! Here is a link to her post about receiving her box of goodies from SF.
Inside my box was a long handwritten letter from Evelin who writes the blog Bounteous Bites describing the different chocolates and confections that she sent, which is a good thing because I have never heard of most of the things and of course the packaging is not in English! The coolest thing is that I actually read her blog, as I am fascinated with the foods and cultures of faraway places and she always has such interesting recipes and stories about life in Estonia.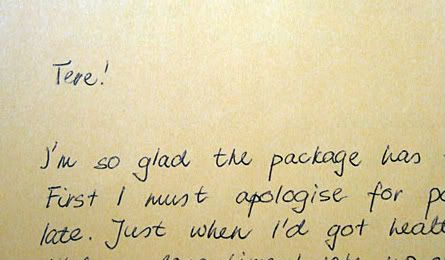 What fun to dig through the box and see all of the goodies.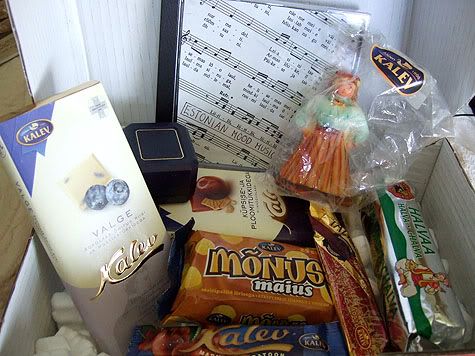 I had to lay out all of the candies, it smells delicious! The strangest item is a cellophane wrapped peasant woman made of marzipan who is wearing the national clothing. I'm saving that one for later…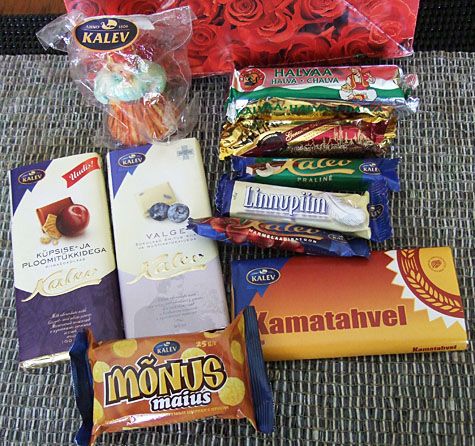 I had to try the Cashew Praline, as Evelin said it was her favorite. It was delicious and sweet and reminded me of Mexican mazapan, lightly coated with chocolate.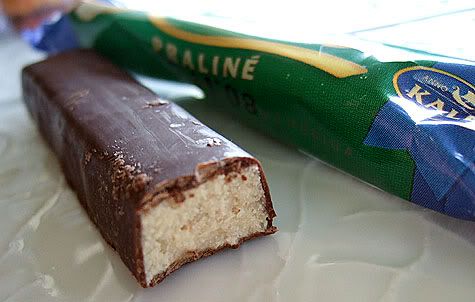 Her description of the Kalamatahvel bar so intrigued me that I opened that next. It was her comment that the design is as retro Soviet as it gets that grabbed my attention. Even so, while the bar looks like chocolate, it hardly smells like it and has the oddest texture. It contains some cocoa, but it has more kama flour in it and she mentioned something about thick sour milk… Very interesting indeed, I had to look this up and found an interesting post here about Kama.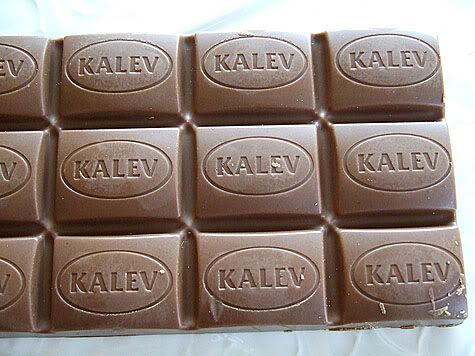 And she included a cd of Estonian Mood Music that I had to listen to while eating the Estonian chocolates. Very nice, she included english translations of the titles too, as I can't tell the difference between the title and the artist's names! It's a beautiful collection of rolling r's and words I have never heard before. She also included a pair of bright red roses that look almost like candy. Ok so I'm wondering is there some significance about the roses and Estonia, or is it just her favorite flower?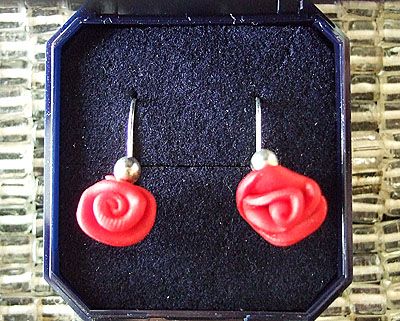 This last one she said is her father's favorite with corn puffs and toffee.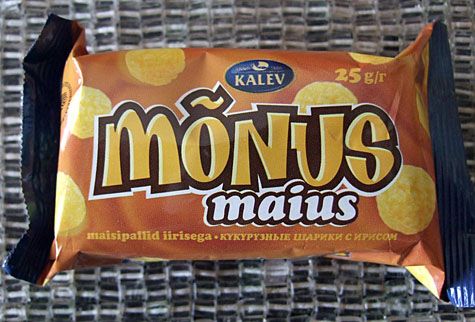 It's a big soft squishy thing coated with sticky toffee and reminds me a vaguely of the See's Butterscotch coasted marshmallow that tastes of popcorn.  Deliciously restrained!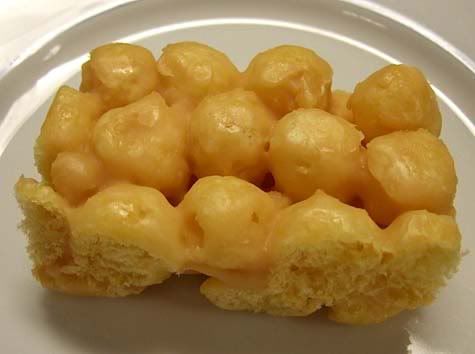 How interesting this is to have candybars from Estonia! I'm jumping up and down with glee and count myself to be one of the many who have been dispensed happiness with Blogging by Mail.