888 Howard Street, S.F., CA | website
I met up with some some friends and coworkers to check out the Luce Wine Restaurant in the gorgeous new Intercontinental Hotel. The dinner menu was rather expensive with entrees in the $30 range, so we decided to do an exploratory happy hour. The bar btw, has a breathtaking display of handblown glass bottles of grappa. The happy hour is restricted to the bar area, so technically we only peeked in the restaurant, had some snacks at the bar and tried a couple of things from their dessert menu. That hardly gave me an idea of what having dinner would be like, but then that just means I will have to go back another time to explore the delicious sounding menu by Chef Dominique Crenne.
We started off with traditional complimentary bar snacks, a variety of rice crackers, which was refilled several times during the course of our visit.
Later on, they filled one of the bowls with sinus clearing wasabi peanuts.
We split several orders of French fries with sea salt and sage which were presented in an elegant stack wafting the herbal aroma of sage. That's DDR's finger. Is she about to grab a french fry, or is she about to knock the stack over…
Sarah had a Green Salad, our one food item from the Luce menu. It was a very fine tasting salad, well dressed and with fresh herbs scattered on top.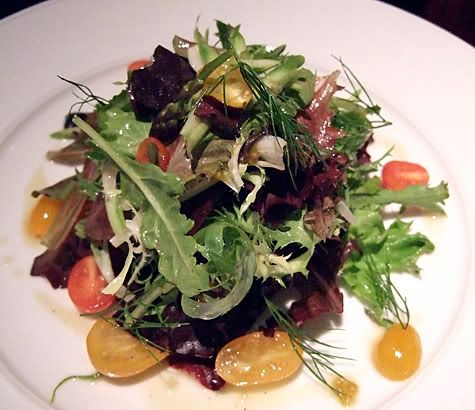 After that, everything we ordered was probably made offsite. Variety of Artisan Cured Meats, accompanied by some tart pickles. The prosciutto was generously thick and meaty and I wished that we had some bread to eat with these rich fatty slices.
Sampler of Olives, Almonds and Pickles
The Marcona Almonds were dusted with coarse sea salt and herbs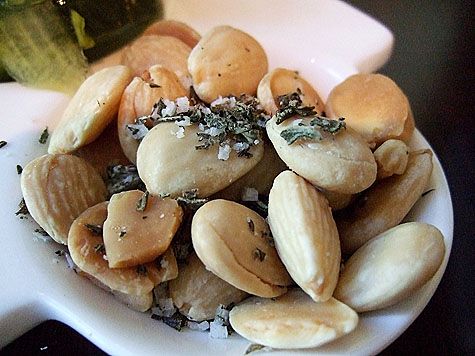 A Selection of Farmhouse Domestic and Imported Cheese, including a dab of lavendar honey, sliced pear and a sprig of shriveled grapes still attached to the stem. There was a local blue cheese, an aged goat cheese from France and I didn't catch the last one, it was aged and hard with crunchy crystals (Pinky's favorite).
Lavendar Honey on the stinky Goat Cheese
The cheese plate came with two slices of a rustic rye bread with raisins and nuts.
We decided to move onto desserts and shared a Study of Chocolate: Chocolate egg, Chocolate Pot de Creme, Chocolate Sorbet, Beignet, Saffron Chocolate Mousse, all made with Hawaiian Vintage Chocolate. Here is a link to a video on abc7news.com with Chef Crenn talking generally about the Study of Chocolate and then how to create the Chocolate Egg (the abc7news link includes the recipe).
This gooey melted chocolate sorbet was my favorite
Inside of the Egg is a molten chocolate cake, with a dense brownie like texture and a soft gooey center. It comes with a dainty little bamboo spoon so that you can excavate the interior clean, which DDR proved to be quite talented at btw.
Panna Cotta, which was orange flavored and came arranged in a cheery happy face formation. Hmmm, orange and cream, definitely not the chocolate that Sarah had ordered. We asked our waitress about that and it turned out that the chef had accidentally served us the lunchtime version of panna cotta, so they promptly served us the correct one with chocolate.
Nutella Panna Cotta, Caramelized Ciabatta, Basil, Cocoa and Toasted Milk Gelato. It was festively arranged and spread out so you could drag things across the various sauces and cocoa dust. The gelato was light and airy (white blob on the far left), resting against the panna cotta, which was cut into thin slabs and layered between thin slices of caramelized ciabatta.
The effect reminded me of a chocolate creme wafer cookie, and there were blobs of basil seeds that looked like slimey frogspawn but tasted refreshingly like basil. The flavors were restrained and not very sweet, definitely geared towards an adult diner (imagine the dismay of a child served the frogspawn… er basil seeds that I'm sure would be scooped up and placed in a napkin to hide under the seat cushion).
It's a really beautiful place to hang out for happy hour, but I'm saving up to come back for dinner…