1779 Folsom St @ 14th, S.F., CA 94103 415.552.4400 | website
A while back I exchanged emails with Chef Ben who pens the blog Cooking with the Single Guy. He suggested that we try one of the Izakaya (Japanese pub) places which seem to be popping up all over town. We decided on Nihon Whisky Lounge, which has been on my list of places to try for a while.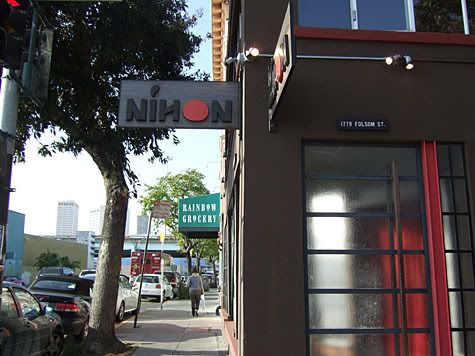 The Lounge is small and intimate with a sleek modern interior. The first thing you see are rows and rows of whiskey lined up behind the bar. I noticed on the menu that they offer the traditional Japanese style bottlekeep, where you purchase a bottle from their selection of over 150 whiskeys and they will store it in their locker for free. This grants you access to their private bottle service room on the 2nd level and saves money in the long run. The dishes on the menu were fairly standard fare but with modern flair and clean presentation.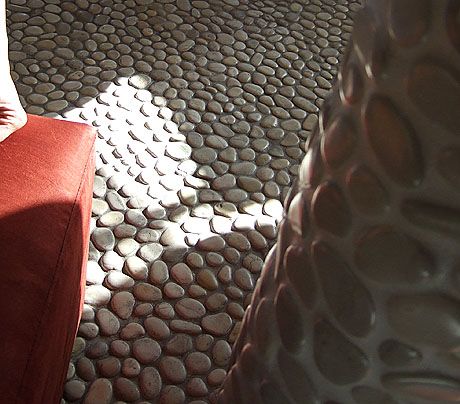 We got there early enough to have our choice of tables, so we grabbed a low round one in the center surrounded by cushy stools and I could lean against a rock encrusted pole while we ordered refreshing beverages and waited for Mr. K to join us. We enjoyed a bunch of appetizers to take advantage of the happy hour (which means appetizers and salads are half off). We started with the Nihon Salad, which is a basic somen noodles salad, surrounded by slices of fried makisushi (sushi roll), and drizzled with a delicious lemony miso dressing (7) This was a pretty big size plate and we each had several pieces of fried sushi.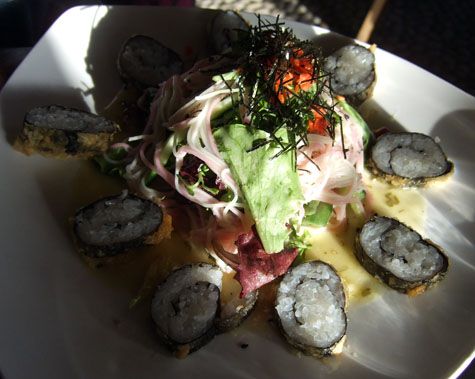 The Single Chef Guy had his eye on Tako Wasabi, which was raw baby octopus in wasabi sauce topped with caviar (3). It was a very small cup, at most an inch and a half in diameter, but the meat was cut into small pieces and packed a good dose of wasabi, so you had to eat it in tiny bites.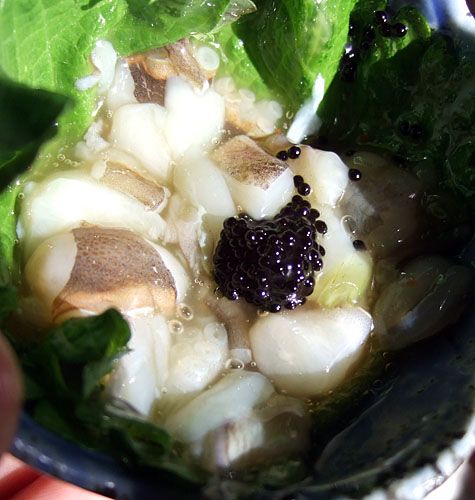 Here is a piece of leg with tiny little tentacles. The texture of raw octopus has a crunchy bite to it, but is sweet tasting and very tender. Delicious!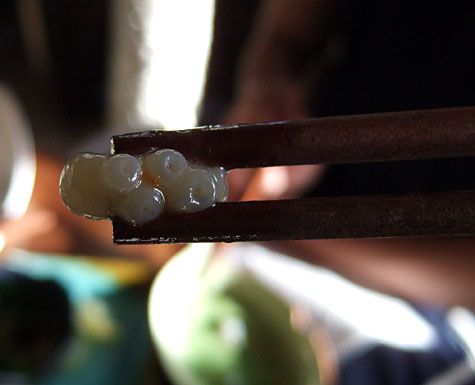 We had Agedashi Tofu, fried tofu with mushroom sauce (8), which smelled heavenly and you could see that the fried tofu had a nice crisp crust.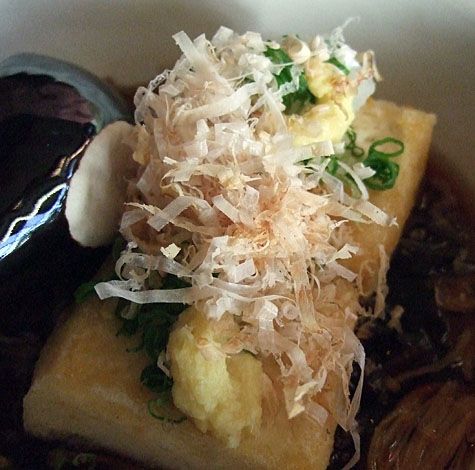 And it was so photogenic too! Traditionally this dish is served with a warm savory dashi broth made of kombu seaweed and dried bonito fish, that softens the tofu, infusing it with flavor. This came in a pool of congealed sauce whose texture was so wrong for the dish. The flavors were perfect: ginger, thinly sliced green onion, dried seaweed and a billowy mound of paper thin shaved bonito fish, even the tiny strands of enoki mushrooms and tender slices of shiitake suspended in the thick sauce couldn't pull it together.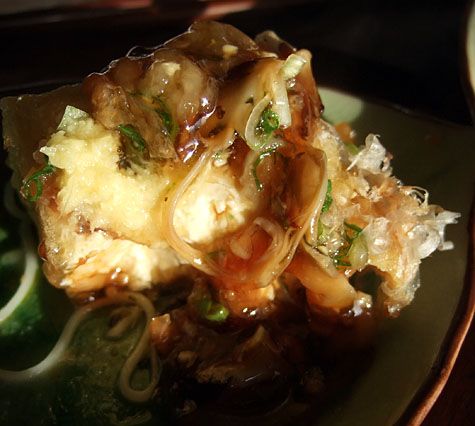 Oimo no Tempura, fried japanese mountain potato and taro with hawaiian sea salt and pepper aioli (8). Both of these potatoes are really starchy, which made for a very interesting rendition of french fries… The mountain potato is a long rootlike tuber that has a much denser texture than a regular potato. It stubbornly refused to be transformed in the deep fryer and retained its thick sticky texture inside. The spicy aioli had separated and did not have much of a kick.
The taro was probably steamed beforehand, as it was dense and fluffy with a slightly viscous texture. It was coated in a light tempura batter and fried, but was rather bland and seemed kind of dry.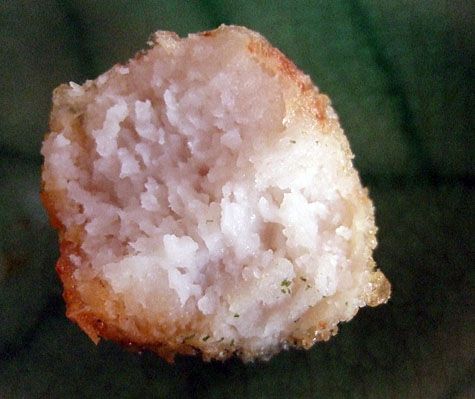 We saw this very dramatic dish on fire go by and asked our server to bring one over for us. It was called the Dynamite baked seafood sauteed with onion and shiitake in dynamite sauce (7). It arrived with flames spouting up the sides which made the dish sizzle and pop deliciously.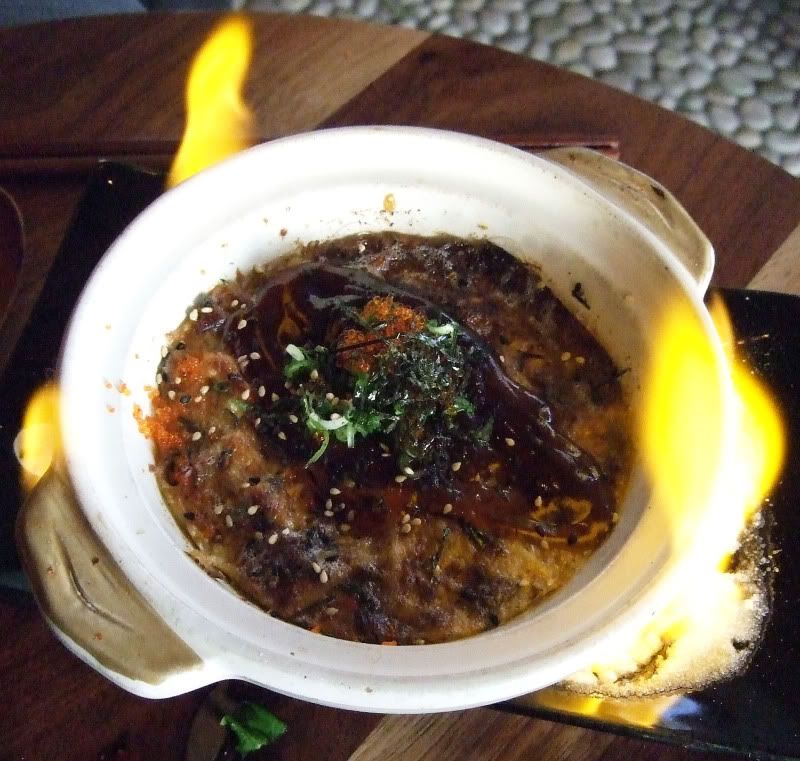 It was basically a Japanese style gratin, which meant that it was piled with a creamy sauce and baked until the top becomes browned and crispy. It was thick and rich and rendered fluffy with beaten egg, just the kind of thing that Mr. K hates… but that just left more for me and Chef Ben.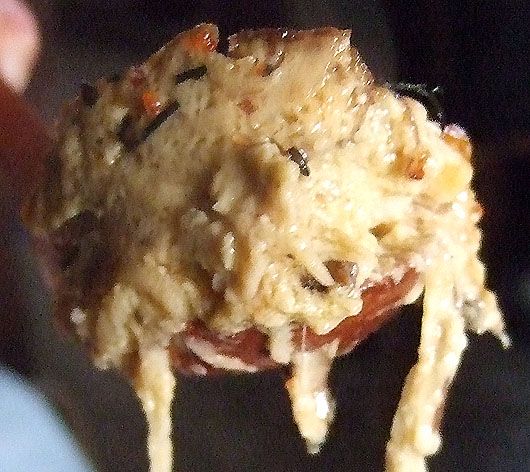 While they do serve sushi rolls, we opted for the Sashimi Omakase plate, 8 pieces (17), which included salmon, escolar or waloo fish from Hawaii, tuna and seared ahi.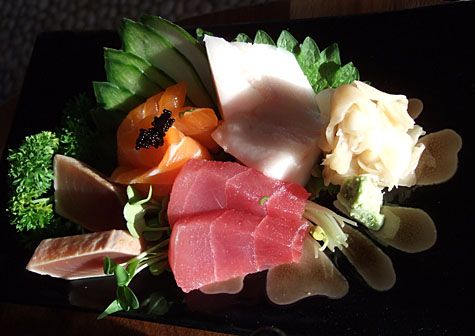 Mr. K thought the Tuna Carpaccio tenderized tuna with white truffle ponzu sauce (13) sounded intriguing, but the classic preparation used for carpaccio didn't seem to work so well on the tuna. It was pounded so that the texture was mushy and served room temperature, which relaxes the flesh further. I tend to like raw fish served at a much cooler temperature, and I am not a big fan of white truffle mixed with ponzu sauce.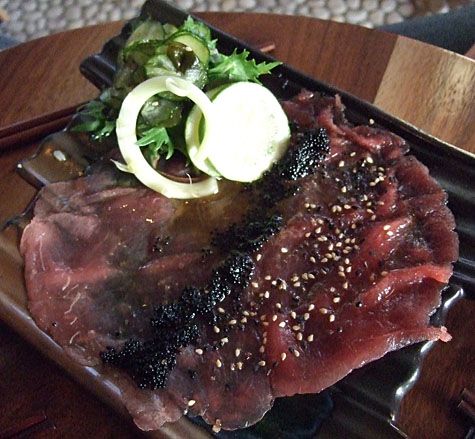 Well, that left more room for dessert and we decided to try the Green Tea Cheesecake, which came with a cherry berry compote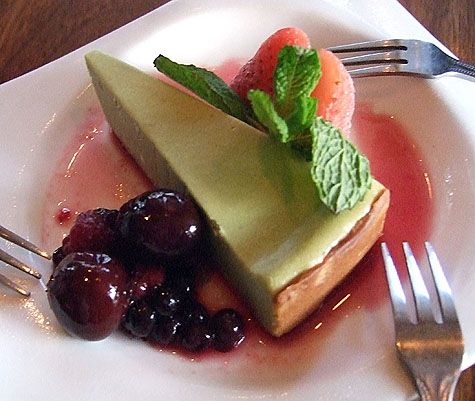 And a frozen strawberry stuffed with a cream cheese filling. It was frozen hard as a rock, but eventually defrosted enough to eat.
As it grew darker, they lit up candles behind the bar which already glows from within. The lounge was getting crowded and there was a large party taking up half of the floor that was becoming increasingly loud and boisterous (i.e. stumbling around and shouting). We signaled for the check, which was quite reasonable because we had so many dishes at half price! The table service was a bit distracted and slapdash, but if you consider that it really isn't a restaurant but a bar serving food, the level of attention was pretty responsive.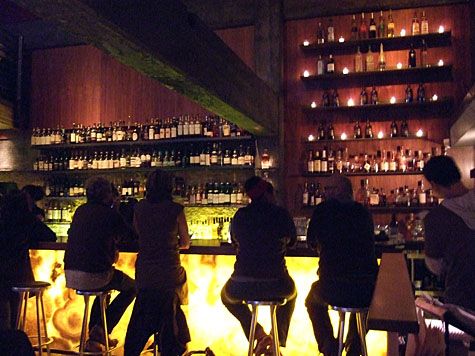 Here is the Single Guy Chef taking notes from the menu, while I just took a picture… You can read his take on the meal here. I liked most of what we ordered and there was a lot of unexplored territory on the menu that sounded interesting, especially items from the robata grill, an entire section that we overlooked. Mr. K hinted that he might want to check out their extensive selection of single malts too.