and while we're on the topic of meat….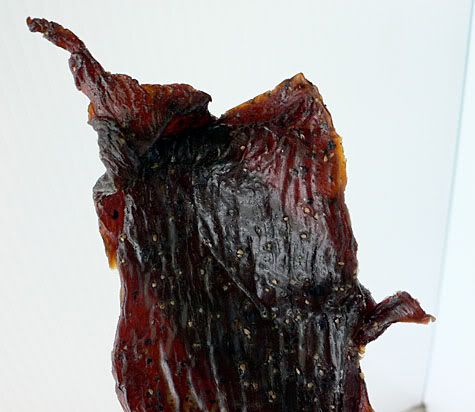 I don't know if it is a cultural thing, but I love beef jerky.  It's not something you generally go shouting about on the streets, but for those of us who enjoy gnawing on dry salty leathery strips of meat, behold the embodiment of jerky perfection.  It is a stick of peppered smoked jerky from Marin Sun Farms. This is indeed highbrow stuff, and hard to come by as we had to drive all the way out to Point Reyes to their store and paid roughly $10 for a vacuum packed bag of 3 pieces… Some say this is the best, and I'm inclined to agree, there's something very refined about it. You can also find this at their stand at the Ferry Building Farmers Market on Saturdays.
I have been sampling a few different brands, with an eye towards naturally raised or organic meat. But most importantly, I look for jerky that is salty, lean and perfectly dried. Anything that is soft, pressed, chopped or reformed is off the list. One of my favorite brands is the Robertson's Peppered Jerky, which is sliced very thin and is so dry that it almost shatters when you bite into it. They use only lean beef, season it, then hang it up to dry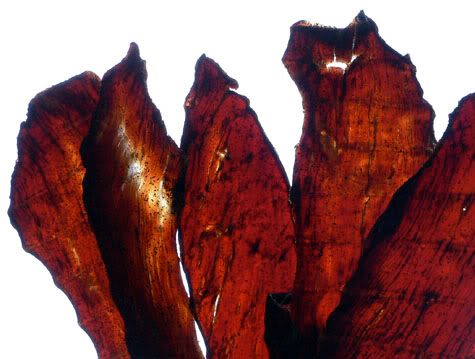 Mingua Brother's Beef Jerky, from Kentucky has a very tasty Cajun spiced jerky that is also very thinly sliced and salty, but dusted with a mixture of tastbud tingling spices. It's a little thicker than the Robertsons so has more of a meaty feel and is not as dried out as the Robertsons above.  Mr. K prefers this over the others, as he always feels that jerky is not spicy enough.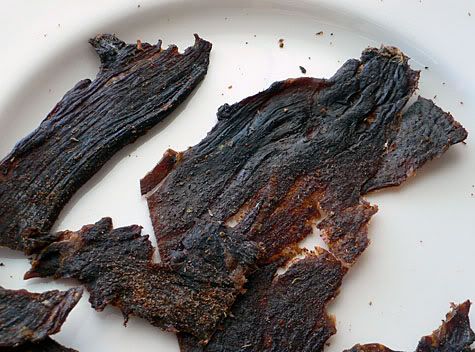 Fesperman's Gourmet Beef Jerky, is made with very lean meat that is cut in thick slices and dried until it is almost brittle but the marinade leaves a sticky residue on your fingers.  The garlicky marinade is very heavy and potent as if it has been brined overnight in soy sauce giving it an elemental and rather brutish flavor.  Overall it's a neanderthal workout on the jaws and burns your tastebuds, but I found it to be addictive once I started gnawing on it…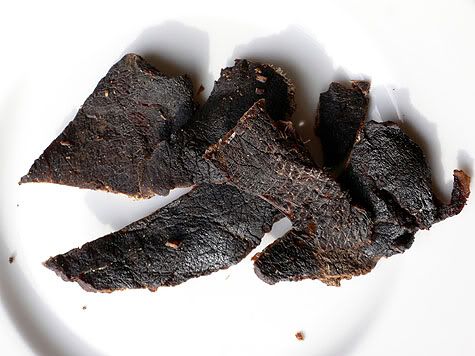 I ordered most of the above online from The Beef Jerky Emporium in Oklahoma City and received a sample Elk Stick which tasted like something you buy from a plastic tub at 7-11.
Gary West from Oregon had received a lot of good press but I didn't care for the style, which was thick and chunky, more like beef sticks… although I have to give them credit that they were actual pieces of meat, not chopped and formed. It was too chunky and cut too thick for my taste, it made me think of way overcooked meat (my inadvertent specialty)… Here's a picture of what it looks like from their website: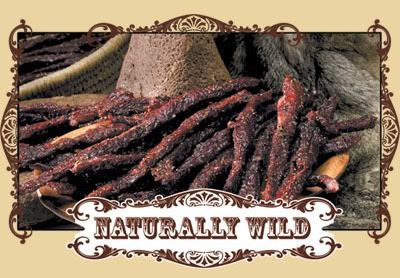 I like these special order jerkeys way more than the grocery store varieties (Jack Links, Pemmican and Oberta).   The care taken in processing smaller batches show more character in both the quality and flavor of the meat.  The only problem is the cost of the shipping, I think it said orders over $95 get free shipping.  That's a lotta jerky…