891 Beach St (@Polk), SF, CA | website | previous lunches: jan07, nov 07
Oh happy day, I had lunch with Libby and DebbieN who I hadn't seen in months. For various reasons, both of these girls were limping along, so we are lucky that Ana Mandara is just across the street from the office and so photogenic too. The waitress recognized us, smiling broadly as she welcomed us to our table. She had to return several times while we decided on what to order, as we deliberated on the 3-course prix-fixe lunch menu that includes a generous assortment of delicious fried appetizers, an entree and dessert for $25, but the other entrees were clamoring for our attention too… it all sounded so good!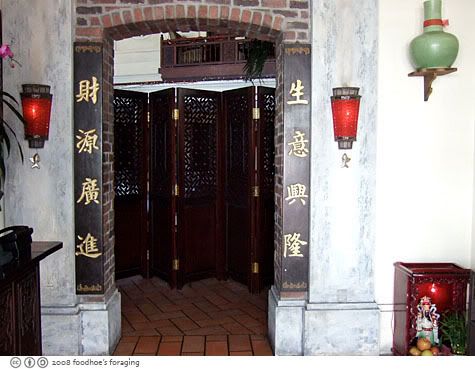 In the end, we decided to order off the regular menu and started with Crispy Rolls filled with Crabmeat, Shrimp, shiitake mushrooms and vermicelli noodles. These arrived smoking hot, fresh out of the fryer and all three of us were unable to resist the temptation. And so there we were all making fish lips, puffing air in and out of our mouths in the effort to cool off our tortured tongues while we chomped down into the molten fried nugget.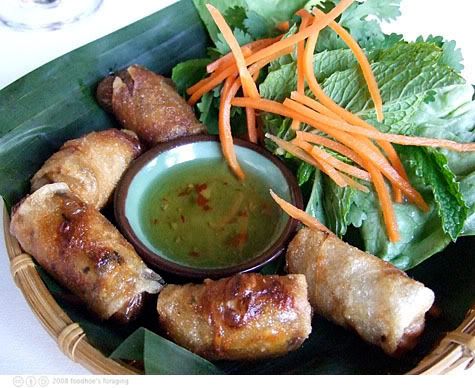 The plate came with a stack of crisp lettuce leaves, some fresh mint and cilantro leaves to wrap around the fried rolls and helped cool things off. I tucked in some of the pickled carrot too, these were mighty good.
I finally got to try the Green Papaya – Green Apple salad which is served with fresh house made beef jerky and chili vinaigrette. The generous mound of finely julienned papaya and apple, was crunchy and tart, and topped with chopped peanuts and shredded basil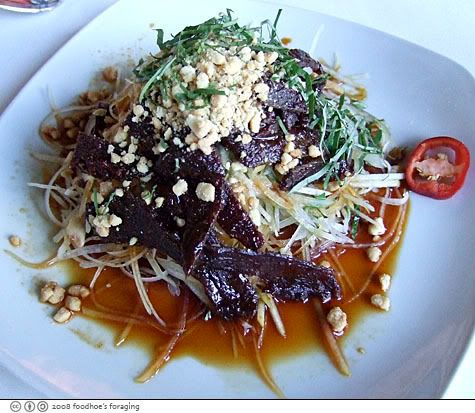 While the beef jerky was delicious, imparting extra aroma to the dish, it tended to drown out the other flavors in the dish. It was very pungent with the the flavor of anise and bitter orange and very sweet.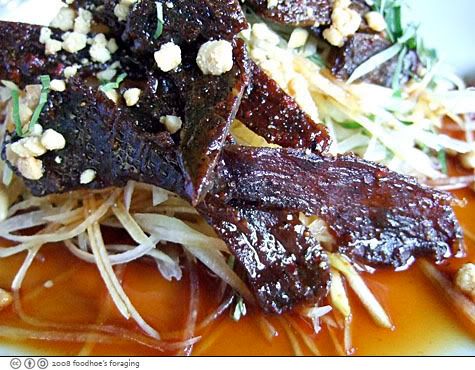 I had the Happy Pancake with Sea Scallops and Prawns, which is also known as a Vietnamese Crepe. It was thick, heavy and bland. The sea scallop had been sliced into thin slices and cooked into dense rubbery disks
The prawns were large and succulent but overall the dish was very tasteless. Isn't this normally served with a bowl of nam pla and stacks of fresh lettuce and herbs to roll it up with? The pickled daikon and carrot helped perk things up, but not much. The dish was overall not making me happy…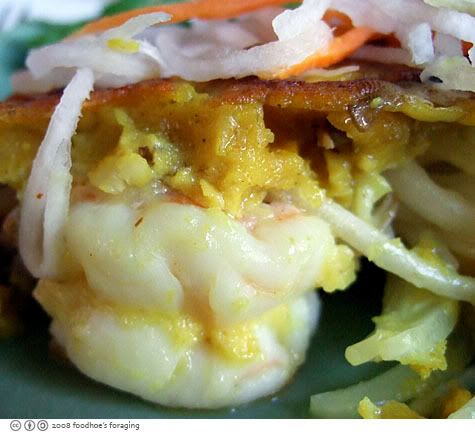 Libby had the Fresh Veggie with Lemongrass Tofu. It certainly looks light and healthy doesn't it? It looked very similar to the delicious dish we enjoyed at the riverside cafe in Thailand.
Debbie's plate of Crab and Scallops with Cellophane Noodles and Julienne vegetables gave me order envy… it looked so good topped with the fried shallots! Well, it looked delicious but she said it was kind of bland.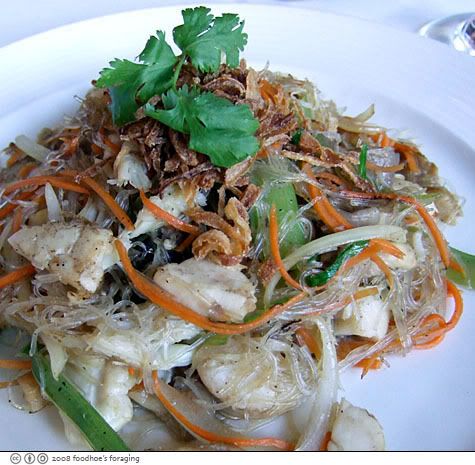 The atmosphere is relaxing and calm in the restaurant and it was good to hang out with my friends. Over the years, I've had some very good meals here, so I'm going to call this an off day in the kitchen at Ana Mandara. Perhaps Chef Khai Duong was overseeing things at his new venture Pot de Pho in the Inner Richmond that day instead.