We drove up past Bodega Bay last weekend to visit Mank and CDR, who were renting the same lovely house near Goat Rock Beach. It was a gorgeous sunny day and there were a ton of bikers out on the narrow winding roads.
Along the way, we stopped off at the Hog Island Farm where we picked up oysters. It's pricey but if you get the x-small sweetwaters, you are paying 40% less than the happy hour price at the Ferry Building and then there are the grand views of the bay and the fine spring weather out at the farm…
It was worth all that effort to get to the modest little house at the end of the dirt road
with the incredible sunset views
And yes, we did enjoy another oysterfest up along the Sonoma Coast… I won't bore you with endless pictures of the oysters (like I did previously), but we came up with an incredible topping for a barbecued oyster that I wanted to share with you. CDR called them Lemon Creams.
Here's my plate of minced chervil, shallots, jalapeno, garlic, butter, herb butter and chipotle butter to dress the oysters.
Then set them over shimmering hot coals until they bubble and plump up. These are small sweetwater oysters which seemed about three times as large as the kumamotos.
We blended a bit of heavy whipping cream, some minced shallots, meyer lemon zest, and chopped chervil and used that on top of some small sweetwater oysters. Cook them on the grill and then give them a good squeeze of meyer lemon juice before slurping. Here's another Lemon Cream from a different batch, looks more lemony!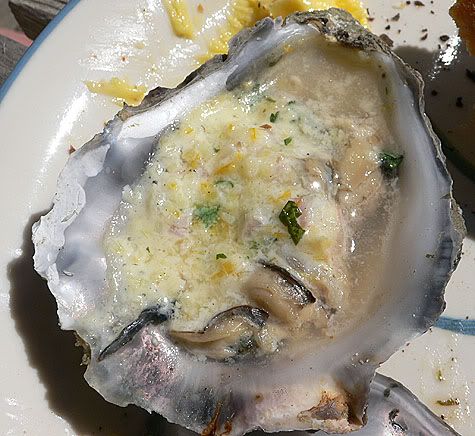 We stopped off at Cowgirl Creamery in Point Reyes Station to pick up some baguettes, where I also got a Salametto Piccante, a spicy dry chorizo that had a touch of heat and smokiness and is seasoned with pimenton de la Vera. It was made by Paul Bertolli's Fra'Mani, and Mr. k found the spicy one to be irresistible.
After a large lunch, we went for a walk. The house is walking distance to an expansive beach where the Russian River ends and flows out into the Pacific Ocean. This creates a sheltered area with abundant food where harbor seal mothers and their little ones can rest and get fat. We spent a lot of time standing on the rocks mesmerized by all of the wildlife.
It was so fun to watch the harbor seals surfing the waves.
There were piles of them playing in the waves and you could see them sunbathing further down the beach.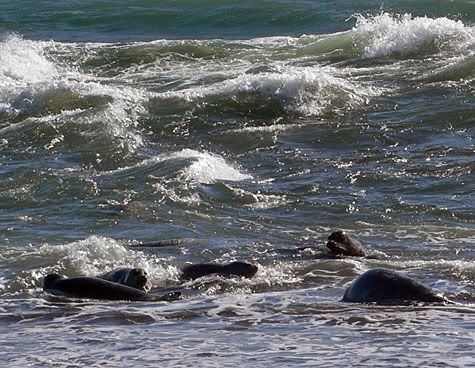 The views are not too shabby
Here is Otis supervising the grill. He looks a little hot by the fire and we wondered how the waterpups and he would get along frolicking in the waves…
And look at this sweet pup trying to entice you to rub her stomach, that's Lily, she's a bit of a flirt… this is her imitation of a fruit bat.