401 Valencia St ( @ 15th Street), S.F., CA 94103 | website
Hours of operation M-Sat 11-11, Sunday 11-10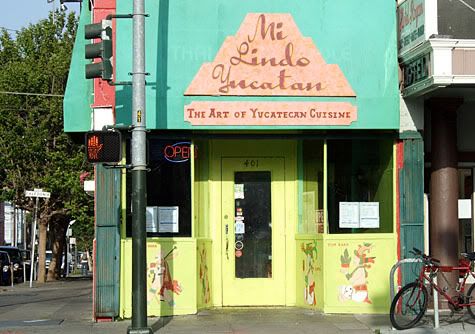 Debbie emailed us with a link to this restaurant that she wanted to try on Valencia Street that serves Yucatecan cuisine. I am not very familiar with this type of food, so of course I was in. I've always wanted to travel to the Yucatan peninsula to see the ancient mayan pyramids, and so enjoyed seeing the mayan paintings and figurines hanging on the walls of this cozy local restaurant. The outside decor matches the interior with an oddly soothing lime green and turquoise blue motif.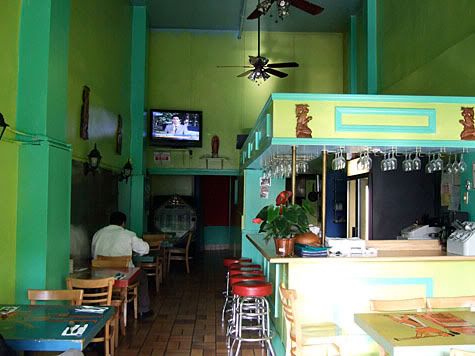 We started with a big bowl of chips and two salsas, the smaller one was orange colored and very spicy. I'm guessing habanero? Whatever it was, I immediately felt flames burning brightly around my mouth, so I stuck with the red one. Sadly, I am on the wimpy side of the scovillian scale and my tastebuds tend to play dead when the going gets hot…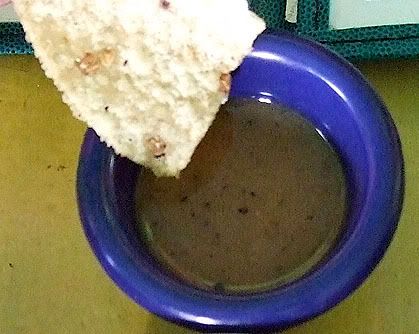 The regular salsa was very flavorful with smoked chilis and fresh herbs, and BG added in some of the other to give it a little bit of kick.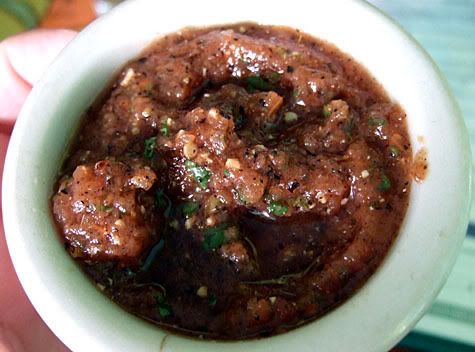 We looked over the lengthy list of appetizers and decided to try the sampler plates for two. Each plate had finger sized portions which were colorful and fun to try, some of the items were familiar (tamales, flautas, empanada) and others were new and exciting… Panuchos and Salbutes are the little tostada looking things which were all right. I liked the melted cheese and beans on the little tortilla, but the meat was stringy and a bit dry.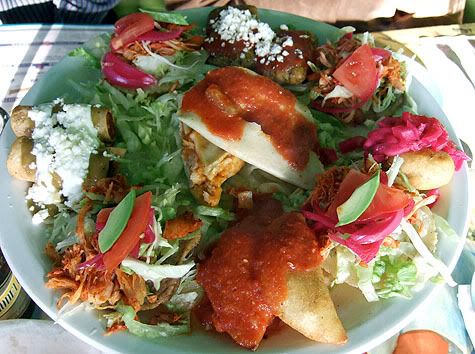 I was very intrigued by the Chilindrinas which are fried tortilla packets filled with chopped hard boiled eggs and spinach and topped with a tomato sauce and cheese. The tomato sauce tasted like an italian marinara which was good but was distracting as my tastebud library tried to categorize this into the genus of fried mozzarella appetizer, when it was clearly something different. The tortilla exterior had a delicious crunch on the outside and a toothsomely dense texture that was perfect with the mushy egg mixture.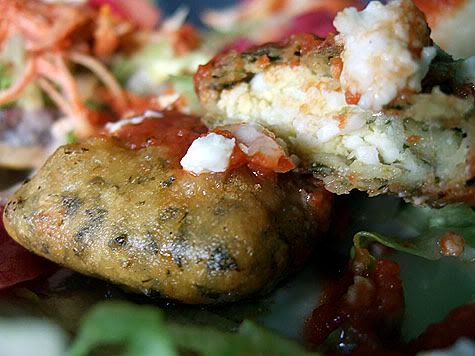 Polcanes, fried corn meal dumplings stuffed with a mixture of lima beans and crushed pumpkin seeds. The inside was creamy and a little dry and would have been good with a nice blob of sour cream.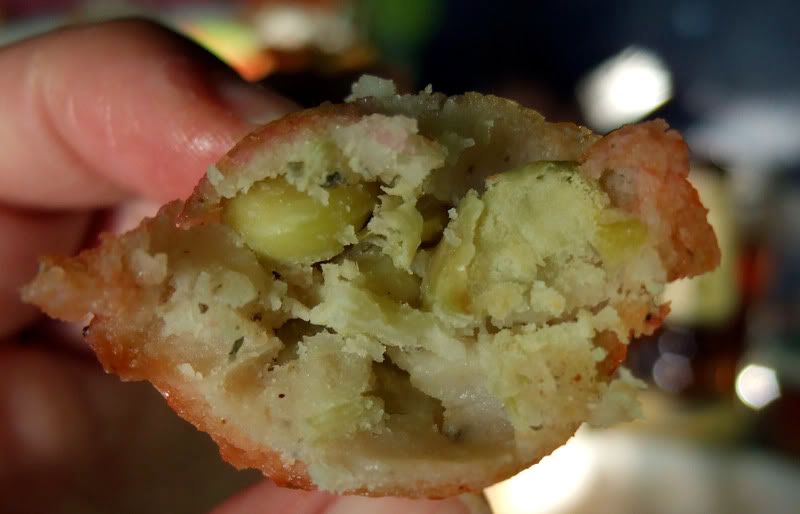 Empanadas, fried corn dough dumplings filled with ground beef or cheese and topped with the tomato sauce.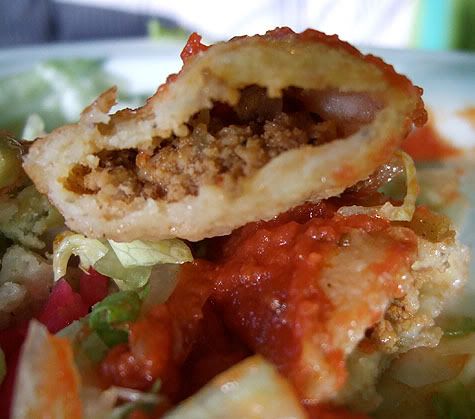 Everyone loved the Flautas, chubby little corn tortillas rolled around spicy chicken and fried, then served with tomatillo sauce, sour cream and crumbled queso fresco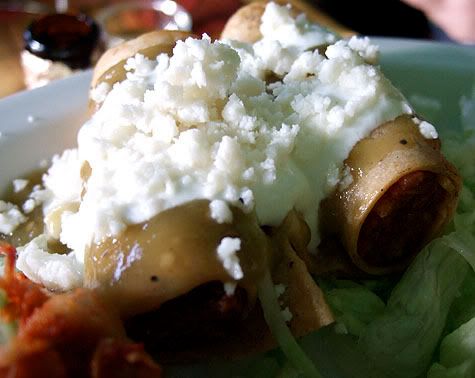 Tamales were the one not fried item. Tender corn meal dough wrapped around chicken mixed with traditional yucatecan sauce, wrapped in banana leaves and steamed.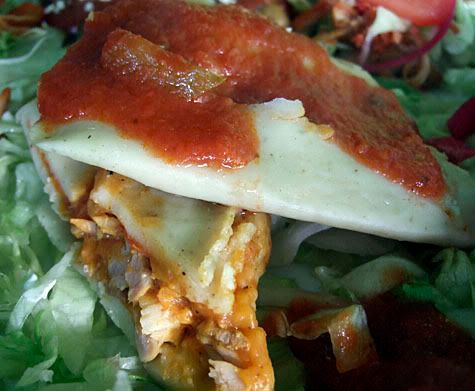 The spicy sauce was memorable and I would come back just for more of this…
We all felt surprisingly full after just the appetizers, but since we already ordered, we continued on with the entrees. We began with the Cochinita Pibil, a slow roasted pork, wrapped in banana leaves seasoned with achiote seeds. This is one of my favorite Yucatan dishes and they serve a very bright and colorful version here.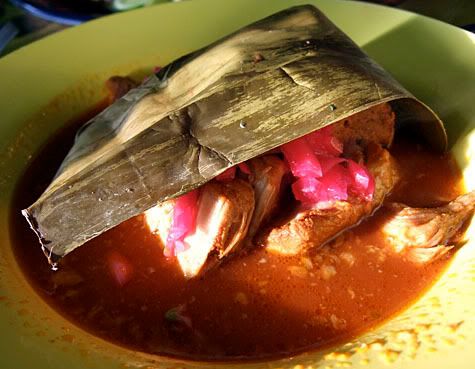 The sauce is a vibrant golden color from the achiote seeds, and is flavored with orange juice, pepper and chiles.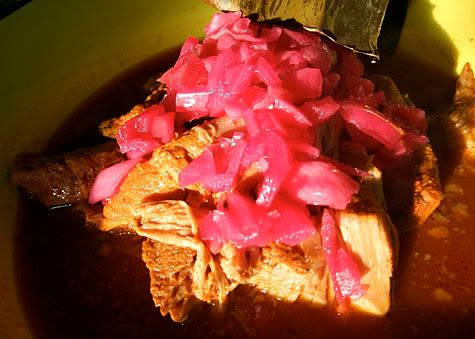 The meat was lean and on the dry side, but served with plenty of sauce which offset this well.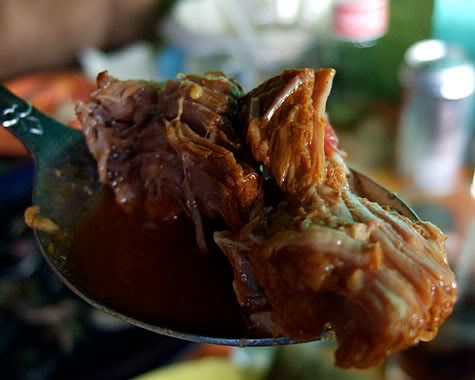 Relleno Negro de Pavo: Turkey in Yucatan style black mole. The sauce was thin, more like a broth, but light and delicious. I read that the inky black color of the sauce comes from roasted arbol chiles. Most of the turkey was white meat and was a little dry and stringy, but good as long as you scooped it up with some of the delicious saucy broth.
There were a few slices of sausage with egg, that seemed to have pieces of shell that crunched in an unpleasant chalky way. This sausage has a fierce, threatening appearance and I shudder when I remember the texture too.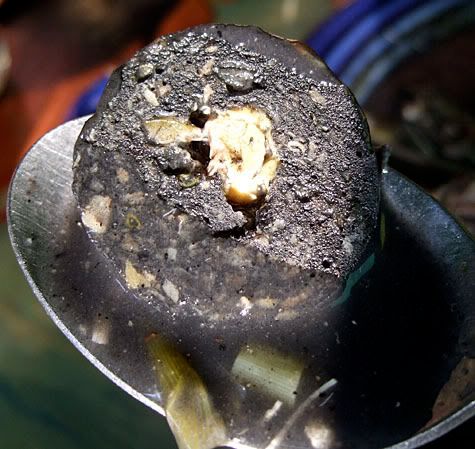 Carne Asada was a big plate of grilled New York steak, served with salsa fresca, rice and mashed black beans. The meat had lots of fat but was juicy and tender. The rice was marred by being soggy, but had a beautiful golden color that went so well with the black beans. There was also a generous pile of a delicious green salad that we all shared.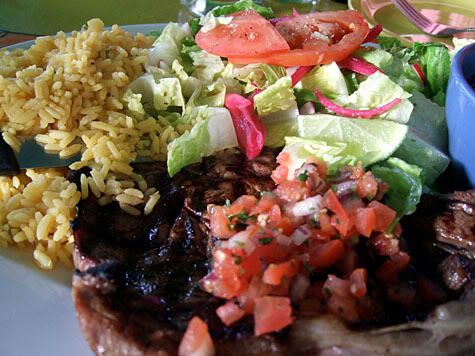 The black beans were mashed into a delectable creamy paste, perfect over the golden yellow rice which was greatly enhanced by its dark and spicy cloak.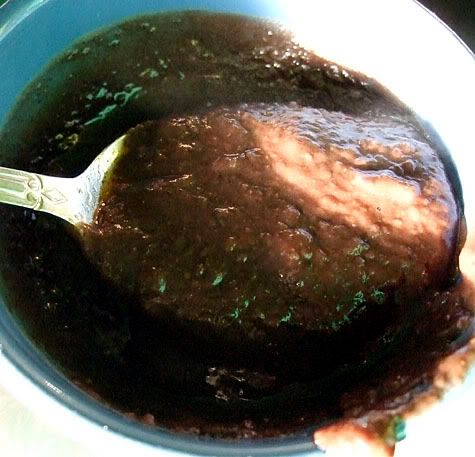 The Poc-Chuc was thinly sliced charbroiled pork, marinated in yucatecan spices and served with black beans, grilled onions and red hand-ground molcajete salsa that reminded me of a tomato confit. There was a big juicy lime half that added a nice zip to the meat, which had an interesting spicy smoky flavor but was a bit dry and tough. I feel like I wasn't able to give this dish the attention it deserved… like adding some of the avocado slices, and tomato confit with the meat in one of the housemade corn tortillas we were served. If only I hadn't inhaled so many of the delicious appetizers and so dang full… ah well, next time.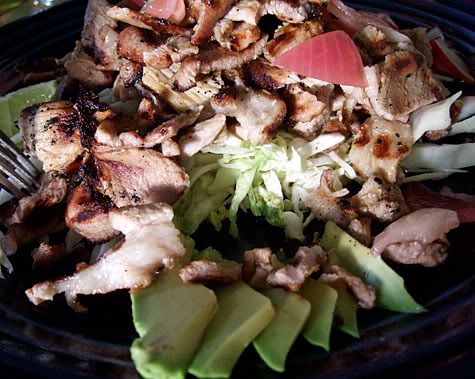 Liz got a coke that came in an old fashioned glass bottle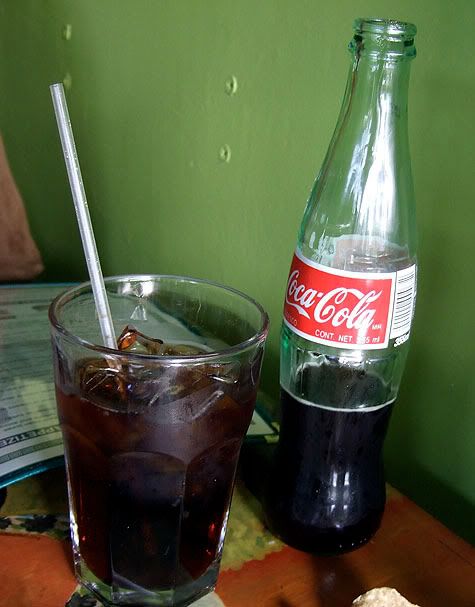 They served us a Queso Neapolitan on the house. It was a very eggy flanny cheesecake, served with an scoop of ice cream, both topped with a thin slightly bitter caramel syrup.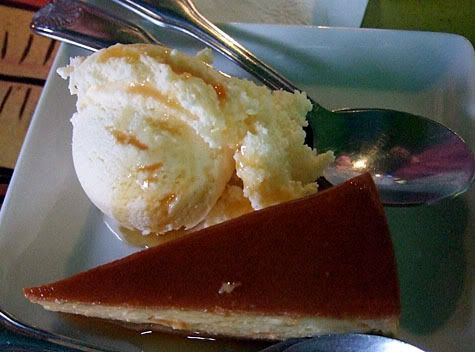 I'll definitely come back to try full sized portions of the tamales and one of the pork dishes, and especially to scoop up more of those creamy beans with the handmade tortillas…