15479 Highway One, Marshall, CA 94940 | Phone: (415) 663-1242 | website
After stalling out several times, we finally were able to set a date for a picnic out at Tomales Bay for oysters and actually I'm glad we waited because the weather was perfect (it's tough to get 9 people to agree on anything). The sun was bright but there was always a refreshing cool breeze.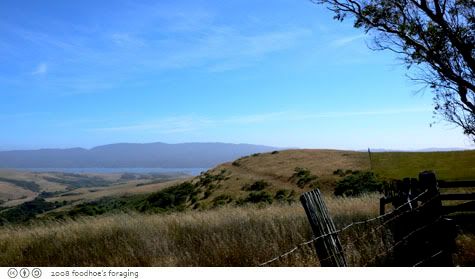 It's almost summer and impossible to book at table at our long-time favorite Hog Island Oyster farm, where we have enjoyed some memorable feasts… Never mind though, because a couple of miles down the road is the Tomales Bay Oyster Company. They have a similar view of the bay and a much larger selection of tables – some are grouped along a shady terrace and others are tucked over in a separate nook behind the oyster shack for your own private beach. What's nice about Tomales Bay Oyster Co, is that the tables are free (versus Hog Island which charges $10 per person), although the tables are first come first served. The seafood prices are more reasonable than Hog Island and their menu includes mussels, but not the tiny, delicate kumamotos that Mr. K loves so much.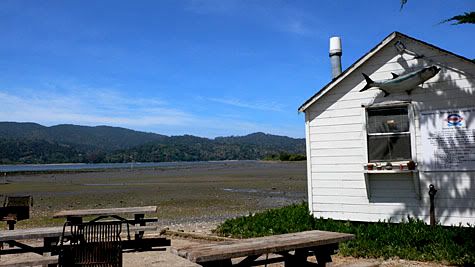 The Kumamotos are expensive too at slightly less than a $1 each, but Mr. K drove over to Hog Island to pick them up because he's just like that. They are so much easier to shuck and are plump and sweet, and secretly I know that I love them because Kumamoto is close to where my dear departed granny is from, the southern end of the southernmost island in Japan.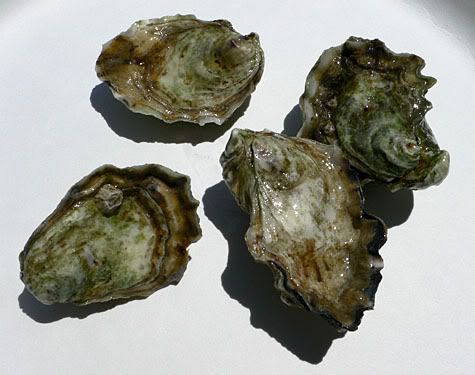 Here is one simply dressed with some lemon, a couple drops of tabasco and lightly dusted with fresh cracked black pepper.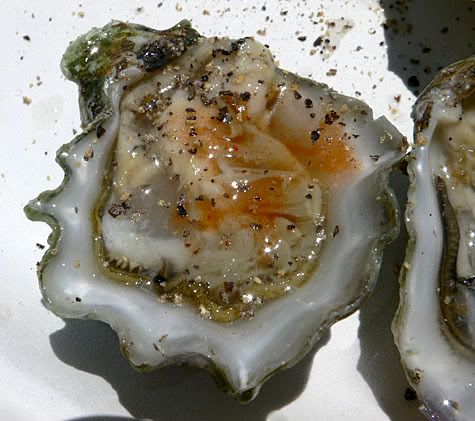 We got a bag of 50 small oysters from Tomales Bay Oysters which were pretty big in comparison. They seemed ragged and gnarly, encrusted with barnacles and even some tiny mussels and much harder to shuck. My theory? The larger size means that the little bivalve has greater strength to hold tight against being pried open by hungry predators…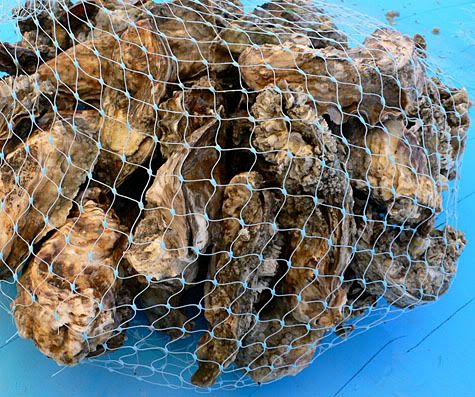 We got one round shucked and dressed and then onto the grill for my version of Oystahs Rockefeller. Actually we came up with the name lemon creams, but oysters rockefeller sounds so glamorous. Getting the shells open was quite a struggle… Mr. K almost speared the palm of his hand and our shucker staff all resigned.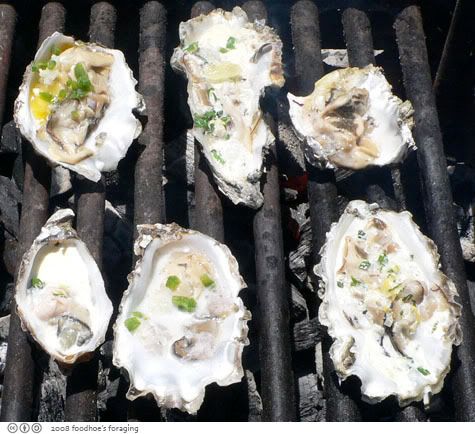 The recipe is simple – whipping cream with lemon zest, shallots, fresh tarragon and parsley and finished with a good squeeze of fresh lemon juice.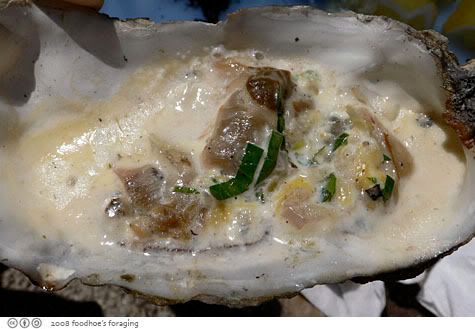 But we finally learned by watching the other people that it is better to put the whole oyster on the grill where it steams in its own juices and they open much easier, sometimes popping open of their own accord. It seems to be the way nature intended.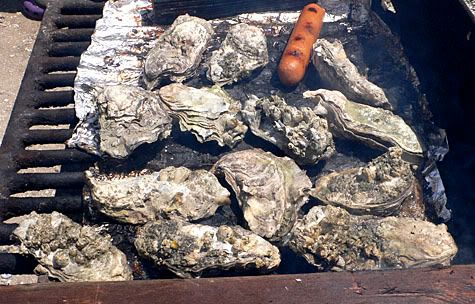 The flesh was sweet and succulent and the flavor is unforgettably fresh.
but then again, they tasted pretty good drizzled with the cream sauce, which rendered the mollusks a feast fit for at least the minor deities.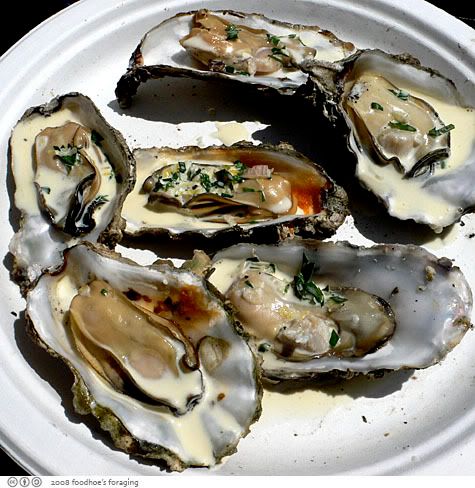 I also made steamed garlic clams (click for the recipe here), they are so easy to throw together on the grill.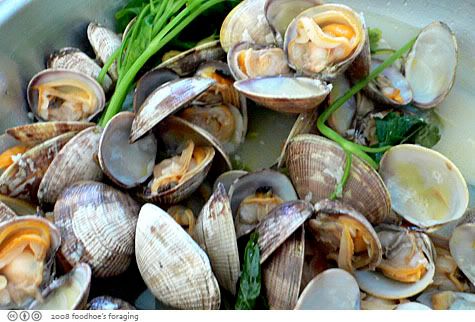 The garlicky broth is really good to dunk thick crusty baguettes into. Suzywoo got an extra special clam that included a baby crab! That crab was less than a quarter inch in width and looked like a bug.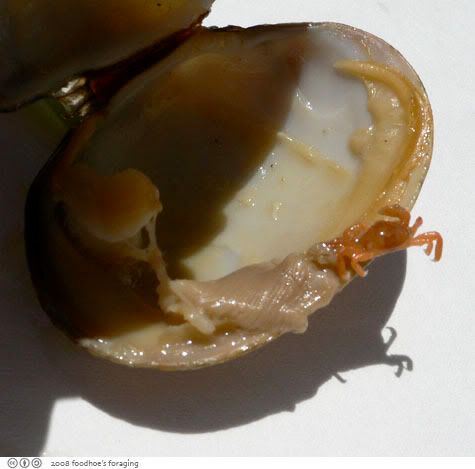 Chris and Amy brought some marinated kalbi that he was able to cook perfectly on the grill, it had the right amount of char and caramelization.
It made for a fabulous mixed grill plate for those who preferred turf over surf… and here is DDR expertly cutting the kalbi into bite sized finger food.
Of course with that group we had plenty of sweets to round out the meal, including some fresh fruit from my CSA weekly box. The apricots and cherries are at the top of their form right about now.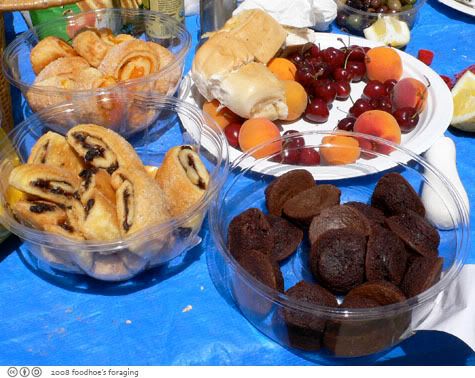 Stuffed beyond belief, we headed home, while our crazy friends headed to the Cowgirl Creamery in search of ice cream… I brought an extra sack of the manila clams home and found a couple more that had the tiny hobo crabs on board.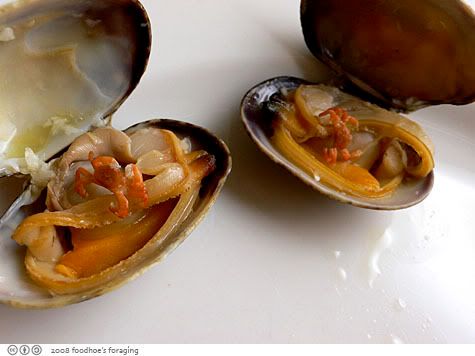 These were larger than the one Suzywoo found and more crablike than buglike.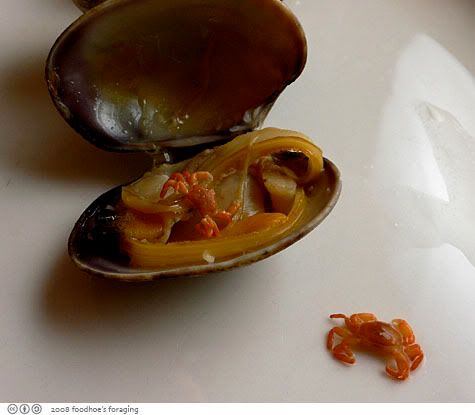 Unfortunately, they were a little too small to eat and I wished that we could have put them in our aquarium instead of the saute pan….