1330 Fillmore Street (@ Eddy), SF, CA 94115 | 415-655-5600 | website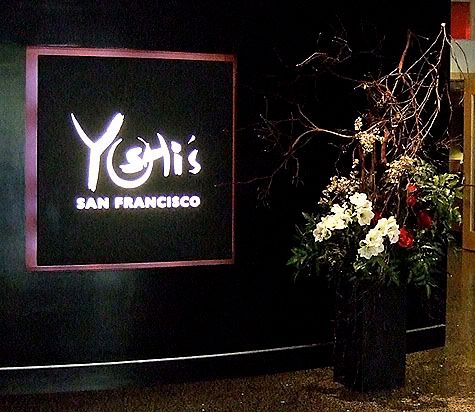 When you walk up to the new Yoshi's which occupies the ground floor of the 16-floor Heritage Center, it feels like an entertainment center – almost like a movie theater when you first enter the spacious lobby. The cocktail lounge extends out along the dining area and back towards the state-of-the-art jazz club where you can listen to world class music. The Single Guy Chef and I made arrangements to check out their dine about town menu, you can read his review here. It's difficult to choose between the hundred or so participating restaurants, but Yoshi's SF has been on my must-try-soon list since they opened last year. I was sorry to hear that pastry chef Marisa Churchill of Top Chef notoriety had left for greener pastures just the month before, but I think the desserts were still based on her design.
Over the years, I've been to Yoshi's numerous times for both the music and the food, but was particularly impressed when we got to sample the new menu at the Jack London Square location last year. That was after Chef Shotaro Kamio transformed Yoshi's into a dining destination with his modern interpretations of traditional preparations.
I was greeted with a very friendly Irrashaimase! by the smiling hostess who walked us back to our table and past the exhibition style kitchen where we could see Chef Kamio presiding over the bustle. According to the website, his culinary philosophy is seasonal, simple with a bit of surprise.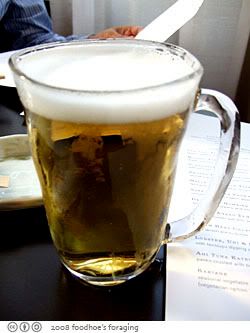 Other staff members called out the traditional Japanese welcome, Irrashaimase as we passed them. Our server was friendly and dropped off a wine menu, the regular menu and the dine about town menu for us to peruse. I admired the tableware, everything looked handmade and lacked the precision of commercially made products. The beer mug and water glasses were delightfully lumpy and off center, very zen
We decided to go with the 3-course Dine About Town menu but couldn't resist ordering an additional appetizer off the Sousaku Creations menu because it sounded interesting – Yari Ika Somen. Squid cut into thin strands that resembled soba noodles twirled around into small stacks then topped with creamy sea urchin sauce and a contrasting dab of pureed black seaweed emulsion. The flavors were very quiet and restrained and I thought to myself that it would be really delicious if it were topped with a big briney blob of glossy black caviar… The ika was served on top of paper thin slices of lime which enlivened the flavors with its citric perfume but in hindsight was clearly intended as garnish. I thought it was part of the package and popped the whole thing in my mouth. All I could taste was lime and pith and lime membrane… that was one wasted soba appetizer whacked out of commission.
The Single Guy had a Saikyo Caesar salad that was topped with Mizuna leaves and peppery kaiware (daikon sprouts). We were both curious to taste the dressing which incorporates saikyo miso, from the Kyoto region that is known for its thick, smooth texture and sweet flavor that comes from it being made with more rice than soy beans. But it mostly tasted like a caesar salad and a little heavy handed on the dressing at that. It was pretty though, with tiny jewel-like cubes of bell pepper and drizzled with oils and herbs.
I know, how boring of me to select the Sashimi Morikomi appetizer, but the fish was super fresh and clean tasting and was served with freshly ground wasabi. I loved the raw scallop which was sweet and juicy, but the salmon, tuna and yellowtail were also excellent. The quality of the fish was superior and was prepared with meticulous precision. You can't get any better than this.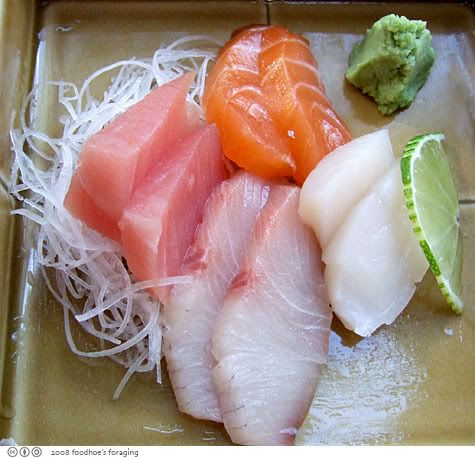 Single Guy's Kurobota Pork Roast was draped with a spiky green herb and drizzled with ginger lemon thyme brown butter sauce. The pork was tender and probably would have been better cooked to the recommended medium rare, as you can see this was brown all the way through. It was served with braised napa cabbage and fried dried tofu along with roasted pearl onions. The sauce was good, it had a sweet smokey flavor that complimented the dish well.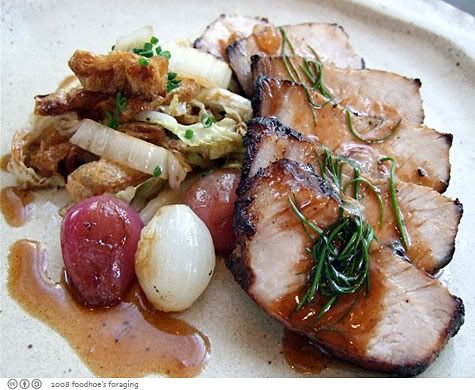 I had the oven roasted Free Range Organic Half Chicken layered with fresh shiso leaves and drizzled with a umeboshi based glaze that added a bright vivacity to the dish. Umeboshi are equivalent to the fat plump european olive in Japanese cuisine, a treasure that can be found inside of musubi rice cakes which are as popular in Japan as PBJ sandwiches here in the states. Umeboshi while often referred to as plums, are actually apricots that have been preserved first in salt and then packed with shiso leaves to marinate until ready to eat. They have a distinct flavor that I think really should be included in the Top Chef blind taste competition, and are quite versatile. They show up in cocktails, sweet fizzy beverages, salads, as well as in candies and confections. The umeboshi tinged sauce on the chicken reflected the shiso leaf garnish with a satisfying familiarity.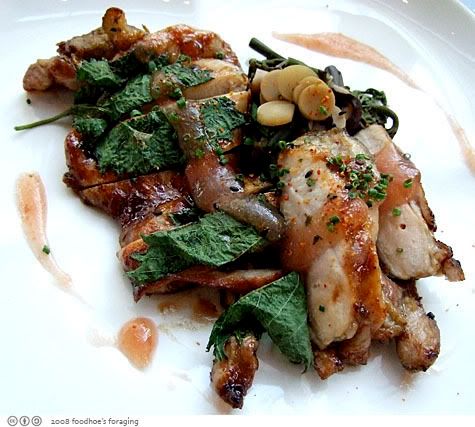 It was lightly dusted with Shichimi Togarashi, the Japanese equivalent of Lawry's seasoning salt, a blend of seven spices that invariably include dried red chili, black or white pepper, nori, sesame seed and dried mandarin orange peel, plus a few others. Served alongside was a fragrant mound of nimono, simmered bamboo shoots, green beans, seaweed and baby kale that made me think of my grandmother's simple one pot meals.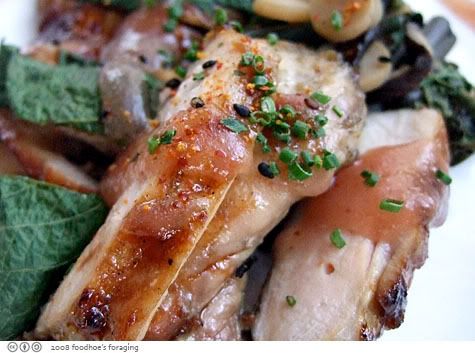 For dessert, I had the Okinawan Donuts rolled in cinnamon sugar and topped with chocolate sauce. They were heavy cakey things and delicious when combined with the spicy sugar and bittersweet chocolate sauce. The menu said something about Suntory Whisky slurry, but it is most definitely a rich dark chocolate sauce and I believe that the sugar coating is distinctly un-Okinawan.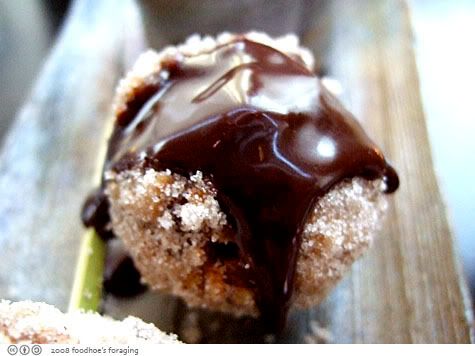 Single Guy's dessert was Frozen Apricot Mousse that reminded me of an orange creamsicle. It was served with a flat cookie and a tart cherry compote. It was a dessert that was intended for an adult palate and therefore did not strike very much interest for me!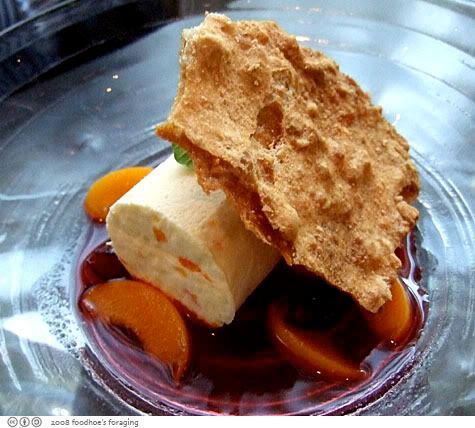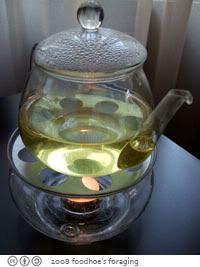 I wanted a cup of green tea after dinner and was surprised that they only offer Chinese teas, no sencha, hojicha or genmaicha… So I had fruity, floral Osmanthus which is puported to aid in the digestion, which I take to mean that it will magically remove all of the fat that I just consumed. It was served in a beautiful glass pot over a warming light.
The meal was impressive and between the two of us, we enjoyed a fine sample of what's on the menu. There are many reasons compelling me to come back, I'd like to check out more of what's new in the neighborhood, I definitely will come back for a musical show and I really want to be fed an Omakase meal by Chef Kamio…