One Letterman Drive, Building D, Suite 120, San Francisco, CA | 415-409-3000 | website
Dine About Town is back for two more weeks of specially priced 3-course meals at many restaurants in our lovely San Francisco. I had a delicious lunch at Va de Vi in Walnut Creek last month and decided to try the sister location in the Presidio called Pres a Vis, with my good friend TK. We met for lunch and then went to see the new Sex in the City movie afterwards, which was better than I expected.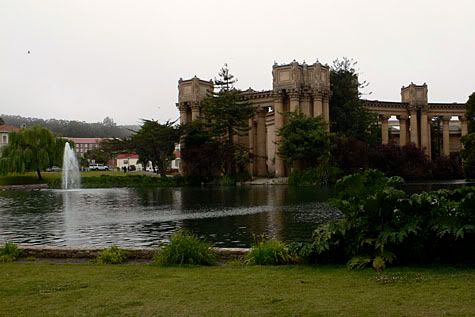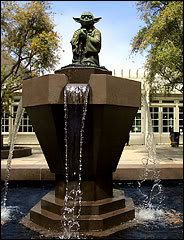 I got there a little early so had time to wander over to the picturesque Palace of Fine Arts across the way and then around the new Lucas Digital Arts center where I searched unsuccessfully to find the fountain with Yoda… Here's a picture anyways from the NYT. The manicured grounds are rambling with ponds and fountains and there's a new starbucks too just across the way.
The complex is near the entrance of the Presidio, the first right turn and then past a guard who told me that despite an entirely empty lot, I would have to go underground to the garage and pay for parking… No validation from the restaurant either, so now you have been warned! On a weekday for lunch, the streets were pretty deserted but the 2 hour street parking limitation made me decide that a parking ticket was more expensive than $10 for a valet. The restaurant has a nice outdoor area with a view of the park in the rear.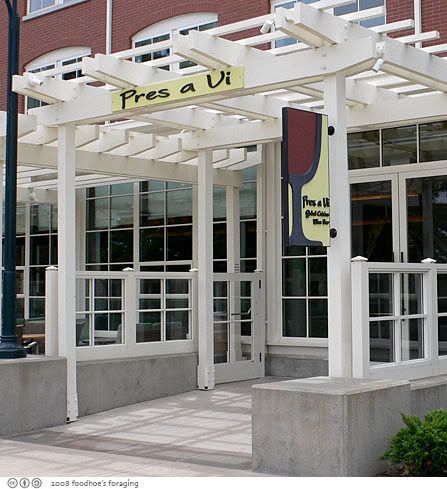 The entrance is beautiful but your eyes are drawn to the the dramatically lit ceiling making it easy to overlook the wine cellar that is behind the heavy rustic doors on the right side.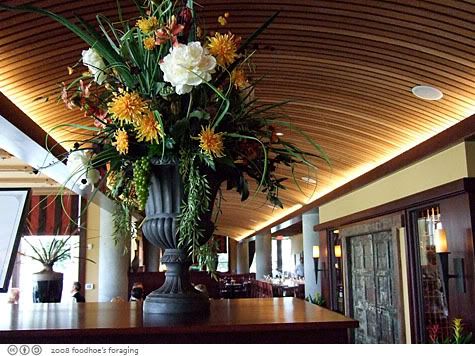 We got a nice table by the window with a view and were soon enjoying a basket full of interesting rolls and crunchy breadsticks. Everything was herby and delicious, especially the dipping sauce which was very piquant with a bright fresh herbal flavor. It smelled like salad dressing and was perfect to dunk our tasty bread in. The small pat of butter was sprinkled with crunchy salt crystals.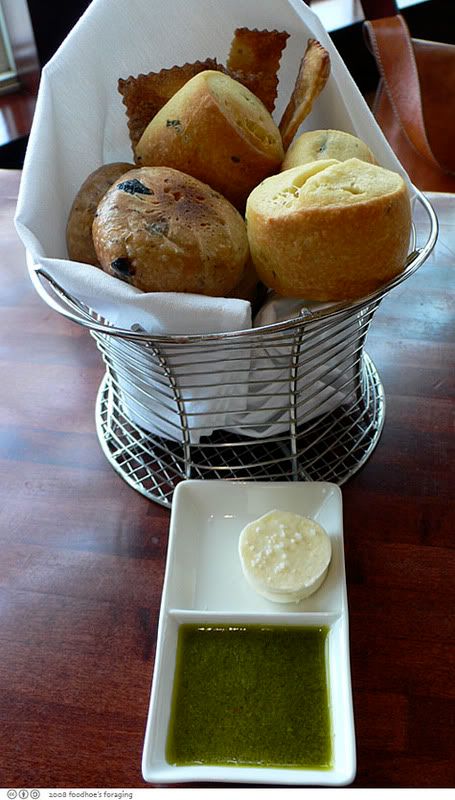 Our waiter was sort of an odd fellow with a charming european accent, with whom we had some confusing interchanges throughout the meal. It began when he told us that the special of the day was available for the Dine about town menu, but when TK tried to order it, he advised us that she could not order it if she was ordering from the Dine about town menu… Hmmm. I started with Ahi Tempura Roll, which was nori wrapped ahi tartar, dipped in crunchy thin noodle bits, deep fried and served over ponzu with pickled ginger and topped with wasabi-orange cream .
Inside of the roll was rare ahi tuna that was flash cooked on the area adjacent to the nori and crispy noodle bits. It had a wonderful crunchy chewy texture that made me want to inhale it before it got soggy. I liked the ponzu which is a mixture of soy and vinegar along with minced pickled ginger that added extra bits of flavor.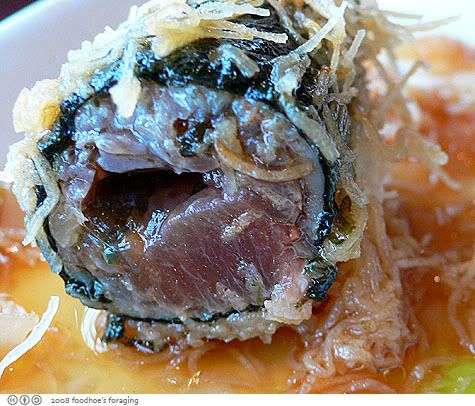 Tk had the Beet Salad, with baby lettuces, baby red and yellow beats, goat cheese, sherry vinaigrette over a large fried onion ring. And it was topped with some colorful micro beet greens.
She enjoyed the Kobe Beef-Bacon Cheeseburger, with house-ground Kobe beef, applewood smoked bacon, Mezzo Secco, tomato aioli and fries. There were two slices of bacon on the burger which is on the petite side in line with the restaurant's custom of serving small plates. The amount of garlic fries served was just right. She was unhappy to note that while she ordered it medium rare, it was cooked well done all the way through.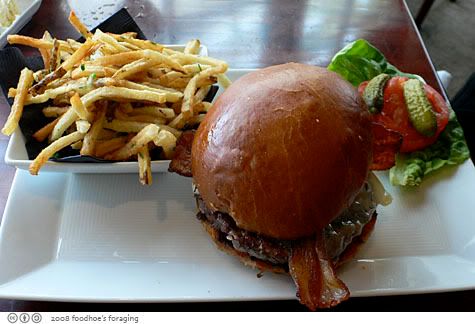 I couldn't resist ordering the Hawaiian Loco-Moco, wagyu beef patty, caramelized onions and mushrooms, two fried eggs, covered with gravy, over steamed jasmine rice. My patty was also overcooked and was dry even with the runny eggs and gravy, which was sucked up by the rice. I was wishing for a squeeze bottle of sriracha chili sauce, but they only had ketchup.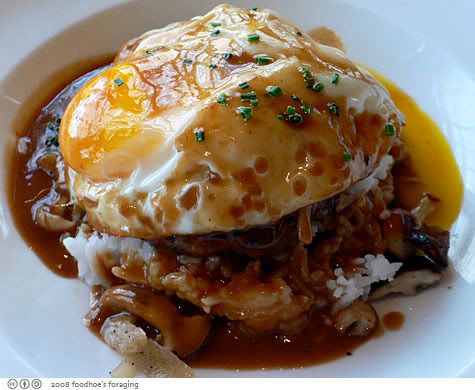 The ingredients looked good and the gravy was rich but strangely bland. Overall the dish was missing something, but I think that this decadent dish requires over seasoning and more grease, which is not likely at a fancy restaurant like this one!
We decided to get one of each dessert on the menu, TK wanted the Chocolate Torte and I wanted to try the Sorbets. Halfway through our meal, our server gestured at a nearby table and we thought that he said they no longer had the torte and was offering TK the option of trying the gelato instead. He went through a rather laborious recitation of the available flavors, and then his recommendation, then her decision… only to come back 5 minutes later to report that he had a torte for her after all. But what showed up at the table was a Hazelnut Millefeuille with cinnamon foam and an incredibly decadent vanilla bean ice cream sporting a sleek chocolate hoop. He gave the european shrug that is more with the eyebrows, saying that it was the chef's selection. TK liked the ice cream the best, and I helped as much as I could but it was a very large plate. So while the appetizers and main courses are on the small side for sharing, the desserts are generous portions.
I had the Daily Sorbet, which was one of everything – scoops of tangerine, raspberry, lime and an odd celery-apple that tasted faintly like cabbage (interesting, but not my favorite). The strawberries and raspberries were sweet and delicious.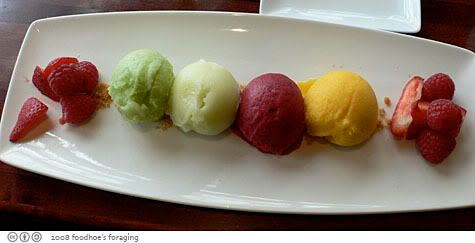 I'm glad to have been able to try this for lunch on a weekday because there was a lighter crowd and I was able to appreciate the beautiful surroundings. Back to the parking, you can park yourself in the parking garage for $6/hr, or pay a flat rate of $10 for valet parking. The parking attendant advised me that he would charge me the $10 valet fee, otherwise it would have cost me $18. Since I parked myself, I was at a loss, do I now need to tip him since he did me the favor of swapping my ticket? It's a nice spot, but I prefer Va de Vi in Walnut Creek.