1830 4th Street, Berkeley, CA | 510-841-8783 | approximation of a website
Lunch M-Sa: 11:30am – 3pm; Dinner M-T 5:30pm – 9pm; F-Sa 5:30pm – 9:30pm; Closed Sunday
O Chame was opened in 1990 by David Vardy, introducing one of the first new restaurants to occupy West Berkeley's Fourth Street promenade, now a swanky gastronomic outpost with spinoff restaurants from the famed Pasta Shop and Dona Tomas in Oakland, as well as Bette's Ocean View Diner, and Cafe Rouge to namedrop just a few of its illustrious neighbors. Prior to opening O Chame, Chef Vardy owned Daruma, a Japanese tea shop that specialized in bento boxes and tea cakes. He spent 5 years in Japan after he fell in love with the food while studying tai chi in a monastery under a Taoist master. I remember being captivated by the noodles the first time we dined here, years ago.
The interior is warm and comfortable, a combination of rugged elegance and simplicity. I read that Chef Vardy's wife, Hiromi Vardy is responsible for the beautiful design of the restaurant. The warm plaster walls are etched with playful goddesses cavorting in a floating world around the room and continue onto the ceiling. I loved the gorgeous hardwood tables with the simple rustic table settings.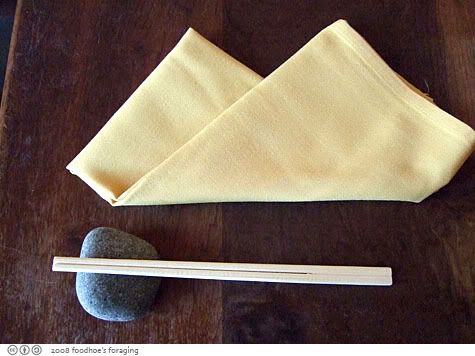 I brought my parents here for a Father's Day lunch as I know that they appreciate a good bowl of noodles. This is one of the best in the area as far as I'm concerned. We started by sharing a couple of appetizers. Braised Burdock Root with sweet yellow peppers (7.50) was cooked until tender and the two flavors combined surprisingly well. Burdock is believed to have great health benefits and medicinal qualities and is very common in Japanese cooking, most notably in stews or simmered with chili and sesame oil as a spicy condiment called Kimpira Gobo.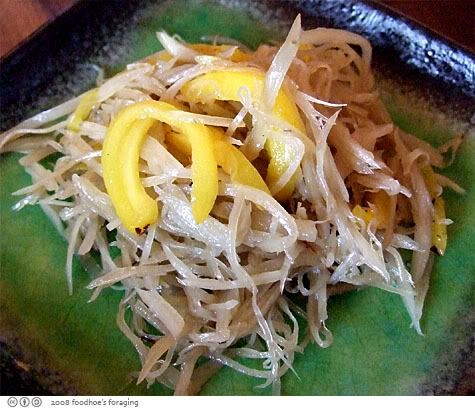 Vinegared Cucumbers with Red Radishes and Shiso leaf (6.50) is one of my favorite flavor combinations and very Japanese. The addition of the shiso and radish imparts an enthusiastic punch of flavor to the crisp cool cucumber and really wakes up your taste buds.
Before the next course, they dropped off a bowl filled with Shichimi Togarashi, the seven-flavor spice mix that is always served with noodles. It's very pretty, no?
Udon Noodles in clear fish broth with roasted pork tenderloin, spinach and takuan (13.50) exemplifies what sets O Chame apart from the other noodle shops. The ingredients are perfectly prepared and cooked, then assembled so that the pork retains its flavorful tenderness and each element preserves its fresh flavors and character. The noodles are springy and chewy, the broth is full flavored with the essence of the sea – the dish is frankly sublime. The approach is based on simplicity, on using the freshest ingredients possible and letting the food speak for itself. That pork was amazing…
Grilled wild yellowtail with Soba (15.50), was rich and flaky, the smoky flavor from the lightly grilled exterior added a delicious fragrance to the rich dashi broth. It was full of slippery wakame seaweed and chewy enoki mushrooms.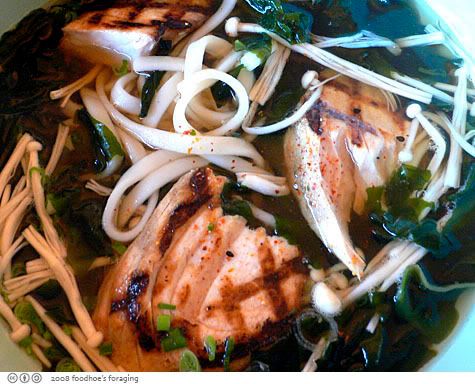 My father enjoyed the Fried Tofu skins (Abura Age) with shiitake mushrooms and spinach (12.50). He proclaimed they were the best noodles he's ever had!
After our noodles, we asked for tea and enjoyed Genmaicha with matcha (3) per cup mind you, that is not for a pot of tea to share… It was very good and served in a beautiful rugged blue raku glazed tea cups.
The dessert servings were modest. We had to try Chocolate Dipped Biscotti, because my mother is a chocolate fiend. It was crunchy, full of large whole almonds and had a rich dark chocolate bottom.
The Caramel Balsamic Gelato lit my tastebuds with the intriguing combination of sweet, salty and sour mixed with buttery rich and creamy. This was good, very good. It takes the intensity of salted caramel and makes it better by adding swanky tart balsamic vinegar in a rich ice creamy base.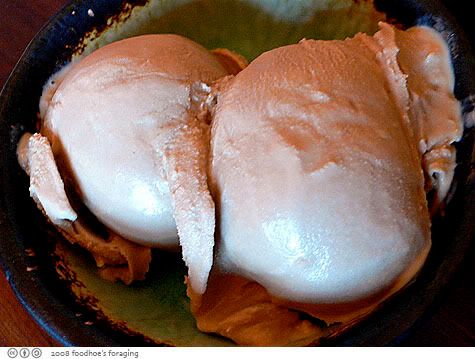 Knowing Chef Vardi's specialty with traditional japanese tea cakes, I had to order Wagashi (6), which are the sweets served in Chanoyu, or the Japanese Tea Ceremony. The tea served in the ceremony is thick and bitter so wagashi are generally very sweet to provide balance. We were served two small pieces of mochi, or pounded sticky rice surrounding sweet bean paste fillings with exquisite garnishes that looked like jewelry.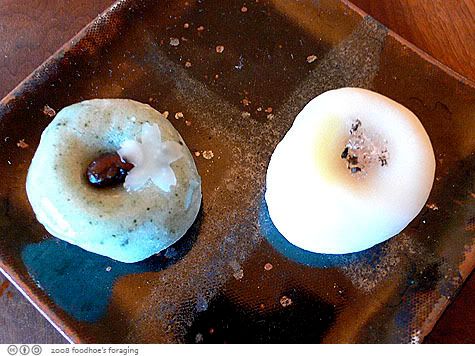 The green one had azuki bean filling, the other had a sweet potato filling. They were not very exciting, but then Japanese wagashi tend to be very restrained and simple…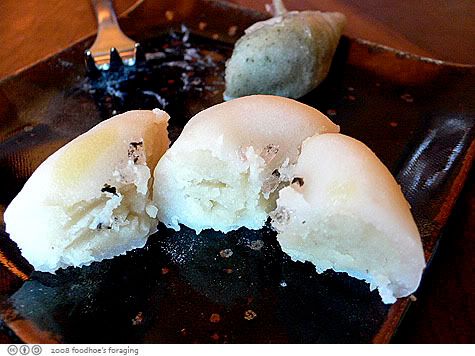 I love that they don't serve sushi here, I think the closest thing on the menu is a sashimi appetizer and they do not have Teriyaki combination plates either.  What I come for are the noodles, some of the finest in the Bay Area, short of a visit to Takamatsu,  Japan…  Of course, if you know otherwise, definitely let me know!  Alot of people think that O Chame serves fusion cuisine, but to me the flavors are very  traditionally Japanese, with modern flair perhaps with the use of local ingredients.  The only exception were the desserts, which aside from the wagashi, were eclectic and non traditional, but still seemed to fit within the more restrained Japanese palate.