1221 Manor Blvd, San Leandro, CA 510-357-4323 | website
I was trying to take a picture out front when a friendly fellow came up to me wearing an enormous gold crucifix told me that he was a video photographer and that the best shot was from across the street. I believe he was right. My co-worker Jimmy told me about this place a while back. He is a fellow east bay dweller with a keen interest in the mid-century lifestyle and culture and so it stands to reason that he came across this old fashioned, family owned pizza parlor that has been at the same location since 1963.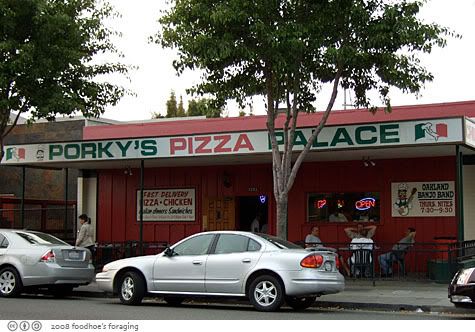 It's got the mom and pop feel about it which is in great evidence by the numerous trophies and plaques displayed on the walls. This is the place where families with kids go to have dinner after baseball practice and there were packs of marauding young children tearing around in a sugar-induced frenzy.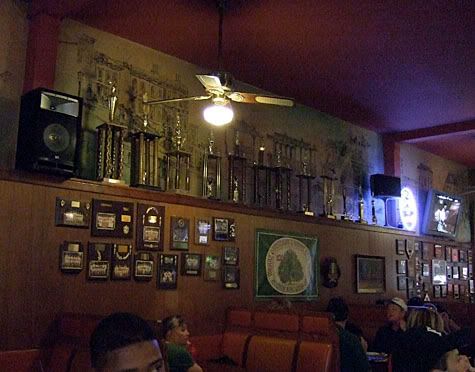 It's definitely got a sports orientation with a 10 ft high-def Giant screen TV along with four hi-def monitor TVs where you can watch Bay Area Sports Channels. The noise level was pretty high the night we visited, which was a Thursday because we really wanted to see the famous Oakland Banjo Band, which performs weekly between 7:30 – 9:30.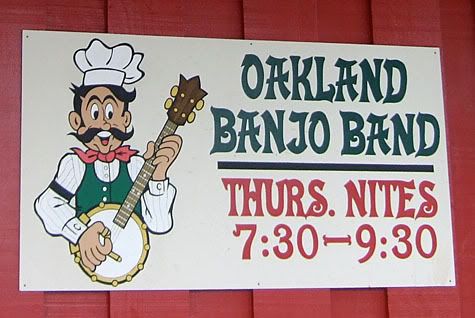 There were a few long tables set aside in the back for the band and we watched them arrive carrying a variety of instruments, including many banjo cases, a tuba, a metal washtub and wooden washboard percussion section. As you can see most of the players were white haired, or bald, although I did see one young woman walk by. Their groupies were all seated up close, some of them in wheelchairs, one was sporting an oxygen tank. I was expecting rousing polka music or toe tapping jigs, but I must have gotten accordian mixed up with banjo. They played some slow moving old tunes like Ain't She Sweet, It's Only a Paper Moon, Let Me Call You Sweetheart to a very enthusiastic audience.
OK, onto the food. They have the old-school pizza parlor format, where you go to the counter and place your order for food at the first counter, then buy your sodas and beers at the bar a few steps to the left. They call your name when your pizza is ready and you have to go pick it up at the counter. They serve 15 beers & ales on tap featuring San Leandro's own Drake's Brewing Ales.
The small size soda is very small, it's about half the normal size you expect. That's a medium size next to it.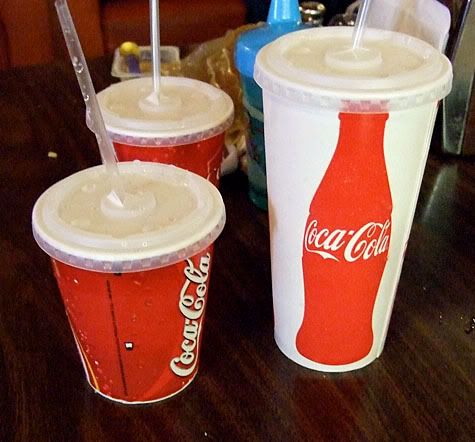 This is the Caesar Salad ($3.69), which was mostly iceburg lettuce on top of some chopped romaine and a handful of boxed croutons. It was served piled high in the classic flat floral shaped glass plate that barely holds everything and the shallow sides makes it very difficult to try to mix the salad dressing in, which is a shame because the dressing was thick and creamy and it no doubt would have been much better tossed in a big bowl first before serving if you ask me…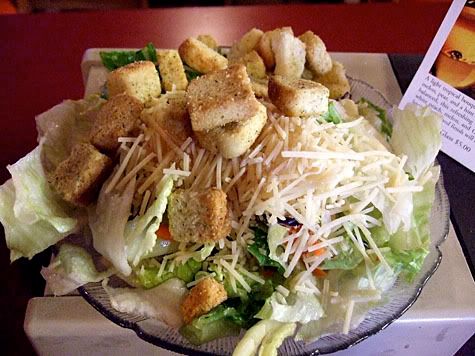 Mr. K and our friend's 3 year old daughter Maya shared a 10-inch Mini Golden Cheese Pizza ($7.25). The menu said that everything is prepared fresh daily and that the pizzas begin with hand thrown dough and are prepared to order. I have to admit that I did take a peek to see what the Yelpers had to say, and this has to be one of the top rated restaurants in San Leandro weighing in with 37 reviews! I think that a lot of people grew up eating here and have fond childhood memories of the pizza here and it is a very fine representation of the classic American style pizza.
We got a 16″ Giant (14 slices) with mushrooms, half pepperoni and half sausage for about $20.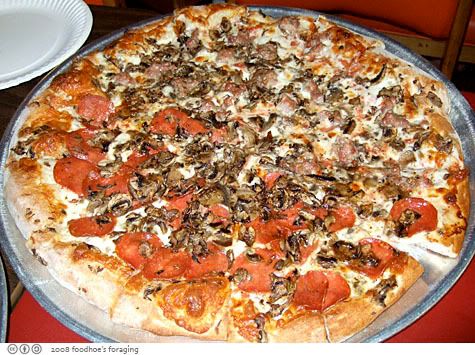 When you try to pull off a piece from the round, the topping comes off, cheese and all. I scored a piece that had both sausage and pepperoni. Notice that they pass out paper plates and you have to pick up your own silverware at the counter. I watched as Maya worked her way eating the pizza dough first which ended up being a handful of warm stringy cheese and she caught my eye and mentioned that she just loves cheese as she chomped her way through it.
I had to laugh because one of the yelp comments was Get some ranch though…the crust is fantastic with ranch. 🙂 and so I did obediently go up and ask for a thing of ranch and was charged 50 cents. Mr. K looked on with dismay as I reached over and took up his pile of discarded crust and dunked it in. Mmmmm, pure trashy bliss… yes please, pardon me while I dunk my greasy pizza into the MSG laden sour cream-mayonnaise concoction!

We liked the pizza just fine, it's a well made old-school style pizza that we all grew up eating and the atmosphere is very inviting and casual.