160 Center Street, Berkeley, CA | website
To continue where we left off… after a full day of stuffing ourselves silly at the Crawdad Festival, we were all suffering from some kind of post-gluttony trauma. No sooner than we had decided it was time to leave the grounds then I found myself watching in amusement as JT pranced by carrying a comically large BBQ turkey leg in a to-go baggie and then there was DDR tucking away 3 corn dogs into the cooler for uh…later… Once we were on the freeway, we had to stop off at two different fruit stands where they continued to purchase a gigantic 20 pound box of cherries, bags of smoked almonds and a variety of other fruit – it became something of a blur… To top it off, we stopped off in Berkeley at Top Dog for hot dogs as it had been at least half an hour since we had eaten anything. Let's just say that I don't have to worry about getting enough food with these guys.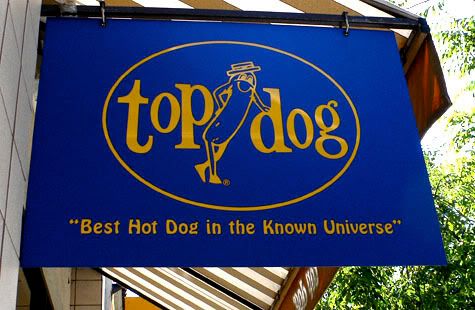 Top Dog has quite a reputation, it's legendary in fact and the sign says it all, Best Hot Dog in the Known Universe. I'd heard about this place for years and couldn't believe I was actually here, and then as if caught in some masochistic paradox of the universe, I wasn't even hungry… But I loves me my hotdogs, it's one of those childhood passions I never outgrew, so I was able to rise to the occasion.
It was mid-afternoon and it was practically empty so we could take our time deciding from the long and descriptive list of dogs. Rumour has it that our beanpole thin friend Fujie-san always orders two dogs, but since he's been coming here since college, I'm going to put that down to bad eatings habits developed too long ago to change… Although the hog dogs and buns are not huge, so it's feasible that you could easily have two.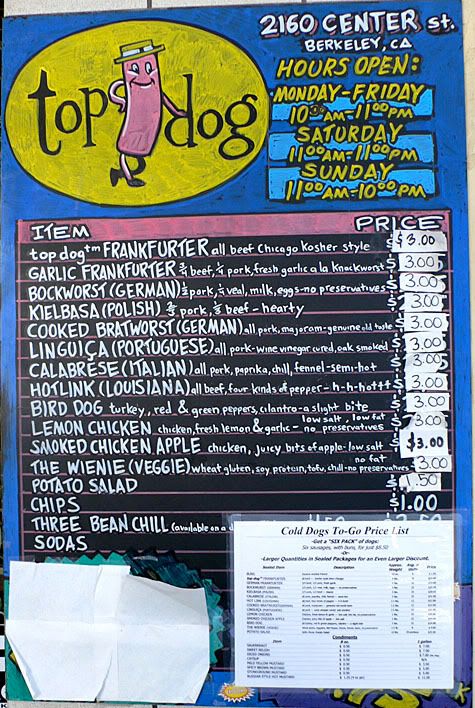 There was one young woman behind the counter and it looked like she was ready for the hordes. Everything was clean and orderly – the dogs were lined up and ready to go.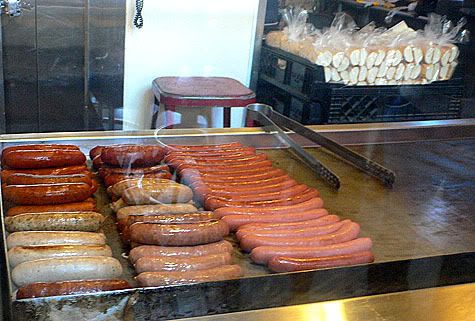 It's barebones yes, but well tended. There were 3 different types of mustard to choose from, sauerkraut, relish, chopped onions, sliced jalapenos and pickles too.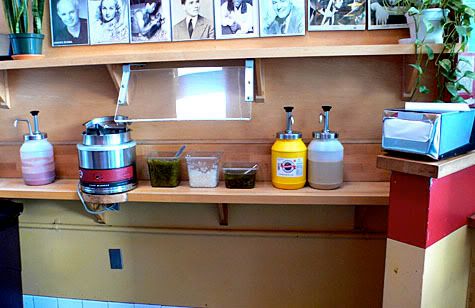 JT knew what she wanted to order so her Kielbasa came out first (2/3 pork 1/3 beef). Jeez think that she left any dijon for the rest of us? That was a lot of dijon mustard. I imagine her nasal passages were cleared very well after this little snack.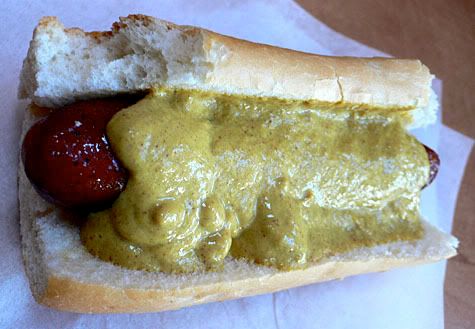 Ahhh, the long anticipated dogs, all tucked in their buns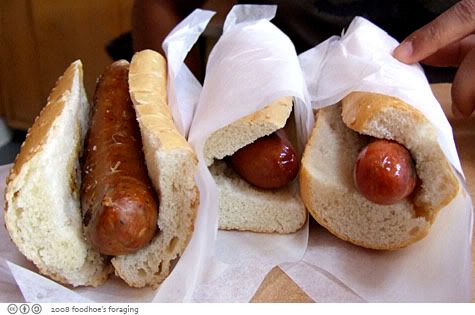 P had the Top Dog Frankfurter, all beef, NY style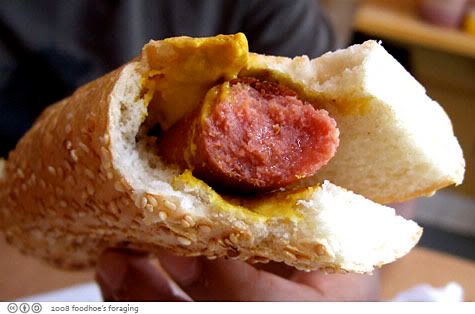 DDR was adventurous and ordered the Top Dog Special, Tandoori Chicken Sausage, which is blended with fresh onion, garlic, ground ginger, spices and herbs. I tried a bite, it was flavorful and spicy with the flavor of curry, but it was somehow distracting. After a while, she traded with P as she said she'd had enough, it was too much.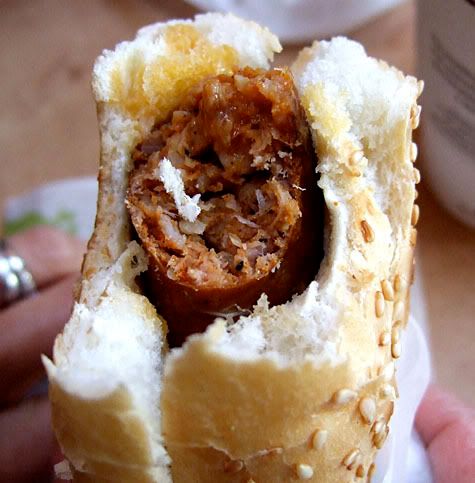 Here's mine, a big fat Garlic Frankfurter, 3/4 beef, 1/4 pork fresh garlic a la knockwurst. I like my hotdogs with dijon and onions.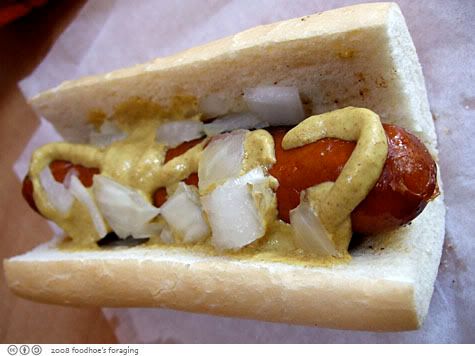 Mmmm but then DDR tried a squiggle from the big vat of Russian style hot mustard that had her wheezing that it had a very good kick to it. I doused my dog with it and it was marvelous. Pure joy… It hit all of the pleasure receptors just right – a meaty dog vigorous with the flavor of garlic that snapped enthusiastically when you bit into it, surrounded by a soft fluffy bun dusted with sesame seeds.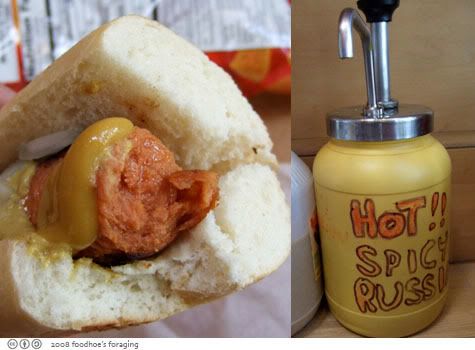 I had to laugh at the decor – it was feisty and somehow subversive… very in character with the clientele to which it caters to. Predictably DDR and P began to argue about how many hot dogs they needed to order to take to go….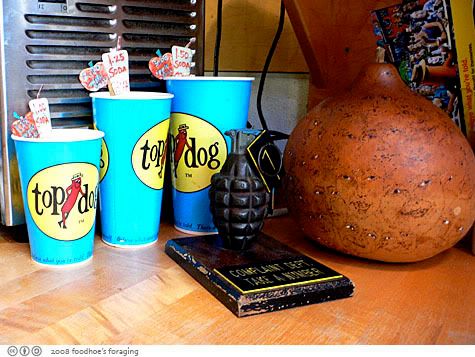 So I'm not sure whether it is the best hot dog in the known universe, but it was one of the best ever, despite being grossly overstuffed to begin with. Now that I know where it is, I am going to come here on an empty stomach with fresh tastebuds next time.