5008 Telegraph Ave, Oakland, CA 94609 TEL: (510) 652-4888 | website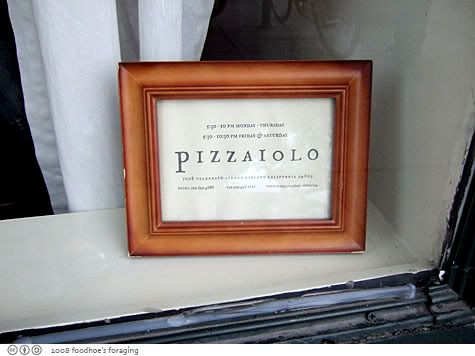 Porky's Pizza Palace one day, Pizzaiolo the next. Two very different types of pizza parlors, each catering to a specific clientele, yet both are family oriented and kid-friendly. Porky's is in my neighborhood and Pizzaiolo is not; however, I have walked by Pizzaiolo without really seeing it because it has such a very discreet sign which is tucked in the lower corner of the window-sill if you look hard enough. It's in the Temescal district of Oakland, next door to Dona Tomas and a few doors down from Bakesale Bettys which had ironing boards set up as funky tables lining the sidewalk.
According to their website, they buy only locally grown, organic, seasonal meat and produce whenever possible and change the menu every day to reflect the ingredients in their freshest most beautiful form. The founder and chef, is an alumni of the revered temple of Chez Panisse and lives with his family in the apartment above the restaurant. He explains that one life is much easier to live than two and that with that merging, his children are learning how to live in the world by watching the layers of human interaction that happens all around them and so I am forced, everyday, to live with a level of integrity and integration that is hard to come by in this day and age. I admit that I like this way of thinking.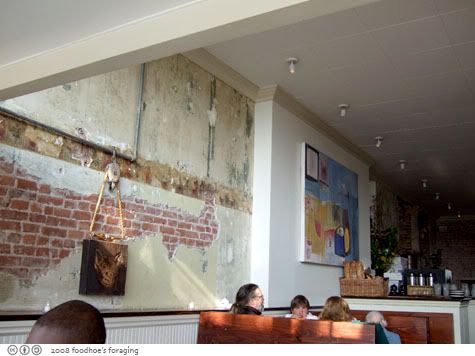 The main dining room is bright and small but seems spacious with wooden booths along the wall and towards the back there's an area where a larger group can fit and some outside seating in the back that was not available. There is a counter where you can sit and watch the kitchen action while enjoying your pizza.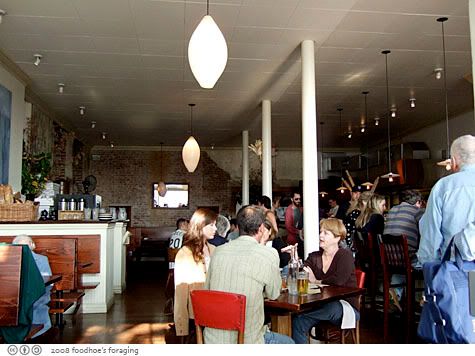 They post the menu daily on the website, with the following caveat: The online menu is updated just before our doors open. In-house menu may differ from online menu. The menus are displayed in the window using a simple technology of rubber suction cup mounted hooks.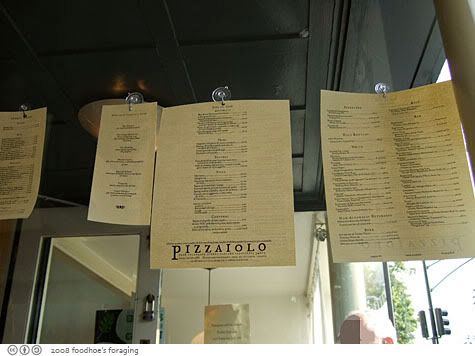 They dropped off a chilled bottle of water (without asking if we wanted one with a pedigree) and a plate of bread, which was like a small meteor that had landed from the heavens above. It had a thick chewy crust with an ethereal soft billowy tangy filling. Top that off with butter and I was in a state of bliss.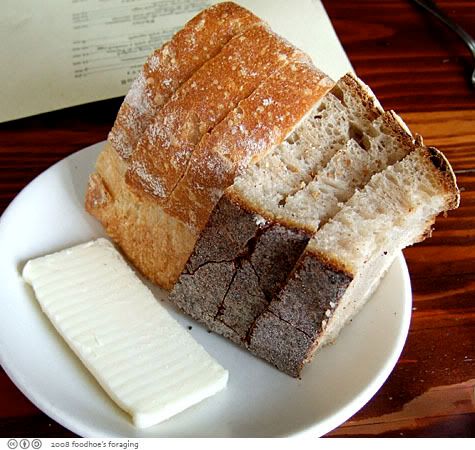 From the Antipasti section we split the Frisée and green bean salad with cooked egg and housemade pancetta (10). The pancetta was crisp and added just the right amount of salty smokiness. I liked the chopped hard cooked egg as it spread out and distributed its eggy flavor in a very satisfying manner – much easier to eat than the usual poached egg!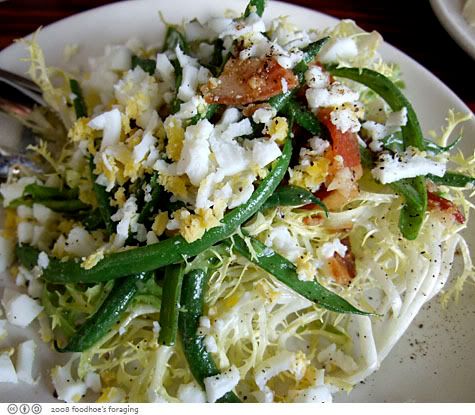 I am glad that we ordered the Potato Gnocchi with Pork Sugo (14) which was lip smacking good. The meat fell apart in the rich savory sauce and melted in my mouth along with the marshmallowy light and fluffy gnocchi.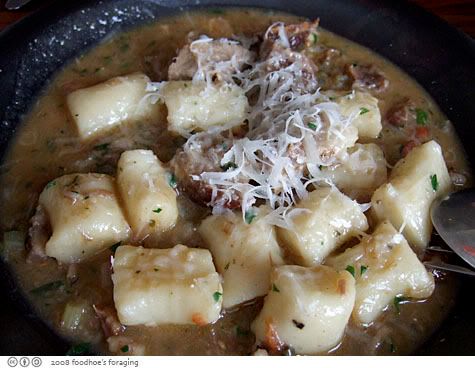 The tangy cheese and fresh herbs brightened up the flavors.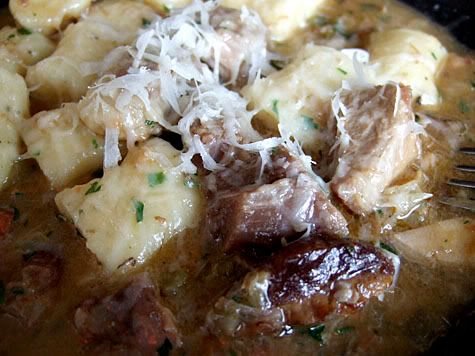 We had the Margherita Pizze ($13) with sausage ($3) and wild arugula ($4). It's the perfect pizza to split, especially with the other dishes and is the delectably thin but chewy Neopolitan-style crust.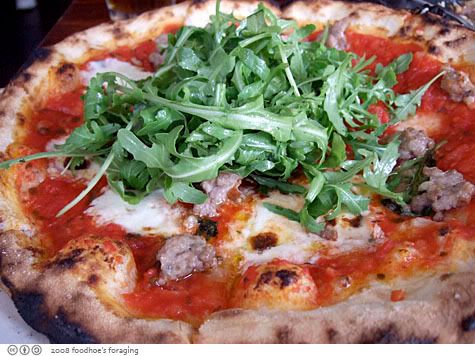 The wood-fired pizza is a sensory experience. The crust is satisfyiing at so many levels. It has the soft yeasty bread moments, crisp and charred edges here and there, areas of perfectly golden brown and chewy toasty textures against a zesty tomato sauce with a spiderweb thin network of melted cheese spanning the surface. The meaty bits of sausage were strewn about in artfully restrained abandon and we rearranged the peppery greens to cover the surface uniformly.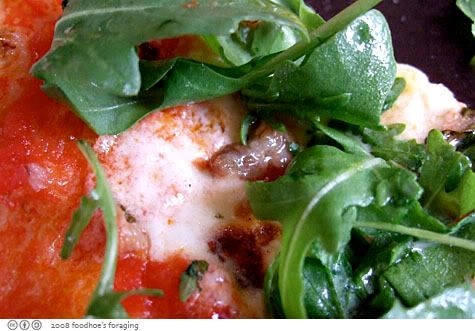 I found the crust to be very delicious all the way out to the ends. Notice the sparkling crystals of salt which adds a burst of flavor along the at times charred perimeter. No need for ranch dressing to render these bits palatable…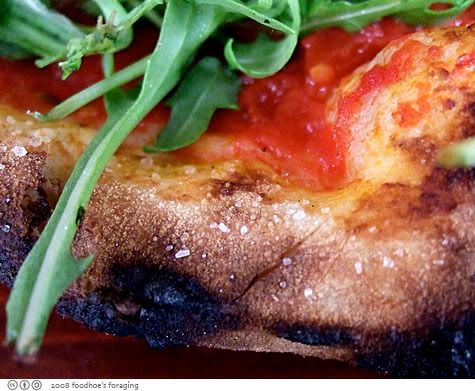 We split a few things from the dessert menu, these were Candied Orange Cornmeal Biscotti (3)
We asked for one Blossom Bluff White Nectarine Sorbet (7.5), and one Swanton Farm Strawberry Ice Cream (7.5), but we received only the nectarine sorbet (one can only hope that for $7.50 you get two scoops). And if the serving was only one scoop, then they mistakenly gave us two of the sorbet but by that point in the meal I was really too stuffed to eat it, let alone complain.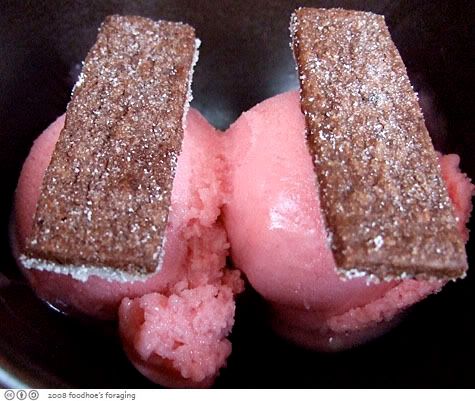 Yes, it was damn good. Yes, you should go there and read the website too! I feel that I know Chef Hallowell now after perusing their site, especially his rants page. Hmmm, perhaps a blog would be a better format, a little bit of give and take and less of the taking the podium. Since eating there I have checked the menu as it changes daily and am tempted to return soon to try everything.