3917 Grand Avenue; 510-547-5035; www.caminorestaurant.com.
We met Mank and CDR for dinner after work last Friday. I walked from the Oakland 19th St BART station, taking a nice leisurely stroll along Lake Merritt where we lived once upon a time. There were herds of fluffy Canadian geese patrolling the grass – I just love watching them waddle…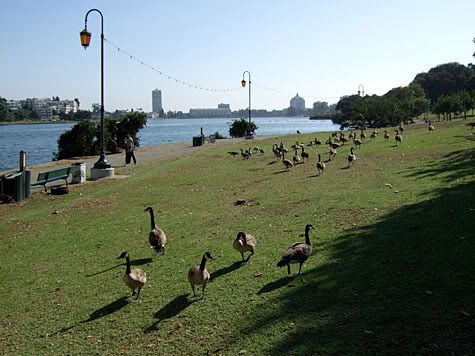 Mistakenly I wandered pretty far along Lakeshore (I had to stop off at Arizmendi to pick up a few zampanos after all…) and was well into the residential area when it occurred to me that I needed to traverse the mountainous Lakeshore Highlands to get over to Grand Avenue… Well, that was a good hilly hike reminiscent of the urban hikes we used to take when I lived on 24th Street in Noe Valley. I worked up a good appetite for dinner! At last I saw the building from across the street.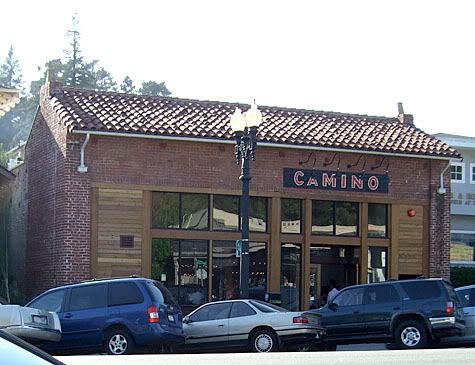 I got there a little early and enjoyed a nice frosty beer in the bar while I recovered from my trudge and waited for everyone else to arrive.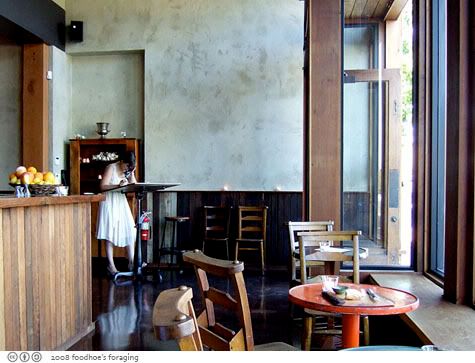 Chez Panisse alumni Russell Moore's restaurant feels almost cavernous with a simple rustic elegance, high ceilings and brilliantly shiny concrete floors. The word Camino translates to fireplace in Italian and your attention is immediately drawn to the open kitchen at the rear of the building which is dominated by a huge stone fireplace.
It is interesting to watch the activity going on in the fireplace. It is packed with a variety of grills, some topped with pots and pans and earthenware jars, others holding pieces of roasting meat and fish. Seriously, one look at this setup and you see why the food comes out of the kitchen so slowly.
Apparently, all of the cooking is done here in the wood fires… If it doesn't come from the fireplace, it is prepared in the nearby wood oven.
We were seated at one end of a very long 30-foot long unfinished redwood tables closest to the kitchen where I was mesmerized by the quiet activity. Sometimes it looked like a bunch of friends at the counter calmly at work. The menu is short, five starters and three entrees and changes daily, depending on what's freshest or most interesting.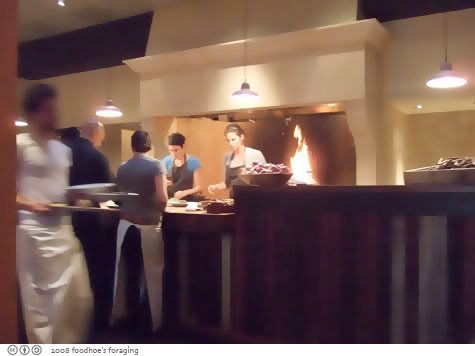 Ahhh, at last some food… We were served a half of an Epi-loaf, which is my favorite type of bread. It's shaped to resemble a shaft of wheat and is formed in a series of small hand sized crusty baguettes that can be broken off easily. It was served with a few chunks of sweet creamy butter and a little bowl of grey sea salt to sprinkle with.
Cucumbers with Chile Salt and Lime (4) was Mr. K's favorite dish. A brilliant fresh combination of clean flavors. Yes it sounds out of place, but I had seen it on the bar menu earlier and they agreed to serve it along with our dinner – I'm so glad they were flexible.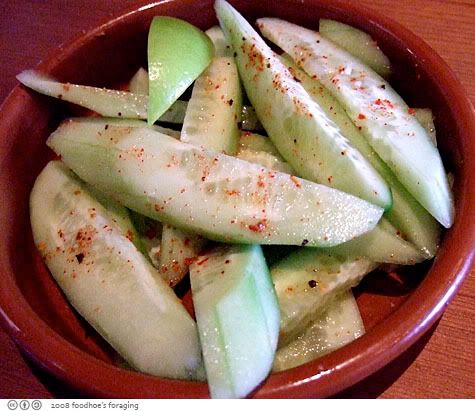 Fried White Bait with Herb Mayonnaise (11) really were what can be considered to be bait – small smelt (sans heads and innards) including bones, fins and all. They were lightly coated with flour and fried crispy but were flaky and tender inside. We observed a few moments of silence while we relished the fresh from the fryer morsels… They were garnished with delicate tendrils of crisp fried greens that looked like rosemary but weren't – marine shrubbery perhaps? I'm not sure we were able to finish the whole plate before other stuff started arriving and by that time, we were ready to begin the meal.
New Potato Salad (9) with rapini, egg and anchovy was especially interesting because it looked like regular vegetable salad. We enjoyed the simple clean flavors, the deconstructed format and the inclusion of the chewy bitter greens.
The grilled meat dishes were excellent. Here is the Grilled local white sea bass with roasted eggplant and onion salad (25), it was topped with a minty yogurt sauce that was cool and added a deliciously tart and creamy element to the dish.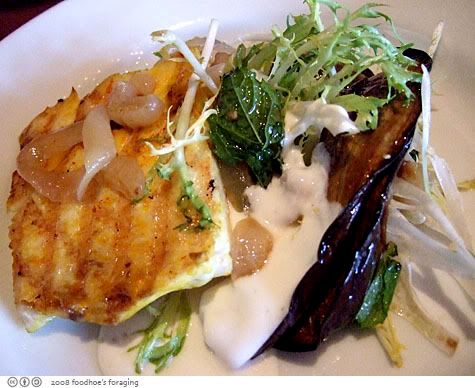 Look at how gorgeously juicy and flaky the flesh is.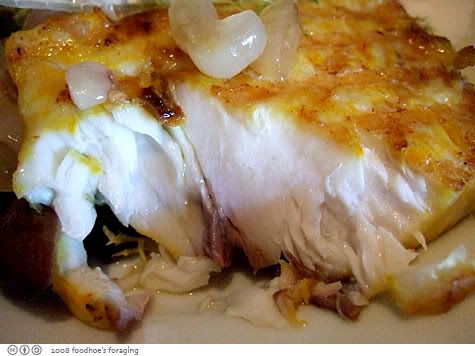 We were very cozy with our neighbors and therefore able to see that the portions were not huge, so we shared two orders of the Grilled Chicken with potato gratin, corn and sage (22). One plate came with a leg and a healthy portion of breast meat. The rich creamy gratin was inhaled immediately and the corn salad was exuberantly crisp and bright tasting.
The other plate had a wing drummette, a thigh and slices of breast. There were crisp fried sage leaves garnishing the dish that were light and delicate with a resinous and addictive crunch. Mank dragged his finger through the sauce and thoughtfully mused that this is the kind of dish you could only dream of making at home. Hello Mank, did I not have one of the best home cooked chicken dinners ever at your house?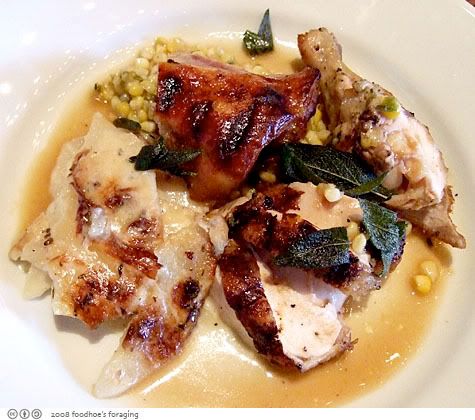 Polenta and ricotta torta with roasted escarole, green beans and tomato (18). This was also full of bright fresh flavors, the perfectly charred tomatoes and roasted escarole were the most memorable items on the plate. I remember thinking that the polenta was dry until I dug in a bit further and got to the creamy ricotta.
Of the three entrees, this was my least favorite and I was glad to be sharing it between four people… it was fine as a side dish to the other main courses.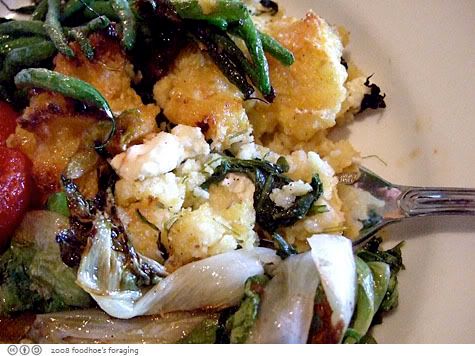 Moscato d'Asti granita with blackberries and semolina cookies (8.5) was my favorite dessert. The ice was shaved into delicate shards that were almost creamy in texture. I don't know how they achieved this fantastically light texture but it was delightful and refreshing.
There were some tart blackberries swimming around in the intense grape-y syrup on the bottom that made the best slushee I have ever had in my life.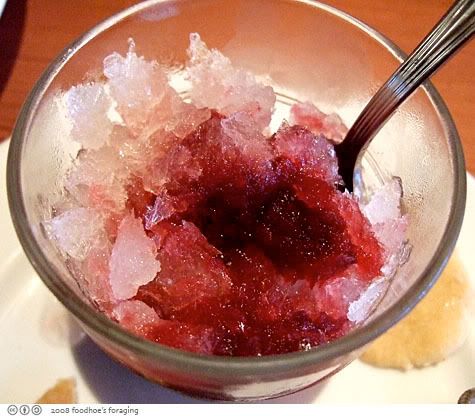 Nectarine tart with vanilla bean cream (9). We got this after we watched the couple next to us swoon over the thin buttery crust. The crust was the best part. It was one of those old lady desserts that I haven't quite developed a taste for yet…
I like the dine together with strangers aspect, the close proximity invites chatting with your neighbors and you can better check out each others food. It's funny how much information we know about this restaurant. Take for instance the chairs, they were purchased from a church on an ebay auction. The long 30-foot redwood tables bordering the dining room are built from a tree blown down in a storm. And the stone fireplace was constructed of imported limestone by a French stonemason, hailing from a line of them dating back to the Crusades (I got this last tidbit from a NYT article about this place, it's gotten quite a bit of media buzz).