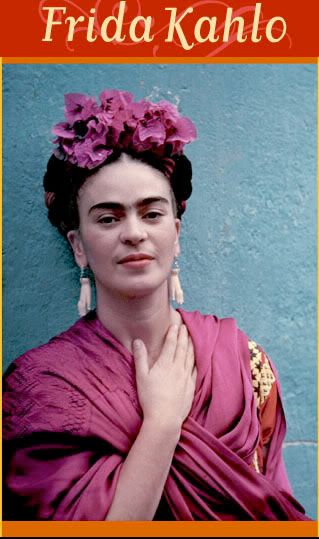 311 Third Street (at Howard), S.F., CA | website
My good friend TK took me to see the awesome Frida Kahlo exhibit at the SFMOMA last week. The museum is open one night a week, so we scheduled a visit to the show (apparently you have to get an appointment these days at museums…) and then dinner afterwards. The collection shows intensely personal and vivid imagery, and there is a wonderful collection of photographs of her and her family. Many of the paintings were featured in Julie Taymor's biographic film Frida
The galleries were super crowded which made it hard to get close enough to read the interesting narrative and after a while we became tired of feeling like we were dragging our feet through molasses…. it was time to head over to Bong Su for dinner which is conveniently just down the block. I came here a while ago and enjoyed their wonderful happy hour (highly recommended).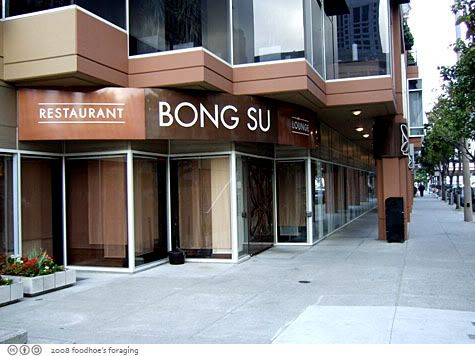 We had no reservation and were seated way, way in the very back in a nice quiet corner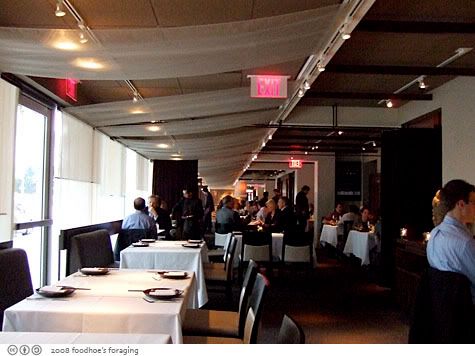 I insisted right away that we must order the Bánh Khot (10).  I love these shrimp cupcakes that have been profiled by the Gastronomer here.  Now if you don't know the Gastronomer, she currently lives in Vietnam and has been chronicling a very delicious life as she travels and works in Saigon.  I'm so drooling over her description how these are served with shrubbery like lettuce or mustard greens along with fresh herbs and pickles and are described by Graham of Noodlepie as being green 'n lean and airyfairy.   I want!  What do we need to do to make this happen?  Dear Bong Su, please take note that foodhoe says, we need airyfairy greens with these cupcakes please.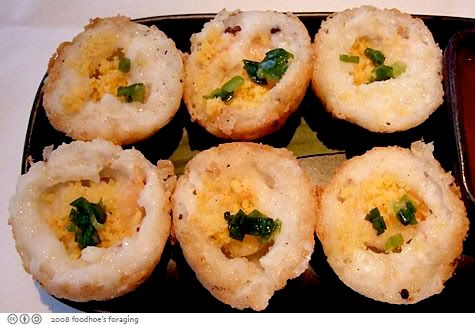 The outside crust of the rice flour cupcakes are crunchy crisp which enclose a slightly sticky, silky soft and savory custard filled with baby shrimp and topped with dried shrimp and green onions.  These are served with nuoc mam (fish sauce) that you have to pour into the cupcake because if you try to dip it, the whole thing starts to disintegrate. 
I wanted to try the Shaking Beef (26) because DDR had said it was very good here. Also known as Thit Bo Luc Lac, it is so named because of the cooking method which involves a back and forth shaking of the skillet as you sear the cubes of beef.  Here's a pretty good recipe from the Slanted Door that I've actually made successfully at home.  It's wok seared with garlic and onion then served with peppery watercress that gives a bright contrast to the rich succulent beef.  The watercress is lightly dressed and when tossed with the hot beef, wilts and everything blends together into a delectably tangy sauce.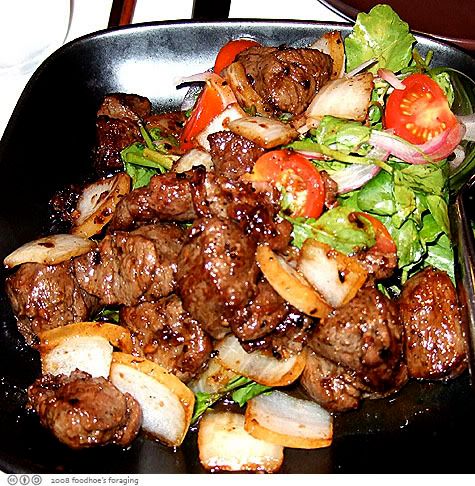 The Chili Aubergine (8) had a charred smokey flavor that TK was not fond of.  In fact it reminded her of the grilled eggplant at Fuku-Sushi that I think I ordered as well, and she revoked any future eggplant ordering on my behalf.  This was tossed in  with some chili sauce and fried leeks and not terrible.
We briefly debated over Garlic Fried Rice or Garlic Noodles (8) and ended up with the noodles, which were delicious.  They were long chewy egg noodles wok fired with garlic, black pepper and butter.  Mmmmm, they had a great caramelized and toasty flavor and the noodles were nice and chewy.
Unfortunately, we had no time for dessert and had to end our evening rather abruptly as TK realized she was about to be late.  Ah well, I didn't really need dessert after all that …  Dinner was good, I hope to return with Mr. K to check out more of the menu.