4140 N 7th Ave., Phoenix, AZ 85013 602-351-2345 | Open Mon-Thurs 10AM-7PM; Fri& Sat. 10AM-8PM
The sign says Native American Food, a cuisine that I am abashed to admit I know nothing about. This is especially perplexing to me since I've lived in this country for almost my entire life! It seemed  practically mandatory that we investigate.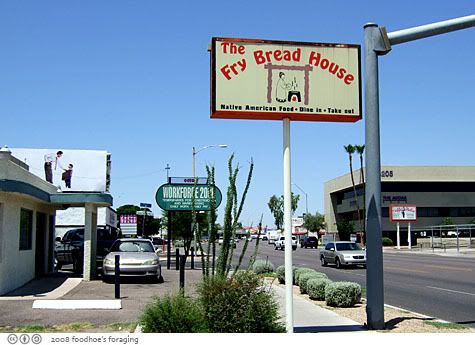 I'm in Scottsdale, AZ for the week and it's hot out here. The land seems scorched and the heat radiates off of everything… it's like walking into an oven every time you leave the comfort of the air conditioning.  But I do love the low adobe buildings and all of the various cacti lining the streets. The Fry Bread House is conveniently on the way from the airport to the hotel, and when we pulled in it felt a bit like you're driving up to someone's house with a lot of parking in front…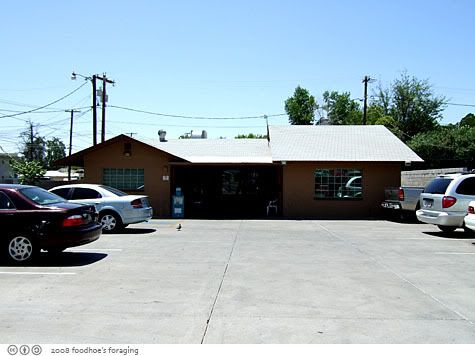 I did an internet search on fry bread and yes, I really have led a sheltered life – it's one of those state fair and festival fried indulgences that people enjoy once a year and is also a mainstay on reservations and powwows. I really need to get out more… This is one place where you can get these decadently rich treats any time of the year (except Sundays when they are closed). According to this interesting post on the history of Indian Fry Bread, Indian Tacos were once voted the state dish of Arizona. Of special note, I found this wonderful website In Mamas Kitchen that describes them as related to the Hoe Cake, which must explain the sudden obsession I developed for them. She says, Hot bread from a hot hoe! Hoe Cake!
Above the window where you order hangs a sign stating "Tohono O'odham" owned and operated. The Tohono O'oadham, or the Desert People, are a group of native americans who reside primarily in the Sonoran desert.
We ordered Indian Tacos, a peerless combination of Fry Bread folded around meat, beans, cheese and lettuce. The anticipation was high as our order was called and we came back to the table with our loot. The tacos were swaddled up in white butcher paper that revealed tantalizing glimpses of cheese, sliced lettuce and the one with chorizo was spilling out from the golden bread surrounding it.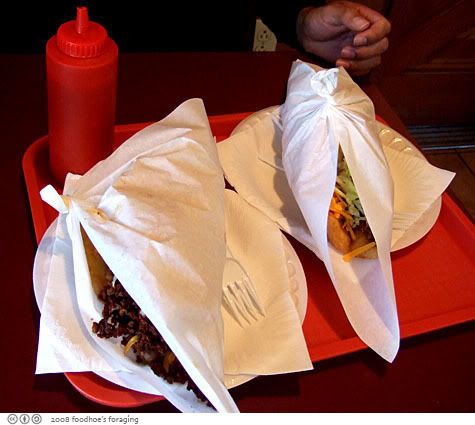 The chorizo was well cooked and had flecks of red chilis throughout and smelled really really good. Alex said it was.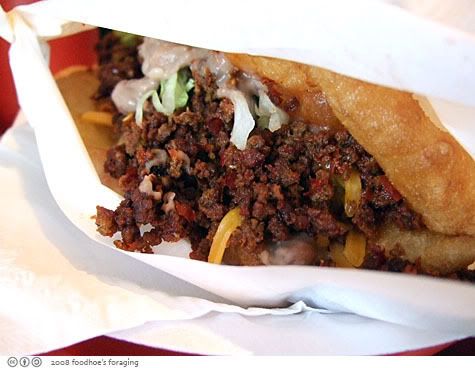 It was even better with a good squeeze from the bottle of salsa they provided. It was vinegary and garlicky and not super hot but added a good zesty acidity that brightened things up. Ahhh, the blissful trinity of taco toppings: crisp iceberg lettuce and shredded cheese and salsa…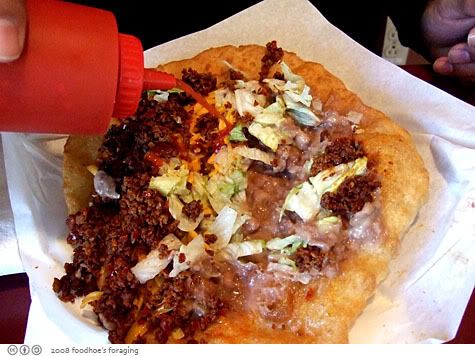 The bread is thick chewy pillow that is served with either a savory topping/filling or sweets for dessert. I read that the red chili was good and was very pleased to see big pieces of succulent and tender meat that had me smacking my lips with relish. Now, these are called tacos, but the amount of filling looks more like burrito and the fried bread is about the diameter of a dinner plate, folded over. All this for about $7!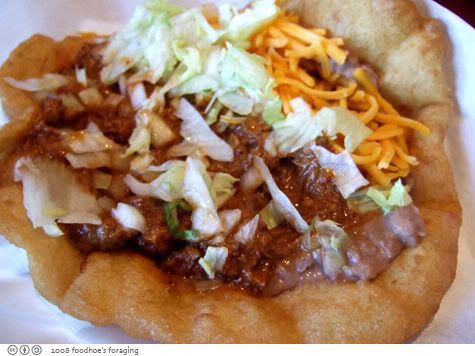 It was heavenly and although I tried to keep the butcher paper wrapped around the fried bread, it was greasy and messy and you just have to jump in and not think about nutritional information for a single minute. The hairs on my arms stood up and I was in love. Probably best to repress the entire episode.
While we were busy savoring our tacos, the proprietor addressed the room holding up a plastic wrapped object and I only caught the part that it was a whoopie pie that a progeny of his made by her own hands and some thing else about pumpkin spice cookies… I'm a sucker, since I knew I wouldn't be able to try any of the dessert fry breads, I picked one up on the way out.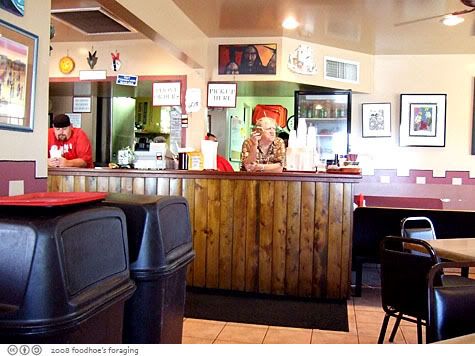 Mmmm, I do love whoopie pies, especially the beautiful fluffy ones I enjoyed at the now defunct Myth Cafe in SF. This was a little spongey after being stored in the plastic wrap and the filling was squished out, but it was a tasty and delicious pumpkiny treat.
Since I only come to Arizona once a year, a visit to the Fry Bread House is a guilty indulgence that I can see trying to squeeze in on the way from the airport to the hotel! I can just taste that Indian Taco and that luscious red chili…