742 – B Street, Hayward, CA | 510-583-9744 | website
Wow, I just noticed that I am on post number four hundred and two! I rarely pay attention to these things, but that is a milestone of sorts. And so it's fitting that I find myself re-visiting one of the first restaurants that I reported about that first year of blogging before I had even figured out how to get pictures up…
You would never expect to find such a place in downtown Hayward! It's just around the block from Panda Express occupying the ground floor of a renovated victorian building. The name is simply the phonetic spelling out of Newman Alley, which is one of the names that the historic location has been known by. B Street seems to be ground zero for a much needed gentrification effort. I have heard that there is a multiplex theater under construction nearby and that a Cal State East Bay (used to be CSU Hayward but people thought that a more generic name would sound better) alumni is planning to open an upscale bar and restaurant called Bijou sometime later this year.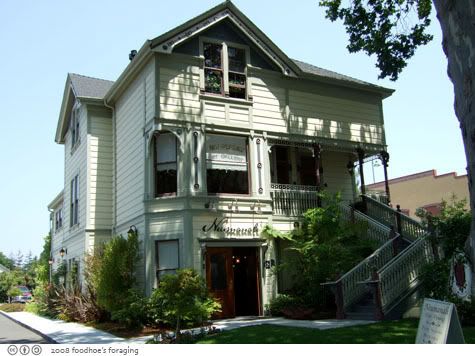 I came here last Wednesday, for a quick celebratory lunch before I went to the DMV. You see, it was my birthday and my drivers license expired, so I took the day off from work because it sucks to work on your birthday. I really felt like celebrating though, because earlier that morning I had upgraded to WordPress 2.6 and completely hosed this blog, so if you happened to stop by between 11-12 that morning, you would have seen the generic Hello World post that all wordpress blogs start off with. Long story short, I used this fantastic plugin backup utility that restored everything and I mopped my brow and decided it was time for a nice lunch before my appointment at the DMV. The restaurant is past the commercial area on a shady tree lined block and has a nice parking lot in the back of the building. I walked up and was greeted at the door by a friendly fellow in black who invited me over to a lovely table by the window. The interior is bright and comfortable with interesting artwork on the walls.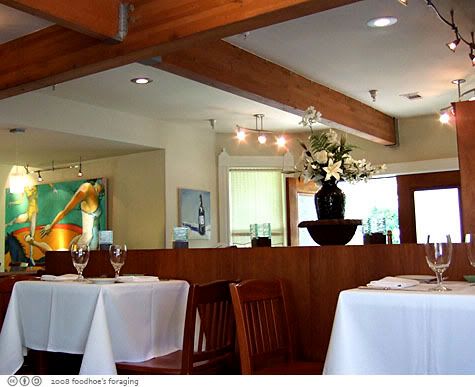 Hmmm, I thought as I looked doubtfully at the little salt and pepper cellar on the table. We had dined here once before in 2005 and I have never been able to convince Mr. K to give them another try… which is a shame because we have so few nice restaurants in the area. Anyways, we both only remember how horribly over-salted everything was, but I felt that since the restaurant was still open, that must have been an off night.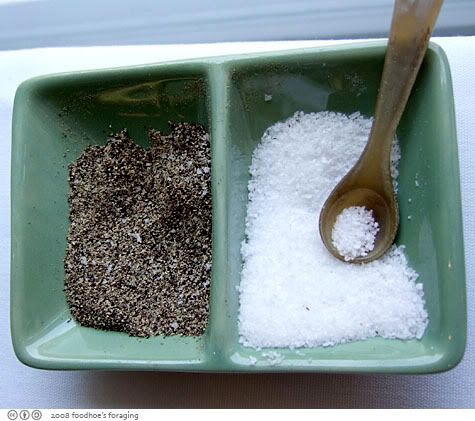 I was served slices of soft sourdough bread in a pretty little basket with a bowl of olive oil and balsamic vinegar that was compelling to look at and in reality was a big black hole that sucked me into a frenzy of swabbing up as much as possible with the soft crusty bread…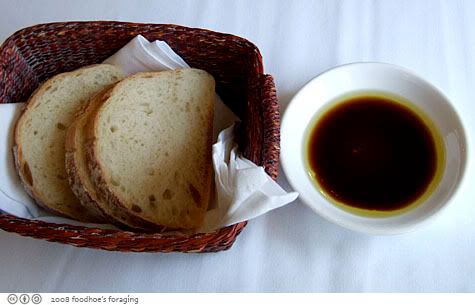 Lunch began with a warmed Goat Cheese salad with Mixed Greens and red wine vinaigrette. This was delicious and simple, the greens were fresh and the cheese had an addictively crunchy layer of breading that added a toasty texture that I enjoyed.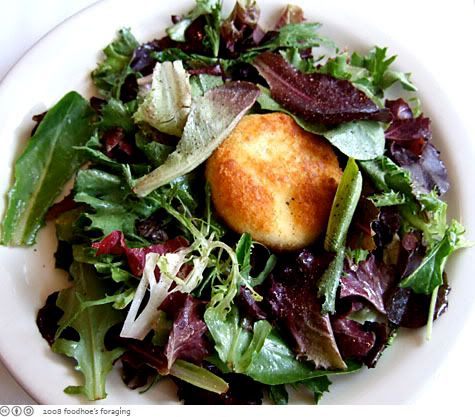 The warmed goat cheese was soft and crumbly inside and almost melted in the center. I finished the whole thing which was a good two and a half inches across.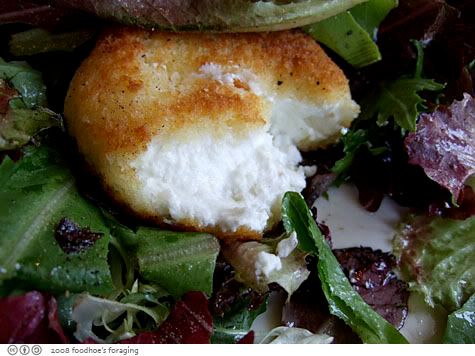 The menu for the day included Cioppino with Garlic Crostini (17), which was a very robustly flavored tomato based stew full of prawns, scallops and bits of some kind of fish.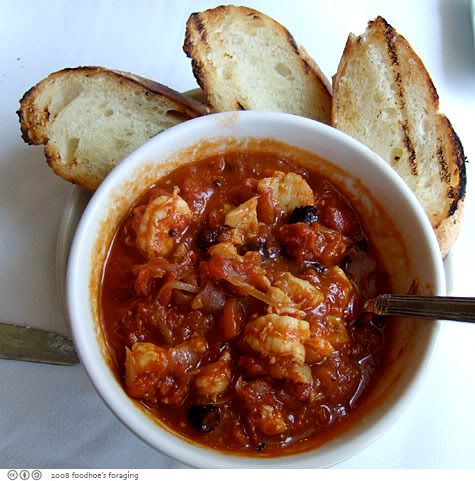 At no point did I feel a need to reach for the salt cellar, as the savory seafood stew was full of black briny olives as well as a generous handful of capers that exploded in vigorous bursts of salty pickle flavor. The crostini were rubbed with raw garlic and once again I found myself sucked into the black hole as I began to slurp up this heady combination of garlicky toast with thick pungent stew . I think that my server felt a need to avert his eyes from the spectacle as he could see I was feasting and wanted no interruptions for a time. I decided to pass on dessert since Mr. K was taking me out for a nice dinner…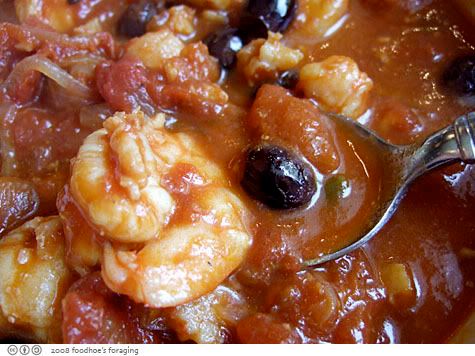 I am glad to report that I really enjoyed lunch and have convinced Mr. K that we will come back to dine in their outside patio in the back of the building. It looks cozy and well protected from the elements – a perfect spot to enjoy our east bay summer weather.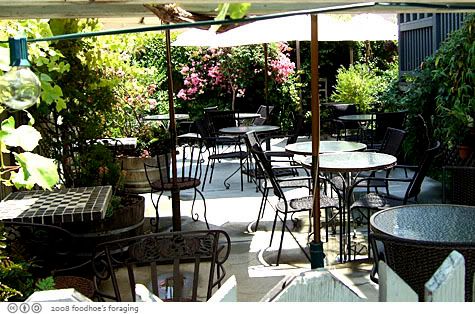 We often express dismay that we are perpetuating the poor local economy of our undernourished neighborhood by doing most of our shopping and dining in SF/Oakland or Alameda but we have such crap resources. There's the Bay Fair Farmer's Market on Saturday and the Estudillo Produce which is mostly closed during the non-business hours when I am available to shop. We don't even rate a Trader Joe's and the long awaited Fresh & Easy chain plans to open two nearby locations seem to have stalled out. As a consequence, most of my money goes to another cities sales tax coffers…
So, yes we love that Hayward has such a nice spot and look forward to see what else develops in the area. In the spirit of supporting our local businesses and tax base (not to mention saving on gas!), I'm going to try to unearth more of these far East Bay gems…