685 Bancroft Avenue, San Leandro, CA 94577 | 510-430-9310 | website
We've come to Paradiso more than a few times and each visit we are reminded that San Leandro really does have a nice restaurant. It's very popular with the locals but we have never been turned away without a reservation. We like the casual, friendly energy in the restaurant, probably more than we like the food, but it really is a great local spot to hang out.  The only other place that can be categorized under nice restaurant in the area would be Horatios in the marina which has gone even further downhill from my last visit…   Nope, these two restaurants really can't be lumped into the same category at all.
It's located on an obscure corner that borders a residential area and we often get lost trying to find it (obviously we need to eat here more often if we can't remember where it's located). The dining room feels very open with the exposed ceiling and bright skylights overhead.
Our waiter was very engaging and encouraging and something about his manner gave me a slight case of the giggles. This is not a bad thing… The two types of bread were good, the focaccia was lightly smeared with tomato sauce – these would have been so good with a bowl of olive oil and balsamic dip… I think you need to ask for it, but since I had already consumed an entire basket of bread with dip at lunch, I didn't.
We split a Caesar Salad served with garlic croutons and Parmesan cheese (8), which had freshly grated Reggiano and our server dosed very well with the pepper grinder.  This was very good, the cheese was grated with a microplane device into sheer strands that melted on your tongue.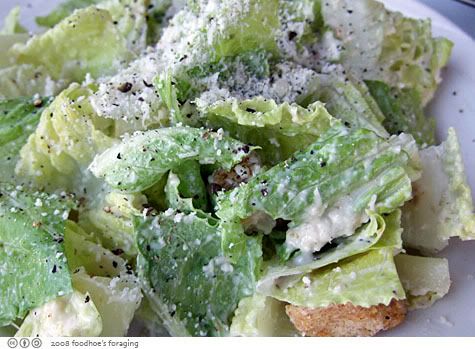 We shared a bowl of Wood Oven Roasted Mussels with garlic and white wine (11). This was amazing!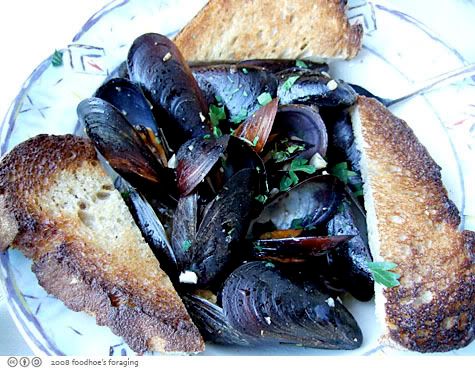 The broth was the best part, it was lemony and garlicky and delicious spooned up and especially to dunk both the crostini and the bread in.
Yes, this looks a big surgical and vaguely pornographic, but just look at the beautiful broth with flecks of parsley and bits of garlic floating among the glistening globules of olive oil.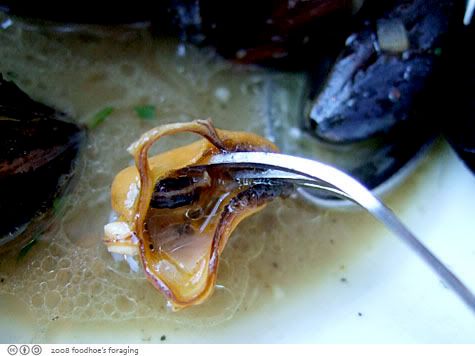 Things were looking good up to here, this is where we really needed to be served another dish of something really really good to tip the scales over into the realm of wow that was a great meal. But alas, this was not to be… instead we split a dish of Seared Scallops which were served with a sauce that wasn't nearly as good as what came with the Mussels. And the french fries were left laying on top of the sauce where they quickly became waterlogged and soggy.
Mmmm, but the scallops were plump, sweet and delicious. And so once again, we had a pretty good meal, but we left feeling cheated somehow…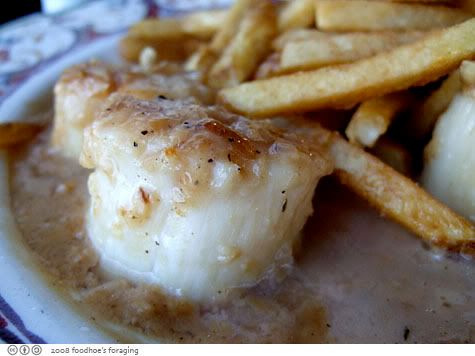 The food is mostly good, sometimes even great, and I've yet to find my favorite dishes. I definitely would like to try the wood-fired pizza and the mignonette appetizers the next time. The problem is that there are so many other great restaurants that we tend to neglect our little neighborhood gem.
Onto the cake… Mr. K had walked in with a little box that was obviously from a bakery that he whisked by me and tucked into the fridge. This did not escape my notice, so I declined even looking at Paradiso's dessert menu, much to our waiter's disappointment, especially when he found out it was my birthday.
It certainly was beautiful – a stunning and dramatic chocolate mousse cake from Cocola Bakery on Santana Row in San Jose. It had a layer of crunchy things that kind of reminded me of cocoa puffs and the mousse had an odd banana flavor that sent Mr. K running (he has a phobia about squashed bananas….) It had the distinctly firm airy texture of too much gelatin, which was too bad because I prefer the kind of mousse that is made with raw eggs and whipped cream – the fluffy and gooey kind. Dang, I sound so ungrateful!
I don't really feel that I am another year wiser…