3835 East Castro Valley Blvd., Castro Valley, CA 94522 | 510-881-8878 | website

Yeah, I know… pizza again! I can only guess that Mr. K developed a subliminal craving after reading all of my recent pizza posts… It was mid-afternoon and while finishing up his drywall project for the day, he announced the he was going to Home Depot. I asked hopefully, "hot dog?" as he held the door open. But as we drew near, Mr. K mused… "or what about a slice of Costco pizza it's just down the road?" I sighed thinking about the indigestion… We agreed that we were aiming too low, got back on the freeway and were soon on the way to our local pizzeria, calling in our order for pickup. We live close to a great local pizza shop tucked away in a small strip-mall. Pyzano's Pizzeria is one of the top pizzerias in the country because it is the home of the world's greatest pizza thrower!
Tony Gemignani is our local pizza superstar, mostly known for his pizza dough throwing acrobatics (check out this crazy video clip of him juggling pizza dough below). But more recently, he holds the title "Italy Best Pizza STG" in the Neapolitan category (specialità tradizionale garantita, or guaranteed traditional specialty), from the Trofeo Citta de Napoli Championato Internationale per Pizzaioli (I copied that from the website and don't know italian so I may have messed that up). The sad thing is that he doesn't even have a wood-fired oven, yet, because of local air-quality regulations. The blisteringly hot wood-fired ovens reach temperatures in excess of 900 degrees, which result in lightly crisp, chewy crusts with a hint of char, that characterize the Neopolitan pizza. Plans are in the works to change the lack of proper technology. In the meantime, the pizzas cooked in the gas powered oven have a nice crunchy crust with soft, chewy interiors. That probably has a lot to do with the hand spinned crusts which allows the outside of the crust to air dry making it crisp on the outside and light on the inside when it is baked.
I was so engrossed looking at all of the publicity photos of him with Emeril, Rachel Ray and then a number of him accepting numerous medals, that I didn't even realize he was working in the kitchen. I looked up and was all, hey it's the guy in the pictures!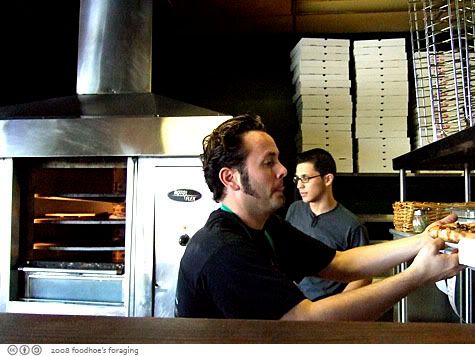 Unfortunately we couldn't hang around to watch him spinning the dough… but he was nice enough to stop and smile for the camera. When he asked me where I was from I replied simply, San Leandro, adding that I was glad we were close enough to be able to enjoy their delicious pizza. We laughed later as it occurred to us that he meant, what publication are you from, or something in that order. Yeah, I'm from uh, foodhoe's foraging, local blog with about, oh five subscribers… yeah buddy we're talking about fame and fortune.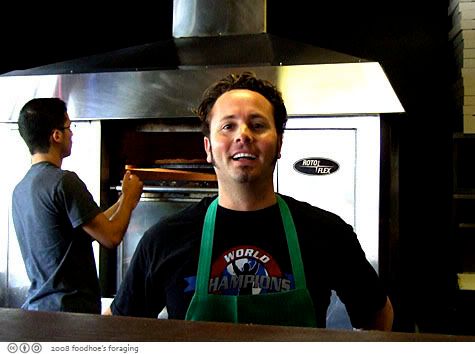 Ahhh, we got home and it had cooled enough for us to inhale our sausage and mushroom pie.
This is a finely crafted pizza with very good ratio of toppings to sauce and crust.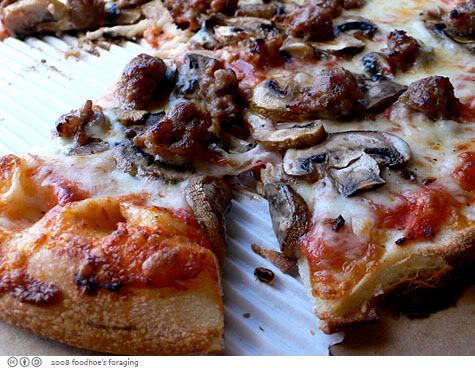 And quite beautiful to look at. Makes me hungry just looking at this picture…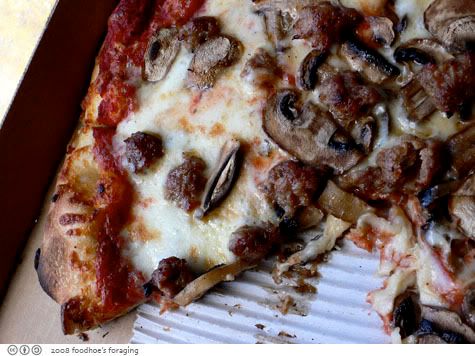 The menu is limited to pizza, stromboli, oven-baked turnover sandwiches and calzone. They offer a few salads too. Here's the House Salad, an old fashioned iceberg lettuce mixed with julienned purple cabbage and carrot, tossed with croutons,cucumber and tomato slices. It's definitely old school pizza parlor salad.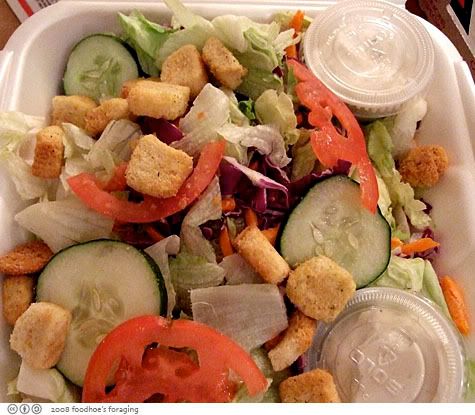 The dining room has colorful murals with italian vistas to enjoy while enjoying the pizza and there are a few tables out front to dine alfresco.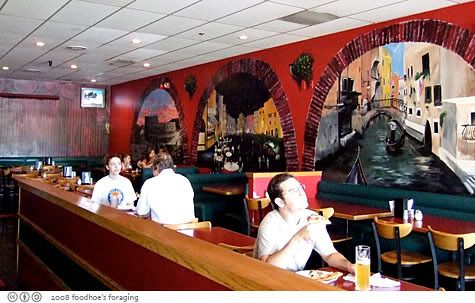 We don't have many great restaurants in the neighborhood, so we feel very fortunate to have Pyzano's around the corner and I can't wait to see what happens when they finally get their wood-fired oven.
==================
Mon – Thurs: Lunch 11:30am – 2:30pm; Dinner 4 – 9pm
Friday: Lunch 11:30am – 2:30pm; Dinner 4 – 10pm
Sat – Sun: 12 noon – 9pm