The product is a multipurpose pancake and waffle batter in a can.  According to the manufacturer's website, it's organic too and is powered by ozone-layer friendly C02, not like the nitrous oxide propellant found in the adjacent whipped cream canister below.  Imagine that, ready-made pancake batter you can store in your refrigerator at the ready for when you have a craving for a pancake or two… no mixing of batter, and no messy clean up!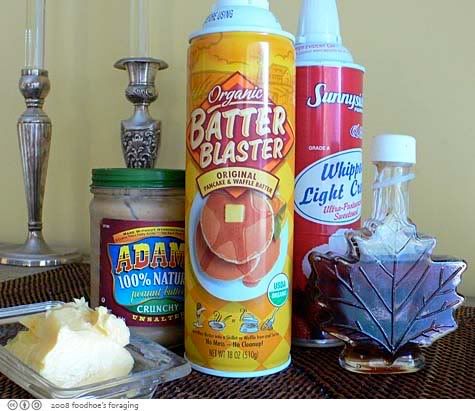 The technique used is familiar to anyone who has used whipping cream in a can, or cheese whiz… shake the can well, turn upside down and press the nozzle firmly until stuff comes out.  It's easy enough that I took this picture holding my camera in the left hand while I artfully spiraled the batter –  well clumsily splurted wobbly rounds onto the pan…
I do have some experience making pancakes, and waited until the batter puffed up and began to form bubbles before flipping them over.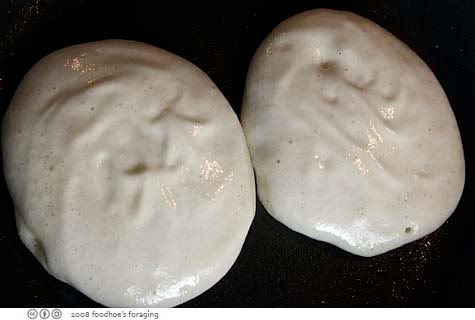 Look at the light fluffy cakes… this is very unlike my usual flat burnt flapjacks!  It took me a few tries but I got some very good pancakes.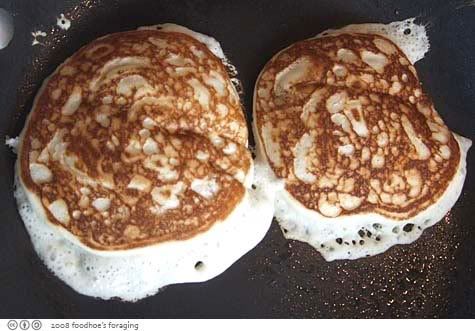 Here is the simple classic, butter and maple syrup.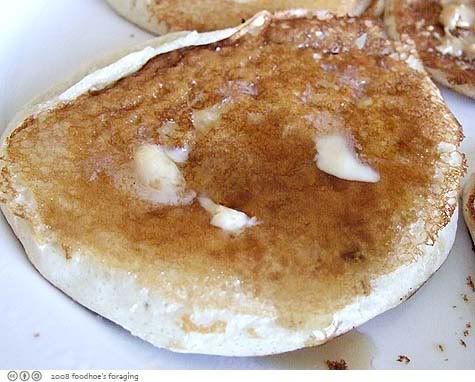 I am very fond of savory breakfasts and in fact, sweets aren't my fuel of choice to get going in the morning, I need protein and grease!  So to add more fat and protein to the mix, I smeared a pancake with peanut butter and drizzled on maple syrup and this is a very good combination.  If you look closely on the right side of the pancake, you can see a gossamer thin frilly netting that began forming on the later pancakes, very pretty and completely on purpose.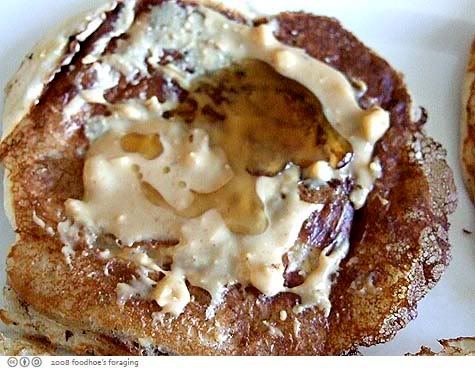 Ahhh, peanut butter with a bit of my favorite blenheim apricot jam, topped with a few dollops of whipped cream…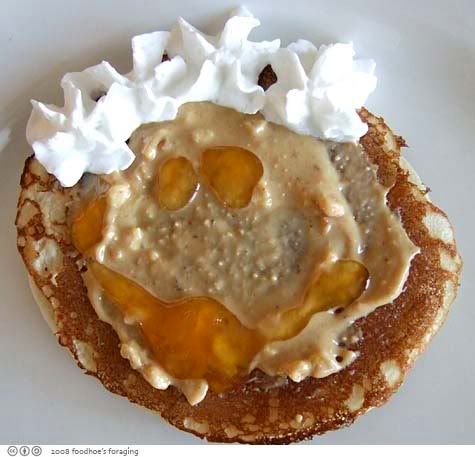 This was buttered first then I went to town with the whipped cream and drizzled warmed syrup over that.   Dang, I forgot I had some delicious walnuts that would have been so good toasted and sprinkled on top.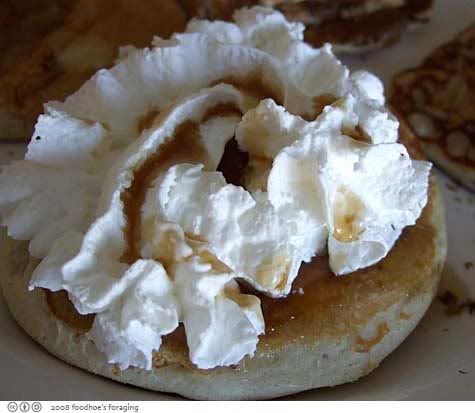 Well, I am certainly excited to find this item, because Mr. K has no interest in pancakes, so it hasn't made sense for me to mix up a batch of batter to make a shortstack for just me.  But with this fine product, you can make just a few flapjacks as needed and keep the rest in the fridge!  Genius!  Now, my only problem is that I don't know where to get them!  According to the location finder on their website, there are no stores selling within a 100 mile radius…  Arrrrgh!  But an internet search reveals that these are carried by Costco but you have to buy a three-pack.  This is do-able people, very do-able.