This is my last post about Slow Food Nation… I swear, even I'm tired of hearing about it!
Foodbuzz offered its local featured publishers the opportunity to attend one of the Taste Workshops at Slow Food Nation (SFN08) as a foodie correspondent. Of course I signed up and basically said I'd go to whatever session was available. Overall, this was definitely the coolest thing that I attended over the slowfood weekend (way better than my experience as a volunteer). The workshops were held in a classroom setting (away from the frenetic pace of the pavillions) and was a great way to learn a little bit about the local food scene in parts of the Midwest. The picture below is of volunteers setting up the tables for the workshop with a few of the vendors. With this many workers, this was a very organized workshop and we had lots of attention.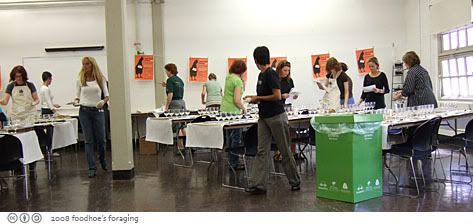 What I liked best was the lively panel who were as excited about the food and beverages being served as the audience. We leaarned where everything was produced and about the efforts to preserve indigenous crops and how everyone is working together to support the local economy. There was a lot of local pride in what is going on and I especially enjoyed hearing Leah Caplan speak. She is the chef-proprietor of the Washington Hotel, a restaurant and cooking school located on Washington Island, located off the tip of Wisconsin's Door County. She is very involved with her local farmers wheat-growing initiative where the grain is stone ground at the hotel, used in all its baked goods, and sold retail as flour. The grain is also used by the Capital Brewery to create Island Wheat Ale, as well as providing the base for her own Death's Door Spirits.
We tasted five different beers from Michigan (actually some ales, a hard cider from Almar Orchards, a belgian style beer) from New Holland Brewing, Jolly Pumpkin during the course of the workshop, and we learned that Michigan is one of the top beer producers, up there with Oregon.
We had two small plates with a variety of food samples and another plate cheese and fruit preserves. A lot of the food was provided by Zingerman's, an Ann Arbor institution that includes their famous delicatessen, mail-order specialty products, a bakery, a creamery, and a slew of other pursuits all falling under the umbrella of the Zingerman's Community of Business.
From Zingerman's Bakehouse, we were served slices of Red Fife Wheat Bread, which is made from a heritage grain that is cataloged in the Ark of Taste, a project of Slow Food International that is aimed at safeguarding and promoting small-scale fine food purveyors who are threatened by extinction.  Why did it not occur to me that all of the cheese and jams should have been spread on the bread until now?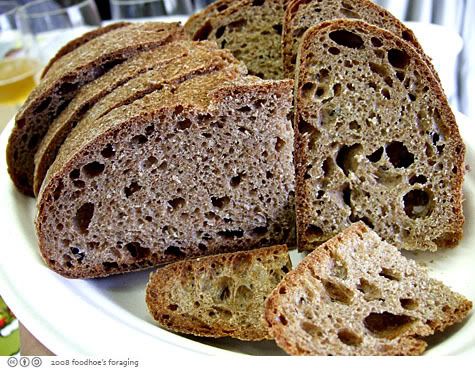 The panel continued on the topic of wheat with the Twigs and Berries Salad, with is made with organic wheatberries from Wisconsin. The round pearl shaped grains have a wonderfully dense chewy texture, and were tossed with thick leafy purslane, chunks of red onion, dried cherries and dressed with an apple cider vinaigrette. Served alongside was a slice of luscious cold-smoked salmon from Durham's Tracklements in Ann Arbor.  We got to meet an intern from the smoker who enthusiastically described the process of curing and cold smoking the fish which was farmed from Scotland (apparently Scotland has the best aqua-farming practices and therefore has the superior tasting fish).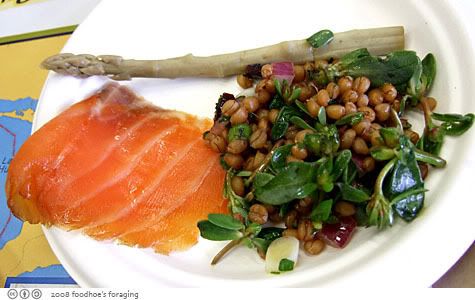 The cured Berkshire pork was raised at an apple orchards which must mean it ate  alot of fallen apples during its life.  It was clean tasting and sweet and went very well with a spicy chutney.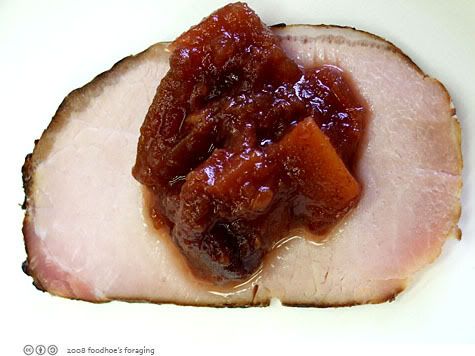 From Zingerman's Creamery, we were served a generous plate of cheese and preserved fruits and jams from American Spoon Preserves. At the top center is the Bridgewater, which is made from double cream cow milk with a soft washed rind and the inside is studded with freshly ground Telicherry black pepper and paired with Red Haven Peach Preserves. The big slice on the right was the Lincoln Log, a dense and rich goat milk cheese that was fantastic with Wild Elderberry Jelly, which was inky, dark and gooey with a thick silken texture that I couldn't get enough of.  They mentioned that one of the goats is named Old MacDonald.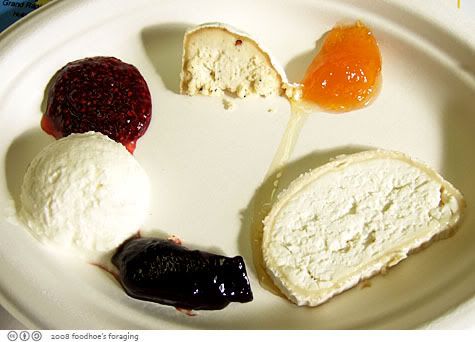 The Fresh Cream Cheese also captured my attention. It was a soft creamy ball with an addictive fluffy and airy texture and tasted like a blend of cream cheese, cottage cheese and ricotta.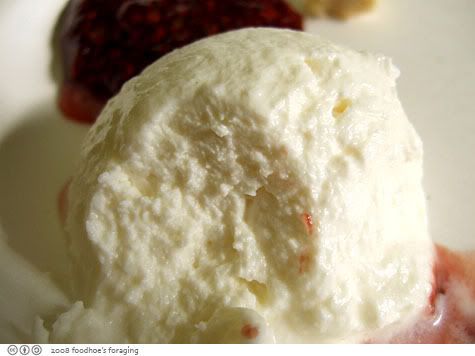 It was so good plain, but then again, it was really good slathered with the Wild Thimbleberry Jam, which made it taste like cheesecake. This was served with Sundog Amber beer from New Holland Brewing.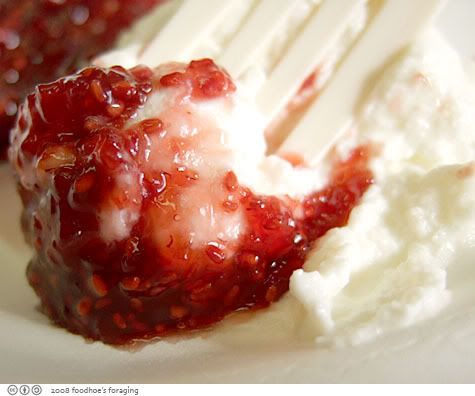 We finished with Paw Paw Gelato from Zingerman's Creamery.  The paw paw fruit is related to the gorgeous cherimoya and custard apple and seems like a tropical fruit but is native to North America.  It is the largest edible fruit indigenous to the continent and I would love to find a fresh one at the market…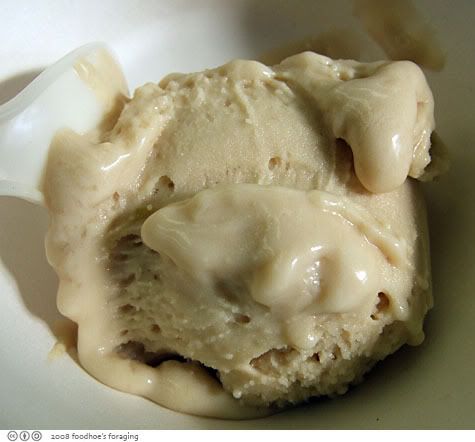 Now I know what local foods to get if I am ever in Michigan and have an appreciation of the efforts that communities are putting forth to build sustainable and local networks.   The problem is that these hand-crafted, organic and artisanal foods are so expensive that they are not accessible for most people…  For me, it was a special treat.  Thanks Foodbuzz for getting me in!
for those of you who still haven't had enough, here are a couple of interesting points of view:
serious eats dispatch from slow food nation: looking forward
the haphazard gourmet girls: slow food nation and whole foods leave a bad taste in our mouths