609 Hayes Street (at Laguna), San Francisco | 415-621-5482 | website
Dinner, Tues – Sat; Lunch, Weds – Sat; Brunch, Sun; Closed Mondays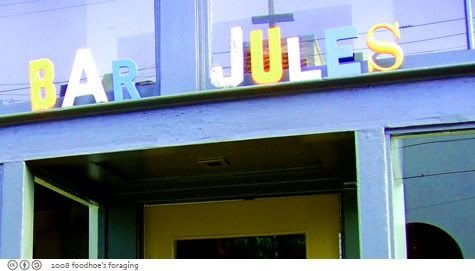 A couple of weeks ago, I met fellow blogger Chef Ben from Cooking with the Single Guy for a delicious dinner at bar JULES.  You can read what he thought about it here.  This cozy neighborhood bistro fills quickly and is quite popular with the locals and since they don't take reservations, we met when they open for dinner at 6:00.  The owner and chef, Jessica Bonecutter worked previously at Zuni Cafe, the Slanted Door, and Hog Island Oyster bar – some of my favorite places here in the city, so it was no surprise that I was drawn to this restaurant.   
The dining area is dominated by the intense blue wall in the rear that presents a stunning contrast with the bowls of fresh vegetables set on the counter.  The bowls beckoned to me, especially these bright red bell peppers.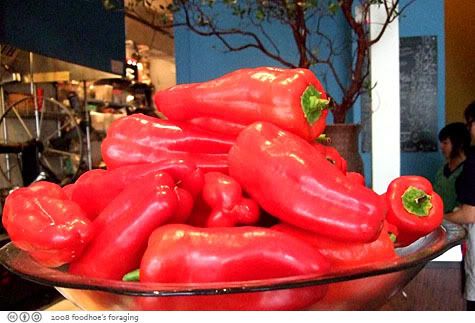 I just know that the staff were looking at me strangely, but I was unable to resist photographing this beautiful assortment of eggplants…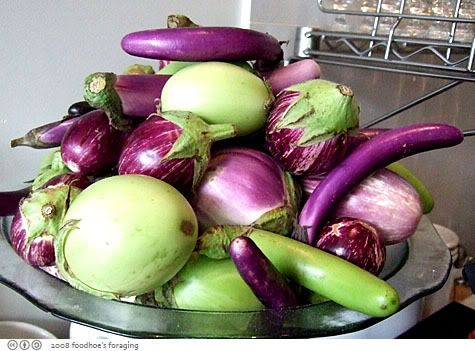 The short menu changes daily and highlights what is freshest and in season, here is the listing from the night I dined here, the smaller board to the right is the wine menu.  The website updates the menu daily here.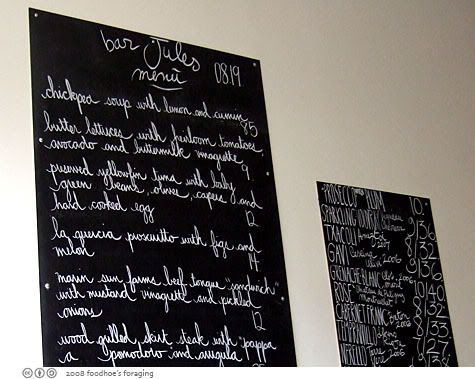 We started off with la quercia proscuttio with figs and melon ($14).  The soft figs were sweet and ripe with that scandalous fleshy texture that has been known to make men blush.  Up close they looked like alien blossoms about to burst apart.  The plate was liberally drizzled with a rich golden olive oil.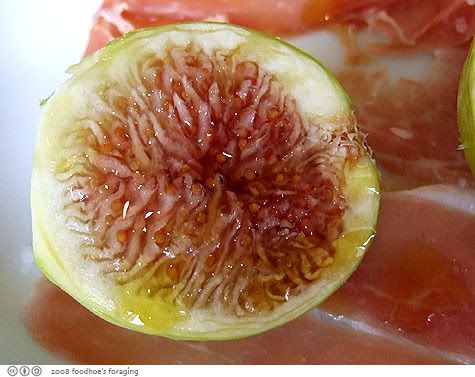 The olive oil was so rich and thick that it overpowered the prosciutto if you can believe it!  I've never had olive oil on melon or figs and it added a wonderful rich grassy flavor to the fruit.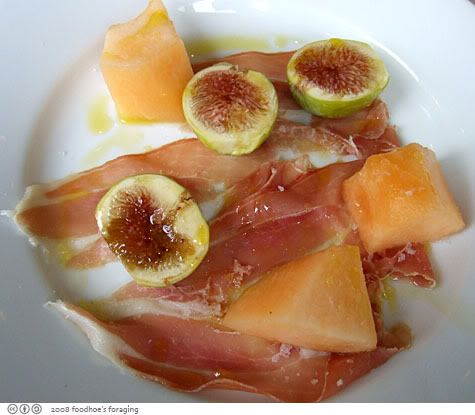 Although the tongue sandwich on the menu caught my eye, our waiter said it was a pretty substantial serving, so we decided to split a salad instead.  And this salad was a big, heavy affair with preserved yellowfin tuna, baby green beans, olives, capers and hard cooked egg ($12).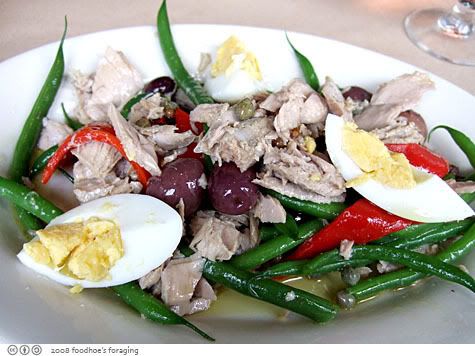 The beans were generously topped with big chunks of rich flaky tuna along with a hard boiled egg, roasted peppers, kalamata olives and capers, drenched in a bright and lusty vinaigrette.  Both the Single Chef Guy and I were expecting something different –  I know I had something more like seared ahi in mind rather than this which reminded me of canned tuna.  I did an internet search and found that the term preserved tuna does indeed refer to canned tuna, although when you see it, it probably is a higher end product than say, Chicken of the Sea…  It was good, but it was very filling – it could have been meal in itself!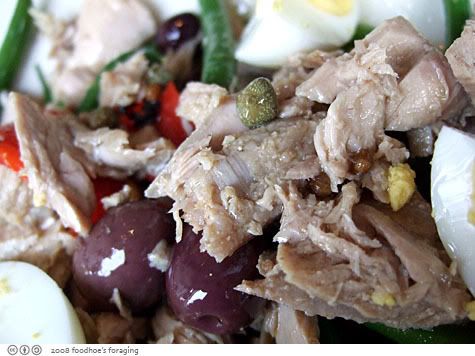 I ordered the wood-grilled sock-eye salmon with corn, black-eyed peas and watercress ($26).   The combination of watercress, salmon and corn is familiar but to me, the black-eyed peas made the veggies seem heavy and less summery.  The crisp and peppery greens had been tossed with something light and acidic that helped lighten up the dish.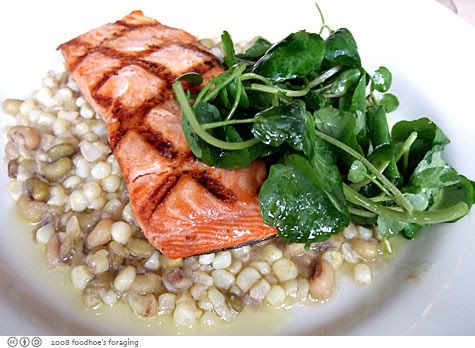 That fish was cooked perfectly with a crisped and smoky exterior from the grill and was fall apart tender and juicy on the inside.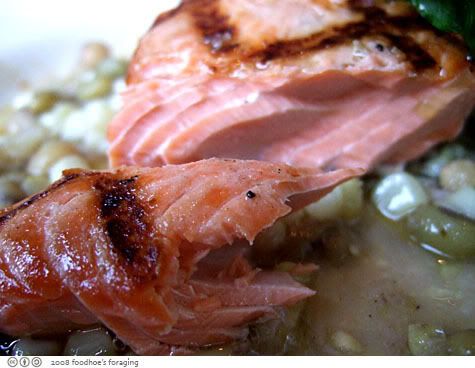 The Single Guy had the Berkshire Pork Stew with carrots and potatoes and was topped with a fresh cucumber-radish salsa ($24).  It was a delectable pile of braised pork and not really much of a stew; but it could be called stewed pork…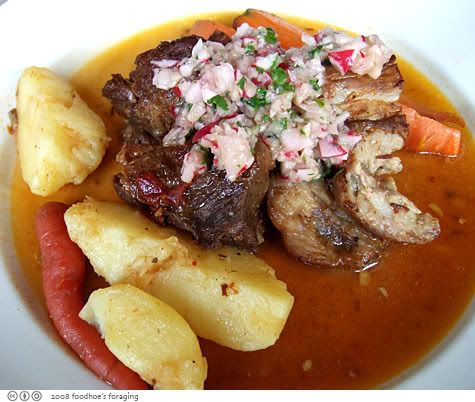 I attacked the fatty pieces that he had moved over to the side of his dish, which were gooey and gelatinous and decadently rich – it was brilliant with the cucumber-radish salsa.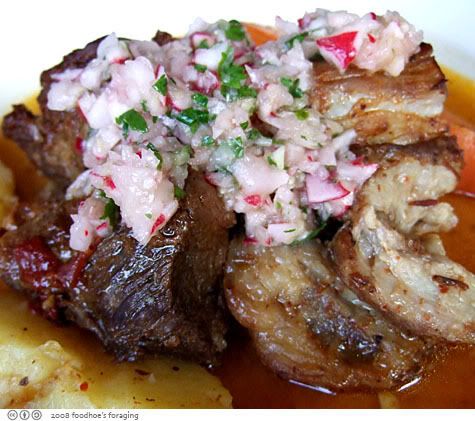 I was pretty stuffed but for some reason, I was determined to order the Chocolate Nemesis ($7) for dessert.  This legendary dessert made famous by the River Cafe in London was described to us as a flourless chocolate cake…  I still had to have it.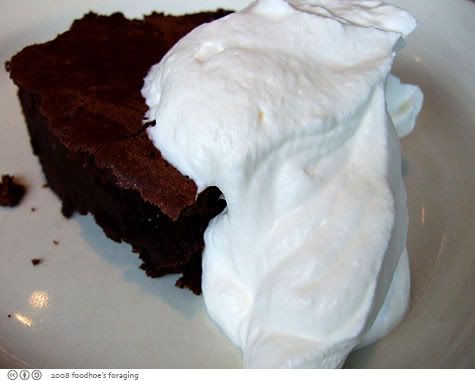 It was obviously full of cream and butter and eggs and dark chocolate and probably was a thousand calories or so, but I have to admit that I've had better brownies.  It was modest and demure, not quite sweet or gooey enough for the likes of me.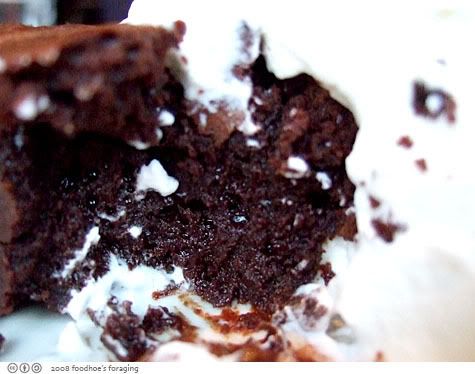 What I liked about the restaurant is that the food is unfussy and highlights the flavors of fresh and seasonal fare.  I agree with Chef Ben that I would love this place if it were in my neighborhood, but since it's not, I'm not likely to return, especially with all of the other places to try in the area. 
Walking over to BART, I realized that it had been a really, really long time since I spent any time exploring in Hayes Valley, and I was wishing that I had more time to wander as I passed the Blue Bottle Coffee kiosk, Christopher Elbow chocolates, Sebo, Absinthe Brasserie and Bar, Suppenkuche, True Sake and so many other interesting stores and restaurants.