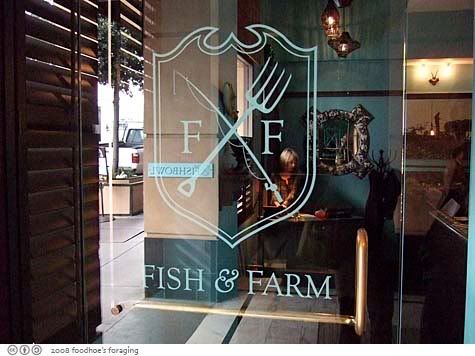 I came here for a Dine About Town dinner last June which I really enjoyed and when my esteemed colleague and food blogger friend Chef Ben from Cooking with the Single Guy mentioned that the restaurant was hosting a series of Monday night dininers with guest chef George Morrone, I responded that I was so definitely in.  George Morrone is an icon in the Bay Area restaurant scene after he earned a four star rating as the creative force at both Aqua and the Fifth Floor restaurants, then moving on to open the Redwood Park in the Transamerica Pyramid, Tartare, and Boca Steak Restaurant in Novato.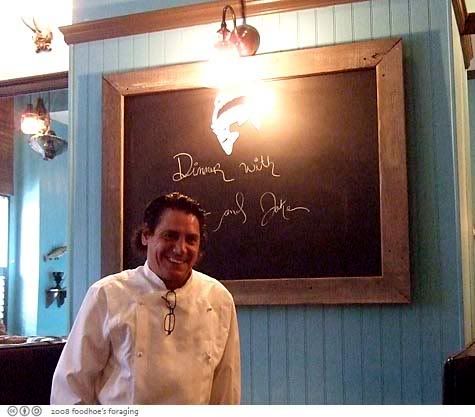 He was out and about in the dining room (posed for the picture above), serving tables, greeting everyone and is very obviously a people person.  You can tell that he really likes cooking for people and wants to hear what you think about the food.  It was such a pleasure to be able to ask him questions about the dishes we were enjoying,  we felt so pampered and he obviously basked in the adulation.  Now I don't want to ignore Executive Chef Jacob Des Voignes, but the Monday prix fixe menu was such a vehicle for Chef Morrone and even features a soup from his cookbook Simply Elegant Soup,
and I didn't see Chef Jake at all during the course of our meal.
I loved the soup course best… the Cream of Portobello Soup was rich and savory and in the center of the bowl floated a silken garlic custard topped with the most amazing chanterelle fritter.  This fritter was like a flaming ember of molten mushroom encased in an ethereal crispy batter that exploded with earthy abandon when you bit into it.  It was intoxicating and I was completely smitten and ignored everything until the last morsel was wiped up with the delicious bread.
Did I mention that the delicious rustic and crusty bread was served with a pat of fresh sweet creamy butter topped with crunchy flakes of Maldon salt?  Does not your tongue drool when you look at this?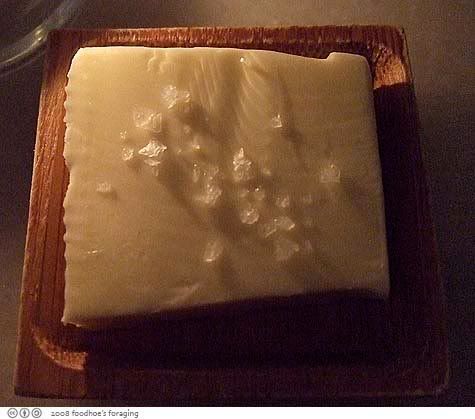 Oh I forgot to mention that Mondays with George and Jake feature a 4 course prix fixe menu for $48 and besides the first course of soup, you had a choice between a fish or a farm (animal) for each course, except for dessert… On my previous post, I mentioned that the interior of this restaurant is very dark and that I had to resort to using the dreaded flash.  This time we were seated at the cramped small table with hardly any separation between the next, and unfortunately the fellow net door was a curmudgeon who asked that we not use the flash.  He looked askance at me as I continued to merrily click away without the flash and managed to make me feel like a silly child.  I was so tempted to flash away when he left to go to the restroom!  But alas, we must not make a scene…
Chef Ben had the amazing Grilled Sonoma Quail, that sat on top of a salad of smoked tomato and charred radicchio that was ringed with a balsamic reduction and topped with a rich garlicky aioli.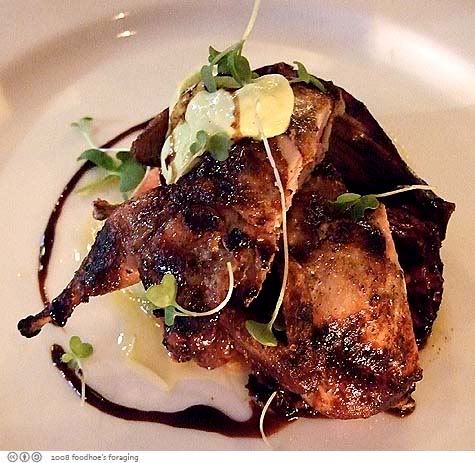 The bird was big for a quail, and the flesh was juicy and tender with a perfectly charred and crisped exterior.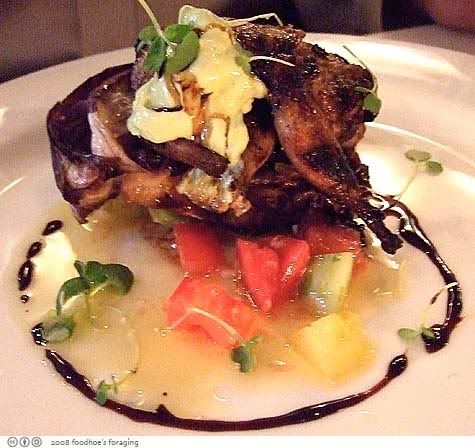 I got the very festive Citrus-Coriander Gravlox, topped with crunchy russian rye croutons, surgically precise cubes of pickled beets and even smaller diced crunchy apples and drizzled with horseradish creme fraiche and garnished with fronds of fragrant fresh dill.  The fish was sweet and tart with a silky dense texture and the condiments all worked together except for the painfully hard croutons.  They added a definite crunch, but they also shredded the roof of my mouth!  I definitely liked Chef Ben's quail better…
Next, I had a very delectable piece of perfectly cooked Alaskan Black Cod, that was swimming in a rich smoked chorizo broth full of tiny sweet manila clams, grilled fennel, leeks, fresh coriander ragout and delicious potatoes.  This was topped with a pungent aioli, lemon zest and fresh chopped herbs that added a potent aroma to the succulent and juicy flesh.  I wished for a spoon to sip this intoxicating brew… and found more of the bread to mop up every lip smacking bit.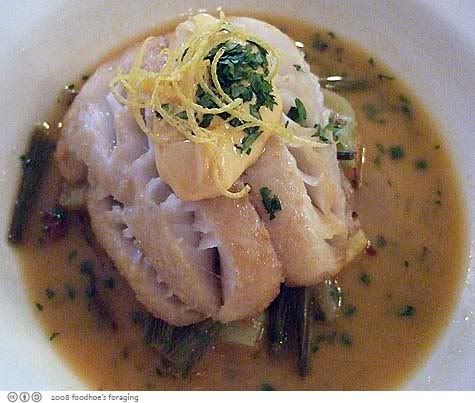 Chef Ben had the Boneless Rack of Lamb, with Kalamata olives, anchovie jus, robuchon potatoes (which were mashed), and a grilled heirloom eggplant-basil salad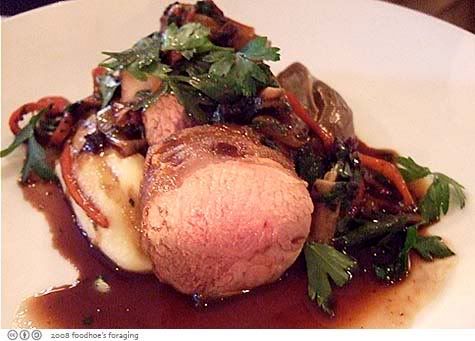 For dessert, we both ordered the German Chocolate Cake, which was a dense rich chocolate slab topped with rich buttery chocolate frosting, the plate was decorated with dots of spicy coconut chili oil, along with a scoop of bi-rite creamery coffee toffee ice cream.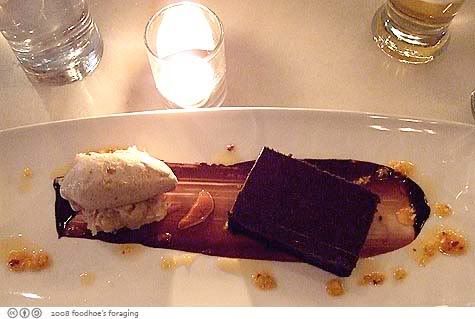 Underneath the ice cream was a sticky blend of coconut and caramel and the combination of everything was really delicious.  The textures of sticky chewy, gooey and creamy go together so well, and when combined with the flavors of chocolate, coconut, caramel, coffee, toffee and hot chili oil, my tastebuds were dazzled.  Is this German Chocolate Cake?  I don't know, but I liked it a lot!
Chef Morrone mentioned that they are talking about extending the Monday night guest series for a little while longer.  I recommend you check Mondays with George and Jake out.  Fish and Farm has a wonderful blend of casual sophistication which combined with the exuberant touch of Chef Morrone is just plain brilliant.