1911 Russell Street, Berkeley, CA (one block past Ashby off MLK) | (510) 849-3419
I've heard about the Sunday brunch served at the temple for years and finally got inspired to go when I saw an East Bay meetup was organized.  I had a hard time rousing Mr. K up early on a Sunday to drive over and get in line at 9:30 but it's very popular and there was quite a line by the time they started to serve the food at 10.  I read that it was supposed to be the kind of food that we saw at the night bazaars and sold by street vendors in Thailand and not porridge, to Mr. K's great relief (most of the breakfast buffets we went to in Thailand had porridge)…
Staffed by volunteers and owners of many local Thai restaurants, the proceeds go to benefit the Wat itself, monks that live in the temple and its many programs including the cultural center and the school.
The brunch began as a traditional religious act and simply grew of its own accord.
"In Thailand, monks are not allowed to make their living outside the temple," said Sukum Saingarm, a board member at the temple. "They go outside and believers give them food, because taking care of the monks is one way you get in good with God,
The very popularity of the temple's Sunday Thai Brunch is threatening its future as several neighbors have filed complaints because of the food smells (delicious) and sounds of cooking from early in the morning (yum), the noise of the crowds (exciting), cars blocking driveways and a general disruption of the neighborhood…  When we walked up there was an information table with petitions to show our support of the food fundraising and temple.  Apparently when the temple requested a zoning permit to build a sanctuary in its backyard,  the neighbors protested and now they want the temple to stop the Sunday brunch altogether.
For first timers, it can be confusing.  You first need to stand in line to buy tokens, which you donate in exchange for food. The exchange rate is $1 per token and most dishes were between 4-7 tokens, sodas and Thai iced tea were 1 token.
There were two lines, one for delicious curries, stir fries and noodles that included chicken, pork, or beef and the other line was for vegetarian dishes.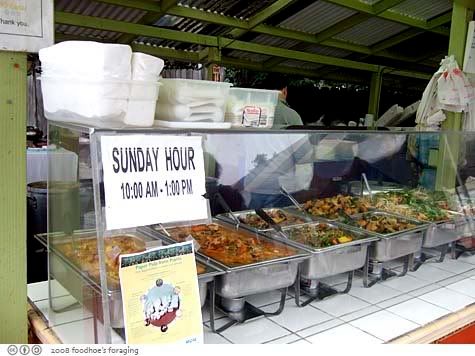 Here is my plate with beef with red curry on top, chicken with yellow curry taking over the right side and a small mound of chicken with mushroom and cashews.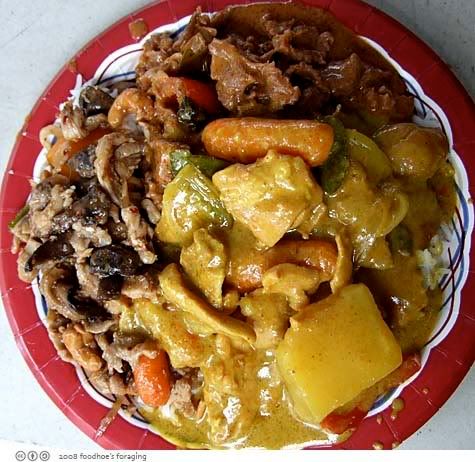 The curries were rich with coconut milk and spicy, and the portions were huge.  My only complaint was that the rice was overwhelmed by the sauce!  I suppose I'd rather have more saucy stuff with not enough rice than vice versa…  I noticed that a lot of people had plastic containers that they handed to the server and received very generous portions (very eco-friendly and smart since the portions are huge).
Mr. K had the yellow curry with fried tofu and spicy green beans with tofu.
The fried tofu had a dense and chewy texture that was very satisfying and soaked up the curry.
This is the Chicken Pad Thai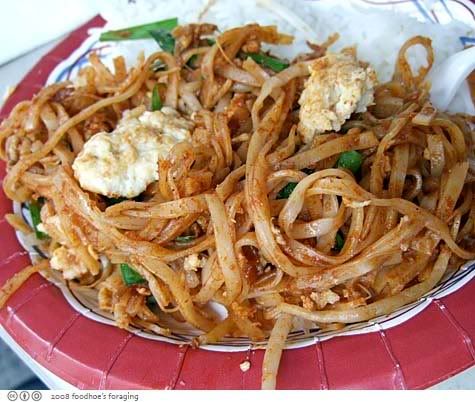 Beef Noodle Soup, you can choose if you want vermicelli, thin or thick rice noodles, and then dress it yourself…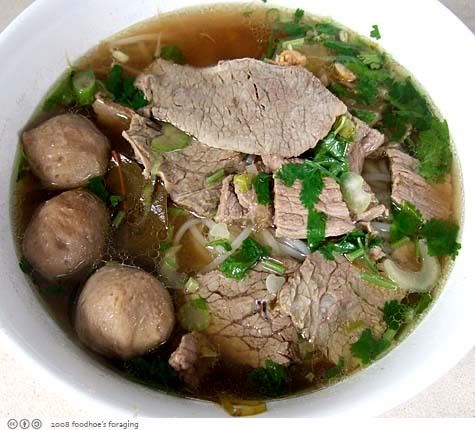 There were several stations of condiments that included fish sauce, vinegar, sugar, and lots of chilies: dried, paste, pickled…
The Papaya Salad (5) looked very colorful and fresh.
Sticky Rice with Mango was delightful, it was served with two different types of sticky rice (one was black and the other was white) and a couple of scoops of a rice tapioca custardy thing that had me smacking my lips, especially when I took Michaela's advice and spooned up a little bit of everything.  It had a liberal drizzle of sweet coconut milk that added stimulation to my tastebuds.
I am always drawn to the sizzling sound of frying, this is the dessert counter and I don't know whether these fritters were banana or coconut, but they definitely looked good…
This is the combo dessert plate (5): Coconut pancakes (Khanom Krog) which are made with coconut, green onion, sugar and flour and cooked on a greased griddle and the golden brown crispy fritters to the right.  Unfortunately, I didn't get to taste these since I was too occupied with my sticky rice and mangoes…
We loved the casual friendly atmosphere and the delicious selection of foods.  I hope that the temple and their neighbors are able to resolve their issues and continue the 20 year old institution of Sunday Thai Brunch.  On the way out we removed our shoes to  peek into the temple where monks were chanting and delicate sticks of incense burned pungent tendrils of smoke.  We paid our respects and exited out past the now crowded and long lines.
BTW, while they do have a listing on urbanspoon and yelp, they are not a restaurant.  The brunch is held on Sundays from 10-1.