1140 Main Street, Napa, CA | 707.251.5656 | website
M-F: 5:30pm – 9pm (10p Fridays)
Sa-Su: 11:30 – 2:30pm
5:30pm – 10p (9p Sundays)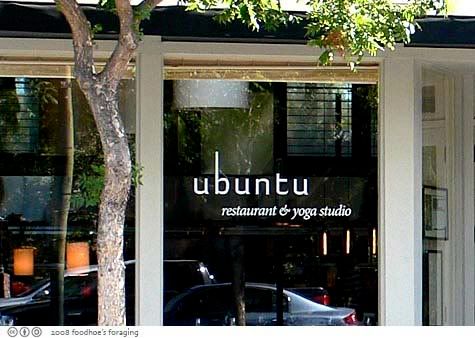 Last month, Chef ben from Cooking with the Single Guy and I talked about making the pilgrimage to Ubuntu which inspired me to take the initiative to book a lunch weeks in advance.  All too soon Mr. K and I were on our way to pick the Single Guy up and we were off to wine country…  It was a surprisingly short drive and after leaving the cold clammy bay area, we were happy to find Napa to be warm and sunny.
To begin with, Ubuntu is pronounced oo-boontoo which translates from a zulu word into humanity towards others. It involves the idea of responsible stewardship, reducing the impact on the environment and a commitment to community and sustainability.  I was born and raised in NoCal and even I can see why Frank Bruni (the restaurant critic for the NYT) was unable to resist snide comments about chakras and kumbaya cuisine, but he turned out to be a big fan of the incredible vegetable inspired cuisine, even naming it one of his top 10 restaurants in the country.  The menu features daily harvested food with an emphasis on farm fresh produce, much of it from their own biodynamic gardens and local farmers.  The restaurant is housed in a reburbished mercantile building from the 19th century and is filled with recycled flooring and chic salvaged furnishings.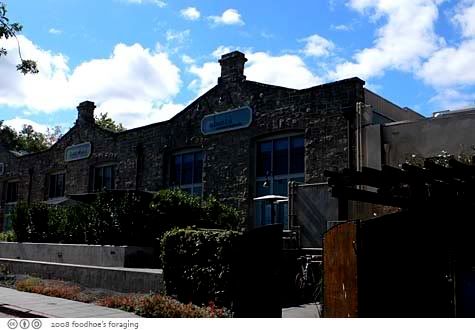 Chef Jeremy Fox previously cooked at many restaurants including the now-closed Charles Nob Hill and Rubicon restaurants in San Francisco and was the chef de cuisine for several years at Manresa, along with stints abroad with Gordon Ramsey and St. John.   He prefers to call Ubuntu a "vegetable" restaurant rather than "vegetarian" and is an omnivore himself.  He celebrates the wonders of garden fresh vegetable with his farm to table menu and expands on the priority of technique versus ingredients that he learned while working with David Kinch at Manresa.  I never felt that we were eating a vegetarian version of anything and we enjoyed being served handsomely presented and soul-stirring, delicious dishes.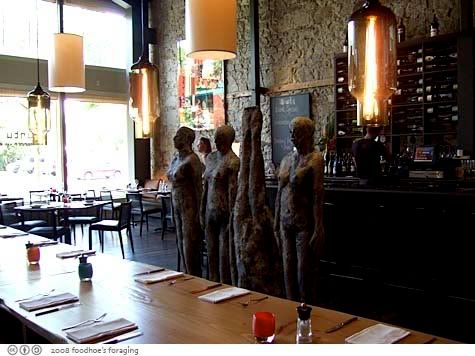 Smack in the middle of the dining room are four human figures standing at attention behind the long communal table that I think would be uncomfortable to have standing behind me, and likewise I'm not sure I'd like to be facing them either.  At first glance they are creepy, rough and unhewn sentinels highlighted by lamps that resemble tubes from Doctor Frankenstein's laboratory; but when you look at the figures closely you see that their expressions are bright and hopeful, and that the upside down one is definitely male.  Since I studied art in college, I have had my share of figurative studies classes, and I suppose they seem to be a celebration of life or the human spirit, or maybe even hunger but who knows, they probably selected it as a conversation piece…
The kitchen is open and at the back of the main dining room.
We decided to sit in the outside patio to enjoy the fresh air, where it ended up being almost too warm, but that just added to the charm of dining alfresco in Napa.  Here's the bit of crusty baguette we were served with soft butter and yes, the dinnerware is all from Heath Ceramics (you have to hand it to the single guy for noticing the little details).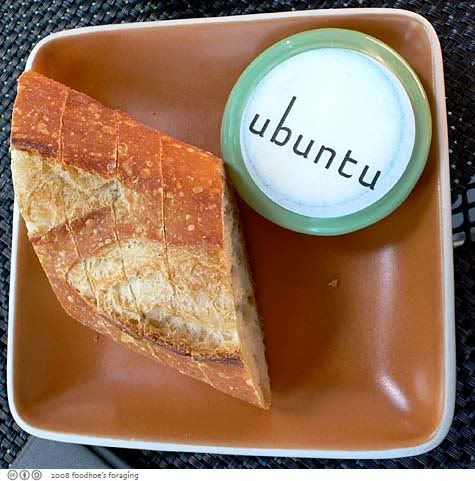 The lunch menu offers a series of small plates that are meant to be shared.  Our meal began with bright green Castelvetrano Olives ($5) and Marcona Almonds tossed with Lavender Sugar and Sea Salt ($5).  The almonds were coated with a thick but loose mixture of sugar and salt that was perfumed with pungent lavender which blugeoned our tastebuds, sending confusing synaptic signals to our neural receptors.  The sweet and salty nuts had much in common with toffee coated nuts, but never resolved in a satisfying manner either way for me; and in the end I never really came around to liking them.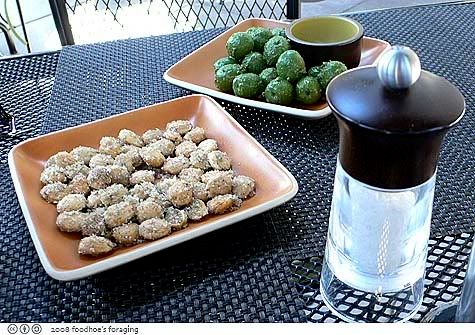 The olives were plump and fleshy with a buttery texture that was so meltingly soft to the point of being mushy and almost soggy. They were coated in a garlicy pesto that was very flavorful but we weren't able to finish either of these dishes.  It's funny because I'm normally complaining about the serving sizes being too small, but I really couldn't see eating more than a few bites of each.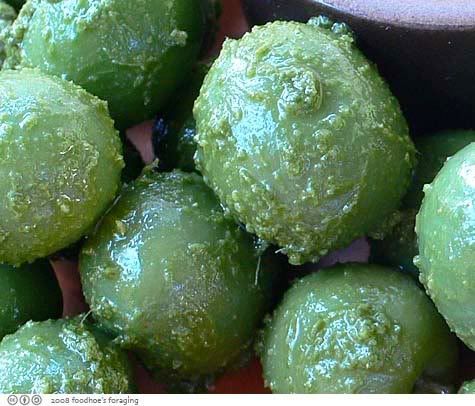 Next because it was so hot and summery, I wanted to try the cool Watermelon and Lemongrass Soup ($9) which came served in a bowl that was decorated with smears of coconut milk then sprinkled with local posies, bits of lemon basil and kefir lime leaves and garnished with a blob of basil seed caviar (which looks like a sac of frog eggs).  I'm not sure what the shimmering green substance is on the bottom, basil oil?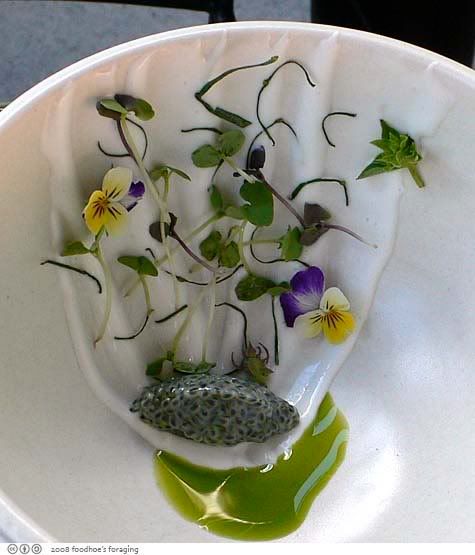 The server poured the watermelon soup into the bowl and and it felt a little as if we were partaking in a ritual.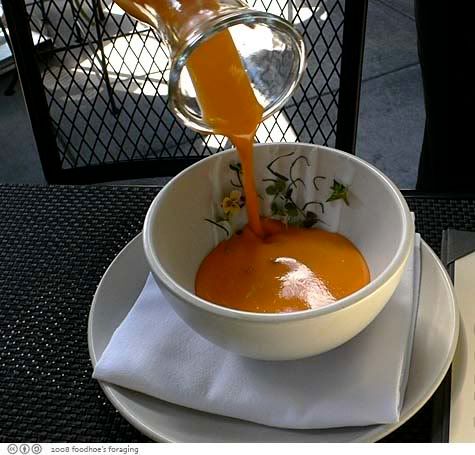 The soup was refreshing with a smooth creamy texture but was very sweet, more like a dessert although at times we enjoyed bursts of flavor from the fresh herbs.  We sipped at it, I don't think anyone was crazy about it and I was glad to share it between the three of us as it was not something that I would wanta whole bowl of.  After a time we decided to take action and found it to be much improved with a sprinkling of fresh cracked pepper that our poor waitress reluctantly applied.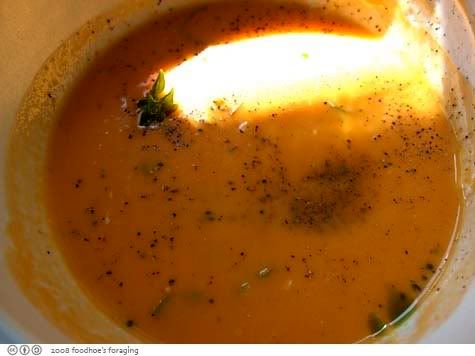 After this, the meal improved in a major way, beginning with the Pizza Bianco, which was topped with soft bellweather ricotta cheese, mushroom puree and lemon thyme ($16) with a domaine de la chance farm fresh egg ($2.5).  Mmmm you can see the oil glistening on the surface of the cheese and the salt crystals on the trembling surface of the egg.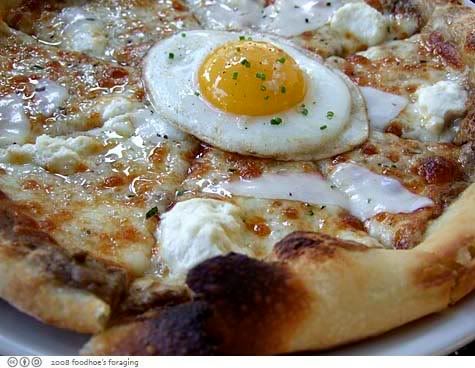 The rich golden yolk burst forth when I punctured the egg with a knife and we dunked our crust into the thick velvety cascade.  Everything about this was delicious and satisfying, at last we were feeling like our feet were back on solid ground…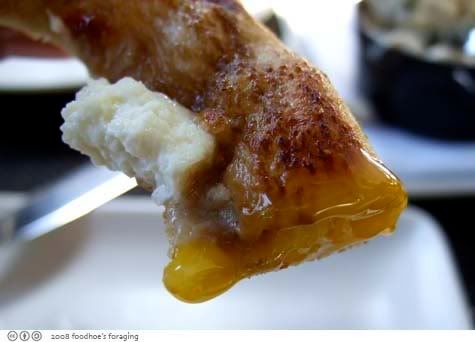 The Cauliflower in a Cast Iron Pot ($13) was an inspired combination of roasted-pureed and raw, topped with a couscous of ground cauliflower and served with thin slices of brown butter toast.  It smelled amazing from the intense fragrance of the exotic vadouvan spice mixture, which is a french-inspired indian spice blend.  The aromatic and rich creamy custard serves to bind the various preparations of cauliflower together so that each bite is different and intriguing.
The slices of toast glistened with sea salt and shattered when you bit into them, filling your mouth with the delicious nutty flavor of brown butter. It was perfectly paired with the creamy sweetness of the cauliflower mixture.
Mmmm, look at that beautiful bite, you can just see how many textures are about to explode in your mouth…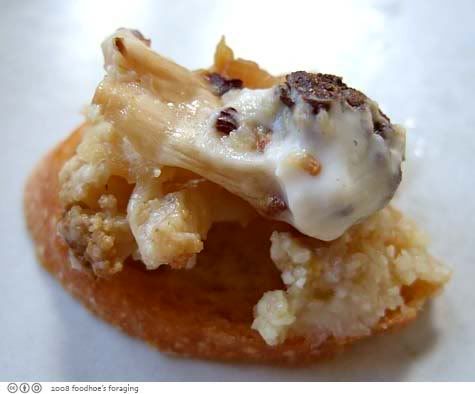 Today's Leaves and Things ($11), is basically a salad with the barest hint of a light dressing made from regina olive oil, lemon and sea salt.  The simple preparation really let the flavors of the various ingredients shine through.  Besides the lettuces, there were beautiful edible flowers, slices of fig and crisp green apple, brilliantly colored carrots and colorful leaves of purple amaranth.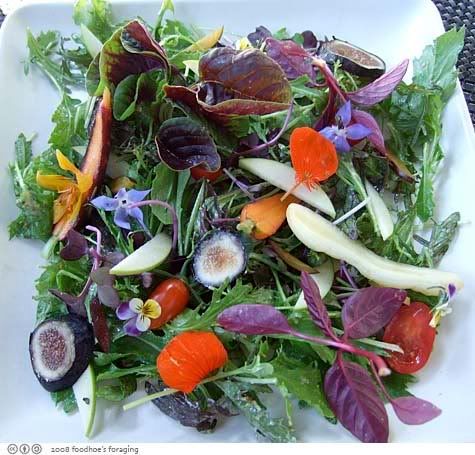 Our last dish was the local Polenta ($14) finished with corn pudding, tomato sofrito, fried peppers and smoked corn.  This was lovely to look at and filled with the fresh flavors of summer.  The vegetables on top had been tossed with fiery bits of red peppers that added just the right amount of heat to make my lips burn.  This was the spiciest dish and not surprisingly, Mr. K's favorite.  I loved the tiny little okra (that you can't see very well in this picture…)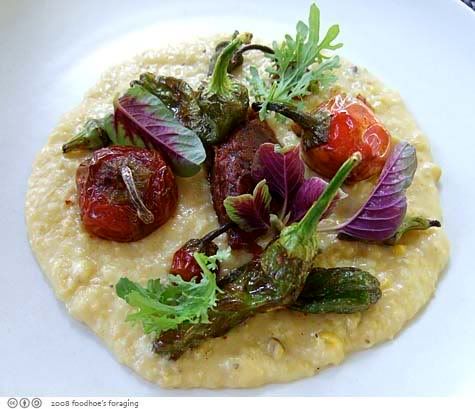 The fried exterior of the peppers was almost translucent and seemed to glow in the warm sunlight.  They were crisp and chewy but soft and tender inside and very addicting, especially when the heat from the chilies kicked in.  The smallish mound of tomato sofrito added an intense smokey tomato flavor to the polenta and pulled everything together.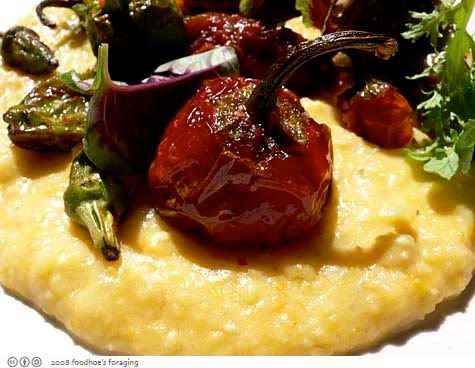 Moving onto the dessert course, I had to order the Vanilla Bean Cheesecake in a Jar ($9) topped with a sauce made from huckleberries with verbena, and a nutty almond-tecchino crumble.  I looked up tecchino and only found a reference for an herbal coffee replacement…  I dug in and was rewarded with a gloopy saucy spoonful of whipped cream with some berries and crumble and the smallest bit of rich tangy cheesecake.  The format is winsome and engaging and really makes eating dessert more fun.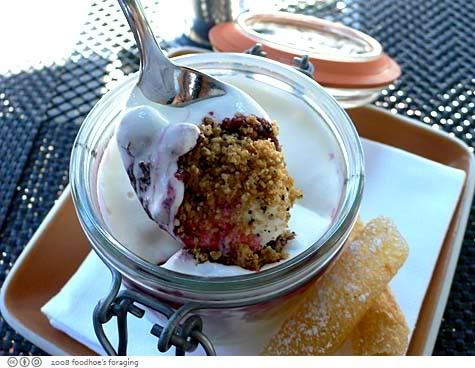 I really wanted to try the Raspberry Sorbet Float ($9), which was lightly carbonated and bursting with the summery ebullience of tart raspberry, rose geranium soda, watermelon ice and tiny lychee tapioca pearls.  My jaded tastebuds were startled into enthusiasm with the bright and energizing flavors and cool icy and refreshing textures.  If only I had not been so full, I would have finished slurping this up…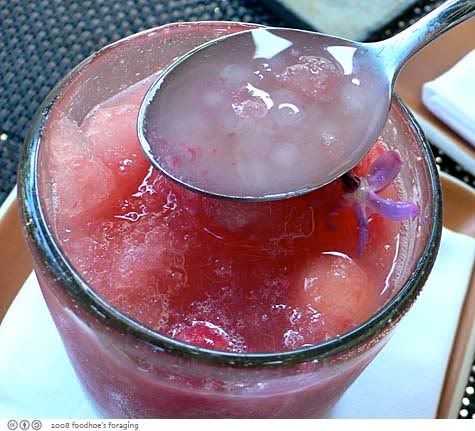 Lastly, we shared the Devil's Food Cupcakes with cream cheese frosting, topped with a slice of fig and candied lemon peel.  These were rich and decadent and I would never guess that these were vegan…  hmmm, can you make vegan cream cheese frosting?  Well, I'm not a vegan so I'm not going to worry about that small detail!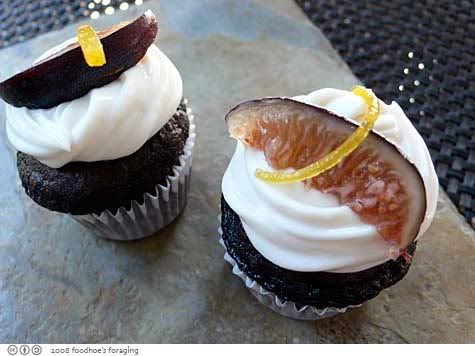 The patio was walled in by shrubbery and a privacy screen of cheery bright flowers on one side.  We felt very private like we were in a secret garden.  In some ways I wished we had been inside, because we really couldn't see any of the dishes on the other tables, and you know how I like to drool over everyone elses plates..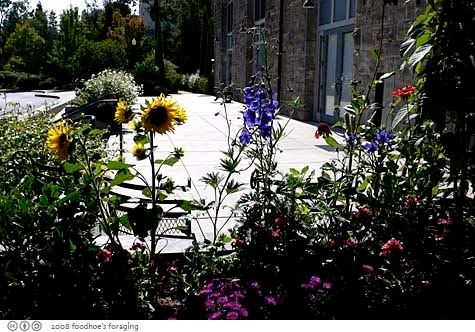 We left feeling very satisfied and stuffed and decided to stop off at the Oxbow Public Market a few blocks away (although there was some serious construction going on so that we ended up taking the longer scenic route).  It was fun to wander through while walking off some of the rather heavy lunch and you can read about it here on Cooking with the Single Guy (I was uninspired .  On the way home, Single Chef Guy mentioned that the small dish format left him somewhat unsatisfied and that he had had an unrequited expectation for an entree or a large dish to dig into…  Since I had been on a fruit and vegetable only regiment for the past week, my soul was full on every possible level and I couldn't work up any enthusiasm for this particular subject…
In the spirit of Ubuntu, the restaurant hosts community events and workshops and even manages to keep price of a truly epicurean meal within the reach of the masses.  I would love to go back seasonally to check out what's new with chef Jeremy Fox.