15 Boardman Place (@ Bryant), San Francisco, CA 415.701.8188 | website | Sun-Th 11-9; Fri-Sat 11-9:30
This gem is tucked away in an obscure SOMA alley, across from the Hall of Justice, and is surrounded by businesses offering bail bonds. Notice the unmarked police car parked in the no parking anytime zone, the bail bonds sign next door with an additional sign proclaiming Helena is in the House. As the saying goes, a picture tells a thousand words…
But inside is a calm oasis, the first thing you see is a large stone waterfall rippling along the entire wall in the entry. Then you pass a couple of trees with Yellow Pa Taut blooming, which is a Burmese flower that blooms during the Burmese New Year in April. The menu offers a taste of Rangoon, Mandalay, Maymyo and Meiktila all which are in the central and southern areas of Myanmar (formerly known as Burma). In 1989 they passed a law that officially changed the English version of their country's name to Myanmar, so I wonder if this should be called Myanmari Food?
Well, since I am unclear, I'll continue to call it Burmese. The cuisine is influenced by the flavors and spices of its neighbors, India, China, Laos, and Thailand. The owner and chef Kam Fong Eng was very helpful in placing our orders and keeping the food flowing for our table of 10, I was very impressed that she left us an extra pile of napkins, which is something I always have to ask for.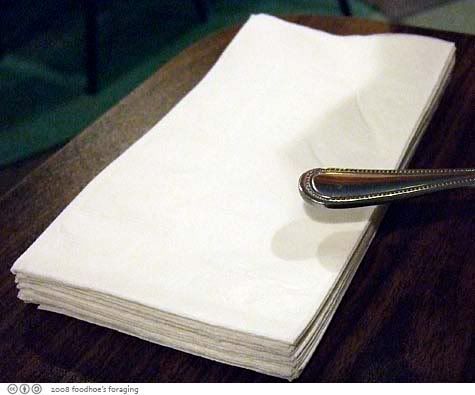 Samosas (4 pieces) $5.95. Fried golden triangle shapes filled with curry potato served with special sauce. The wrappers are sheer and delicate and shatter with a satisfying crunch when you bite into it.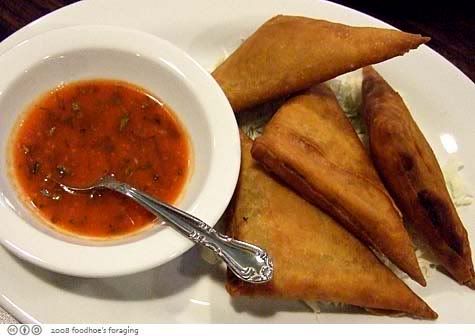 Normally I'm suspicious of special sauce, but this was something entirely different. It was spicy with chilies, garlic and some fragrant herbs and ignited anything it touched.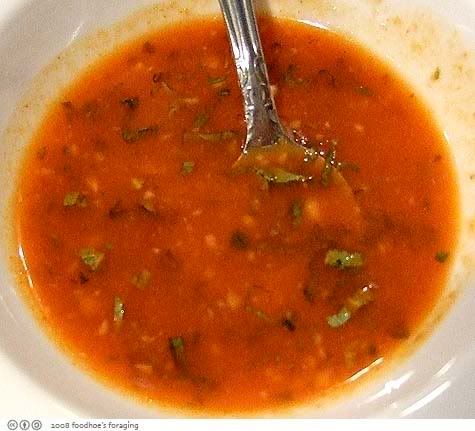 Fried Opo By Thee Kyaw ($6.50) served with another special sauce that was darker in color and didn't include any fresh chunks of garlic or herbs. This seasonal vegetable is also known as the bottle gourd or calabash.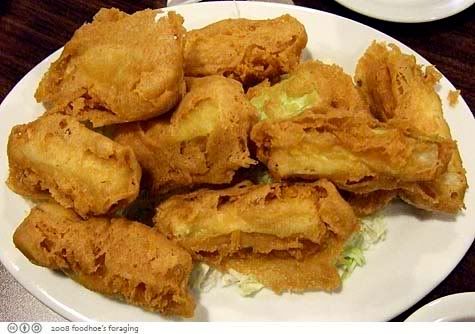 The owner Kam said it is a squash that looks sort of like zucchini but is sweeter and reminds me of chayote. It has a dense, starchy texture that is well suited to being dipped in batter and deep fried.
The last of our three appetizers was Pa Zune Kuat Kyaw ($5.50) Whole shrimp (with heads and shells) on top of a pile of bean sprouts that is battered and fried and served with the same delicious spicy sauce as the Opo squash. They looked like weird insects slumbering in a nest and the shells added an intense crunchy texture. In retrospect, we should have tried at least one non-fried appetizers, no?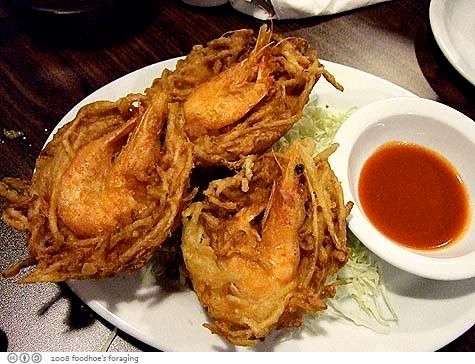 Garlic Noodle with Sliced Pork Se Gyet Khauk Se' ($8.95) is the one Burmese dish I am familiar with. The flat noodles are tossed in a pungent garlic oil, then topped with sliced pork, green onion and fried garlic. The noodles were supple and elastic – perfectly cooked and the combination of ingredients was light and refreshing.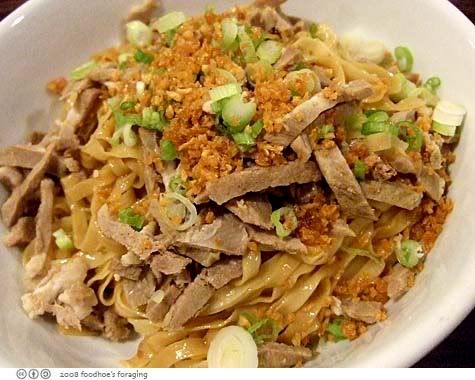 This plate of chili laced cucumber and onion relishy stuff was spicy, tart and sweet and went really well with the noodles, although Kam said they weren't specifically for them…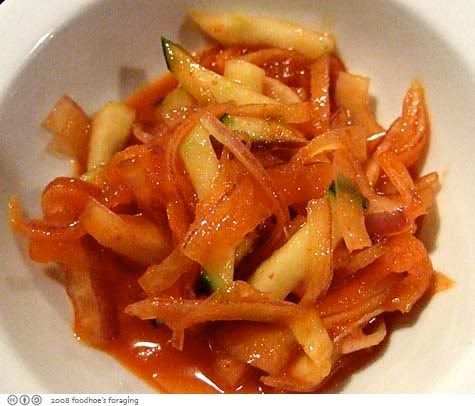 She dropped off a small bowl of clear chicken broth with thin slices of green onion and minced garlic that I latched onto. It was a really good bowl of chicken soup with clean fresh flavors.
At last, the Tea Leaf Salad Lap Pat Thouk ($9.95) arrived. Fermented tea leaves (Lahpet) are a national delicacy and are believed to have medicinal benefits. The pickled leaf is pungently salty, sour and tart and is tossed in with crisp fried garlic, peas and peanuts, toasted sesame, crushed dried shrimp, preserved shredded ginger and fried shredded coconut. The salad also includes fresh tomatoes, sliced green chilli, shredded cabbage and is laced with a dressing of fish sauce, sesame oil and a squeeze of lime. It is a brilliant combination of tastes and crunchy textures. Mr. K and I think we liked Burma Superstar's version better, but that's really throwing the gauntlet down and I think we need to go back first to compare…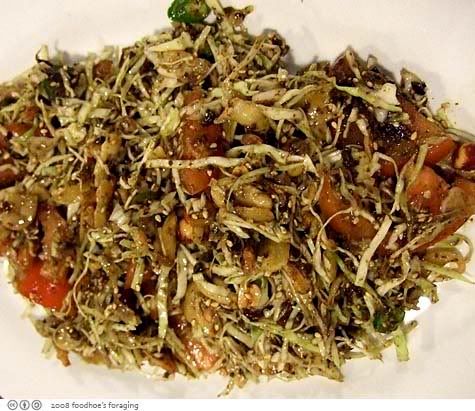 Coconut Curry Chicken (Own Thee Kyat Tha Chet) ($8.95) Chicken cooked in a rich golden coconut curry sauce that was mild heatwise, but very flavorful. Mmm, just imagine the aroma coming up from this dish with that pile of cilantro…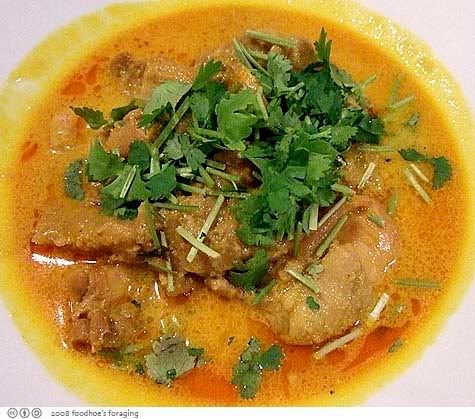 Curry Beef with Aloo Amae Tha Aloo Se Pyan ($10.95) The meat was slow cooked with Indian spices until it became meltingly tender. Both the meat and the potatoes absorbed the rich and complex flavors of the curry.
Burmese Curry Pork Belly with Bamboo Shoot Wet Tha Myint Se Pyan ($9.95) was my favorite dish of the evening, one that I can't stop thinking about. It wasn't particularly spicy, but was bright and fragrant and full of fatty and obscenely delectable pork belly. I read that Burmese curries, like Thai curries, are herb based, rather than spice based and typically are made from garlic, ginger, chili, turmeric and dry shrimp paste.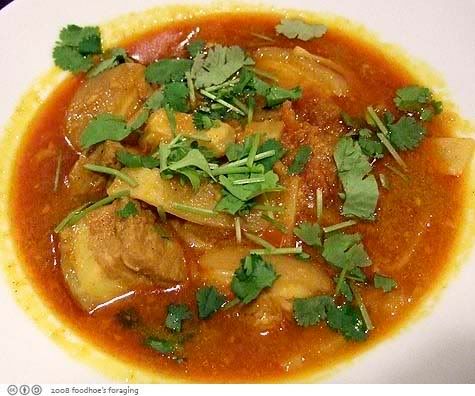 The tender, slow-cooked pork belly meat fell apart when prodded with your fork and the soft gooey globules of fat glistened, runny with the spicy sauce. It literally melted in my mouth, leaving me craving more, lots more… I complimented Kam effusively and she smiled and said that you have to treat yourself sometimes.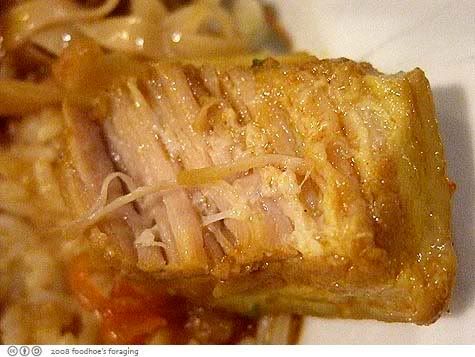 They were out of most of the desserts and only had sherbet, falooda and fried bananas. Since we had overdosed on fried appetizers, we tried an order of the other two. These were both disappointing. We started with Coconut Cream Sherbert (Shew Yin Aye) $5.95 Chengdol, sago, coconut agar agar, glutinous rice and white bread served with coconut milk. We were all thinking, bread? Ice cubes? Cherie really couldn't come to terms with the pieces of bread floating on top, or the ice cubes… There was no sherbet, just a few chunks of sticky rice. A disappointment for sure, especially after all of the very delicious dishes we had just finished eating… but then we were so full we probably were very picky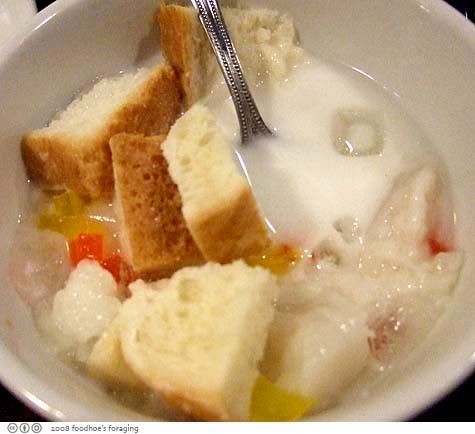 Falooda ($6.25) Ice cream, jello and tapioca with rose syrup. Apparently this is famous in Myanmar a combination of ice-cream, egg pudding, milk etc in sweet syrup. It is believed to be an adaptation of a Persian beverage that is named for the strands of cornflour vermicelli that float in it. The Burmese version has agar-agar jelly, flavoured with rose and coloured green or red. It reminded me of strawberry milk with some jello bits and was not very popular at the table.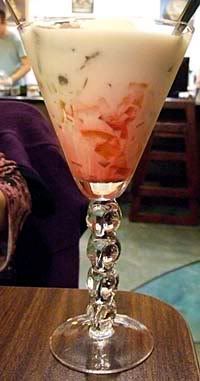 Also floating inside were chunks of an egg custard that had a distinctly burnt appearance and a dry spongy chewy texture. I might have liked it better if it had been a creamy custard-y texture but I found this dish to be puzzling, overall I'd say it was a dud.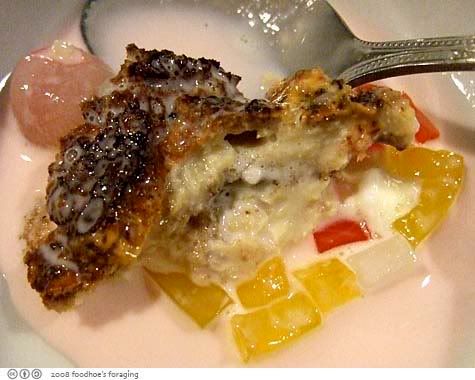 I must point out the stunning architectural elements that indicate some of the famous landmarks in San Francisco…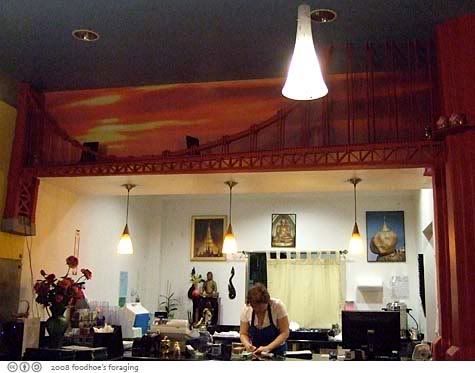 Mr. K gives it a solid B and said he'd definitely go back. I don't do a grading system, but I'm already planning a trip back for that pork belly and thought that the curries were all so lip smacking good! The menu is fairly long and there were many dishes on it that I'd like to try, but next time I'll definitely will fill up on the regular menu and skip the dessert…