It's a known fact that I am obsessed with food. I love to eat. Most of the stuff that gets posted here tends to be about food that is not cooked by me. However, I so loved the variety of food we sampled on our trip to Thailand that I decided to learn how to cook some of those unforgettably tasty dishes.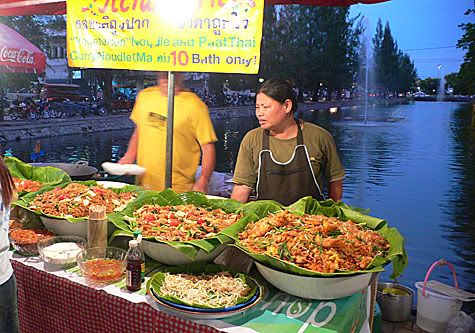 Have you heard of Kasma Loha-Unchit?  She is pretty much a celebrity after being included in the Saveur 100 list for the Jan 2010 magazine.  In preparation for our trip a couple of years ago, I came across Kasma's website which is a great resource about Thai food and cooking. She also conducts food tours of Thailand that are tailored around exploring the regional cuisines (that sounds like my kind of trip!) But most importantly, she teaches classes out of her home in Oakland which are sold out months in advance. First I had to sign up to be on the notification list for her 4-session beginners class last year. I finally was able to enroll in a class and then had to wait many long months until it began, 6pm – 10 pm each Monday in October.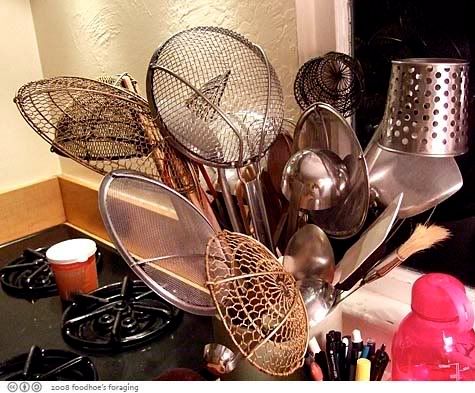 Kasma's classes are exactly what I was looking for, because I really like the hands on taste and experience approach, which is how my grandmother used to cook. Not only that, but she provides recipes which she encourages us to try during the week as homework.  So, you get to learn the art of cooking – the creative aspects that focus on balancing the flavors, along with the scientific approach (recipes) on which to build your experience.  On my first visit I walked right past the house before noticing a little folded brochure tacked to the front gate. I have to say that she has a very low key style of advertisement.
Her well appointed kitchen is roomy enough for a class of 13 and there's a long table where we sit for lectures, set up with cutting boards to prep the vegetables for the evening's dishes, and finally eat at the end of the class.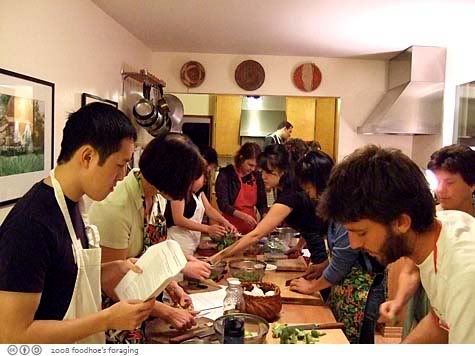 Our first class Kasma went over basic Thai cooking ingredients and her preferred brands.  She even conducted a taste test of canned coconut milk, pointing out the difference in textures and taste. This list can be found on her site and includes explanations of why she recommends them over others. She is passionate about food and nutrition and very particular about the ingredients she uses, and it's this kind of information that I find most useful.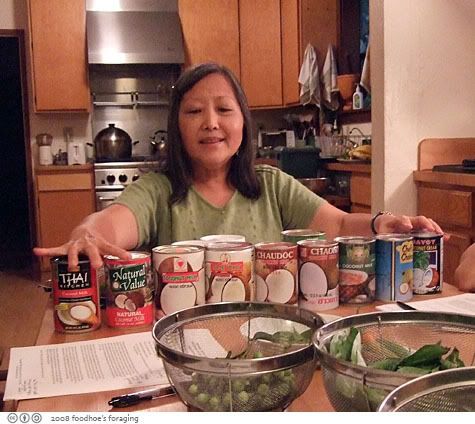 Each session she has the fresh ingredients set out on the table in baskets that she introduces to us and describes how to determine if it is ripe, where to get it, what we can substitute with etc., and then shows us how she likes to see it cut.  This particular batch of julienned kefir lime leaf did not pass her rigorous standards, she frowned when she looked at it and said they should be cut smaller.  We reckoned that she had meant for them to be cut like slim blades of spring grass, and she nodded.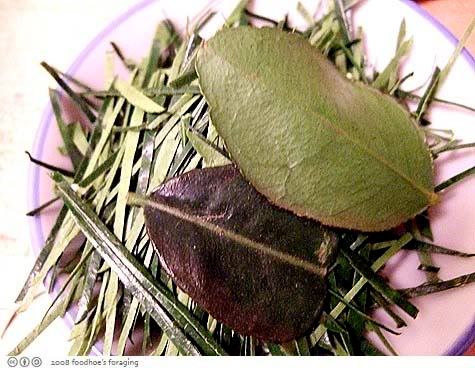 Now I have to put in a word about chilies because I am pathetically wimpy when it comes to tolerating scovillian pain.  In fact, the very first time I ever tried Thai food, I had a meltdown and the owner rushed over to setup an electric fan on the table for me.  This is an area of my palate that is very undeveloped, although I like to think that I've come a long way since that first experience.  Kasma asked us during our initial introductions what our heat tolerance was on a scale of one to ten, ten being the highest.  As I was toward the end of the table and most people were rating themselves around 7 or so, I decided that meant I could say I was around a 5. This was a lie and a mistake, I'm really more like a 3…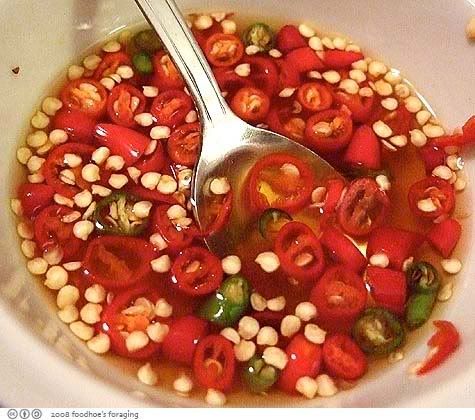 She believes that you have to build up a tolerance for spicy foods and that the more heat you are able to take, the more open your tastebuds will become to appreciate flavors.  Therefore, each class she strives to push us to develop our levels of tolerance, and she pretty much goes crazy with adding chilies to the dishes.  This is a pile of chopped Thai chilies that we used for one evening's dishes… you know, the really really hot chilies that make jalapenos seem sweet?  And contrary to most instructions, she recommends that we leave the seeds and membranes in the chilis as that is the best part!  Her recipes will often call for 15-20 chilies and I think at home I will probably start off using just one… 🙂
She demonstrates cooking techniques and discusses seasoning woks, the best practices for steaming jasmine rice and has us scurrying around as eager kitchen assistants.  She also is very keen that we don't waste water so we save what gray water we can for her garden and also compost responsibly, which adds a layer of complexity to working in Kasma's kitchen under her sharp watchful eyes…  She's very quick to point out when we do both right and wrong, although at this point, we seem to do a lot wrong.  It's very like helping your aunt cook and she shows us useful tips and tricks like how to soften tamarind paste and properly clean and shell shrimps.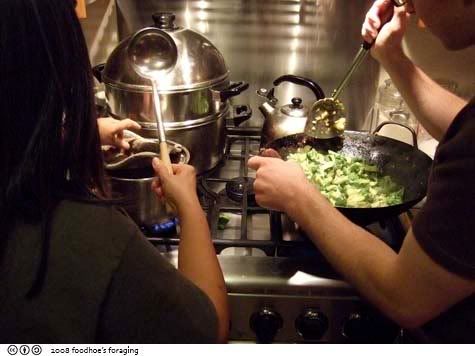 Here are some of the dishes we made over two classes so far.  Everything was delicious, a bit spicier than I can take, but tasted better than anything I've had at a restaurant which generally restrain seasoning the dishes for the American palate and add more sugar to temper the heat… Green Curry with Basa, Thai Eggplants and Green Peas (Gkaeng Kiew Wahn Moo).  She said that she wrote the thai names out sort of phonetically for us who do not speak Thai…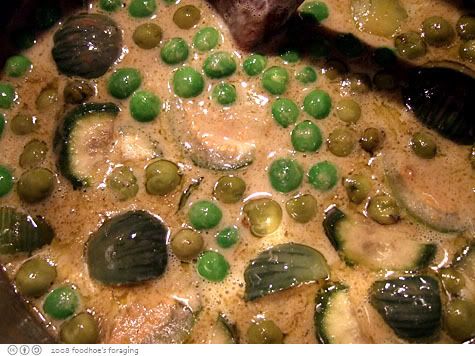 She used a popular variety called pea eggplant (Solanum torvum) that added a nice crunchy texture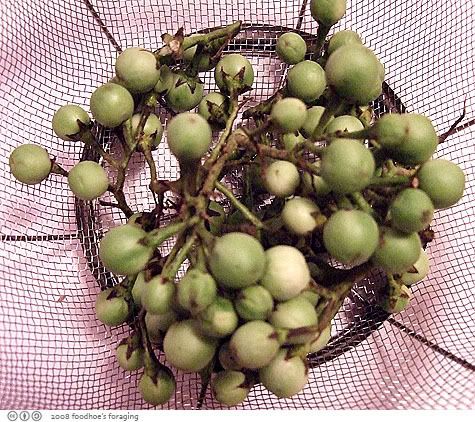 Massaman Chicken Curry with pearl onion and potato (GKaeng Massaman Gkai).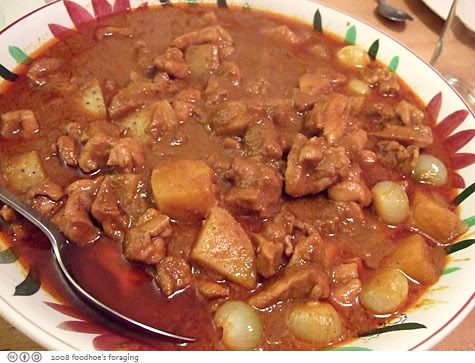 Hot and Sour Vegetables (Pad Bpriow Wahn). It actually was a stir-fry but looked more like a salad.  It was fresh and crunchy and full of bright vigorous flavors.  The shrimp was perfectly cooked.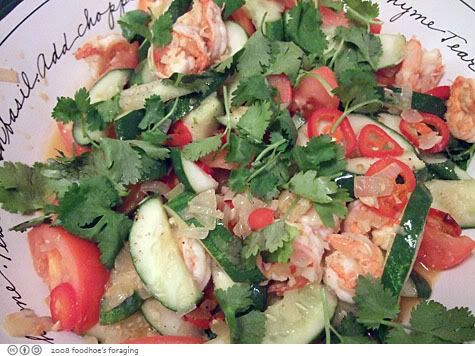 Curried Mousse of Red Snapper in Banana Leaf Cups (Haw Moek Bplah)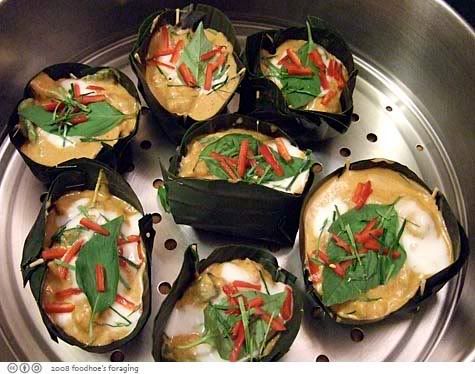 Spicy Basil Chicken (Gkai Pad Gka-prow), which requires a certain type of basil that is also known as holy basil here.  Anecdotally, she mentioned that most restaurants serve this dish, but most do not use the right kind of basil, and that they also include bell peppers in a lot of dishes which she said really is not used in Thailand as they have a strong flavor, but no heat!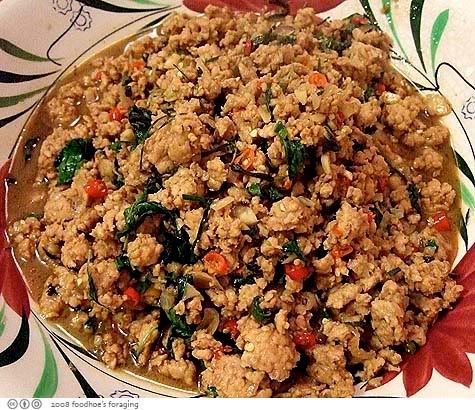 Hot and Sour Prawn Soup (Dtom Yam Gkoong) which tasted like something out of a dream….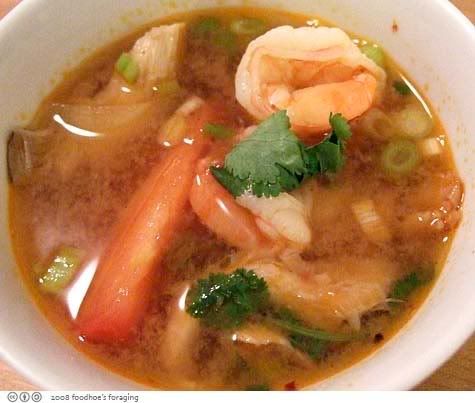 Stir-fried Broccoli with Thai Oyster Sauce (broccoli Pad Nahm Man Hoi).  Crunchy and garlicky, the dish was emptied before it made its way around the table….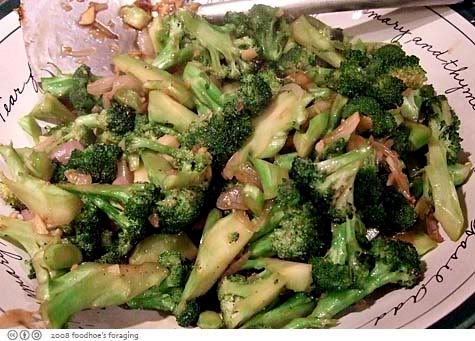 Alot of the recipes can be found on her site and are also included in her cookbook It Rains Fishes that I was able to purchase from her although it is no longer in print.  It's a great book with so much useful information and has wonderful stories of her growing up in Bangkok.  It even has won a Julia Child cookbook award!  Additionally, they sell most of the condiments, tools and books at the classes at very reasonable prices.  I picked up a Kiwi knife for $3!  What a wonderful opportunity and I'm thinking of dedicating my piggy bank towards going on one of her food tours in Thailand….  The main thing is that I'm inspired and trying to cook!
Read about the third class where we learned about cleaning squid, fried foods and preparing sticky rice here…  and the final class where Kasma showed us how to cook classic Thai noodles.