1300 Battery Street, San Francisco, CA | 415.982.2000 | website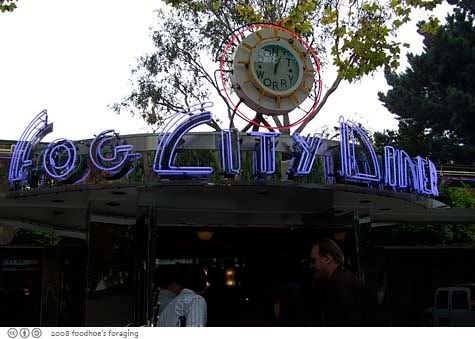 This aptly named restaurant sits along the stretch of Embarcadero between the Ferry building and Fisherman's Wharf, walking distance to the pier where huge cruise ships come into port releasing busloads of tourists clutching pocketbooks and cameras.  Fortunately we are on the far side of the street, the non-pedestrian side, where we feel protected with the mass of of the financial district behind us.  JT organized a lunch with Sarah and Andy and their little guy Isaac, who seems eager to explore the world as a mature 6 week old boy.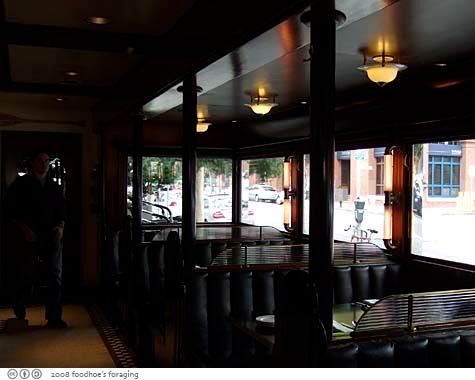 The interior is shiny and sleek with polished wood and brass fittings that form plush leather lined booths with elegant dim lighting.  It was designed by Pat Kuleto who is famous for his work on Boulevard Restaurant, Farallon, Jardiniere, Waterbar, Epic Roasthouse and Nicks Cove.  It's swanky and it knows it.  We were seated at a booth sporting a brass nameplate for former Mayor Willie Brown.  What does this mean I worried?  If he shows up, do we have to move?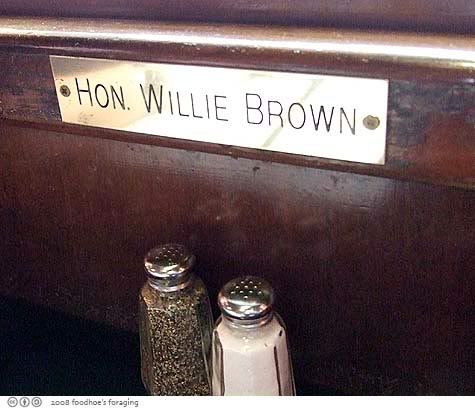 Fortunately, he did not arrive and we dined in his personal booth in a somewhat secluded far end of the long restaurant where we could watch the food coming out of the kitchen.  This is my favorite spot in any restaurant because I like to ogle the food.  Yes, I am a foodhoe…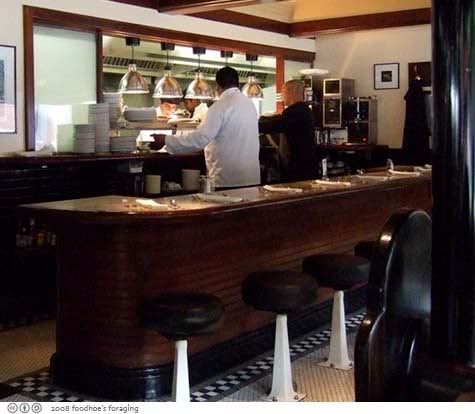 Once JT saw the Amazing Truffle Fries with Asiago ($8.95) on the menu, she was smitten and so we enjoyed this big pile o' taters fresh out of the fryer.  They glistened with a layer of truffle oil and lightly dusted with shaved tendrils of asiago cheese and fresh herbs.  The aromas coming off of this plate were outrageous… I get weepy just thinking about it.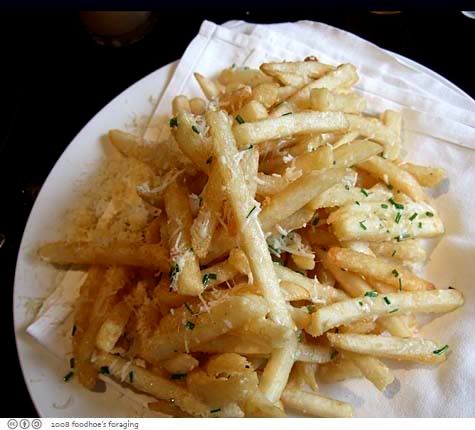 Another item on the menu jumped out at both Sarah and Andy, so we enjoyed an order of Farmhouse Cheddar Biscuits ($4.50).  I'm a biscuit lover and these were flaky and buttery and a little rubbery from the delicious addition of sharp cheddar cheese… these were so rich that I didn't even think about slathering on butter, which is my normal behavior around hot steaming biscuits!
My initial craving was for a burger, but they had a few different options that had me in a quandry… a good old fashioned cheeseburger, the daily special was a veggie burger, or the buffalo burger?  I had eaten a bison burger a couple of years ago when we were in South Dakota, but didn't remember much about it and decided to bust out and go for the $17.95 buffalo burger.  They dropped off a fine assortment of condiments for my dining pleasure…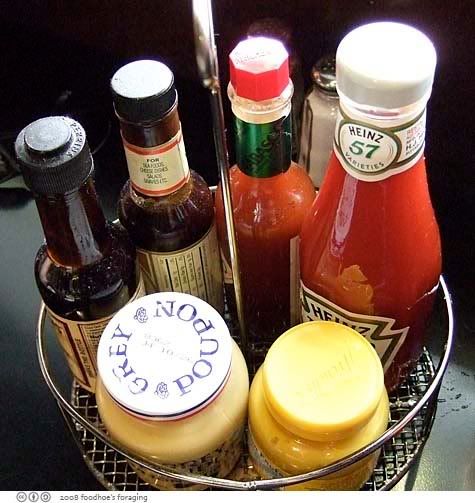 So about that $18 Buffalo Burger…  It arrived cooked medium as I requested with a light pink inside and charred nicely with a chewy crust outside.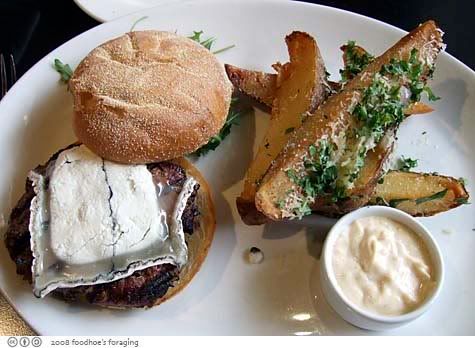 The gamey meat was topped with a thin slice of tangy and acidic Humboldt Fog goat cheese along with a handful of bitter wild arugula that combined with a jarring dissonance much to my dismay.  Everything was wrong and it ruffled my feathers to be frank.  Perhaps it was an exercise in pushing the limits of the burger gone bad. I'd much prefer a burger from In-N-Out to something like this.  Just looking at the picture, I feel like making blech and splooey sounds…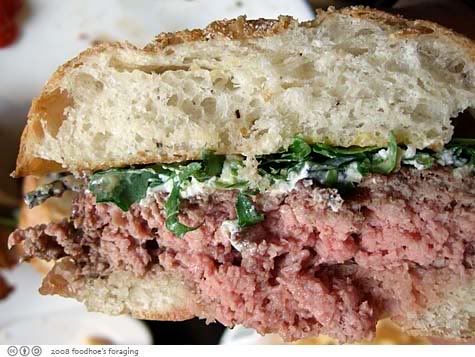 It came with a nice pile of wedge-cut fries that like the truffle fries, were coated with fresh cut herbs and paper thin shreds of asiago cheese.  I was about fried out by this time in the meal but they were quite good dipped into the spicy chipotle aioli.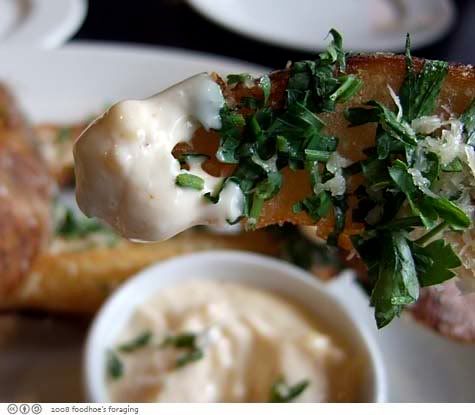 Sarah had the World Famous Red Curry Mussel Stew ($12.95) that had a rich coconut curry broth and was dramatically garnished with a handful of crisp beansprouts and two pieces of grilled bread to sop up the delicious stew.
JT had the Macaroni and Gouda Cheese ($9.90) that had a crunchy panko breadcrumb crust and was full of fresh peas and chunks of ham.  It was more like a creamy alfredo sauce and not very cheesy…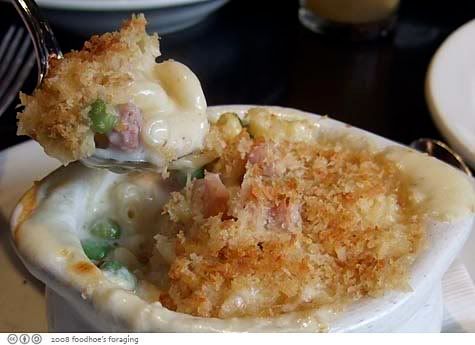 Andy?  Well, he ordered the Herb Seared Ahi with Garlic Aioli ($12.95) which came with even more fries that went untouched.  The presentation was more like bruschetta, and was served open faced which meant it was served on two half slices of bread…  Not much food for a growing young man.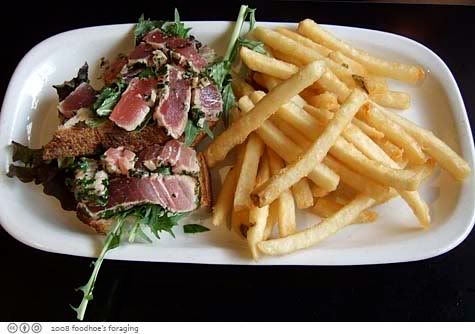 Well, for sure I would go back for those Amazing Truffled Fries!  Besides that, there were some hits and misses, and now I know that I am not a buffalo burger fan.  But that makes me want to go back for a regular cheeseburger just to make sure – in fact it's my duty…