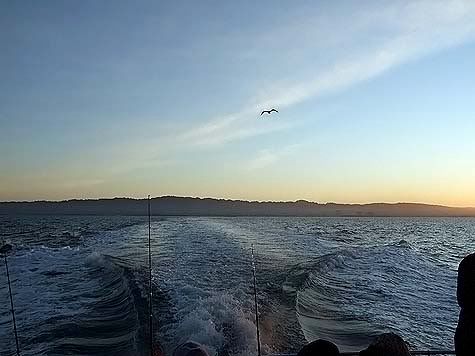 A couple of weeks ago Mank told Mr. K he was going to take him out fishing for his birthday.  This is this is one of many benefits we enjoy living in the Bay Area, there's just an abundance of local food sources!  Not only can you sign up for
deep water fishing trips from the Berkeley marina, some of these boats also offer a crab combo where they also set out crab pots.  Crab season officially kicked off last week and reports so far forecast it to be a lean one due to natural environmental fluctuations.
And so Mr. K and Mank woke up well before sunrise in order to board the boat by 5:30 am last Saturday.  They went out with beautiful sunny weather and traveled out past the Farallon islands. The night before I handed over my camera and asked for at least a picture of the crab pots and was surprised to find that that Mr. K diligently took pictures throughout the day.
He reported that the fishing part became pretty chaotic with so many guys lined up along the rails.  Fishing lines became entangled and the fish were flying.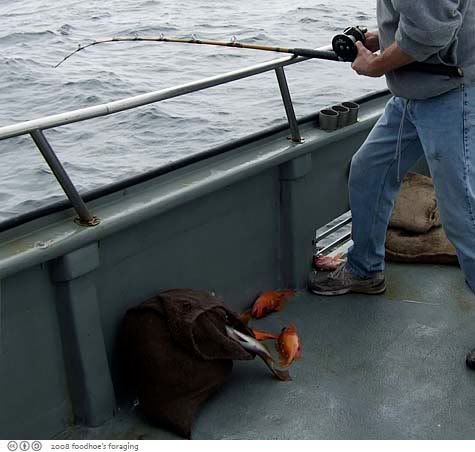 Apparently they pulled the fish up with a handheld hook and then just left the still flopping fish on the ground while everyone put out their lines right away.  It sounds like it was exciting and messy.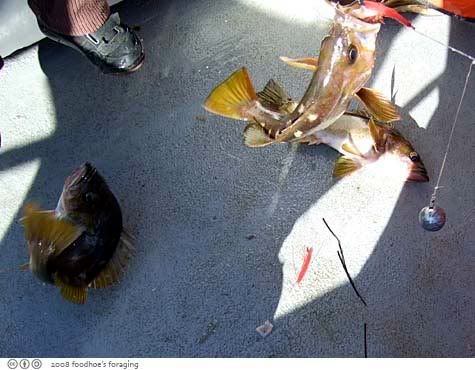 The deckhands helped out by roughly filleting all the fish and leaving piles of carcasses, which were recycled and used as bait in the crab pots.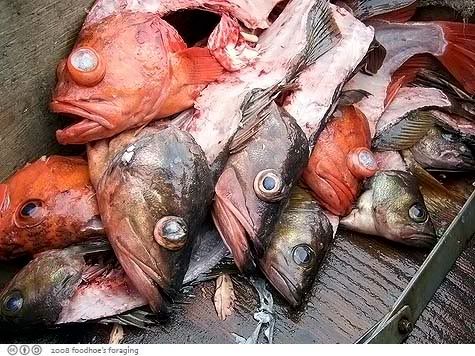 Here's one of the pots they pulled up with two crabs trapped inside.  I'm not sure how many people were on the boat but Mr. K and Mank scored three crabs between the two of them and caught about 17 fish total.  There were a few hurlers who succumbed to the rough seas and spent the entire day huddled on benches inside, who benefited with some donated fillets from the days catch.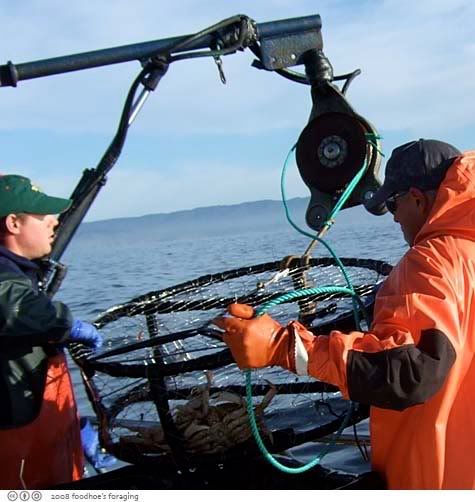 Here's a nice shot from the return journey where you can see the fog rolling in and the seagulls following the boat hoping for some scraps.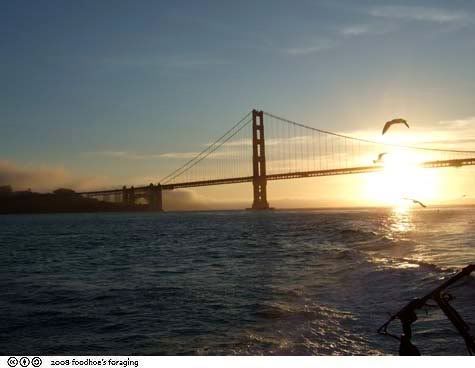 CDR and I planned to meet them at the dock to check out the boat and help carry stuff if necessary, so we met a little beforehand for a nice cold beverage at Skates by the Bay, a restaurant more known for the magnificent views it affords than anything else.  And while we were enjoying the sunset, mank sent a text message to CDR telling her c the boat, which prompted me to take this very blurry picture.  But nonetheless, that's the boat coming in… that blur there that you can almost make out through the window.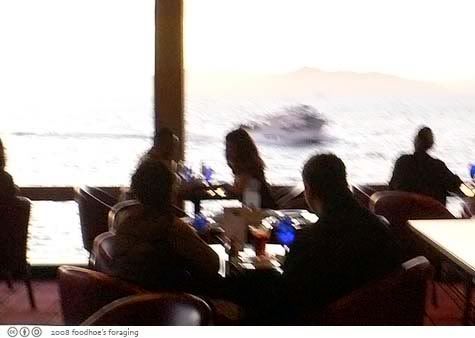 We chuckled when we saw the boat, noting that it seemed very reminiscent of the S.S. Minnow of the ill fated three hour tour…. hard to imagine going out into the open seas on something like that!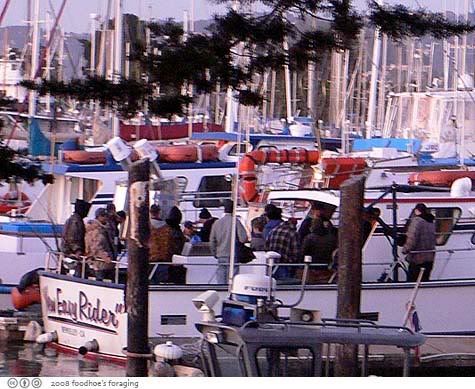 The sun was setting providing a gorgeous backdrop while we waited for them to finish cleaning up the fish and divide the crabs.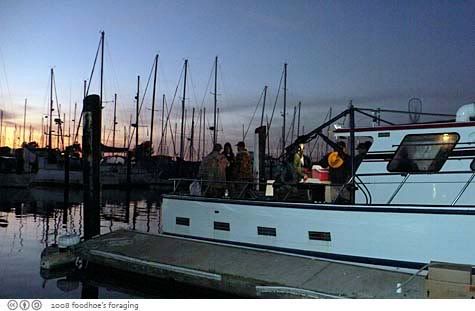 Here's our loot that we split up into ziploc baggies.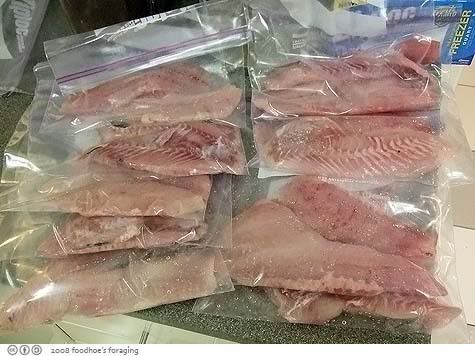 Amazingly fresh fillets!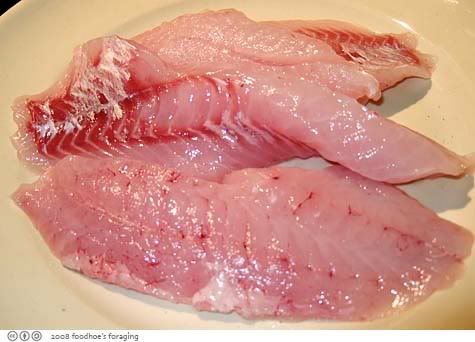 CDR breaded them with flour salt and pepper and then panfried them in the electric fry pan they inherited from mank's parents.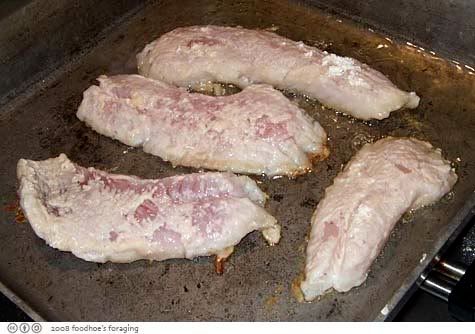 We ate them simply with a squeeze of lemon and marveled at how delicious they tasted.  The clarity of flavor and texture was really unsurpassed.  We each enjoyed a baked potato with butter and fresh herbs,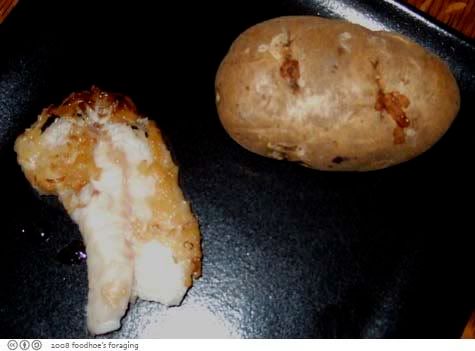 along with a simple salad of fresh spinach with tomato and cucumber slices.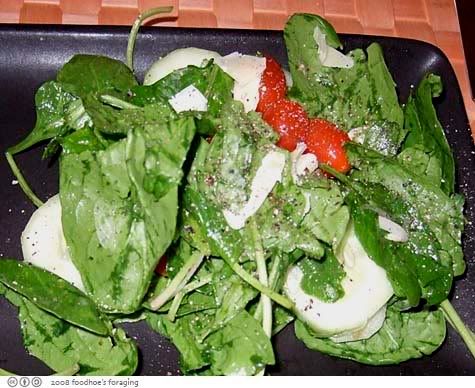 And then we enjoyed our first taste of the seasons extremely fresh cooked crab…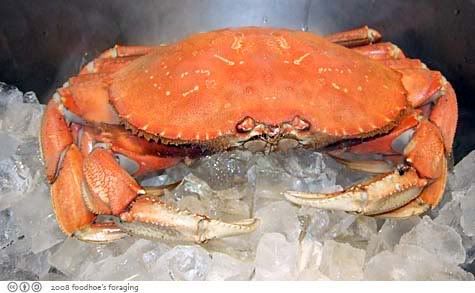 It's hard to describe this feasting on food so freshly caught!  It was damn good.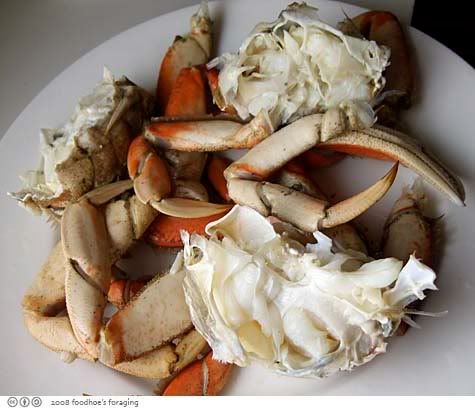 The crab tastes best plain, but is also good when dipped into the heavenly elixir known as Hogwash made from the famous Hog Island Oyster mignonette recipe.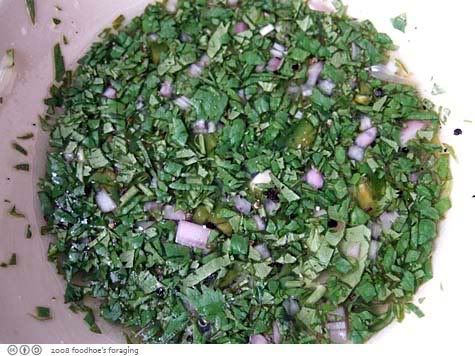 Yes we enjoyed nature's bounty very well that night and I'm thinking of what to do with all of that rockfish we have in the freezer… cioppino?  Perhaps grilled with turmeric and dill for that unforgettable Vietnamese dish Cha Ca?