4063 18th Street, San Francisco, CA  | 415.431.6000  | website
My friend Debbie organized a get together with the girls at the Eureka Restaurant and Lounge in the Castro.  It's the sister site of Chenery Park and was featured on a local tv show because of its festive holiday decor and more importantly was offering a 50% off coupon that is still available here.   Deals abound on their site with Taxi Tuesdays, where they'll take the price of the fare (up to $12) off your bill or a free glass of wine if you mention that Joe sent you from Chenery Park on a Monday (scroll down to the bottom of the news page).   The night we dined we received a BOGO free entree coupon that is good Sun-Thurs through the end of January.  The restaurant is definitely throwing out a lot of love to drum up business!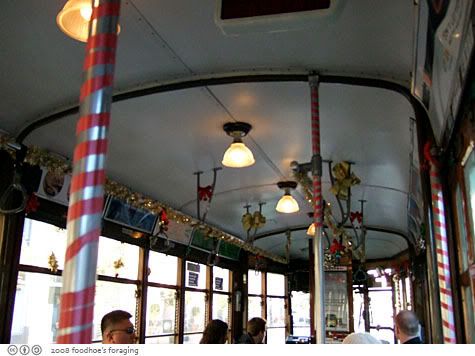 I took a trolley car that was dolled up for the holidays.  We all arrived separately and met up at Cliff's Variety for some last minute shopping before heading over to the restaurant, which was decked out with holiday cheer.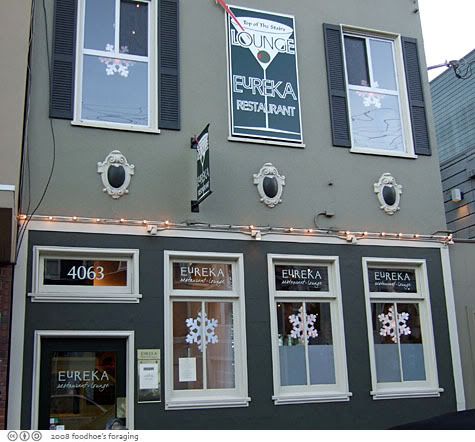 The front dining room had a sort of winter wonderland theme and the entry had a very festive display of shiny blue baubles on the mantel, which comes as no surprise as two of the partners also own Borage Floral Design in Glen Park  (I've had their number in my address book for years).  We were greeted by a very charming host who brought us upstairs and let us select our table.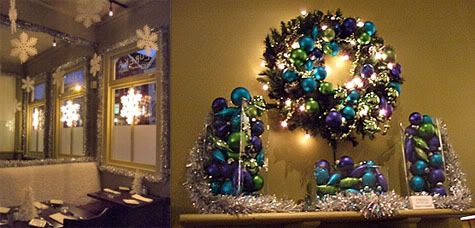 The upstairs is split into two spaces, a bar and a cozy dining area with a fireplace festooned with shiny ornaments and twinkling holidays lights.  Both of the chefs Richard Rosen and Gaines Dobbins have worked with Nancy Oakes, first at L'Avenue and then Boulevard Restaurant and their menu offers traditional American cuisine.  They have some daily specials featuring southern touches with a special 4-course Taste of the South menu on Sundays, Buttermilk Battered Fried Chicken on Monday, Chicken Fried Steak on Tuesday and Pot Roast on Thursday.  Our waiter was very charming and was so patient with us, coming back a few times before we were able to figure out what to order.
I was still having a carnivorous craving and ordered the  Dry Cured Tri-Tip Steak (23) which was served with Buttermilk Blue Cheese Mashed Potatoes, and a handful of Brussel Sprouts & Red Wine Sauce.  Mmmm the meat was very tender and marbled with fat, it definitely quelled the predatory beast that had been rumbling within.  And the mashed potatoes were creamy and rich with veins of blue cheese mixed in.  It was a fine classic combination of meat and potatoes.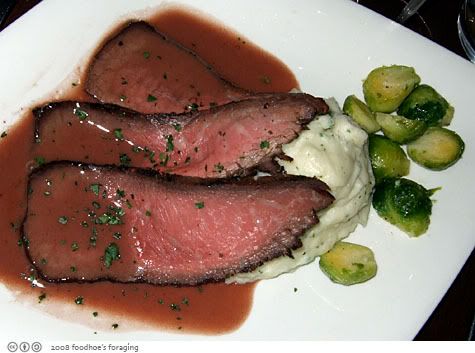 Debbie had the Roasted Chicken (18) with Preserved Lemon & Pomegranate, that was tender and flavorful, but the Sumac Potatoes seemed dry and mealy and I think she didn't love the Winter Salad of Sugar Snap Peas, Tangerine & Watermelon Radish much either.  The sides were definitely a thumbs down for this plate.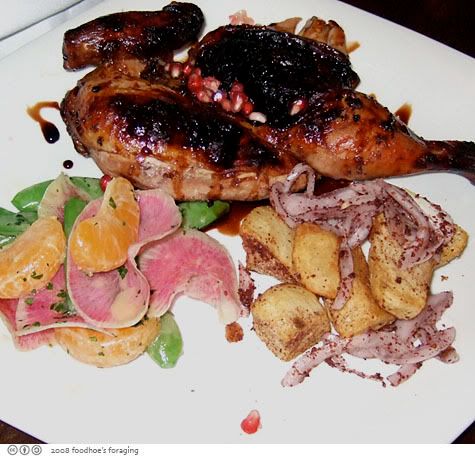 Both DN and Libby had the Braised Pork Shoulder (19) with Butternut Squash, Sugar Snap Peas, Pickled Onions & Tamarind, Garlic, Ginger Sauce.  That sauce was outstanding and if I hadn't been craving rare meat,three of us would have had the same dish that evening.  Instead,  I only sampled a bit of the oh so tender meat which was braised until it fell apart when you just looked at it.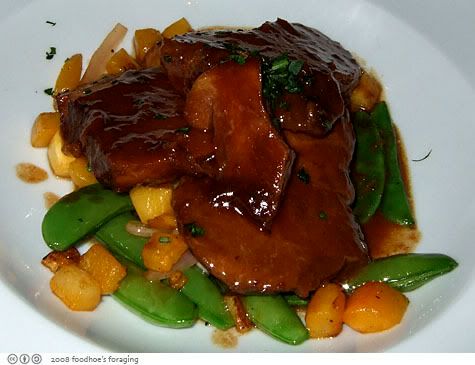 We had decided earlier that we would fore go the first course in order to leave room for dessert.  DN had a Caramel Tapioca Pudding (8) with Whipped Cream and Hazelnut Brickle on the left, while Debbie had the Affogato (8), vanilla bean ice cream, Frangelico, Hazelnut Meringue and drenched in espresso. I love tapioca but this was more of a pudding with some tapioca pearls so it remained safe from my predatory spoon.   The Affogato tasted overwhelmingly bitter and gritty from the espresso and everything eventually melted and disappeared into the morass.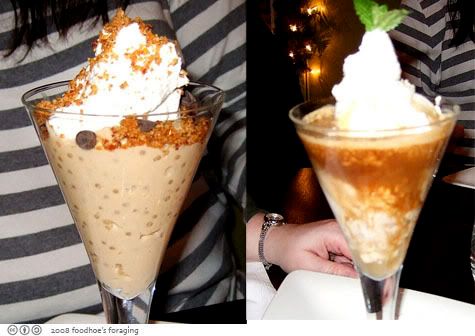 I ordered the Persimmon Ginger Bundt Cake (8) with Pumpkin Ice Cream and Nutmeg Caramel Sauce, which was my favorite of the three.  The bundt cake was dense and spicy and especially good with the sticky gooey caramel sauce and ice cream.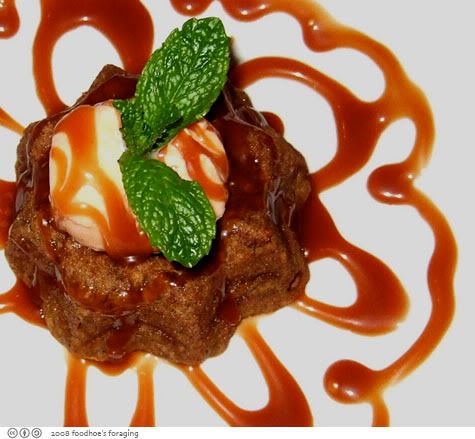 Just as our desserts arrived, one of the Sisters of Perpetual Indulgence,  Sister Dinah Might I believe, was being seated nearby.   I was so enthralled with the desserts that I barely registered the stark white face, elaborate headgear and full habit!  As a small consolation, here is a picture of Libby's ornaments that she picked up for a super duper sale price, along with her coffee.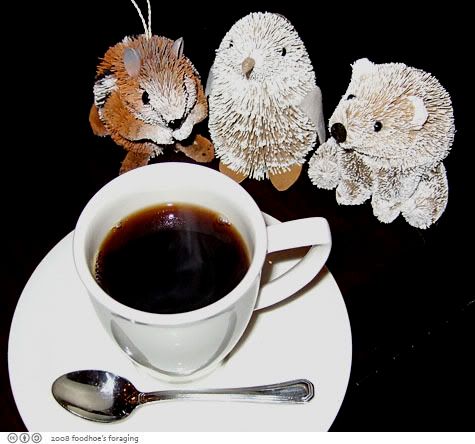 We had a great time and really enjoyed the food and hanging out watching the scene.  This is a great neighborhood restaurant, and with all of the deals they have going on, one that I'd be willing to travel back to.  As we were leaving, we noticed that asides from Sister Dinah Might, we were the only women in the entire restaurant, yes we certainly were dining in the Castro…