648 Bush Street, San Francisco, CA 94108 | 415.989.7154 | website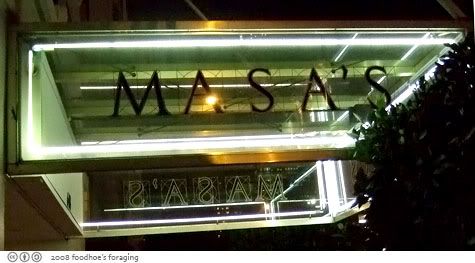 Perhaps it is a sign of the times, but I noticed that JT had to make quite an effort to find anyone interested in going to Masa's.   Don't get me wrong, Masa's is great – fantastic even, but dining there is an upscale affair – it's a jacket required kind of place that manages to be elegant but warm and relaxing at the same time… and is expensive.  I had been here once before for an amazing dinner to celebrate the millenium, back when Julian Serrano was still the chef and we didn't think twice about throwing now unthinkable sums onto our credit cards for a nice meal.  It is an unfortunate thing that I missed Ron Siegel's reign from 2001 to 2004 while paying off the sizable debt accrued from that memorable new years feast back in 1999…  French Laundry alumni Gregory Short is Executive Chef now and the menu is French influenced with a bit of an Asian flair and showcases local seasonal ingredients, beautifully presented with distinctly modern elegance.
JT, Cherie and I met for a decadent girls night out to enjoy the chef's nightly degustation, which is a fancy way of saying tasting menu.  The dining room is intimate and cozy with high ceilings .  The charcoal colored walls are hung with dramatic abstract paintings but your attention is drawn to the center of the room where rustic long-limbed figures cavort with hands full of artichokes, asparagus and grapes.  The lighting is soft and romantic, and along one wall is an illuminated curtain that evokes the feeling of a stage, providing a dramatic background to the dining room.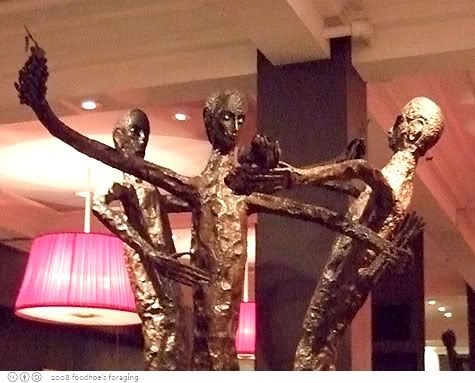 We were there early and had our choice of tables, as there were just a few other parties in the dining room.  I noticed that there was no music but the atmosphere was convivial and and the sound level was very comfortable even when the tables were all occupied.  They only offer the chef's degustation menu, six-courses for $90; a vegetarian six course for $95, a nine-course meal for $150 or a white truffle menu for a staggering $275 per person. The nine-course menu had some very interesting sounding items and each course was prepared two ways, which meant navigating through at least eighteen different items.  From past experience, I am ashamed to admit that I know I will get tastebud overload well before then… so we decided to go with the six-course menu.  We enjoyed two amuse bouche, which are small amusements sent out compliments of the chef.  The first was a butternut squash soup topped with aromatic truffle oil served with a chesse filled gougiere, and the second was a small cylinder of steamed sole and shrimp served over a mushroom confit and foam.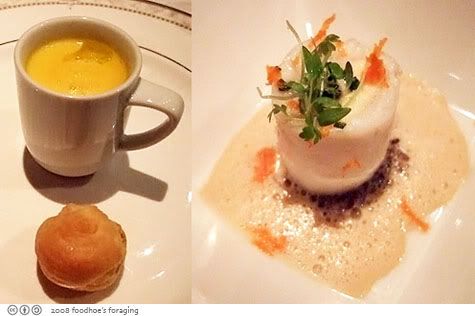 Since we all ordered the same thing, the girls were off the hook as far as waiting for me to take pictures before they could dig into their plates.  But honestly, you can't really dig into a tasting menu plate, the servings are so tiny you can finish the plate in a few bites…  Anyways, our first course was Dungeness Crab Cakes, edamame, watermelon radish, miso mustard sauce, aji amarillo, topped with micro mustard greens.  I had to look up what aji amarillo is, and it is a chile pepper from South America, which added a good bit of heat to the buttery miso sauce.  The variety of fresh vegetables added good crunchy textures and fresh flavor to the dish.   At first I couldn't believe my ears, but I distinctly remember hearing JT wistfully mention that she might need a visit to Top Dog or maybe pizza afterwards…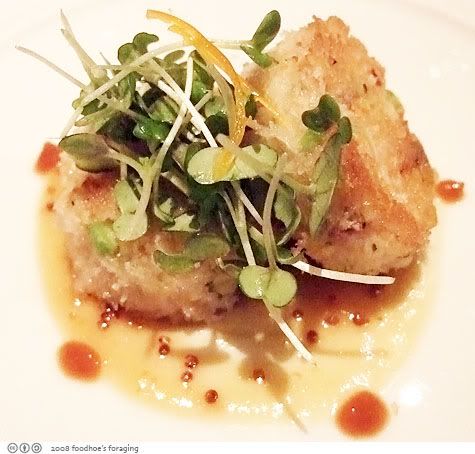 Although appalled at the price for the decadent winter truffle tasting menu, we decided to split a small plate of the Carnaroli Risotto, for an additional $40.  The server brought a very small, shallow four-inch plate of the short, plump grains richly flavored with piquant pecorino cheese and infused with truffle essence, and some foamy topping.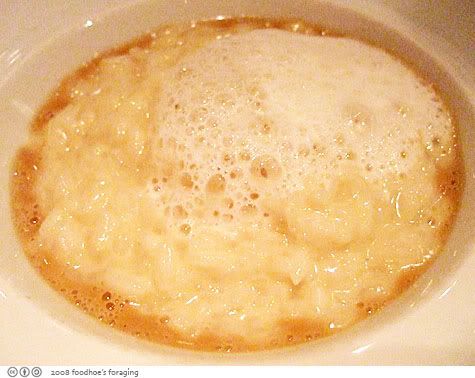 Like a magician, he held a large white truffle up for us to all admire.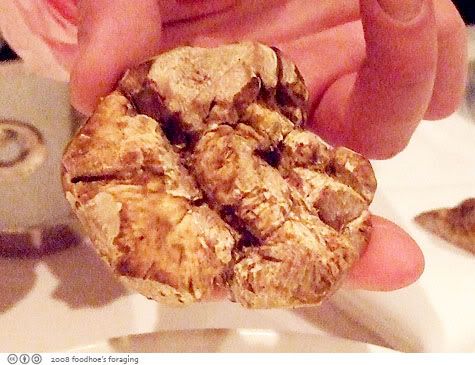 Using a shiney metal device, he shaved paper thin slices of the precious funghi over top of the risotto.  I egged him on, taking photos, hoping to get a few extra slices…
At first glance, it resembled a bowl of corn flakes, but one whiff and you knew that this is no bowl of cereal.  The beautifully patterned mushrooms slices were oozing with pungent garlicky aroma and we reverently dug in. We practically licked the plate clean, but it was an awfully small plate – just a few bites each.  And yes folks, after many dogged attempts, I have determined that my tastebuds are not worthy to appreciate the subtleties of the delicate Italian white truffle.  That's it, no more!  Please remind me of this next time someone offers to shave paper thin slices of mushroom bits over my plate for an exorbitant sum…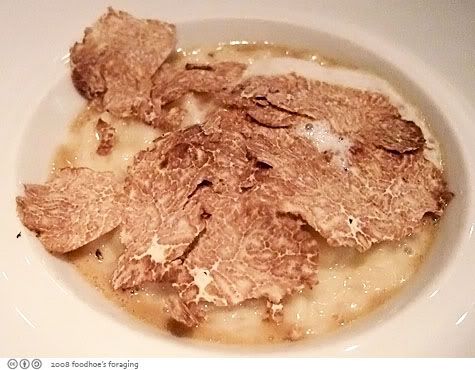 Sauteed Filet of Alaskan True Cod, served over an herbed risotto cake that reminded me a little bit of a flat wide tatertot, a small bit of a broccoli crown that was artistically splattered with a rich buttery madras curry infused sauce.  The fish was delicately crisped and flakey and so good dragged through the richly flavored buttery sauce.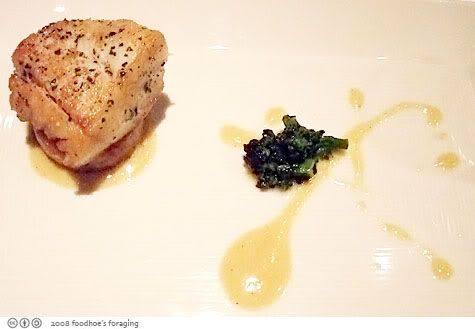 Pan Sauteed Breast of Central Valley Squab, included a thigh and leg which was served over small slices of caramelized asian pears, a small blob of braised watercress, squiggles of pomegranate sauce and decorated with a few gemlike pomegranate arils that burst with astringent tartness when I bit into them.  The breast meat was perfect and so tender that it practically melted in my mouth.  Normally I am not a big fan of squab, but this was my favorite dish of the evening.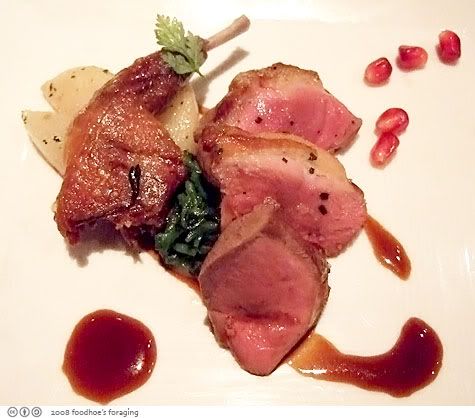 Our main entree, the Roasted Medallion of Marin Sun Farms Dry-Aged New York, was served on a platter encircled with the Masa logo.  It came with la rotte fingerling potatoes, black and gold chanterelle mushrooms, baby leeks, bordelaise sauce.  I am a big fan of Marin Sun Farms, but am dismayed that I find the texture of grass fed beef to be tough and chewy, even when prepared by professionals.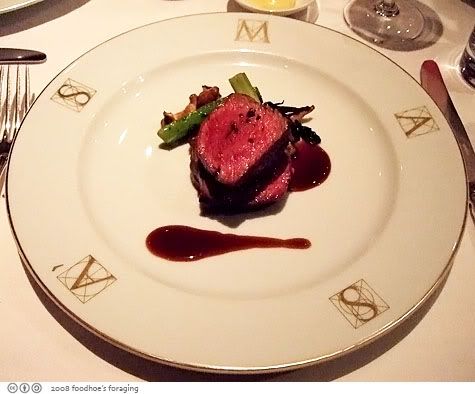 Ahhh, our plate cleanser was a small scoop of sierra beauty apple sorbet, served over huckelberry jus full of bits of calvados gelée.  This was very bright and refreshing and JT wondered aloud when they were going to bring over the cart of Petit fours…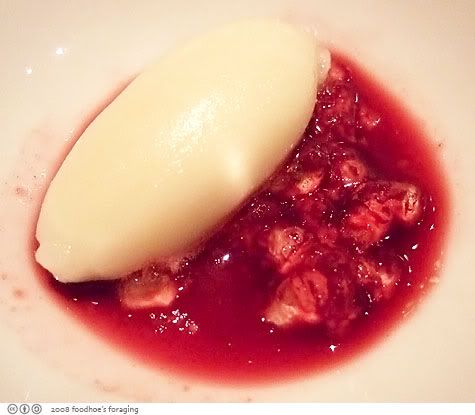 Next, came dessert.  The Chocolate Blackberry Glacé was a delectably rich knob of creamy chocolate made with Valrhona manjari chocolate that I loved.  I really didn't care for the cara cara creamsicle sorbet that was served over sticky bits of bitter chocolate shortbread cookie, it tasted like children's cough syrup.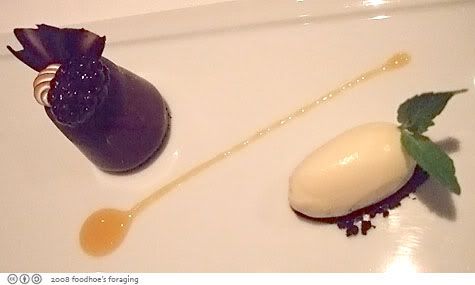 JT saw the pumpkin cheesecake on the vegetarian menu and asked to swap her chocolate dessert for that instead.    The server was absolutely accommodating, and so she was served a different Petit Sorbet, made of carrot, ginger & orange as a palate cleanser before her Pumpkin-Cognac Cheesecake, made with a gingersnap crust,  with mascarpone cheese, gingersnap crust, remy martin mousseline.  It was garnished with a beautiful delicate fleur de lis made from caramelized spun sugar.
Finally, the Petit Four cart wheeled around and we enjoyed a lovely assortment of lollipops, chocolates, macaroon, canale, nougats, and toffees.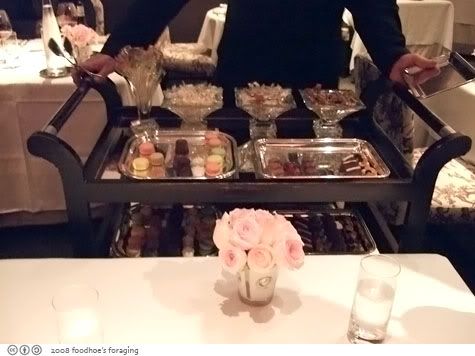 I popped a nougat into my mouth that was unpleasantly squishy like taffy and full of sour raisins.  Somehow I had expected sweet and sticky nougat, not tart squishy taffy.  There followed some delicious chocolates and then again, I was surprised by what looked like a caramel but was squishy and tart like a tamarind jelly, not the rich buttery chewy taste sensation I was expecting.  Even the macaroons were filled with tart jelly!  It was a minefield, as if a mad grandmother with a syringe fully of squishy sour jelly had gone amuck with the sweets and it was time to call it a day.  Even JT seemed to be satisfied.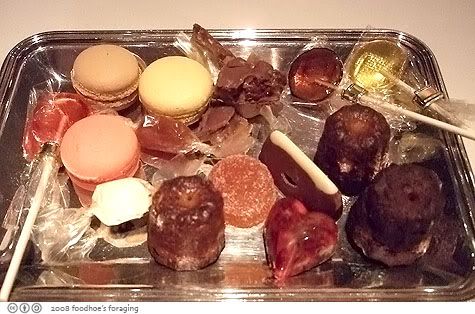 I have to say that the servers were professional and friendly and always so patient with my many questions.  We never felt rushed or hindered and I love that they also offer still or sparkling water that is bottled on the premises and available at no extra charge.  It was a special meal with some special friends and a great pick me up after a dark and dreary few weeks in my personal life.  There's nothing like good food to make you feel better…