508 4th Street, San Francisco, CA 94107 | 415.777.1508 | website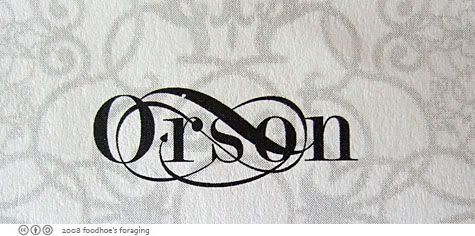 Elizabeth Faulkner's restaurant is called Orson, a further homage to the film star that her other restaurant, Citizen Cake is named after.  It's in a spacious renovated SOMA warehouse with tall cement walls and sleek modern furnishings.  JT picked this fine spot for us to celebrate the holidays and exchange white elephant gifts.  Our party met at the commodious u-shaped bar which is in the back of the restaurant, easy to find with the large glowing geometric chandelier floating overhead, and everyone gravitates towards the back wall which has movies projected onto it.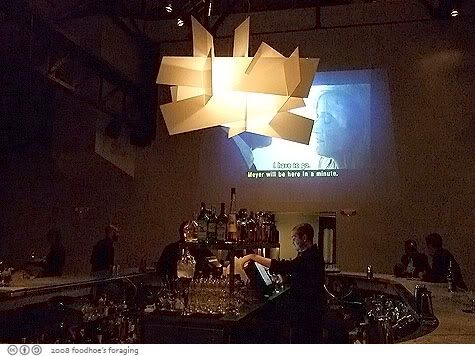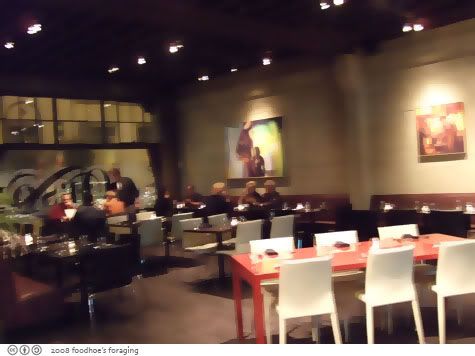 Elizabeth Faulkner has worked at Cafe Claude, Masa's, Elka in Japantown and Rubicon in San Francisco, and long before that she studied film at the Art Institute.  She opened Citizen Cake in 1997 in SOMA, which has since relocated to Hayes Valley and expanded to include a bar and restaurant and was awarded a Michelin star in 07.  She has been celebrated as Pastry Chef of the Year in most of the major foodie publications.  The website describes the cuisine as rooted in traditional California cuisine and flirts a bit with the future, and as Edgy California Cuisine.  From the shorts section, we started with the Smoked Tempura Egg, served in a caramelized scallion bouillon (14) that was poured tableside.  This is the dish that everyone is talking about and with good reason.
The soft cooked egg is shelled, lightly smoked, rolled in strands of dried nori, dipped in a delicate tempura batter, then fried.  Ours was served simply with some arugula and bean sprouts. When you cut into the egg, the yolk rushes out, enriching the scallion-flavored broth that's been poured into the bowl. It's a comforting dish, each bite evokes a different sensation, crunchy, soft and silky from the egg, laced with smoky flavors that is heightened by the earthy broth.
We split two orders of their famous duck fat French Fries that are served with a tangy browned butter béarnaise (7).  They arrived fresh from the fryer and were served piping hot, just the way we like them.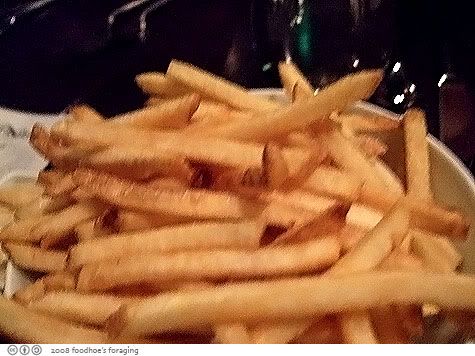 The béarnaise sauce was zesty and flavorful and without the heavy greasy feeling that  I usually find with aioli.  Yes, I'd like browned butter with my duck fat please!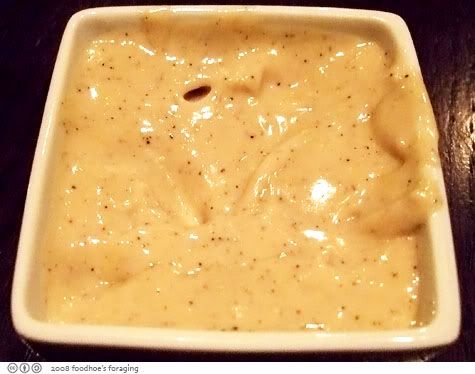 We also shared the cheese plate of Andante Cheeses & Accoutrement ($18) ~ cow, goat, sheep.  Our server rattled the names of the cheese off, but I was completely distracted by something else (probably the fries) and remember nothing.  It was a nice selection, with one that was dry and hard, one that was sticky and very pungent and another buttery creamy with a soft rind.  The slate platter was strewn with dried dates, golden raisins, regular raisins that were still attached to the stems, dried cranberries and slices of dried apricots.  Some nuts would have been good too..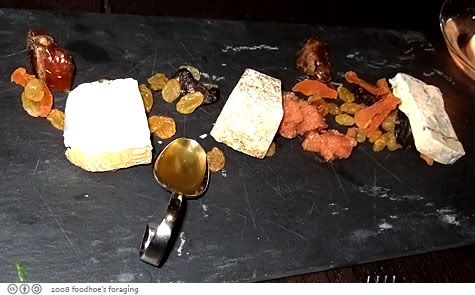 We ordered several wood fired pizzas.  Mr. K loves Margherita which is the most simple, consisting of tomato sauce, mozzarella, basil  (14).  He said it was very good, the crust was thin and crisp, just the way he likes it.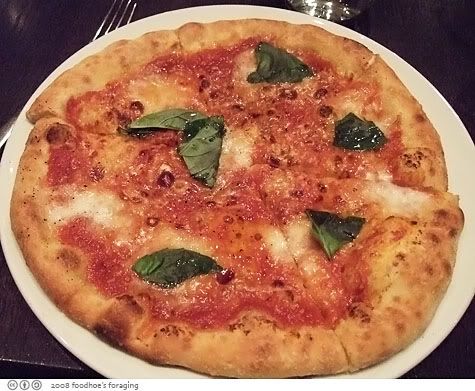 Daisy had Pork Sausage, with pureed pumpkin, pecorino and parmesan, with sage  leaves ($16)
It was surprisingly good, I liked the sweetness of the pumpkin with the rich fatty pork sausage along with the soft blobs of cheese.  The menu said pecorino, but this looked more like ricotta, being bland and soft.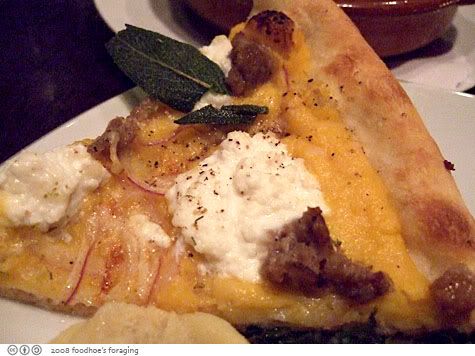 Amid had the Wild Mushrooms ($14) which smelled fantastic and he said was very good.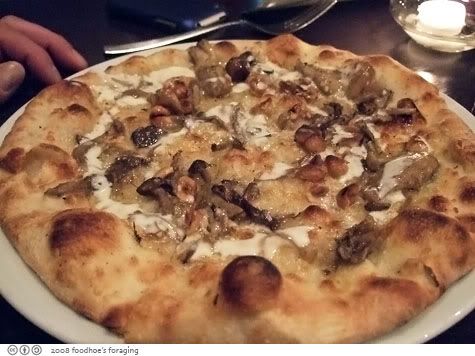 From the premieres section, several people ordered the Orson burger~ground chuck, parmesan bun, foie mayonaise, cobb relish, house made steak sauce (15).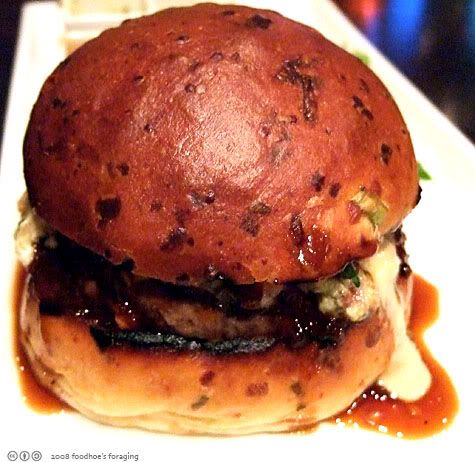 Each of the burgers came with cups of blue cheese, steak sauce and mustard.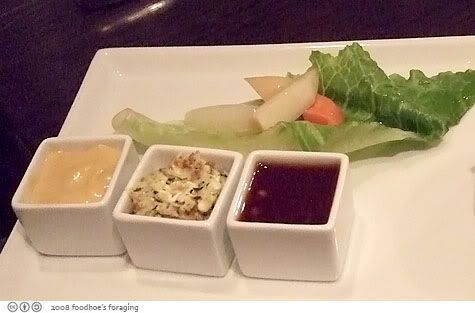 Of course I had to order the dish named Pig Out, which was an assemblage of roasted loin, crispy panfried belly, a gloriously fatty trotter croquette, kale and a ravioli that was filled with a rich savory broth that flowed out when I cut into it becoming a delectable sauce (25).
We split a side of Curry Cauliflower Gratin (7) that made me want to learn how to make this dish.
JT was not very pleased with her order of Braised Beef Shortribs, curry paparadelle, carrots, herb salad  (23).  The meat was very tender, but I think she became bored with it after a while.  Who can blame her, especially when you compare it to my dish of pork prepared four ways?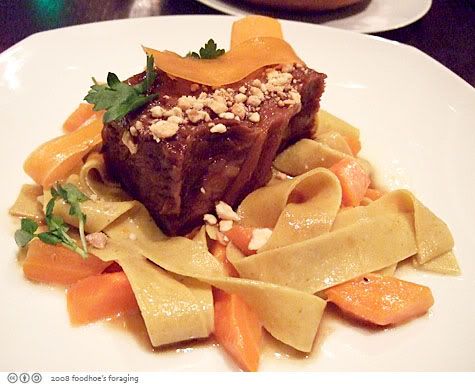 Elizabeth Faulkner came around to all the table to chat, posed for pictures and absorbing the general love.  She has a distinctive appearance and is instantly recognizable after appearing as a guest judge on Top Chef, and as a challenger on Iron Chef America.
Up to this point, I wouldn't say the food was cutting edge, but when the desserts arrived, they were definitely out there, poised on that dreadful edge… We decided to split a few and started with The Clock Past Midnite ($10), which was a pumpkin custard shaped like a stack of cards, garnished with brown butter streusel, with root beer maple syrup sketched around the perimeter of the plate.  It was clumsy looking and bland to boot, very disappointing for a restaurant whose chef is so celebrated for making pastries and desserts.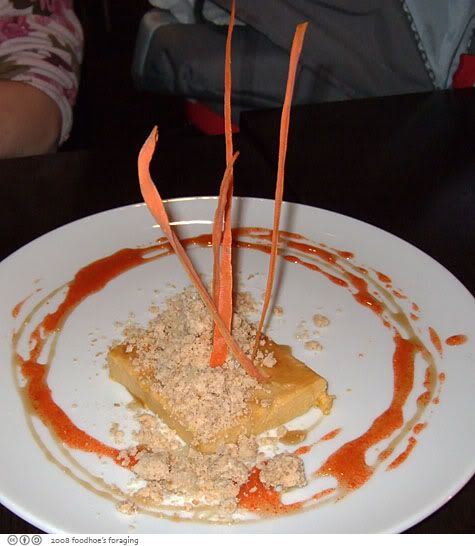 Meets the Eye ($10),  olive oil ice cream, milk chocolate caramel, cocoa crunch.  I read somewhere that these crunchy things were fizzy like poprocks, but I didn't notice any such effervescence.  This was my favorite of the bunch as it was liberally gooped up with sticky caramel sauce.  The olive oil ice cream was unremarkable and tasted like ice cream, although by this point in the meal, I wasn't making a very focused effort to get under the cookie crust and dig in…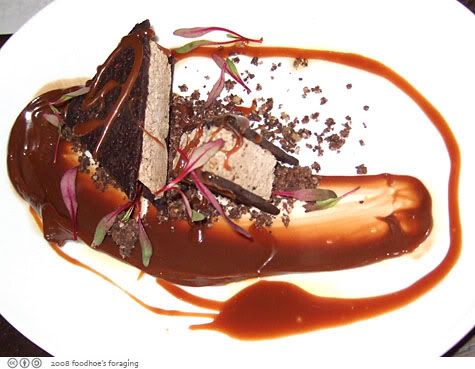 King's Dream ($10), peanut butter cheesecake, marshmallow, coffee bananas… not that you can tell that from the picture.  Well all that sugar must have gotten me the jitters, and the memory of the dessert itself is as blurry as the picture.  I remember it being a hodgepodge, a jumble of this and that, a little bit too deconstructed, but after all, Chef Faulkner wrote the book, Demolition Desserts.  I remember thinking that the coffee bananas tasted like they had been rolled in bitter coffee grounds and wasn't a taste sensation I'd actively seek out again.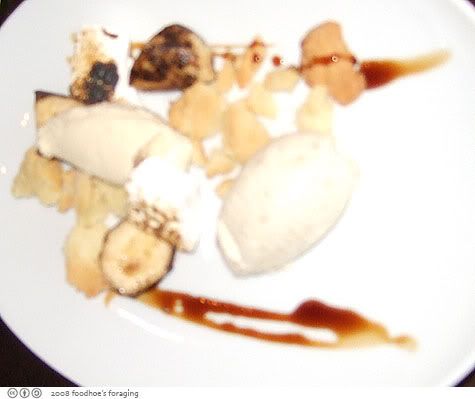 It seems strange that we would like everything but the desserts at here of all places, so I feel that I need to come back because sometimes I can't appreciate dessert after eating a big dinner. Oh, and I ended up as the proud owner of yet another set of candleholders.