3300 Geary Boulevard, San Francisco | 415.668.0826 |  | website
It's cold out and I'm out foraging for steaming hot bowls of soups and noodles these days.  Vietnamese noodle soup is smack dab in the center of my my thoughts and I was excited when I heard that Chef Khai Duong from  Ana Mandara opened a new restaurant in the City called Pot de Pho, a play on the classic French dish pot au feu that many believe actually inspired pho.   Chef Duong has been busy researching and developing the perfect pho and according to their website:
The beef broth is made with all-natural Masami Wagyu Kobe-style beef bones, the chicken pho with organic, free-range chicken, the broths will simmer for at least 10 hours, never seasoned with MSG…
We like these ideas – organic, free-range, no MSG… these are not concepts usually addressed on the menu at Vietnamese restaurants serving pho.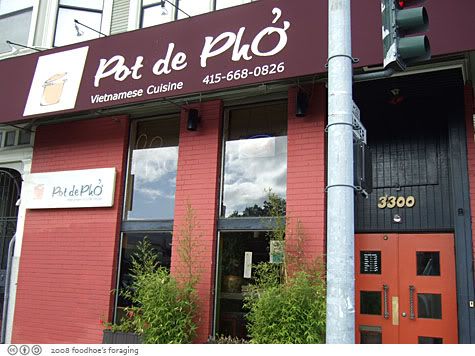 The restaurant is located on Geary past Arguello on the corner of Parker where parking is plentiful and not too competitive.  The dining room is elegant but feels cozy with tall ceilings and whimsical bird cages hanging from the ceiling, with a general impression of being clean and uncluttered.  The service was professional and quick. Our server was a man of few words but very pleasant and we didn't didn't spend much time waiting around for anything.  These are all good things.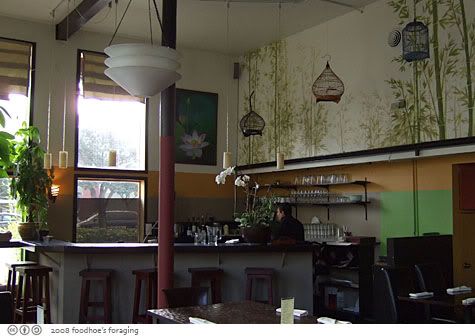 There is a street cart in the back embellished with the name Pot de Pho, cleverly concealing a cash register.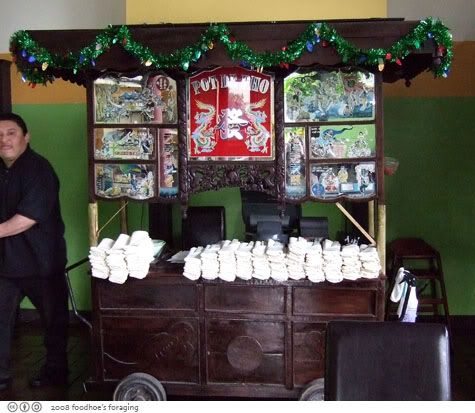 Onto the food.  Since Mr. K was still recuperating, we stuck with just noodles, no fried things to start off the meal and while the menu is short, there were some interesting sounding items that I would like to come back to try, like Phở Bo Kho (beef stew), caramelized claypot, curried duck with shanghai noodles, something with braised pork belly…  they even serve vegan pho!
There was an overall grandness in the presentation, with lovely plates,  fancy ceramic soup spoons, small divided yin-yang bowls for the house-made hoisin and chili sauces and hardwood chopsticks tucked into paper sleeves.  Even the accompanying plate of vegetables with basil, saw leaf herb, sliced onion, a lime wedge and slices of  jalapeno chilis was artfully laid out and refined.  The sprouts are served in the broth to keep the temperature as hot as possible.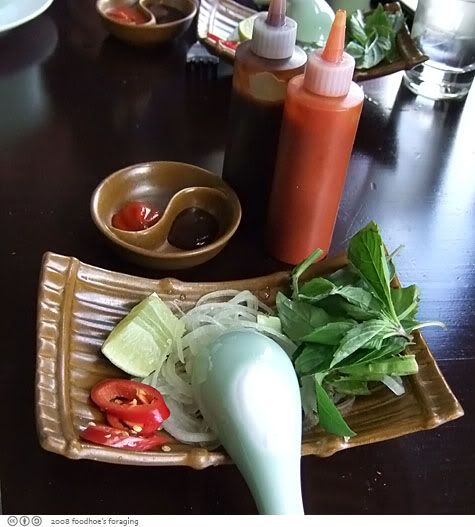 I ordered a regular size bowl of Pho Bò Tái Chín, which included rare steak and well done shank $8.75 ($10 for large).  The broth was clean and fresh tasting without any overt flavors of spices such as star anise or cinnamon.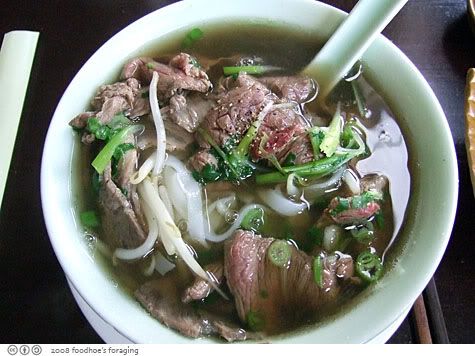 The soft and silky rice noodles are wide, showing the influence of his southern Vietnamese roots (he's from Nha Trang and I am getting all of this information from their website).    The meat was of a superior quality and very soft juicy and tender, although I would have loved to have some gooey gelatinous tendon too.  They do not offer tripe or beef balls or even tendon with the noodles, although you can order Spicy Beef Tendon with Sliced onions (Gân Bò Salad) as a side dish.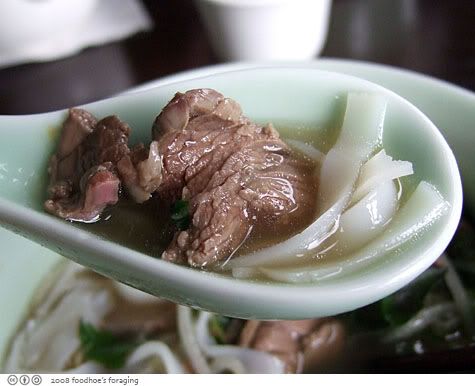 Mr. K loves Chicken Noodle Soup and ordered the pho gà, but was dismayed that they only had the rice noodles…  his favorite thing is to get it with egg noodles.  Despite the noodles, he said it was excellent and thought it was vastly superior to my beef soup.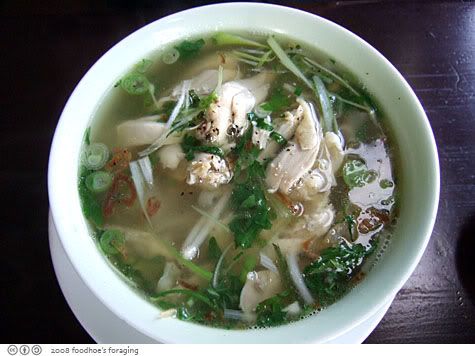 In the back is a glass display case with bowls of spices like star anise, peppercorns, gigantic cinnamon sticks and chili pods, which are ostensibly used in the making of the soup.
There is an entertaining 4 page document called Pho Phacts for the Media that can be found on their website describing how Pho Fanatics are passionate about their soup and the rituals that surround it.  Each pho-lover has their own special step-by-step process to garnish and spice up their pho.   My technique?  I like to hold the soup spoon in my left hand, pick up a small amount of noodles using the chopsticks in my right hand and transfer the noodles into the spoon to cool the noodles off.  Gently dip the spoon with noodles into the soup and using the chopsticks, I can dip some stuff (i.e. meat or some beansprouts or herbs) into either of the sauces and then place it on top of the contents of the spoon and by this time it has cooled down enough so I can slurp the whole thing down.  I guess I am a bit of a purist and like to take sips of  the unadorned soup in between bites.  In my family, I have what is called a neko-jita or cat's tongue, and don't like to eat hot foods (this is temperature related, not spice related).  I have found that this technique works very well to temper the too-hot-noodles problem for me.