500 Jackson Street, San Francisco, CA  94133 | 415.956.7300 | website
After Myth Restaurant closed last year, we knew that Chef Sean O'Brien would soon resurface and were glad when we heard he was staying in the 'hood. His new endeavor Zinnia, is tucked into an obscure corner of the historic Jackson Square area on a street lined with antique and rug stores, along with modern showrooms like Design Within Reach and Kartell.  Over the years, it was the Cypress Club, then 500 Jackson, then Scott Howard and now Zinnia, named after Chef O'Brien's daughter.  I met fellow food fanatic, Chef Ben from Cooking with the Single Guy who was eager to check out the restaurant.  It's a riot to dine out with another camera toting blogger, the servers always seem so patient with us taking action shots of the food as it arrives.  You can read his post about our meal here.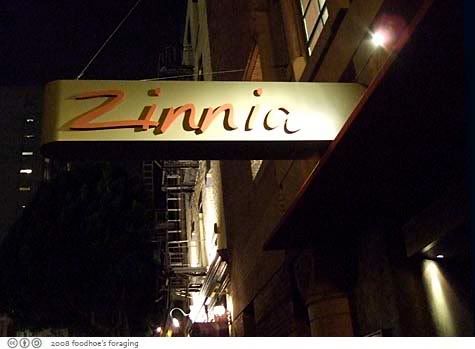 The interior of the restaurant has been buffed up but in a sense, it feels familiar due to the architecture of the building.  Your eyes are pulled to the round pastel lights in the center of the room that were vaguely reminiscent of a 3 ring circus, and the circular motif is repeated in screens that divide the space, the large round booths and the tiles on the floor.   It's cozy and intimate with dim lighting which is forgiving and makes everyone look sleek and beautiful, but it also means that our pictures are murky and dim…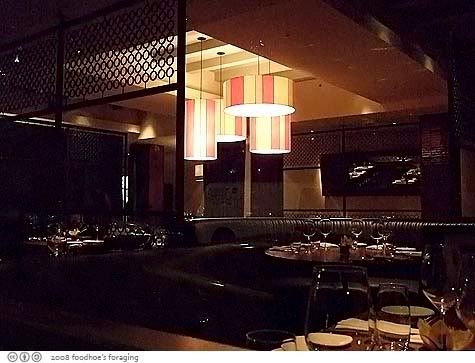 I decided to try something different and ordered the Poached Jidori Egg with mushrooms, chicken hash, cracklings and chicken jus ($11).  Our server told us that Jidori hens are raised in Southern California on a free range farm eating natural grains which is why the yolks are such a bright golden color.  Apparently it is a Japanese hybrid of the native Hinai-dori from the Akita prefecture and Rhode Island Red breed chicken, one of the most popular brands of chicken in Japan.  The name Jidori means wild chicken or of the earth, which given the hybridization, sounds like a marketing campaign to me…  Anyways, the egg was good, the yolk was golden like liquid sunlight.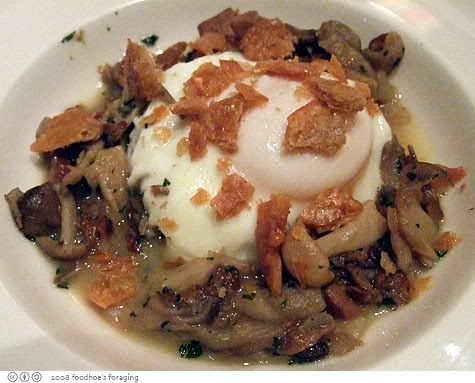 Hash is one of those old fashioned dishes that I have never ordered but have certainly watched a lot of people eat for breakfast.  I notice a certain methodology is involved, which includes cutting through the egg in a checkboard pattern to disperse the rich golden yolk evenly throughout.  The dish was rich and satisfying.  I have to admit that I ordered it mostly because of the cracklings!  Do you see the dark gold shards scattered on top that look like toffee?  They were crunchy bits of chicken skin – chicken cracklings.  I was disappointed and thought they tasted slightly like old oil, with an odd musty flavor that reminded me of bottled salad dressing…  but perhaps it needed a good squirt of the morning food elixir – sriracha chili sauce!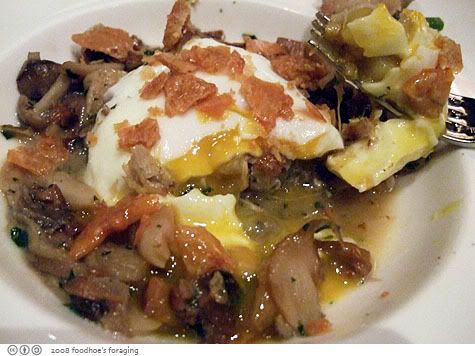 Seared Sweetbreads with bacon, sherry vinegar and haricot verts ($12) It was a joy to dine with the Single Guy because I'm used to people who are all… what is it?  a gland?  ewwww!  …but these bits of thymus were the most memorable dish of the evening.  They were chewy on the outside with a creamy rich interior and the sauce was vibrantly alive and tantalizing on my tastebuds.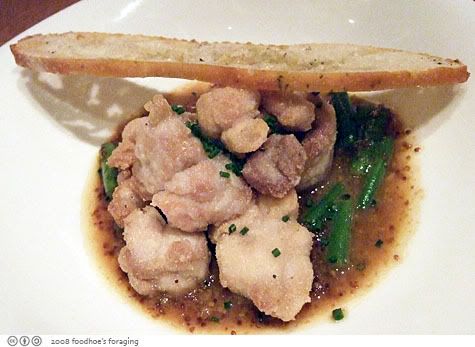 The Single Guy continued to the next course with a small order of Seared Scallops ($15) with thin slices of fennel and crispy shoestring potatoes.  The cool thing is that some of the dishes are offered as an appetizer portion, or as an entree.  We chose the smaller portion so we could enjoy more dishes.  The scallops were a little rubbery and the sauce seemed quite dull in comparison to the sweetbreads…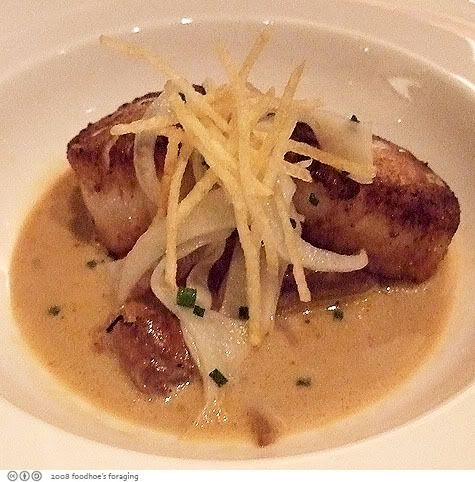 I remembered how much I loved the Seared Mascarpone Potato Gnocchi ($14) when I dined at Myth back in February, but was found the dish to be disappointing.  Single Guy said he thought the texture was mushy while I was more of the mind that they were mealy and a little too chewy on the outside.  It was served with a Wild Boar Bolognese sauce that was rustic and chunky and I definitely preferred the creamy vegetarian version that I had remembered from my prior visit…  They do look good with that brilliant ring of pungent herby oil surrounding the bolognese sauce.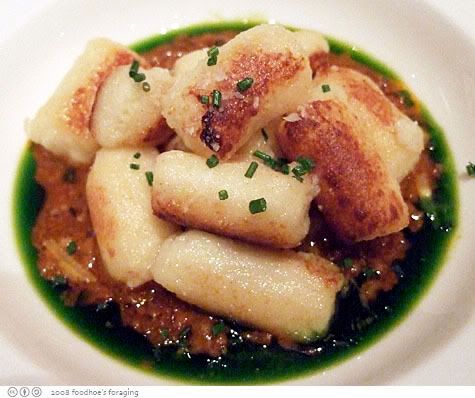 But my confidence was restored with the gorgeous piece of Roasted Alaskan Black Cod served with tiny shiitake mushrooms, daikon butternut squash in dashi ($16).  The fish was ethereally light and silky with a delicately crisped exterior and was irresistible when infused with the fragrant and umami drenched dashi broth.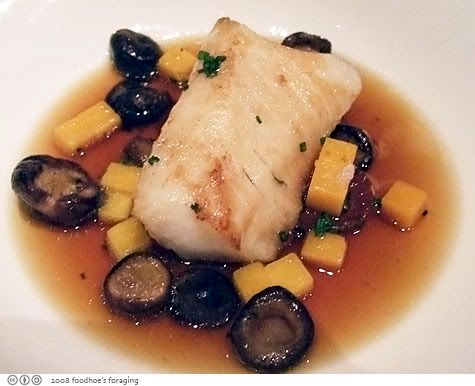 Single Guy enjoyed the Stuffed Quail with quinoa, mushrooms, arugula, oranges and king trumpet mushrooms ($17).  I had to laugh when I looked at this picture because the quail looks curiously like a portly recumbent nude…  He generously bestowed an entire leg and thigh to me (my favorite body parts), which were juicy and succulent and tasty.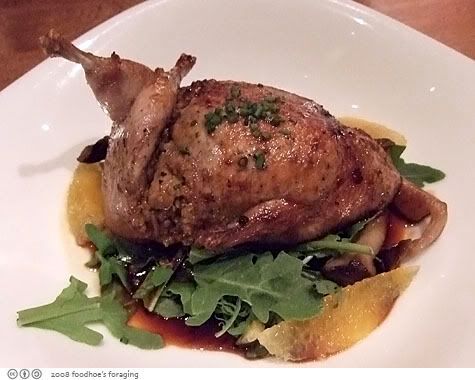 I was pretty stuffed but we decided to split dessert.  I was interested in the lemongrass panna cotta with fried lotus root but Single Guy Chef was unimpressed.  He said that desserts with lemongrass were usually bland and we all know that he isn't a big fan of fried foods.  We ended up had a Chocolate Marquis ($9), chocolate creme, flourless chocolate cake, coffee foam, cocoa oil.  For some reason the foam looked like something that my cats would cough up, and had a slimy texture that slipped off the spoon.  We ridiculously proclaimed that the cake resembled a pile of turds once we dug into it… but it was delicious!  I think this was my favorite dish of the evening…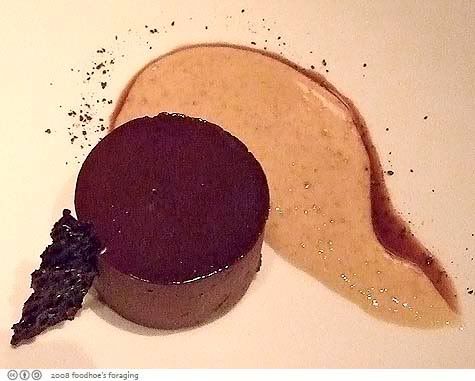 While I was disappointed with some of the dishes, the majority of the food we ate was delicious, and some of it has been burned into the tastebud vaults, demanding a return visit in the near future.  I also want to have  the gnocchi that I remember – as they say, third times a charm…  As we walked out of the restaurant, I noticed a bright moon that illuminated the surrounding clouds and the Transamerica pyramid nearby.  Both of us immediately had our cameras out and this is the only one I took that is anything close to being in focus…