Might as well start the new year off on the right foot…  I love the intersection of sweet and savory, and especially love the pairing of maple syrup with bacon or sausage.  I got goosebumps reading about the Eaten Path's Bacon Ice Cream with Home made Corn Dogs and have been pestering Mr. K to go on a roadtrip up north so that we can sample Voodoo Donuts' Bacon Maple Donuts in Portland OR.   There are entire blogs dedicated to the bacon lifestyle and a plethora of recipes online for Bacon Baklava, Bacon Cookies,  Bacon and chocolate chip cookies, and David Lebovits' Candied Bacon Ice Cream.  Even the Vosge Bacon Chocolate bar no longer instills fear and loathing in people's hearts and they even hint at expanding to include Bacon Toffee in the near future…  I had been salivating over the Ethicurian's recipe for bacon toffee, but I preferred the idea of peanut brittle over toffee.  I found a recipe by Brian Ries for Bacon Peanut Brittle at Creative Loafing's site and started things off by cooking the bacon in the oven.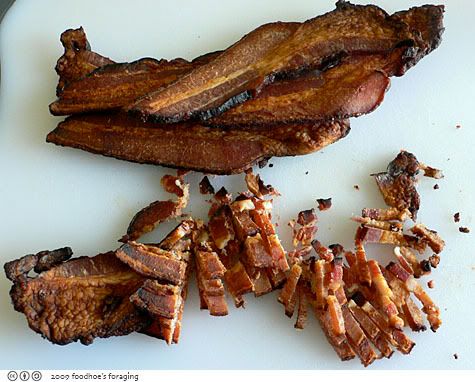 The package of bacon had about 8 thick slices that made a good pile of chopped and meaty bacon bits.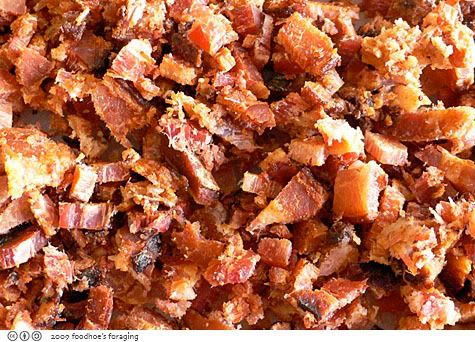 Candy making is a science and definitely requires a candy thermometer.  I know that I had one at some point, but for the life of me I couldn't find it.  I turned my odds and ends drawer inside out looking for it.  Of course by that point I had the sugars and water merrily boiling away on the stove and foolishly was feeling confident that by following these directions, I would be able to do this without the thermometer.  Wrong.  When it is allover caramel sounds like something you could discern, but in reality, this description is rather vague even if you know what a caramel looks like.  It had thickened up and was definitely caramel colored, and I even tried dripping it into a cup of water but I really don't know the difference between the soft-ball and the hard crack stage.  When I poured it out onto the silicon mat on the counter, it seemed thick enough and took some effort to spread out into an even layer.  It had bubbles and looked promising, but it never ever hardened.  It stayed soft like caramel.  The only thing I do know about candy making is that the stages of cooking the sugar are scientific and you can't fool it into hardening by say, putting it in the freezer.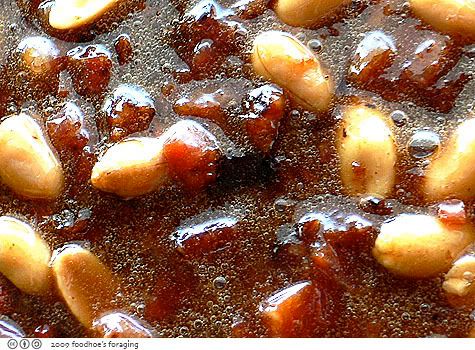 So I ended up cutting it up into 1 inch squares and rolling it up in little squares of wax paper, like those marshmallows covered in caramel from See's Candies and handed them out as post-prandial treats at my friend's potluck.  People kind of liked it, but as Kristina pointed out, after you finish the caramel you definitely had chunks of meat stuck in between your teeth…