1820 Fourth St., Berkeley CA 94710  |  510.644.0444 | website
CDR and I celebrated New Year's eve together as we had been abandoned by our beaus, who were lured away by the siren call of the Dead wankfest. Since I planned an early start the next day for a lot of cooking (Jan 1 is a big feast day in my family), we decided to to stay on our side of the bay and went to Eccolo, a rustic Italian restaurant in Berkeley.
Chef Christopher Lee and his wife Janet Hankinson both worked at Chez Panisse for over 15 years before opening their own restaurant in Berkeley's trendy Fourth Street Shopping District.  The main drag was festive with holiday lights, but the streets were empty and the parking was plentiful for a change. The restaurant sprawls comfortably with high ceilings and the menu is focused on organic produce from local small farms.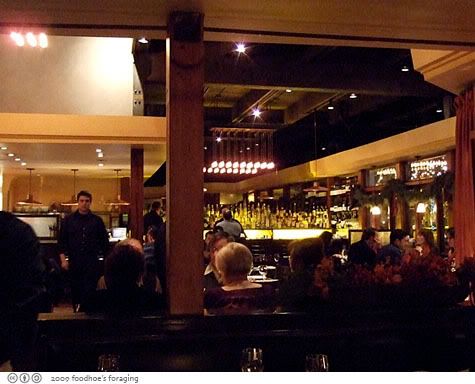 We were seated at a cozy little table for two in the rear area, furthest away from the bar and given a nice chunk of wonderfully rustic and crusty sourdough bread to gnaw on.  Our server was perhaps Italian, with a nonchalance that bordered on indifference, but very direct and to the point.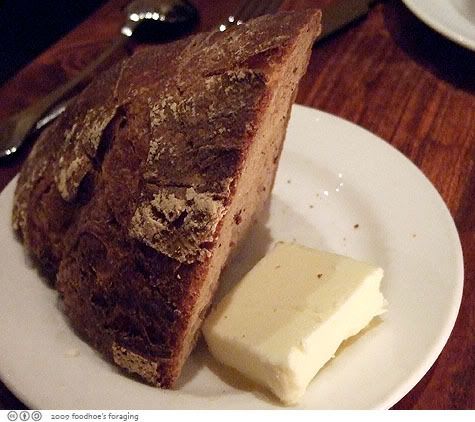 We both decided to try the red biodynamic wine flight, three 3 oz pours for $10.  We had '06 Chateau la Canorgue Rose, Luberon, France; '07 Cabernet Franc, "La Dilettnant" Catherine Breton; '06 Valpolicella, "Ca 'Fiui" Corte Sant' Alda.  They dropped off a carafe of water and our table became a little cramped with all of the glassware!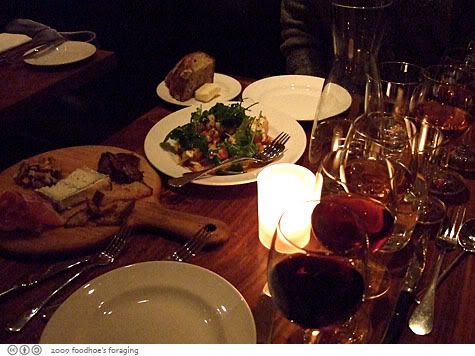 Chef Lee specializes in charcuterie so we had to try the Prosciutto platter which included Humboldt Fog,  a soft tangy goat cheese made by Cypress Grove in Arcata, a handful of fresh walnuts and the menu said fig jam ($12), which turned out to be a mound of sliced dates. I love dates, but these were large and sweet as caramels and I felt that the balance betwen sweet and savory was off.  But no one is forcing us to eat the dates….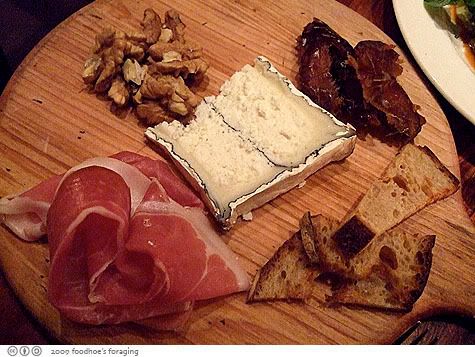 Look at how beautifully translucent the slice of prosciutto is.  I bit into the silky flesh and savored the smoky rich velvety flavor.  It was really good alternating with bites of the toasted walnuts and sharp cheese spread on the toast.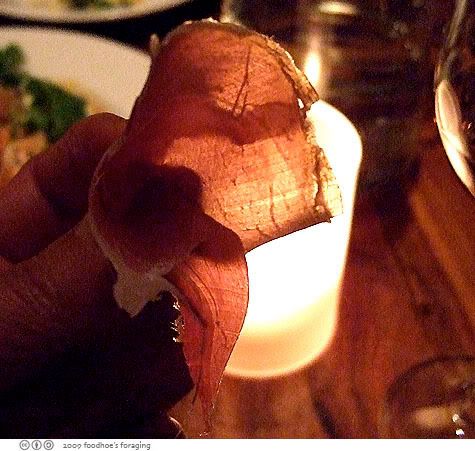 We also split the Maine Lobster and White Shrimp Salad ($14) which was full of tender shrimp that melted in your mouth and big meaty pieces of lobster.  The crisp peppery greens were tossed in a bright lemony vinaigrette along with fresh herbs.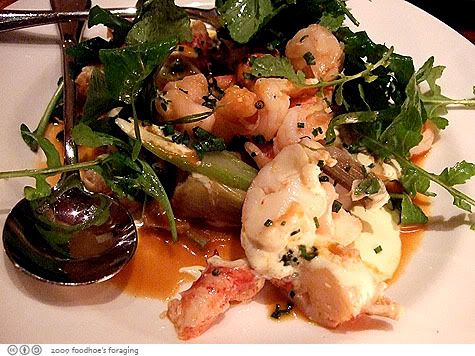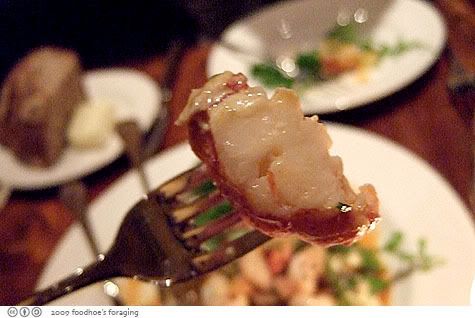 We each had our own bowl of Hand-torn pasta with Black Truffles, sweet butter and Cognac ($20).  This dish was so simple but it was quite a showstopper – it even inspired me to pull out the pasta machine at home.  The texture of the fresh made pasta was firm and elastic, the wide ribbons were well coated with the rich buttery sauce which was laced throughout with bits of pungent and aromatic black truffle.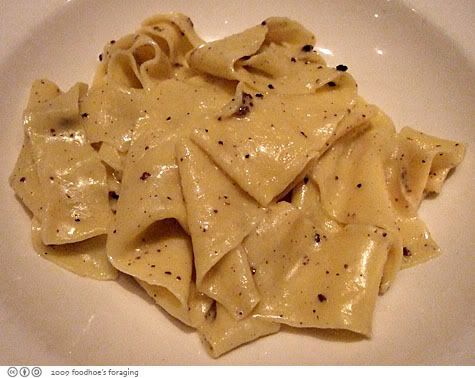 We split the Grapefruit salad with Dates, Almonds and Parmesan ($9) which was again overpowered by the sweetness of the dates.  The acidity and bitterness of the grapefruit clashed with the sticky sweet dates.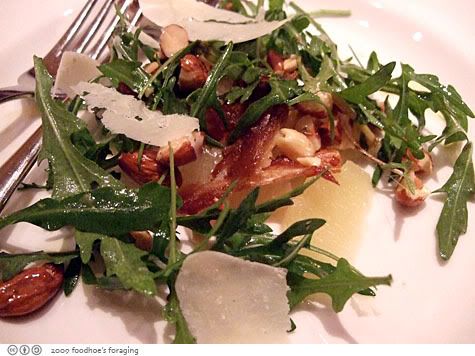 But all you have to do is pick them out…  Otherwise, I did like the combination of the toasted almonds with the peppery greens, salty cheese and juicy grapefruit.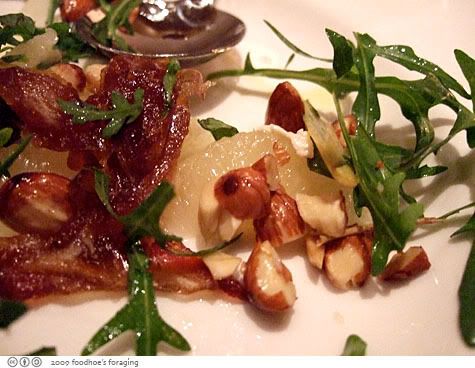 We were too full for dessert, which was a shame as they had something with chocolate mousse, one of my favorites…  We left the restaurant which was humming with festive diners out to welcome the new year.  Overall the food was excellent and I will keep my eyes open for one of their infamous whole hog feasts in the future!