202 Stage Road, Pescadero CA 94060 | 650.879.0464 |  website
Hours 7:00 A.M. to 9:00 P.M. Daily (Closed on New Years Day, Easter, Thanksgiving and Christmas)
Duarte's (pronounced doo-arts) Tavern is a family run operation that has been around since 1894. We stopped off for lunch on the return trip from Monterey last month.  Downtown Pescadero is pretty small, just a couple of blocks with a gas station, some stores selling knick knacks, the other location of note sells freshly baked breads that you can smell from down the street.  Duarte's is an old fashioned kind of restaurant that has been run by the same family for four generations.  Their specialties include fresh fish dishes, cioppino, abalone sandwiches, home made soups and pies.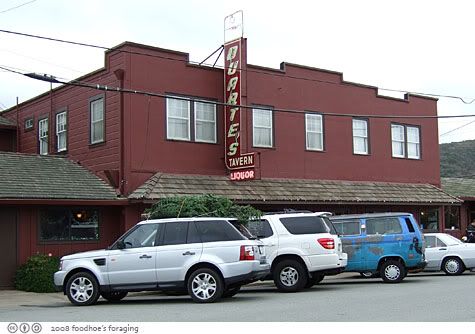 It's very popular and there is often a line for a table.  We had to wait about 10 minutes for seats at the counter, which has a more convivial atmosphere than sitting at one of the booths or even at a table.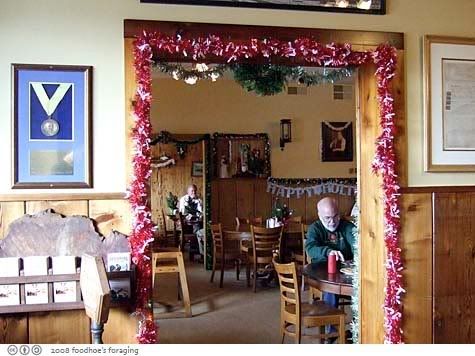 Although it had only been a few hours since we had a big breakfast at Loulou's, we ravenously fell upon the hot steaming loaf of sourdough bread that was served with butter as if we were starving.  The butter just melts into the bread as you spread it on and it's a good thing that you get a good chunk sized piece, especially if you order one of the soups.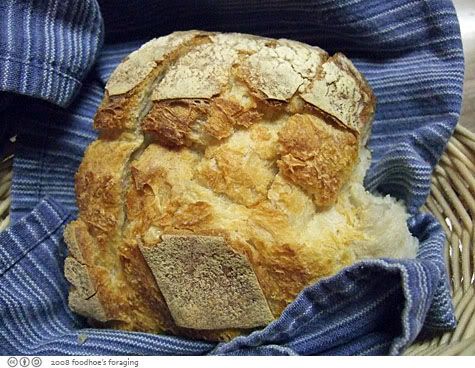 They are famous for their Cream of Artichoke Soup, which we thought was rather bland and pasty (pictured below on the right).  I often hear that people like to get a combination of the artichoke and green chile soup.  I personally don't see the point of mixing the two soups at all.  The Cream of Green Chile Soup (on the left) was so much better.  Why water it down?  The texture is rich and creamy and the flavors were much more focused with a bit of heat from the chile.

The buttered bread dunked in the soup was way out of this world delicious!
Mr. K loves the Fish Sandwich with Fries, which is a well crafted sandwich made with everything in perfect proportions and the fries are usually hot from the fryer.

It is topped with slices of pickle and comes with a piquant tartar sauce and a lemon wedge to squeeze on too.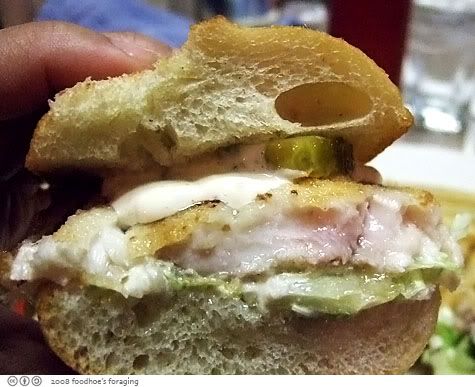 I finally tried their famous Olallieberry pie, served ala mode, which means it is heated and served with a scoop of vanilla ice cream.  I honestly liked the ice cream the best.  The pie crust was nice and flaky but I'm really not a pie person, I'm a cake person.  It's funny how you usually are one or the other…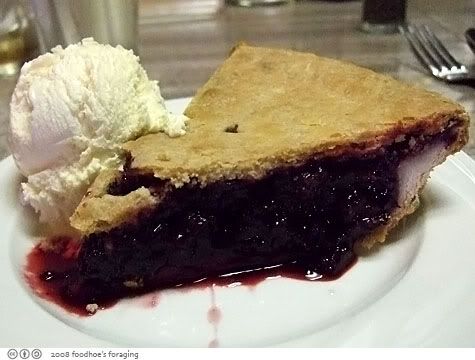 They go through a lot of bread, we saw this spectacle several times during our lunch where one of the servers pulled loaves out of the oven, stacked them up and rushed off to deliver them to the hungry hordes.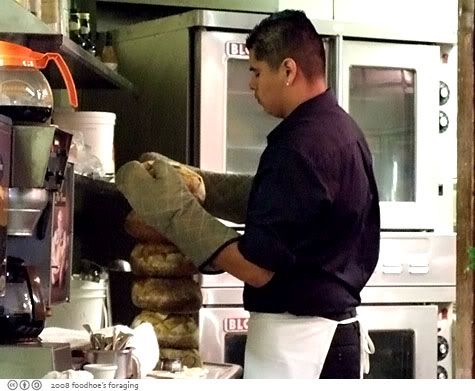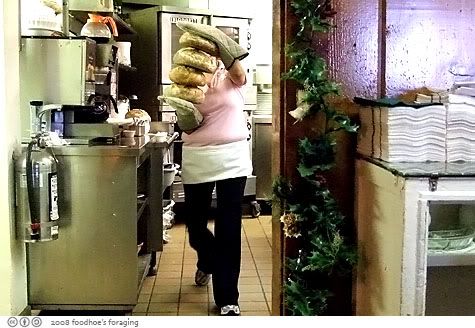 We usually seem to come here after a good hike or kayaking in the nearby estuary and it's a warm bustling spot with hearty good fare.  Here's a link to a 10% coupon good for any meal Mon-Thurs.  One of these days I am going to try the abalone sandwich AQ (I'm always scared of things with no price on the menu)…