801 22nd St, SF, CA  | 415.824.4224 | website | previous visit 11.13.08
We have been enjoying a glorious sunny break from the winter chill… Ahhh, what better way to take pleasure in another Hog Island Oyster Festival last weekend at Piccino's cozy corner cafe in Potrero Hill?  CDR and Mank got there early to secure that one sunny spot next to the grill, so we had the prime table to enjoy our feast.  We were joined by Sonja who had never tried raw oysters, and was in for a treat.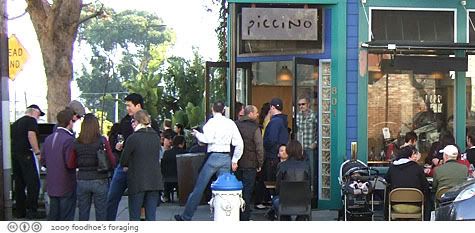 I count myself among the many devotees of Hog Island Oysters, that tender sweet mollusk handraised in the beautiful, pristine waters of Tomales Bay.  It's been ages since we have been out to their farm to shuck them ourselves…  No matter, these were ultra-fresh and tasted like they had been freshly plucked from the sea.  There are few greater joys than to sit in a nice sunny spot and consume a few rounds of these, along with some cold beers and those thin crispy crust pizzas that Piccino makes so well.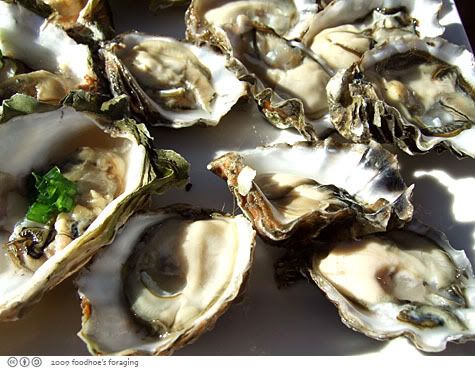 They dropped off a couple of jars filled with local water, a practice that I really like but I admit that I have a great love for a nice cold fizzy diet coke with my mid-day meal.  Mr. K says that is why I am the foodhoe, I like the good stuff, but I've got my foot stuck in the trailer park…  anyways Piccino is one of those places that doesn't serve diet coke.  I got the distinct impression that I pulled a social gaffe on the same level as asking for a bud light at a fancy french restaurant, you know, when the waiter is expecting to come around with that dang cork for you to sniff?  But this was a cafe and we were sitting on a side walk on a rented folding table, and the waiter was very good to appear non-judgemental… So I ended up with an ice tea. It came in a cool looking 375 ml decanter.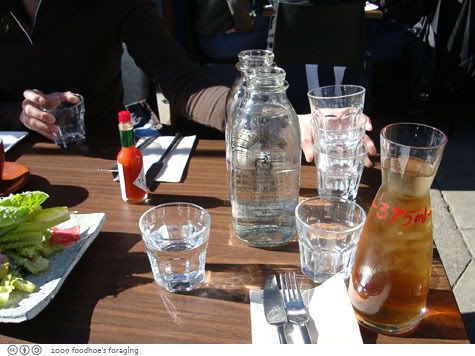 We decided to share everything and started with a Marinated Olive plate ($3.25) that had only a few big olives, and a lot of tiny squishy ones that I singlehandedly devoured.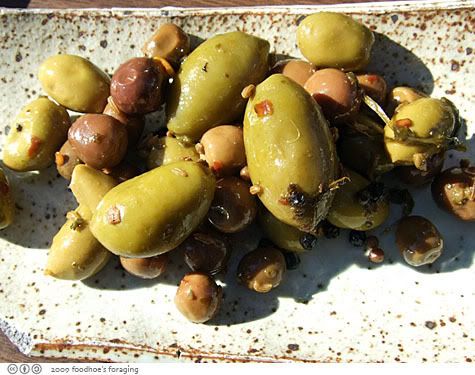 Then came the Romaine hearts with buddha's hand citron, parmesan, radishes and a lemon-anchovy vinaigrette ($9).  I must digress a bit here.  I am an avid listener of the weekly KCRW Good Food podcast and remember an episode where they interviewed an authority on etiquette, who said that it's okay to eat with your fingers.  What stuck most in my mind is her comment that salads that are served with whole leaves are really made to be eaten with your fingers.  She said she feels sort of sorry when she sees people struggling with a knife and fork when they could have so much more fun picking it up and eating it with their fingers!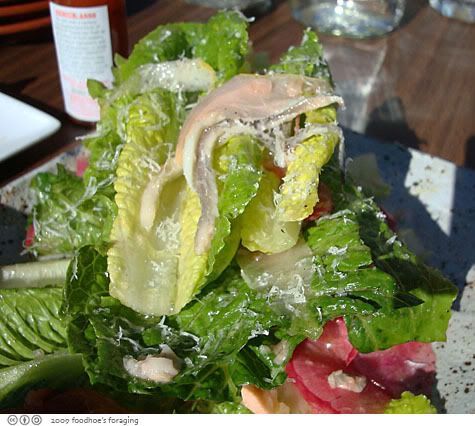 All righty then… I picked up a paper thin slice of the buddha hand zest and was mesmerized by how beautiful it looked with the sunlight shining through it.  It was delicious, with a firm texture and ringed by the slightly bitter citrus rind – the soft inner flesh was infused with the zesty salad dressing.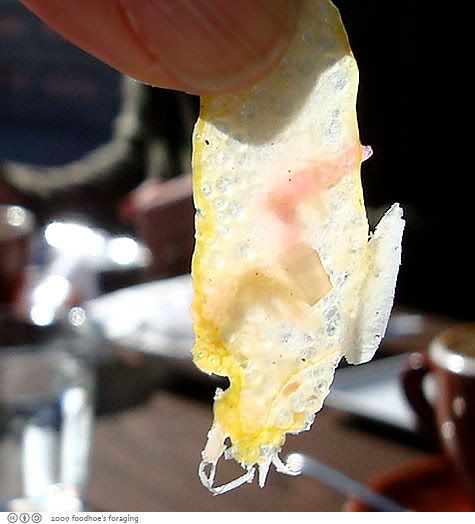 I took this picture of the hand of buddha sitting in a basket on a counter inside of the cafe.  I think that it is mostly skin and very little fruit, but what a strange and exotic looking thing.  I'd be scared to pick it up, it looks like it could open up and attach itself to your face and suck out your soul…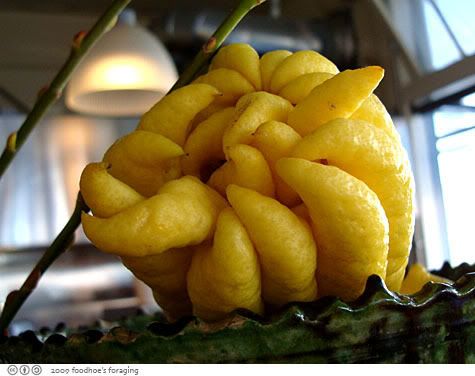 We started with pizza from the daily specials, which are broken down into pizzas that are either white or red (w/tomato sauce).  This was topped with big chunks of Dungeness crab, buddha's hand citron, garlic and parsley ($14.50).  The crust is thin with a thick pillowy edge along the perimeter.  It is crisp and chewy and somehow doesn't get limp from the toppings.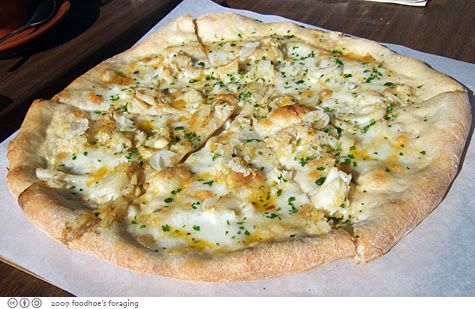 Yes, pizza with crab sounds bizarre, but it was so good!  In fact, this was our favorite pizza.  Maybe we were just on a seafood roll. It did go very well with the oysters…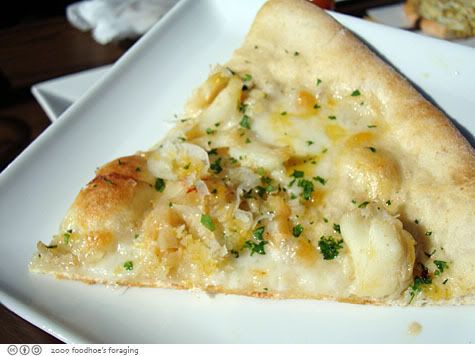 We asked for Kumamoto oysters, and were told that they only had a limited amount, a personal stash so to speak, as the traveling Oyster Bar crew only brought sweetwater oysters.  But since we asked, he said he could hook us up with some, code name, dragons…  A dozen kumamotos and 5 barbecued with the beer lemon herb butter.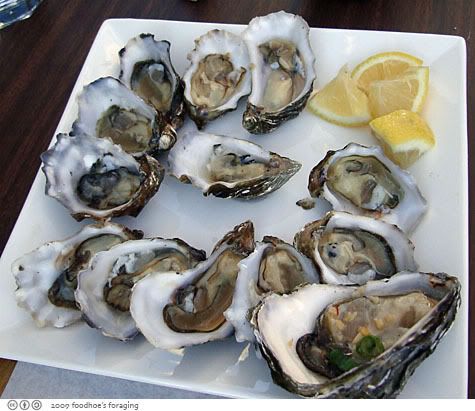 This time, they did not have any hogwash (the delicious house mignonette), so we enjoyed them simply dressed with a squeeze of lemon and a couple drops of tabasco.  The purist likes them plain, but there is something magical about the lemon and tabasco with the sweet creamy oyster.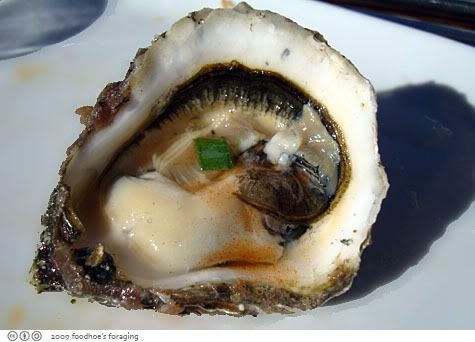 And here is a barbecued oyster cooked in the shell with the lemony garlic butter mixed in with a little beer.  The flesh is still very sweet, but firmer and meatier when cooked lightly over the grill.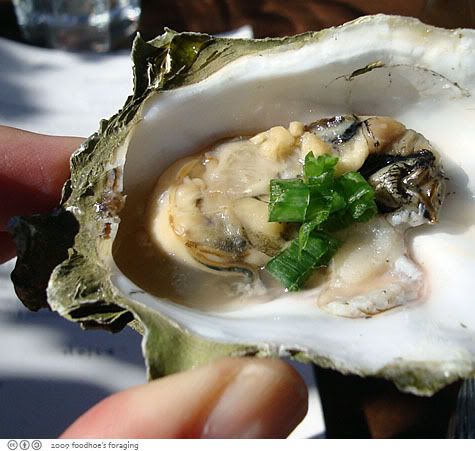 Another pizza from the daily specials, Fungi ($13.5): roasted Far West fungi (a vendor in the Ferry Plaza market hall) mushrooms, cremini mushroom pesto, paper thin slices of garlic that added a wonderful aroma and pungent flavor when you bit into it, and crescenza cheese.  I just had to ask for it to be topped with two Eatwell Farm eggs (for an extra $2), which is so good and I would definitely eat this for breakfast!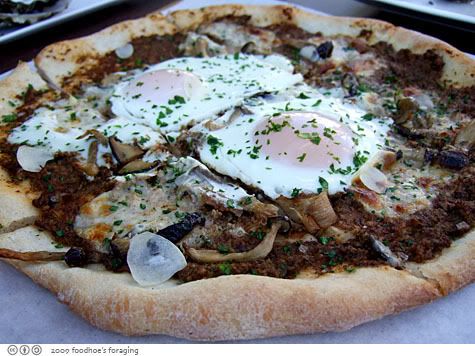 Th eggs were cooked so that the yolks were still jiggly and a little runny when we cut into them, but they didn't run amuck over the pizza either.   The yolks were soft and gooey and I'm drooling looking at this picture below…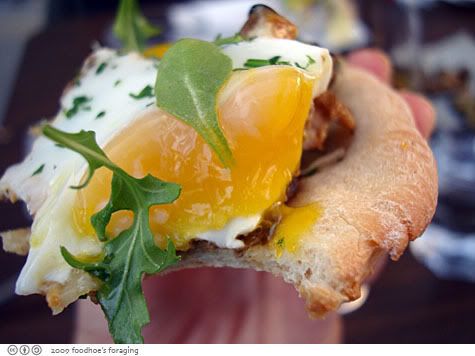 Mank likes to get wild arugula to toss on the pizza, and we all have to agree it's a nice touch.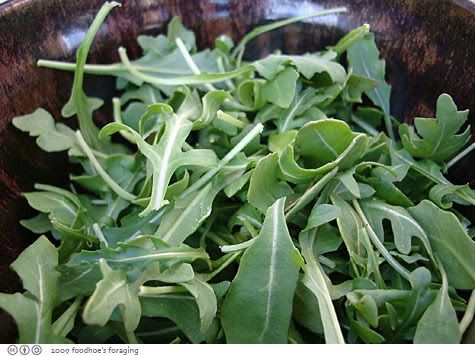 At this point we were joined by another one of Mank's co-workers Jeff, who had taken the scenic route.  He arrived just in time for another round of oysters.
The feast continued with a Baby Chiogga beet and citrus salad with radicchio, pistachios, horseradish and creme fraiche ($9.50).  The greens were dense and crunchy, a lush forest surrounding the tender sweet beets.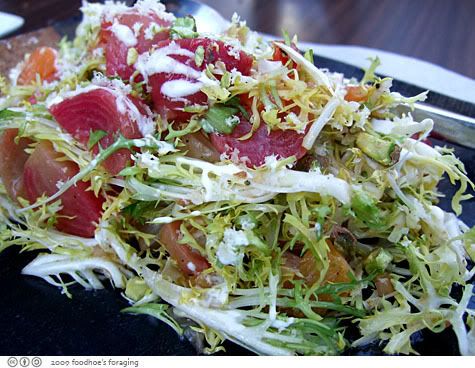 Another pizza from the daily specials, Broccoli rabe, pine nuts, meyer lemon and chili oil ($13.5).  It had no sauce, but lots of different types of crunchy toppings and the chili oil added a good bite to the peppery greens.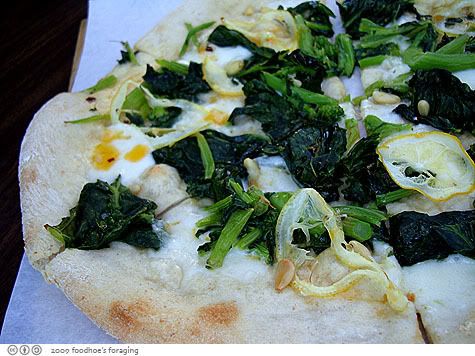 Our last pizza was the Salciccia, which had meaty bits of savory sausage strewn around with fresh herbs, mozzarella and cipolline onions ($13.50).  The onions were caramelized and sweet, a perfect combination of flavors.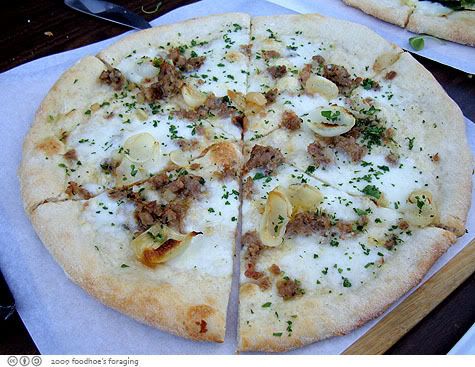 This was good to the last bite…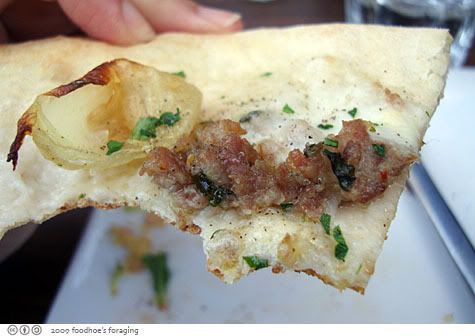 We managed one thing from the dolce section, the Ricotta cake with orange slices that was beautiful to look at but not as delicious as the pizza.  The dough was too thick and dry and the ricotta was bland and crumbly.  It was just as well because I was stuffed and just couldn't appreciate dessert.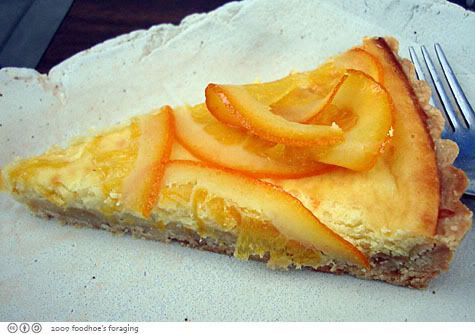 Here is the shuck/grillmeister duo hard at work.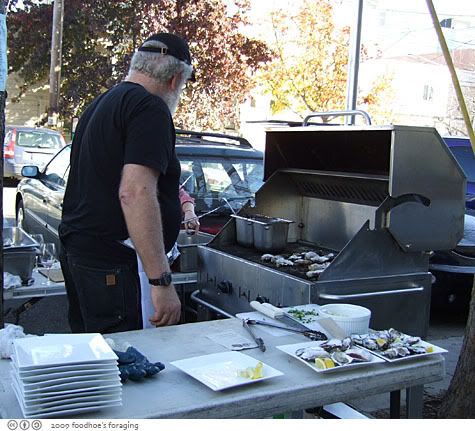 We stopped off at the separate cafe that is a few doors up the block and bought some delicious Blue Bottle coffee beans.  There was only one person in line when we walked in the door, although mid-afternoon on a Sunday certainly isn't rush hour for coffee.  We only wish that we had such a great neighborhood cafe back in our neck of the woods…